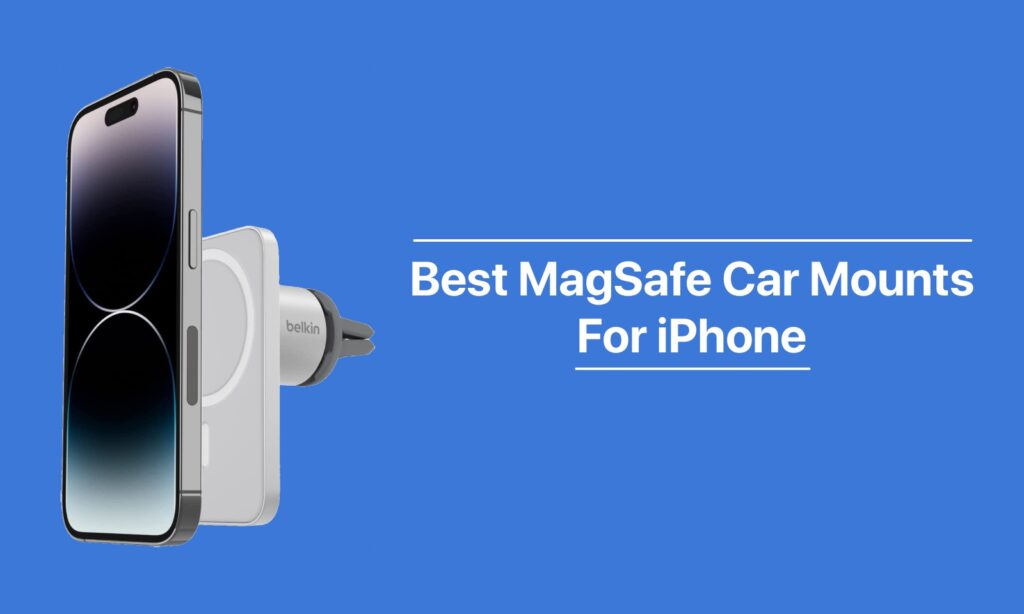 While driving, fumbling around with loose cables or letting your phone slide around the console can be super dangerous. In such instances, MagSafe Car Mounts become a necessity when taking calls, navigating, streaming music, and taking notes.
MagSafe car mount keeps your phone secure and easily accessible. If you'd prefer, you could also buy MagSafe compatible car mounts that are also a charger, which delivers 15 watts of fast charging to your device.
However, there are a plethora of options on the market, and choosing the right car mount for your vehicle can be challenging. For your consideration, we have rounded up the best MagSafe Car Mounts for iPhone available right now. 
MagSafe compatible Car Mounts can be used on all of recent iPhone models. This includes the following models.
iPhone 14 Pro Max
iPhone 14 Pro
iPhone 14
iPhone 14 Plus
iPhone 13 Pro Max
iPhone 13 Pro
iPhone 13
iPhone 13 mini
iPhone 12 Pro Max
iPhone 12 Pro
iPhone 12
iPhone 12 mini
Read on to find out our top picks.
Best MagSafe Compatible Car Mounts For iPhone In 2023
These are the best MagSafe compatible car mounts that every iPhone user should consider buying in 2023 for convenient car travel.
1. Belkin MagSafe Car Vent Mount PRO Phone Holder

Despite it being more expensive than the competition, the Belkin MagSafe is a premium car mount that won't let you down. This car mount has been tested with hundreds of vent styles and works with all of them.
The car mount feels solid and has a premium look. With its strong magnets, it can securely hold even the larger iPhone 14 Plus and iPhone 14 Pro Max.
Belkin MagSafe car mounts are available in two configurations. Depending on your needs, you can buy either a regular car mount or a wireless charging car mount. Both cost the same, so there is no need to worry about price increases.
Buy the Belkin MagSafe Car Vent Mount PRO Phone Holder for $39.99 here
2. OtterBox Performance Car Dash & Windshield Mount for MagSafe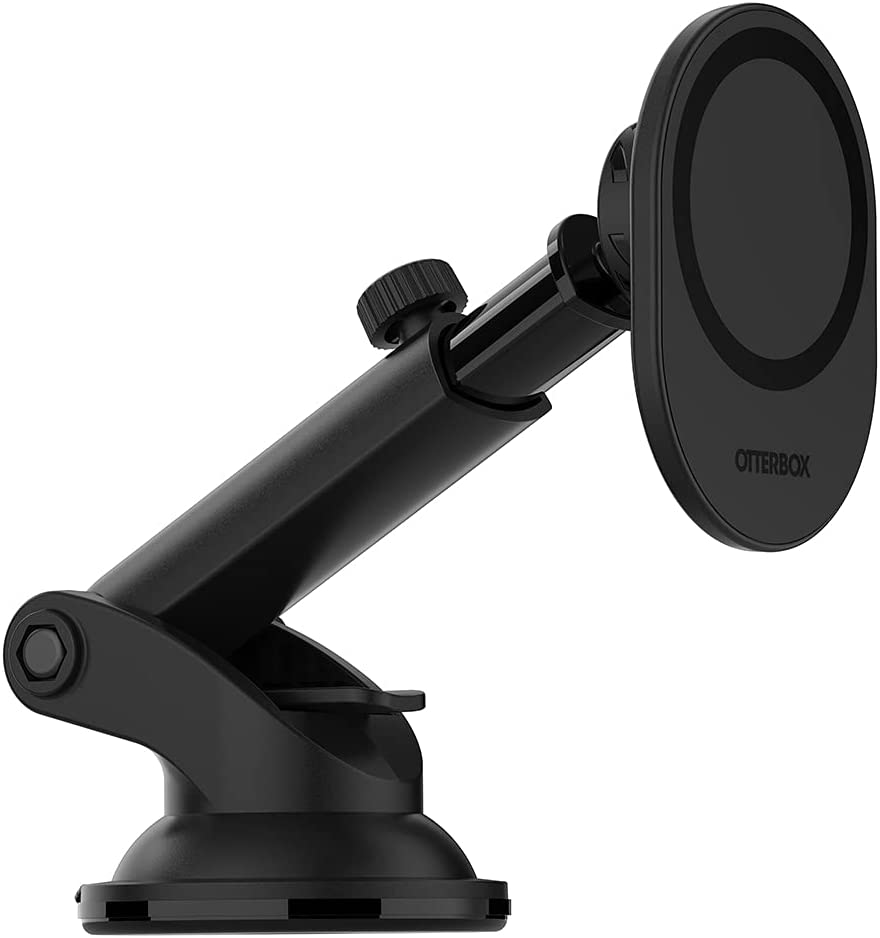 OtterBox Performance Car Dash & Windshield Mount for MagSafe makes carrying your phone while driving easy. It works with Apple MagSafe technology and is a handy addition to your OtterBox case or phone.
No matter where the road takes you, the mount easily adjusts to hold your phone securely. It holds the phone securely in landscape and portrait positions and adjusts easily for optimal viewing and access.
With removable suction cup adhesive, the mount can be placed at any angle, even upside down, making it extremely stable and easy to reposition. An optional permanent dash mounting disc is included to make installation more convenient.
Buy OtterBox Performance Car Dash & Windshield Mount for $48.95 here
3. ESR HaloLock Magnetic Car Phone Mount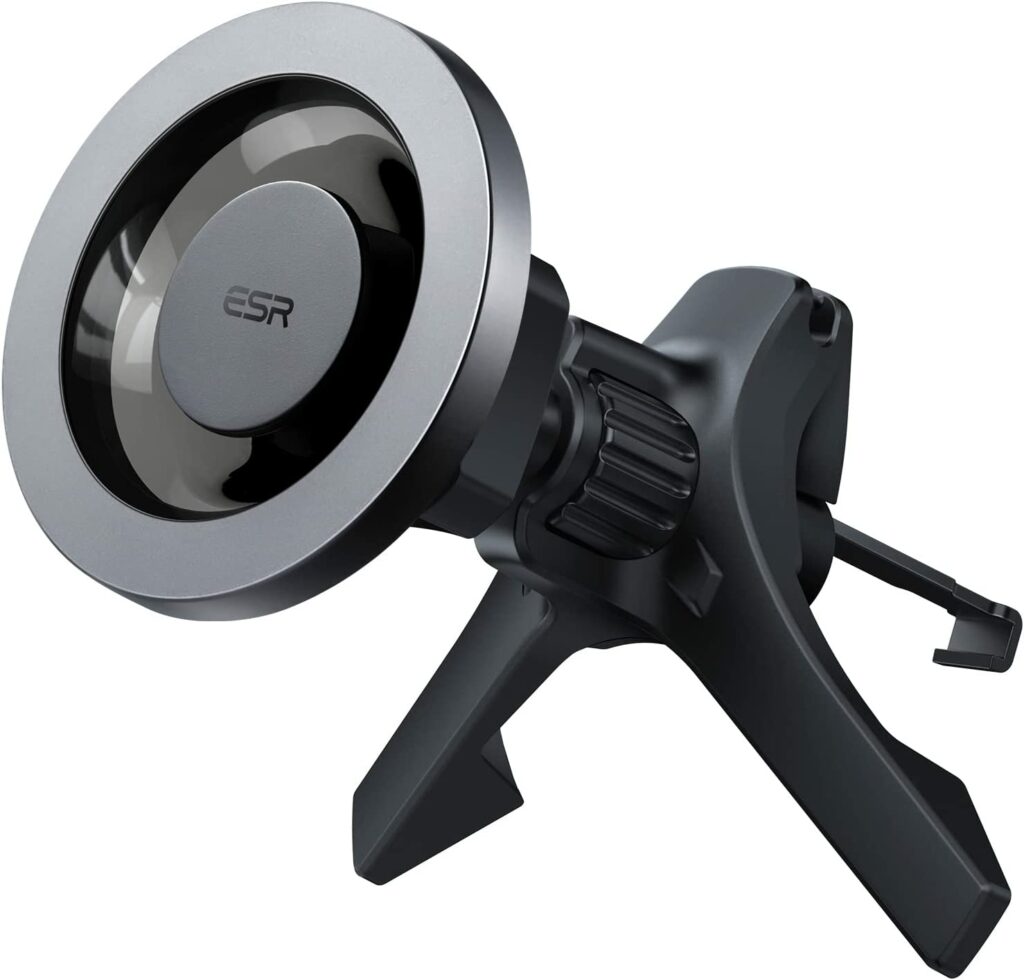 With the ESR HaloLock case, you will have the strongest magnetic lock available and your phone will be held securely in place with high-grade N52H magnets.
For fast, easy one-tap mounting, a 360° ring of magnets align perfectly with the magnetic system on iPhone 12 series or later
With its ingenious design that hooks onto vents and locks firmly in place, it provides unbeatable stability, as well as a steady screen even on the bumpiest of rides.
You can easily switch between portrait and landscape views and get the right angle for hands-free calls and navigation.
Buy ESR HaloLock Magnetic Car Phone Mount for $19.99 here
4. iOttie Velox Magnetic Car Mount Air Vent Phone Holder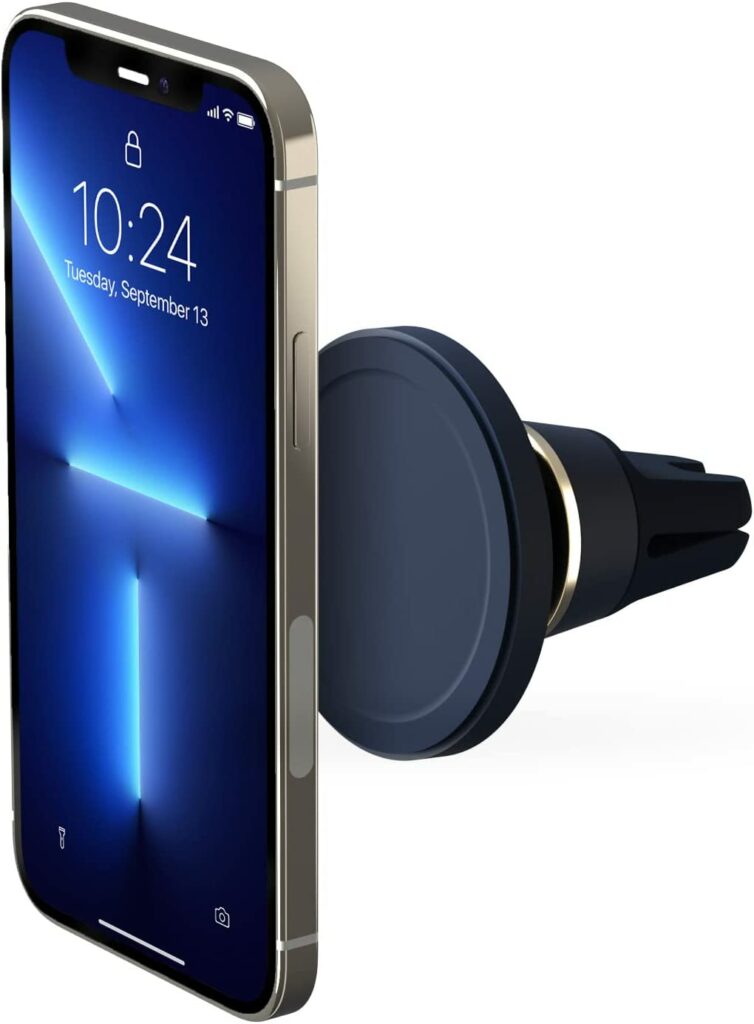 With the Velox Series, iOttie celebrates its design heritage and brings to life its vision for the future with a set of brand-new products that are developed exclusively for the latest iPhones and accessories. Elegantly finished with champagne gold accents, the Velox series combines cutting-edge technology with a classic aesthetic.
As the Velox series' first product, the Wireless Air Vent Car Mount makes iPhone mounting seamless. In addition, they enhance the decor of even the most upscale settings.
The iOttie MagSafe series air vent mount is designed specifically for iPhones and cases in the MagSafe series. You can keep your device fully accessible and at the right viewing angle with the flexible rotating ball joint. The powerful magnets and the soft silicone grip keep your phone secure and accessible all the time!
Buy iOttie Velox Magnetic Car Mount Air Vent Phone Holder for $19.95 here
5. SUPERONE Mag Safe Car Mount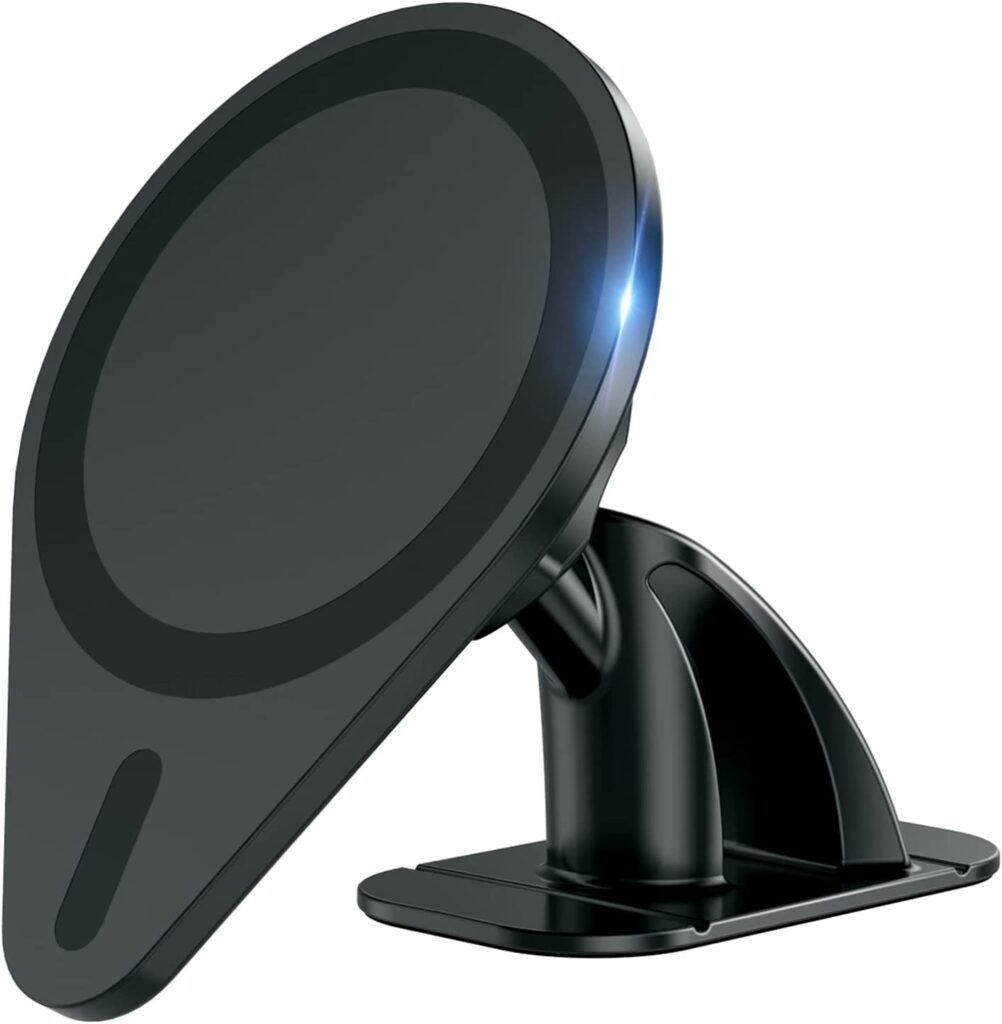 Designed exclusively for the iPhone 14/13/12 series and MagSafe cases, this MagSafe dashboard mount is a stylish addition to your car. Magnets are directly compatible with them thanks to cutting-edge magnetic technology. No metal plates are required!
Even in high temperatures or extreme cold, 3M VHB tape retains its strong adhesive properties, adhering firmly to car dashboards without slipping.
With 23 magnets built into the mount, the N55 magnet is more powerful than the N50 or N48 magnets. This magnet is capable of sustaining a maximum weight of 6 lbs (2.7 kg), which is equivalent to the iPhone 14 Pro Max.
You can rotate the car MagSafe mount 360° with one hand, providing infinite viewing angles (horizontal or vertical) for convenient navigation and calling.
Buy SUPERONE Mag Safe Car Mount for $19.99 here
6. LISEN Magnetic Phone Holder for Car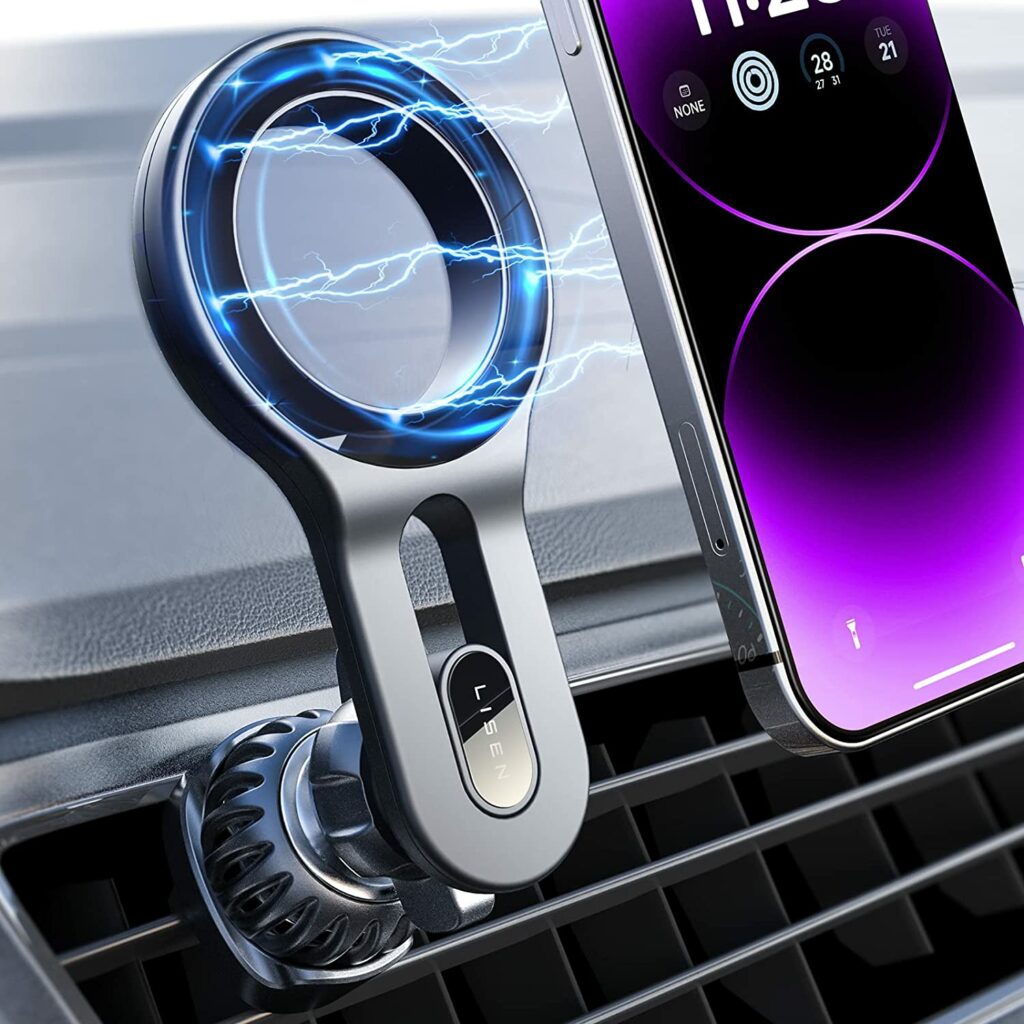 By using this Master Magnet Car Phone Mount with Non-blocking and MagSafe functions, you can create the right driving mood. A combination of extension arm and free angle adjustment enables them to create both a comfortable and pleasant driving environment or a vivid, bright and refreshing one, depending on what's most suitable for your vehicle.
Silicone is used to create this phone holder for car vents. This product protects your mobile phone and automobile vents from scratches. On this car mount, you can seamlessly enjoy easy navigation, charging, calling, talking, or listening to music!
Compared to an ordinary cell phone mount, this one has a 50% longer steel hook clip. This product is compatible with most horizontal and vertical vents, which solves the common problems of poor compatibility and cradles that easily fall off. This best mobile holder for car has been upgraded to meet all the requirements of car vents.
Buy LISEN Magnetic Phone Holder for Car for $19.99 here
7. VICSEED Magnetic Phone Holder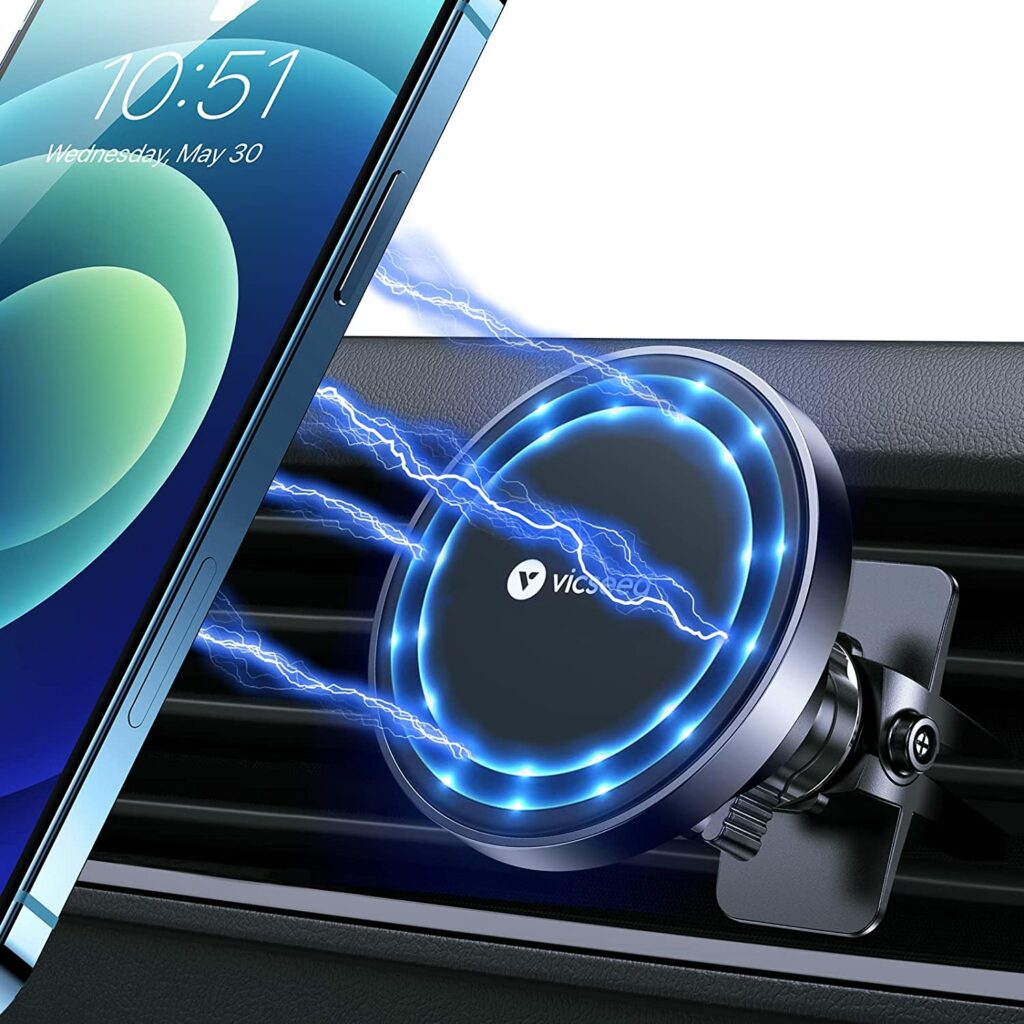 The suction power of the VICSEED magnetic phone mount is extremely strong due to its 12 wide Rb magnets. This magnetic car mount can even hold ten smartphones at once, making it one of the best iPhone car mounts 2023. You won't experience any interference in your phone signal due to the closed magnet field. It gives you the freedom to use the navigation or other functions of your cell phone smoothly and normally.
The air vent clip of the car phone holder mount has a sturdy structure with metal embedded, so it won't break. With Magsafe's top-of-the-line lock system, the air vent mount is guaranteed to remain securely mounted to the car. Soft silicone on the air vent clip gives it stronger holding power and protects it from scratching and deforming. Furthermore, the car phone mount fits most car air vents due to its wide opening.
ViCESEED's magnetic car phone holder is 360 degrees rotatable. With this car phone magnet, you can use your phone horizontally, vertically, or from any angle.
Buy VICSEED Magnetic Phone Holder for $29.98 here
8. Ciencimy Magnetic Car Mount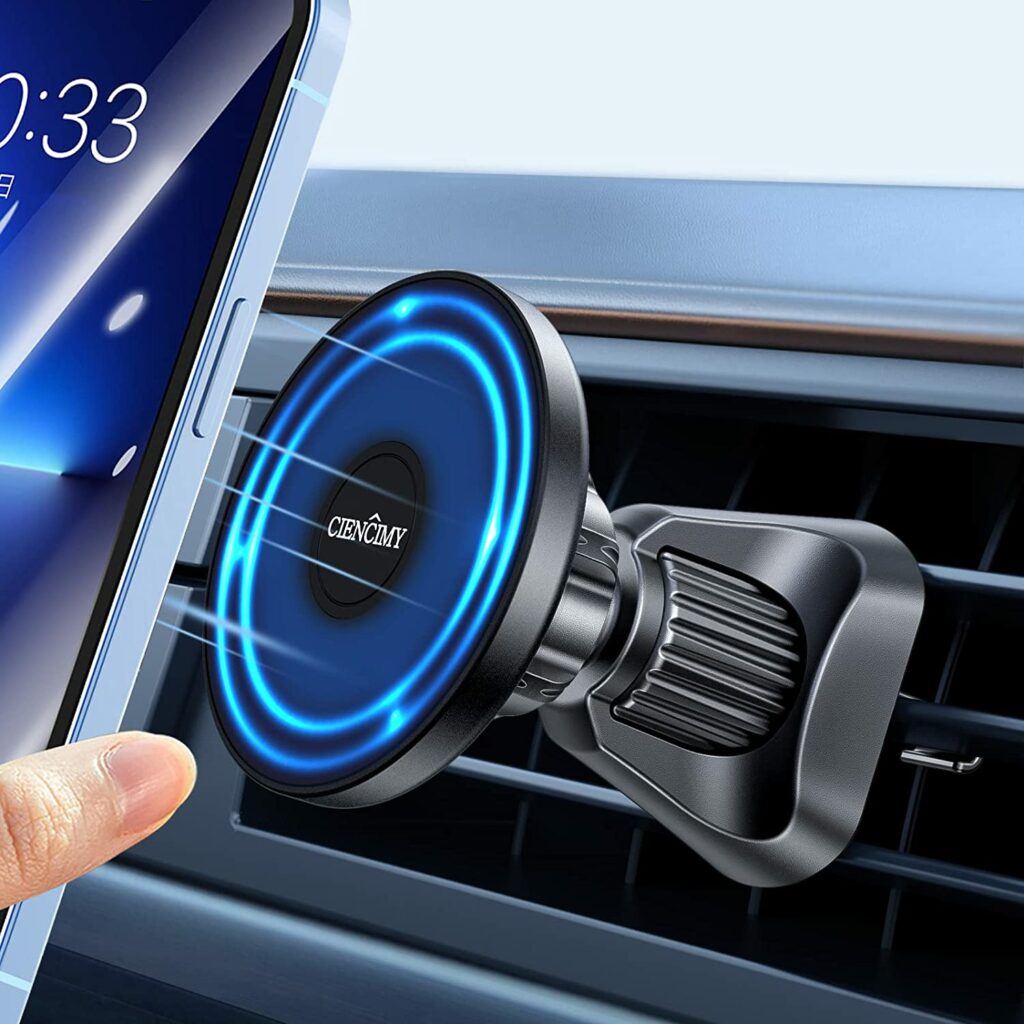 This magnetic car mount is compatible directly with iPhone 12 or 13, pro/pro max/mini due to the magnet ring inside the phone.
Since it has a special hook shape, this iPhone car mount is easy to install. You just clip it to the car's outlet blades and then adjust the length of the clamp by turning the knob.
To prevent your phone from being scratched, the car holder is covered with a soft silicone pad.
The solid ball joint in the middle of the car phone holder allows you to rotate the smartphone or adjust the screen to your liking. From the most comfortable perspective in the car, you can view the navigation map, watch videos, and even answer the phone. You can ensure safe driving.
Buy Ciencimy Magnetic Car Mount for $13.99 here
Final Words
So, these were the top picks for the best iPhone 14 car mounts. Would you recommend using a car mount? Which one of these would you most like to try?
Share all your thoughts and opinions with us in the comments section.