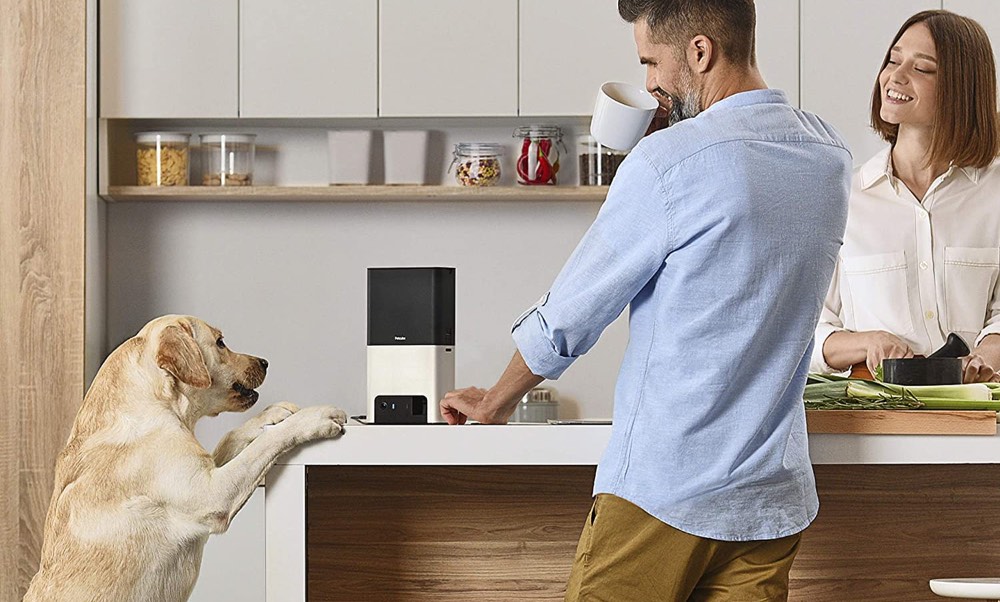 These awesome pet cameras that work with iPhones make it easier for pet owners to watch, listen to, and treat their cats or dogs remotely.
Pet owners know how difficult it is to leave your beloved pet behind when you are headed out to work or going out of town. Having the ability to watch over what your little friend is doing while being away is a blessing that is made possible with these best iPhone-compatible pet cameras.
If you're looking to buy pet cameras that work with iPhone with treat dispensers in 2023, then we recommend that you check out these options from WOPET, Furbo, Vinsion, LeeKuuLoo, and Petcube.
If you're interested in home security cameras, then you should check out the best Apple HomeKit security cameras here.
Best Pet Cameras That Work With iPhone In 2023
Here are the best pet cameras that are compatible with iPhones.
1. WOPET Smart Pet Camera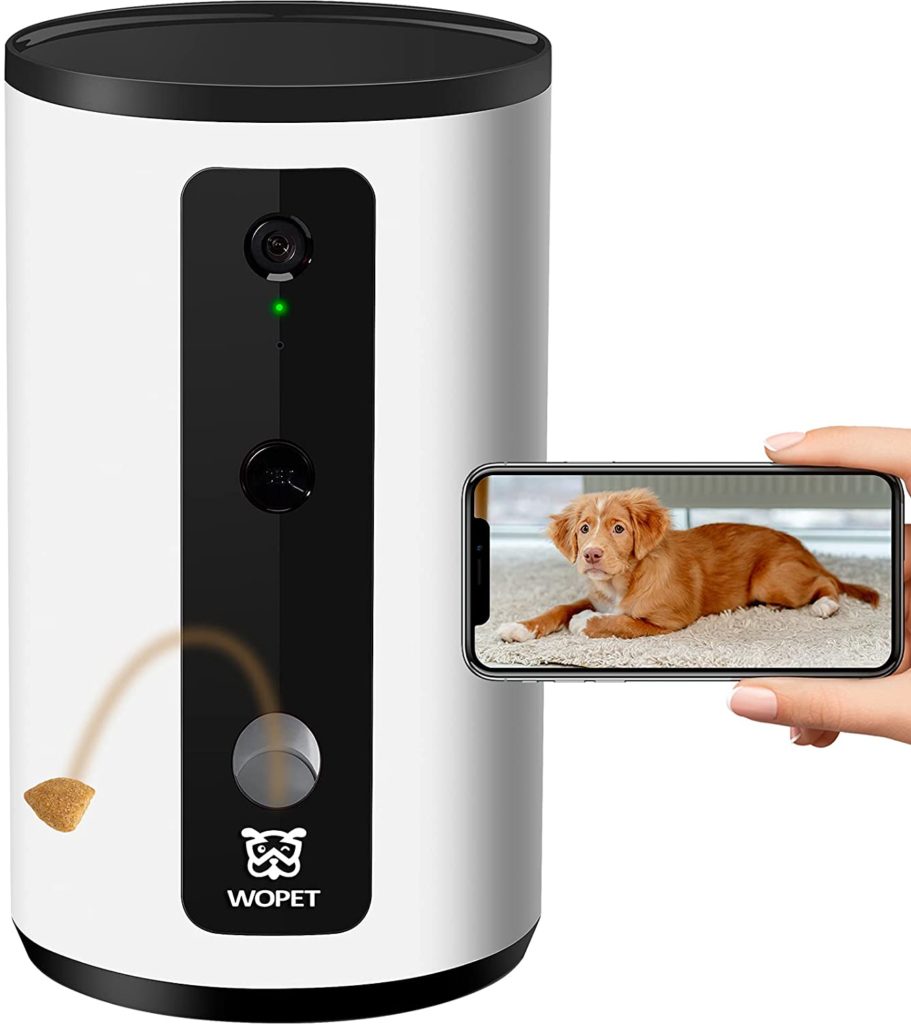 If you have a cat or dog in your home, you might be looking for an effective to keep an eye on your furry friend, especially when you are not home. That means you need to have the best pet camera for iPhone to remotely see what's up with your pet back at home.
Pet cameras are different from your standard cameras and offer more features. WOPET can be considered the best pet camera 2023, which doubles as a dog treat dispenser. With this dispenser carrying a pet camera, you can see, treat, talk and play with your cats and dogs while you are not at home. The HD camera with 165 degrees wide angle gives you live streaming along with 4x digital zoom. This ensures you have a maximum view of the area.
Command your pet through the microphone, as well as listen to them. Give them a treat by commanding the dispense through your iPhone. Simply, install the WOPET app on your iPhone and register your account. The dispenser tosses treat 3 pieces each time. Good for handling multiple pets at a time.
In order to give the voice command, connect it to Alexa and use it wherever you are.  And if you need to check on them during the night, night vision helps you see if your pet is safe and sound. 
You can buy the WOPET Smart Pet Camera for $115.99 at the link below.
2. Furbo Dog Camera
Looking for a professional dog trainer's recommended pet camera? Furbo is the answer with the best pet camera for dogs. Nearly 5000 vets have approved this pet camera for iPhone. You can also call it a dog-saver camera!
It's fun and safe both for your dog when you are away. Its treat tossing feature can contain over 100 pieces of treats and keeps them engaged with playful throws. Treats sized 0.4 inches and having a round shape are the best-suited ones. 
This best pet camera 2023 has barking alert sensors and two-way audio for communicating with your dog. With something hazardous inside your home, the barking alert enables you to save your dog on time. Moreover, its full HD camera with night vision helps you monitor your dog 24/7.
The motion sensors notify you about your dog's activities. Such as you know when your dog is jumping when it is going with a dog walker, or even when it is missing you. The could recording helps you find out your dog's triggers and any suspicious activity. You can even save videos and make a dog diary!
You can buy the Furbo Dog Camera for $249 at the link below.
3. Petcube Wireless Pet Camera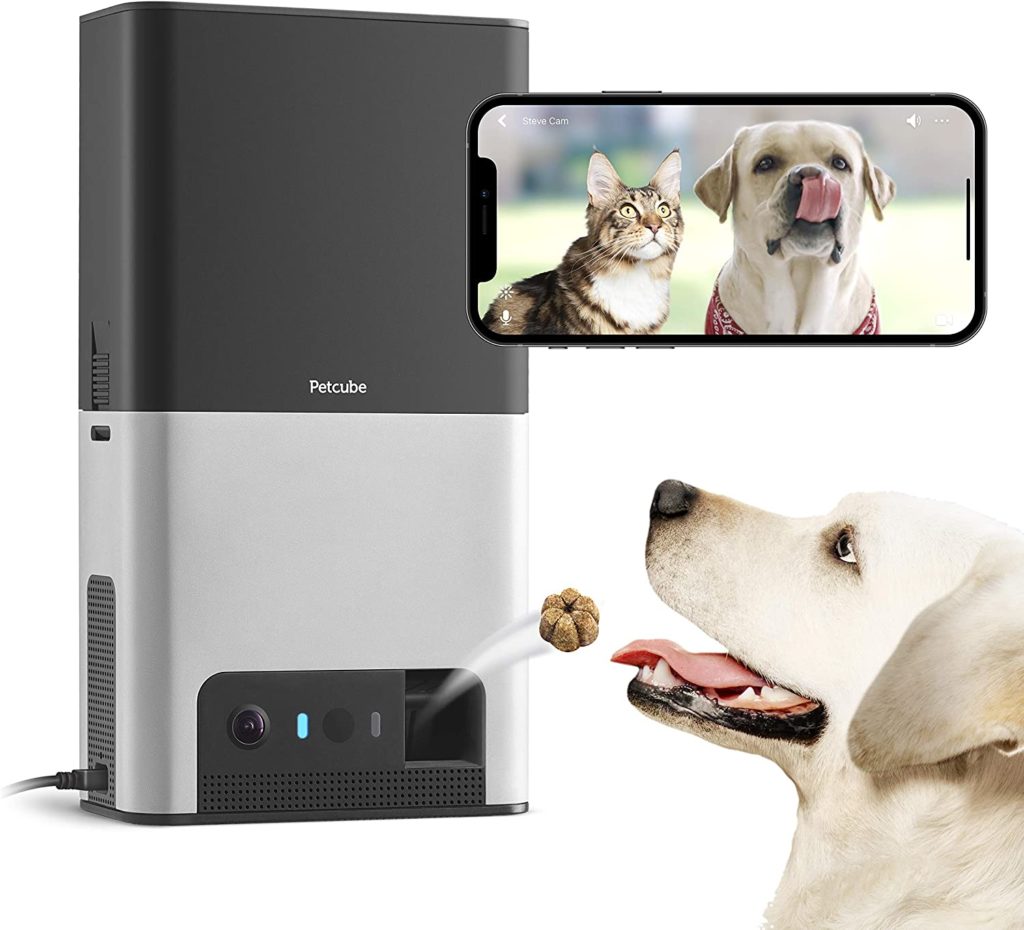 Worried about your kitty at home while you are away? Well, Petcube brings one of the best pet cameras that work with iPhones for cats and dogs you must try it at least once. It ensures the ultimate cat monitoring through the mobile app giving your complete HD view along with a 160-degree wide-angle view. You can also zoom the camera in 4x, and talk to your pet through a built-in microphone. 
Control the distance of tossing treats to short, medium, or long ranges through automatic or manual control on the mobile app. This best pet camera 2023 can accommodate both cats' and dogs' treats with a capacity of 1.5 lbs. Through real-time notifications, you can check when your pet is active. 
With its built-in Alexa, you can play music, answer questions, control smart home devices, and order pet treats. The voice assistant feature is optional in this pet camera and feeder. 
You can buy the Petcube Bites 2 Pet Camera for $219 at the link below.
4. WOPET Dog Feeder and Pet Camera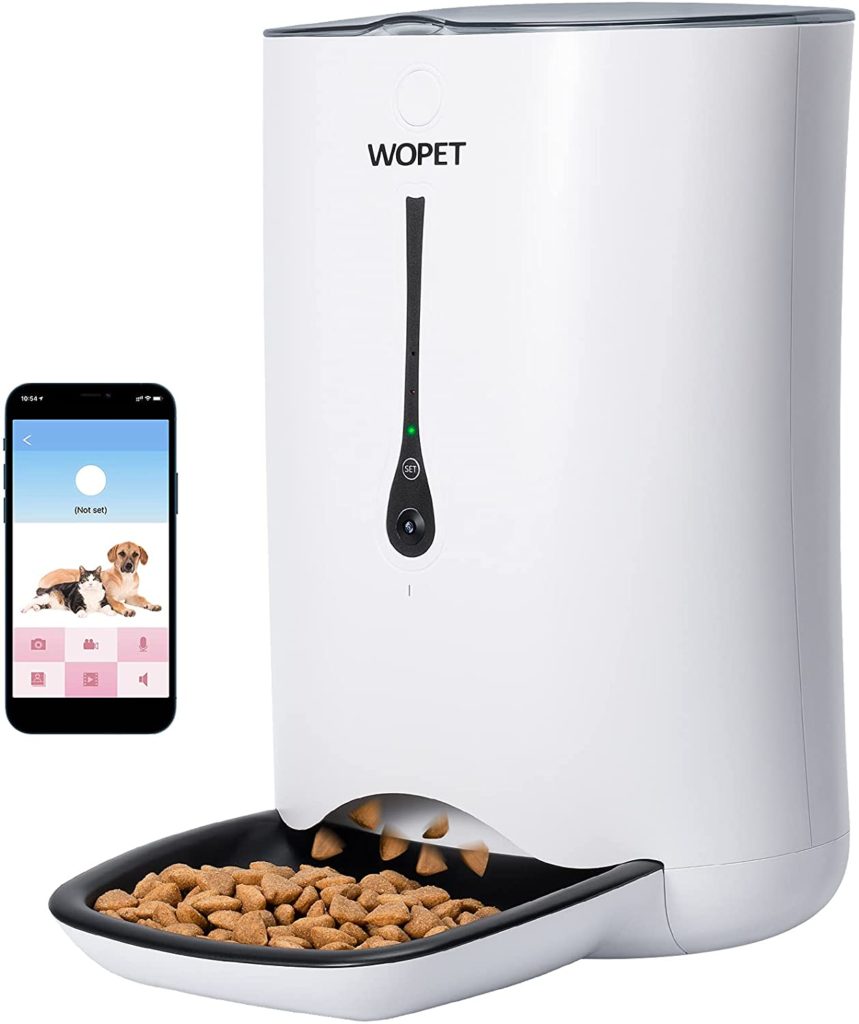 Here is another best pet camera for dogs from WOPETV, which is also a dog feeder. Its automatic voice messenger alerts the dog each time when the meal is ready on the feeding dispenser. Moreover, by either playing or eating the meal, you can take pictures of your dog and keep an eye on it.
Its dual power supply, adapter, and batteries ensure you always stay connected even during power outages. In order to set up a smart pet feeder on your iPhone, download the WOpet app, register your account, use a QR code to connect the camera, and wait for the process to finish.
This best pet camera for dogs allows you to schedule the feeding time, portion size, as well as food supply for your dog when you are away.
You can buy the WOPET Smart Feeder for $129.99 at the link below.
5. VINSION Pet Camera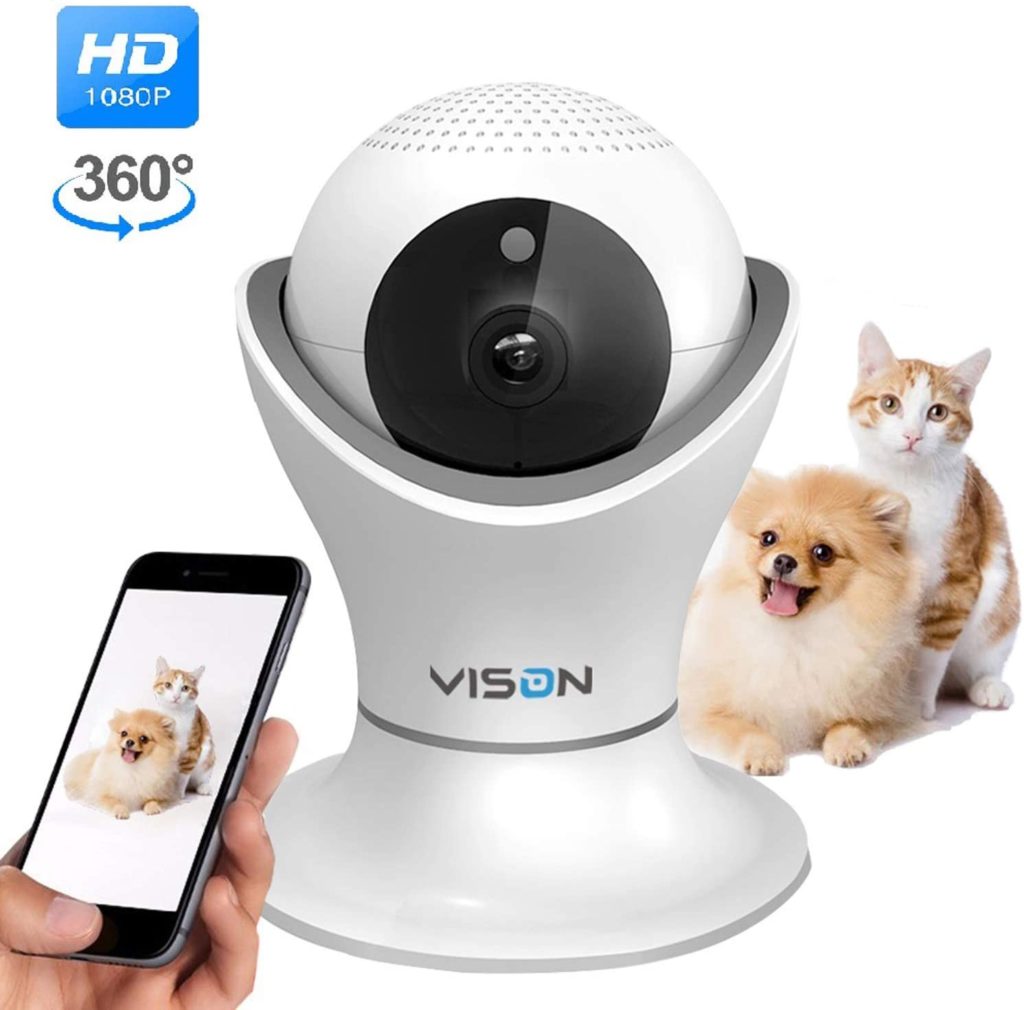 This multi-purpose camera is one of the best pet cameras for iPhone you can find. You can not only stay in touch with your cat, but also with your baby, watch over elders, or watch intruders. Its full HD 360-degree panoramic view along with 3D navigation gives you all the angles of your home. 
With the help of a microphone, command your cats and take pictures. During the night, this best pet camera for cats helps you view it in the dark. You can talk to your cat when not at home and tell them to stop if they are messing up with other things around. You can also secretly catch their best moments. And when if there is any motion, the motion sensors send alerts to your smartphone so that you can protect your home on time.
Buy this budget VINSION Pet Camera for $ 38.98 at the link below.
6. LeeKooLuu Smart Pet Camera and Feeder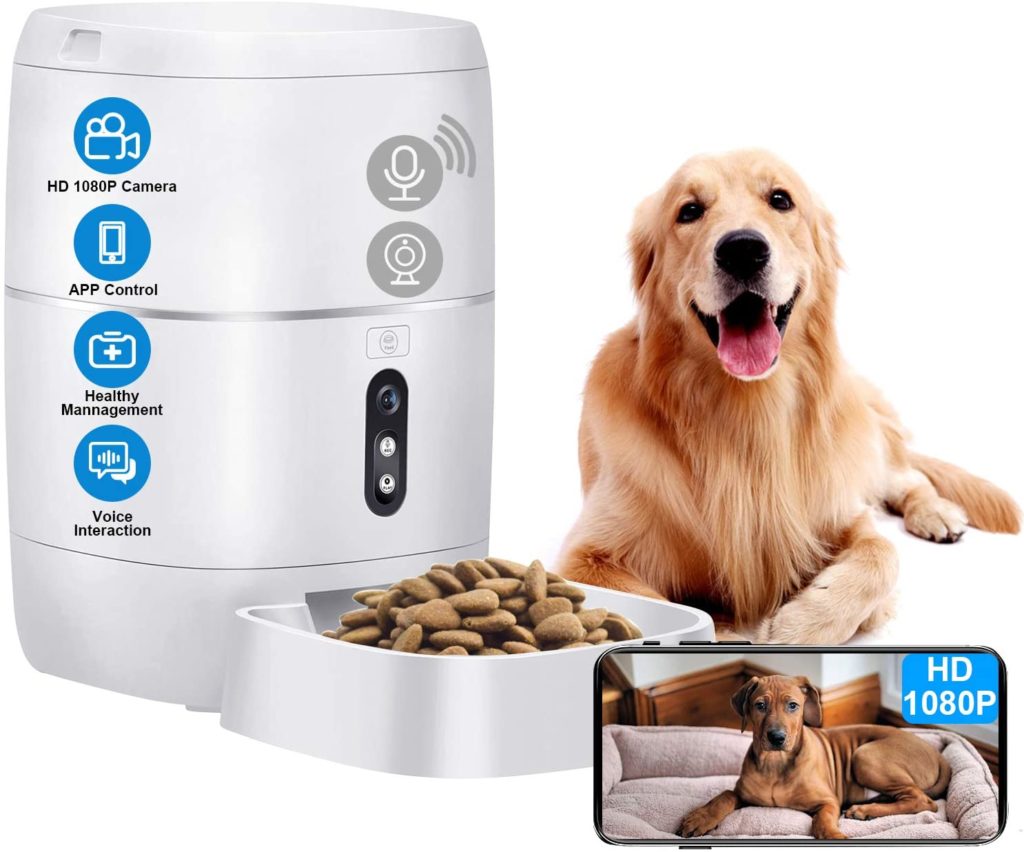 Here is another smart pet camera and feeder on our list that you would love to try. LeeKooLuu smart feeder is the best way to feed your cats and dogs remotely. You can schedule the feeding time or pick a manual time from your smartphone. Make sure you have a 2.4GHz network to run this best pet camera for cats on your phone.
It has a 6L flexible food storage capacity for dry food to ensure your pet is fed for several days. Set one-time meals or multiple times in a day along with portion size to keep your pet healthy. The full HD live streaming allows you to see if your cat is eating food or what's up with it.
The two-way communicator microphone lets your talk to your pet when you are missing it. The camera helps you record video, take pictures or keep an eye on your home both day and night time. In order to run this best pet camera for iPhone, install the Smart Life app, set the time and portion size for meals and you're good to go. 
You can buy the LeeKooLuu Pet Camera for $129.99 at the link below.
Which one of the above best pet cameras that work with iPhone in 2023 do you want to try? Share with us in the comments below. Also, don't forget to share these pet cameras with your friends and family.
For more iPhone-controlled accessories and home devices, stay tuned to iOSHacker.com.
More HomeKit Compatible Accessories: