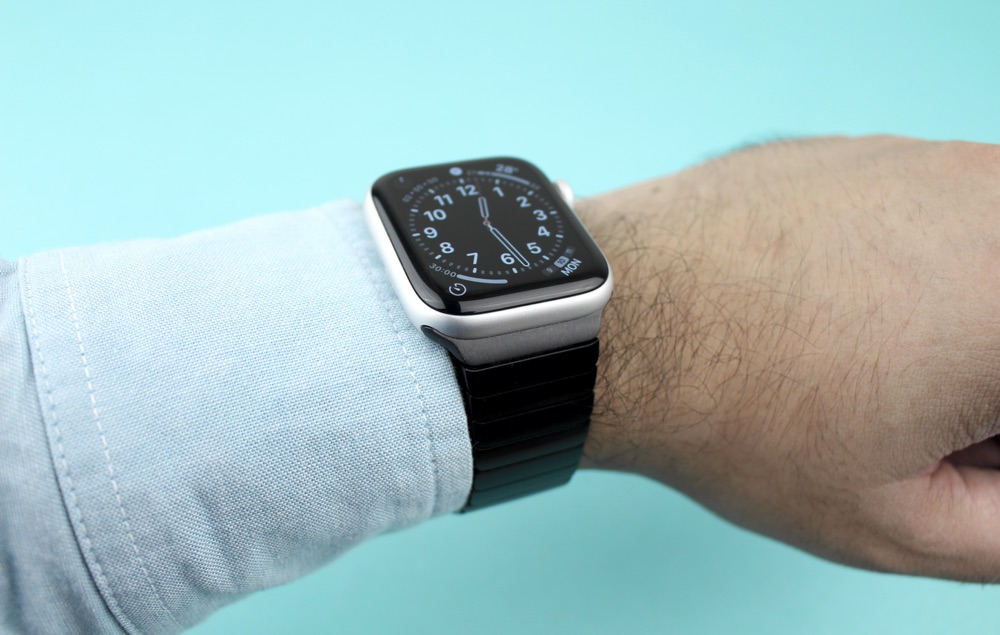 It wouldn't be an exaggeration to say that Apple Watch is the most customizable Apple product out there. Thanks to the band replacement mechanism on the Watch and a plethora of first party and third-party band and straps you can give your Apple Watch any look of your choice. This makes Apple Watch suitable for people of all tastes and styles, and gives them the opportunity to match their Apple Watch with the outfit they are wearing that day.
We have reviewed many third-party Apple Watch straps from various top brands however admittedly my personal favorite Apple Watch straps are still the ones made by Apple. I particularly like Apple's Space Black Link Bracelet however I couldn't bring myself to spending the hefty $449 price tag for that particular strap.
So when our friends at Lululook contacted us to review the OULUOQI Replica Bracelet with Butterfly Closure for Apple Watch, I couldn't resist giving this strap a try. While I was excited to review this Apple Watch strap, I proceeded with caution and managed expectations because I really wasn't expecting this Replica Bracelet to be as good as the original, especially considering the significant price difference.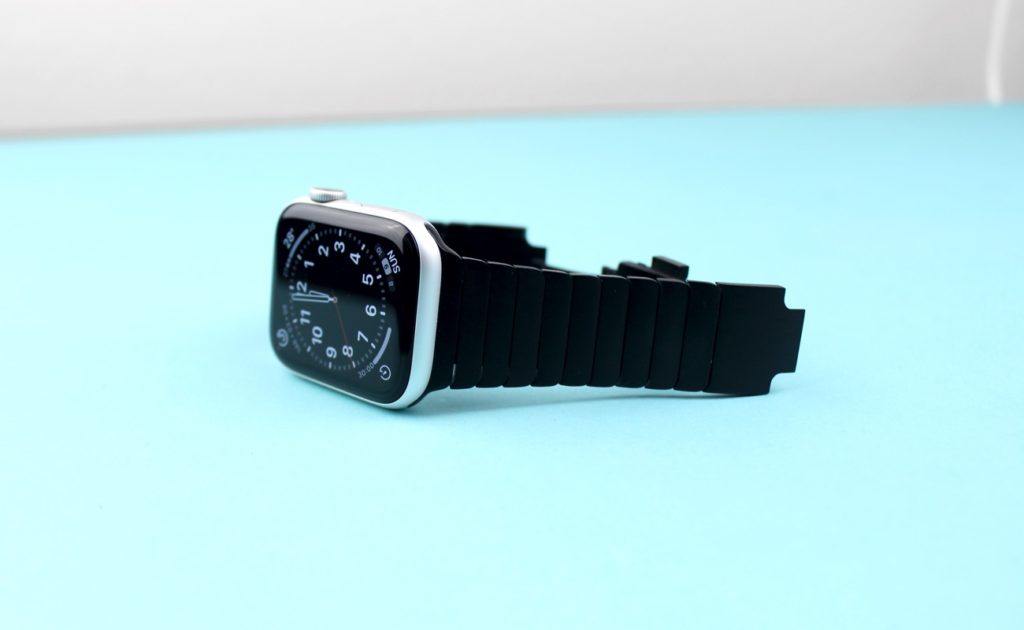 To my surprise the OULUOQI Replica Link Bracelet turned out to be a pretty good product. The design, finish, look and feel, the butterfly closure mechanism and value to money is second to none. I would go as far as saying it is a better option for those who like to switch their Apple Watch's band on a regular basis when compared to the highly priced Apple's original bracelet.
As soon as I took the OULUOQI Apple Watch Link Bracelet out of its box I was impressed by the quality and feel of the strap. It gives a nice premium feel when you hold it in hand, which isn't very different than the original Apple Watch band. In fact according to the product description on Lululook's website this replica band is made with the same 316L stainless steel as the original. When you consider this then the band shouldn't feel much different than the original.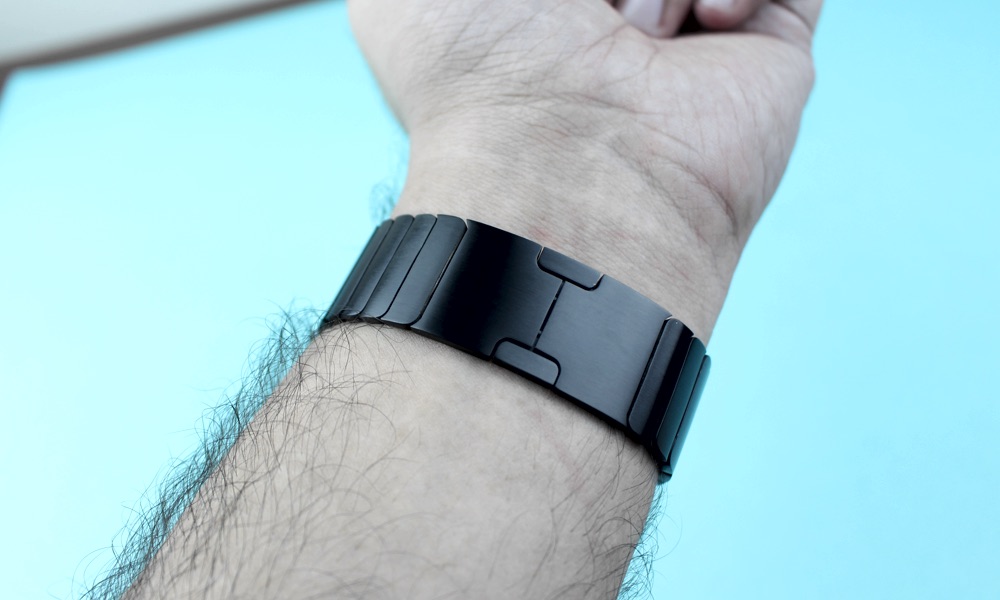 While the OULUOQI Apple Watch Link Bracelet more suitable for formal occasions, you can also easily wear this comfortable metal band to casual runs and lite sporting activities.
Just like any Apple Watch strap out there this strap is also compatible with both 38mm and 40mm, as well as 42mm and 44mm variants of the Apple Watch. So if you get a 42mm version you can also use it on your 44mm Apple Watch.
The butterfly closure gives a secure and snug grip to the Apple Watch. It also makes wearing and removing the Apple Watch from your hand quite convenient and quick. Just press the two buttons together and the bracelet will become loose, letting you remove the Apple Watch with ease.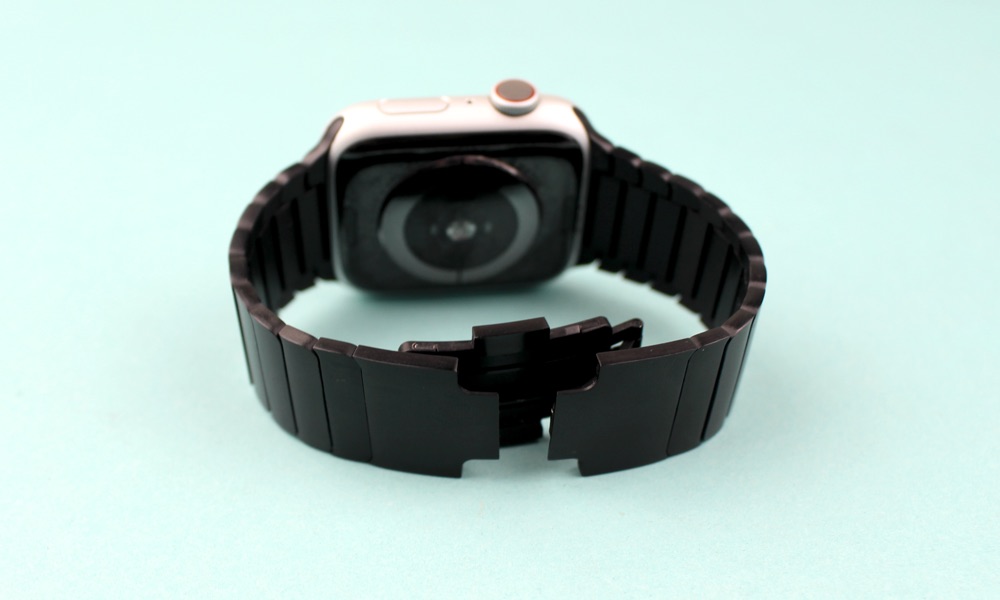 Another great feature of this Apple Watch bracelet is how you can adjust the band to match your wrist's size. While most other metal straps come with special tools that require a lot of work to remove excessive links, with this strap removing excessive straps is as easy as pressing buttons.
On the inside of the strap you will find a number of buttons for each link. You simply have to press the button and pull the link sideways to remove it from the strap. This can be done in a few minutes and at home, saving you a trip to the local watchmaker.
Overall this OULUOQI strap for the Apple Watch offers great value for money and looks as good as the original Apple strap, which costs hundreds of dollars. The black strap looks great with both silver and space grey Apple Watches while there's also a silver version that looks amazing on a silver Apple Watch.
OULUOQI Apple Watch Link Bracelet is available at a price of $59.99 from Lululook's website.