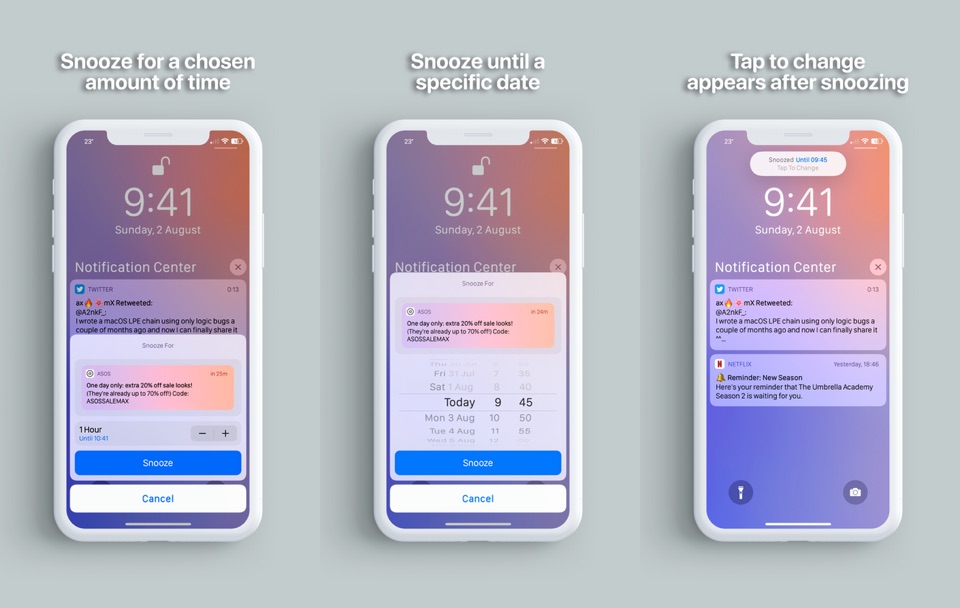 We have all been in situations where we saw a notification that we were interested in but didn't have the time to respond to at that moment. More often than not we end up dismissing such notifications and completely forgetting about them later on. Selenium tweak for jailbroken devices solves this problem by bringing Notification Snoozing feature to iPhone and iPad.
With Selenium you get the ability to snooze individual notification alerts for a specific period of time. When you snooze a notification it disappears from your device's lockscreen, notification center etc and only reappears at the time of your choosing. The tweak even reminds you that a notification was previously snoozed and has reappeared with an indicator.
Selenium tweak lets you snooze notifications for a specific date and time, allowing you to choose the exact moment a notification should reappear. The best thing about Selenium is that it remains persistent even when the device resprings or reboots. The snoozed notifications will reappear no matter if you respring or reboot your device, provided the device remains in the jailbroken state.
It features a very well designed user-interface that shows the notification you are snoozing at the top. Then you get an easy to use menu letting you easily snooze a notification for 1 or more hours. You can add hours to the snooze time by pressing the + or – buttons. You can also snooze notifications for several days by selecting a future date from the date picker. The polished design and well though UI makes the feature looks like a default iOS feature.
Selenium's developer has plans of updating his tweak with more updates. This includes features like snoozing incoming notifications while Do Not Disturb Mode is on, snoozing until you leave your current location or snoozing notifications until you arrive at a specified location. These upcoming features will make Selenium even more useful.
Selenium tweak is available as a free download on the Dynastic repository.