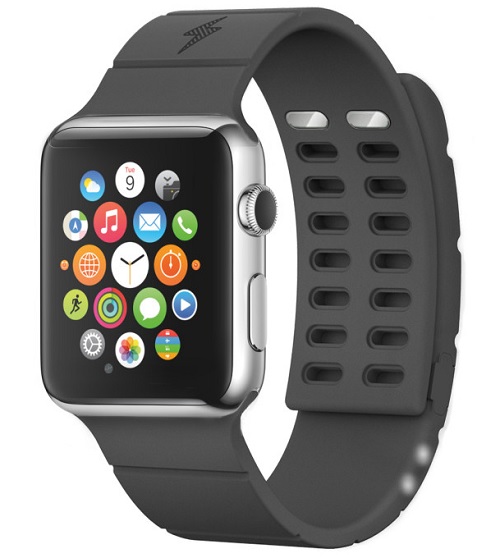 Apple Watch's battery life turned out to be better than what was initially expected but it still isn't good enough for most users. Apple claims that it lasts around 18 hours on a full charge, however different users are getting different mileage as it significantly depends on the way you use it. A third-party band for Apple Watch called Reserve Strap claims to add another 30 hours of battery life to the Watch, making the total running time approximately up to 48 to 50 hours.
The Reserve Strap takes advantage of the hidden accessory port found on the Watch, and uses it to charge the device through its own embedded batteries. The batteries are cleverly placed inside the strap, which give the band enough power to run the device for an impressive 30 hour. It also features a micro USB port that can be used to recharge the band and the Apple Watch simultaneously.
Other features of the Reserve Strap include LED lights to indicate charging status, water resistance, thermoset elastomer silicone band and more.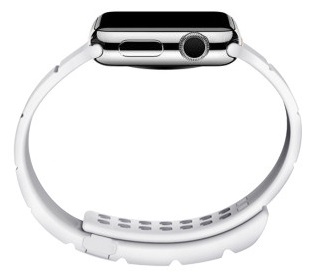 The band on its own weights 65 grams and has a width of 25mm. It is 3-9mm thick. A single band will support both 38mm and 42mm models of the Watch.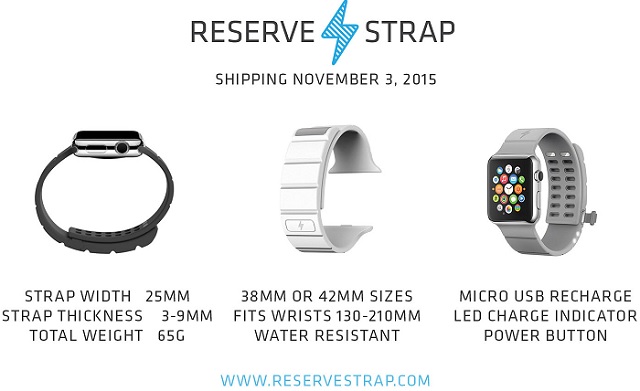 Reserve Strap is available for pre-order right now and will ship in November 2015. It costs $249 per unit and comes in White, Grey and Black colors.