Those of you who like to go beyond the stock Mail app on iOS would know about the popular Mailbox app. Mailbox is certainly one of the best mail apps that have ever been released on the iOS platform. Sadly, the app is now being shutdown, thanks to the Dropbox's acquisition of the company that built it couple of years ago. Now that Mailbox is not going to be around to help you achieve the zero inbox goal, we have gathered a list of a few great alternatives that you can use instead of Mailbox. Read on to learn about the 5 best iOS mail apps you should download in 2015.
Boxer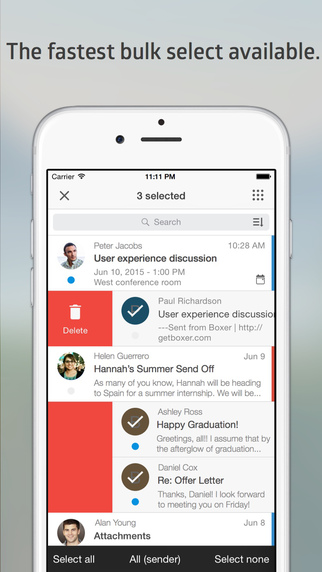 Boxer provides a fast way to manage email, calendar and contacts from one place. It supports a wide range of email services including Gmail, Outlook, Hotmail, iCloud, Yahoo! mail and IMAP. With Boxer you can quickly attach files from your Dropbox, Box and Google Drive accounts, manage events, manage emails quickly with customizable swipe gestures and more. The app also offers Evernote integration, which lets you quickly store emails as notes. Other features include smart folders, profile pictures for contacts, todo lists, likes and more. Boxer is available for free.
CloudMagic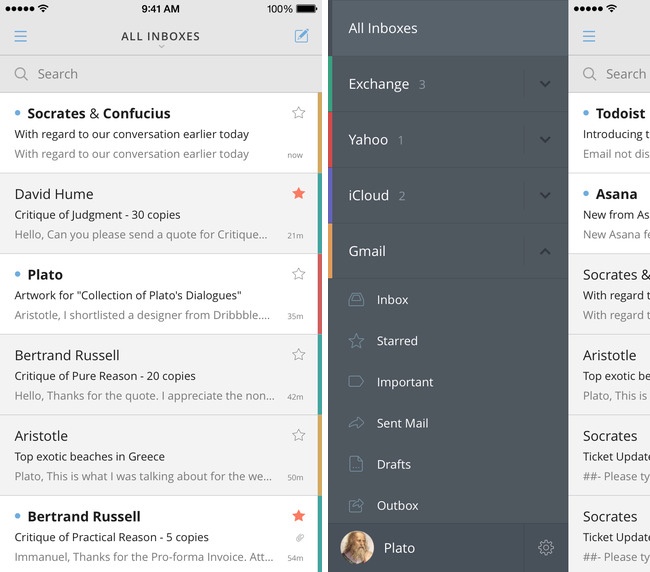 If you are looking for a simple yet beautiful mail app, then look no further then the CloudMagic Email app for iOS. It works with all major email service providers and offers features like push notifications, Apple Watch support, remote wipe, passcode lock support, custom folder sync settings, Google Drive, Dropbox, iCloud integration for attachments, Team contacts and more. The app also lets you connect with other third-party apps like Todoist, Evernote, Instapaper, Trello etc. CloudMagic is available in the App Store for free.
Dispatch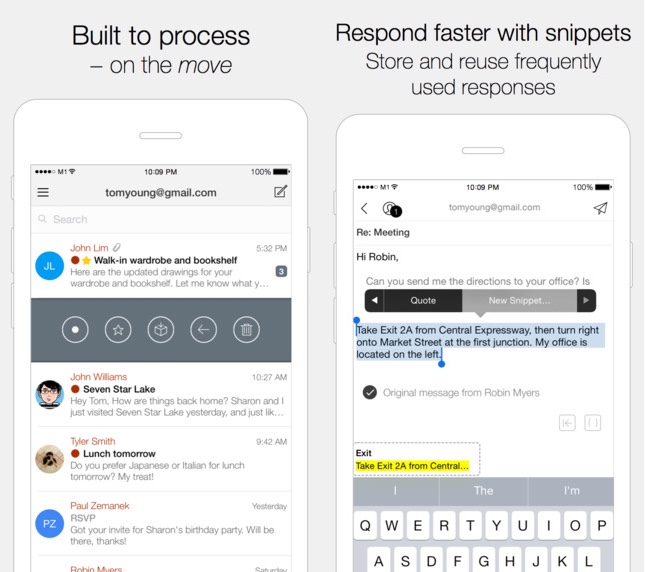 Dispatch has been designed to give you the best email experience on the go and deserves to be on the list of best iOS mail apps for 2016. It has handy features like Snippets, which allow you to enter frequently typed text quickly without having to type it again and again. It also features integration for 55 other apps, so you can perform actions like set reminders in Reminders app, save links in Pocket, save emails in Evernote and more. One feature that adds to the convenience Dispatch offers is ability to recycle any deleted message within 4 seconds. This is great for times when you archive an important email by mistake. It also offers a powerful search feature so you can find exactly what you are looking for in less time. Dispatch is available in the App Store for $6.99.
Inbox by Gmail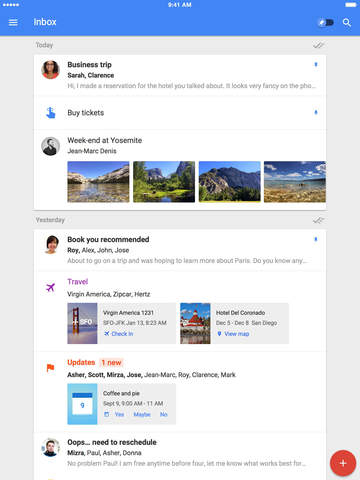 If all of your email addresses are managed by Google, then Inbox by Gmail is an app you should download. The app focuses on organizing your inbox, so the most important information is available to you at all times. Inbox by Gmail has features like ability to identify and highlight emails with flight information, purchases, tracking info for shipments and media files. The app makes it easier to follow conversations by bundling similar messages, has built-in reminders, ability to snooze emails and reminders for later, powerful search and more. Inbox is a free app.
Microsoft Outlook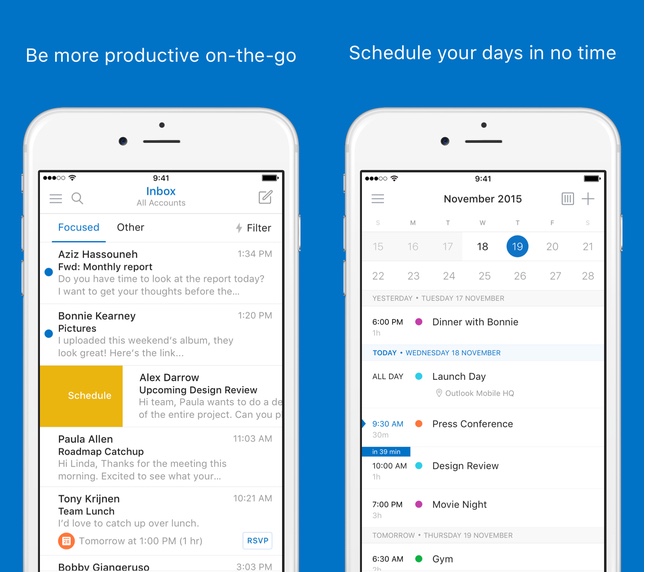 Coming from software giant Microsoft, MS Outlook for iOS is considered the best iOS mail app by many and rightly so. With Outlook you can manage your email, calendar and files in place. The app has useful features like ability to list important messages on top of the list, sharing features, multiple account support, ability to attach files in a few taps and more. Unlike Google Inbox, Outlook supports Microsoft email accounts as well as Gmail, Yahoo! Mail and Apple's iCloud. It also supports IMAP. One of the best features of Outlook include support for swipe gestures and smart filters that let you manage your inboxes in a more efficient manner. Microsoft Outlook app for iOS is available for free in the App Store.
So there you go folks, these are the best iOS mail apps you should download in 2016. Did we miss any? Let us know in the comments section below.
Disclosure: iOSHacker may receive a commission if you purchase products through our affiliate links. For more visit our privacy policy page.