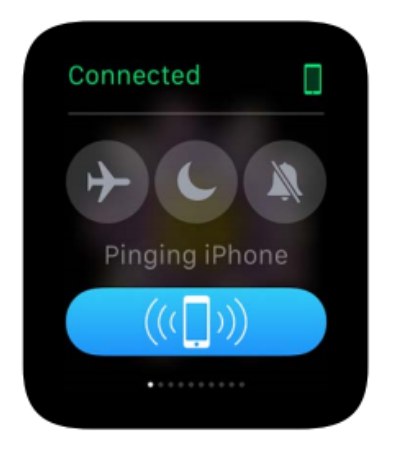 We have our iPhone with us all the time, even when we are not using it. Sometimes though the device gets lost in the room forcing you to find it, which can be very annoying. If you are an Apple Watch user, then you can quickly find the device provided it is in the Bluetooth range of the smartwatch. Apple Watch has a built-in feature that allows users to ping their iPhone, so they can find it in case it goes missing. Remember this feature is not for when your device gets stolen or you lose it in other part of the city. It simply works when the device is in the same room or in Bluetooth range.
To find your iPhone using the Apple Watch all you have to do is press the Digital Crown button to access the glance screen. Then swipe to the right most screen to access the 'Settings' glance. There you will find the ping button with an iPhone on it. Upon tapping this button your iPhone will start vibrating loudly and start flashing, making it easier for you to locate it.
This feature is not only useful when you lose your iPhone within your home as it can also be helpful in emergency situations, as found out by Redditor M4ttiG. The user was in a fatal car accident in a remote highway with his car upside down. He woke up only to find out he cannot find his iPhone, thus not being able to contact emergency services. He got out of the vehicle and used his Apple Watch to locate the iPhone using the same method. At first M4ttiG was not able to connect to his device as it was out of the Bluetooth range, so he walked around while repeatedly pressing the ping button on his Apple Watch. Finally he heard the phone vibrating and flashing in the dark, and used it to call for help.
Disclosure: iOSHacker may receive a commission if you purchase products through our affiliate links. For more visit our privacy policy page.