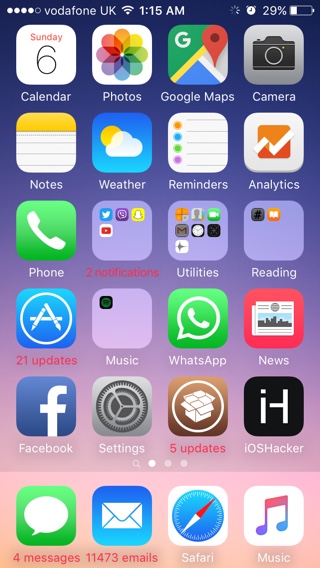 The new Goodges tweak changes the way your iPhone or iPad's homescreen looks, by replacing the notification badges that appear on the icons with notification labels. With Goodges installed the typical red badges that indicate how many notifications are pending for any given app are replaced with icon labels, that in plain words tell you how many alerts any app has. For example, instead of getting a red '4' badge on the Messages app icon, you will see '4 messages' as the app's label. The tweak replaces the name label for apps that have pending notifications, while displays the name for the ones that have none.
Goodges offers several useful customization options, which make it possible for users to personalize the look of the labels and even change the text that appears for individual apps. You can change the color of the label, make text bold, capitalize the first letter and add a highlighter on its background. From Settings, you can change the text label for different apps, for example you can configure the tweak to say '4 messages' for Messages app and '4 updates' for App Store instead of general '4 notifications' text. Each app can have its own suitable text.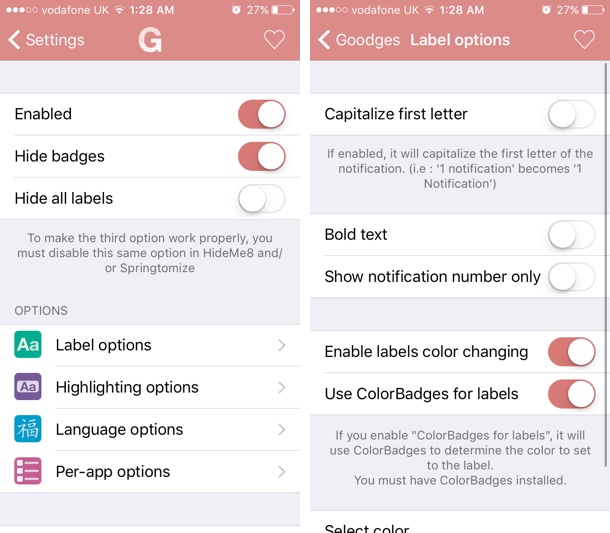 The tweak also features support for ColorBadges, so if you have enabled the 'Use ColorBadges for labels' setting the tweak will use ColorBadges to determine the color for the label text.
You can download the Goodges tweak from Cydia for free.
Disclosure: iOSHacker may receive a commission if you purchase products through our affiliate links. For more visit our privacy policy page.