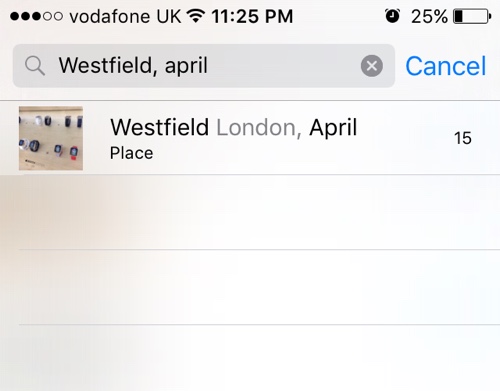 For most iPhone users, their smartphone is the primary camera for capturing important moments of their lives. Not only is it super convenient to take photos with it, but also because it takes gorgeous pictures. As a result our Photos app is flooded with tens of images on daily basis. This makes finding the photo you are looking for difficult, as you have to browse through hundreds of photos to find the image(s) you are searching for. Luckily, there is an easy way of finding the images, provided you know when and where you took them.
On your Photos app's 'Moments' section, you can look for specific images by typing the place and month you took them in. For example, if you are looking for a specific image or a group of images that you took during your January's London trip, all you have to type is 'London, January'. This tip not only works for getting images from cities you visited but you can also type in name of the exact location you were at when you took the photo. For example, you can type 'Westfield april' and get all the images you took in Westfield shopping center during the month of April. Specifying places rather than cities can narrow the search down and make the process of finding pictures a lot faster.
To access the search field, simply tap on the magnifying glass located on the top menu bar of the Photos page.
Disclosure: iOSHacker may receive a commission if you purchase products through our affiliate links. For more visit our privacy policy page.