iPads and iPhones have become so powerful, that you can easily perform monumental tasks like video editing on them without any problems.
Using some of the great video editing apps that are available on the iPad it is not possible to edit pro-level videos right on this handheld device.
In fact now it is possible to edit videos on your iPad and still get similar results like that of your Mac or PC.
However to be able to do this you need to download some apps first. To make your life easier we have a list of top video editing apps for iPad that you may not be aware of!
Looking to flip iPhone video without third-party apps? Try our guide.
Let's discuss these amazing iPad video editing apps for 2022 that you should try at least once.
Video Editing Apps For iPhone in 2022
Here is the list 7 of the best video editing apps for iPhone and iPad. These apps are essential for all iPad users who have to edit videos on their tablet.
So no matter if you are a YouTuber, Casual home video maker or a professional filmmaker, these apps are worth checking out.
Also check our amazing list of best photography apps for iPhone here.
1. LumaFusion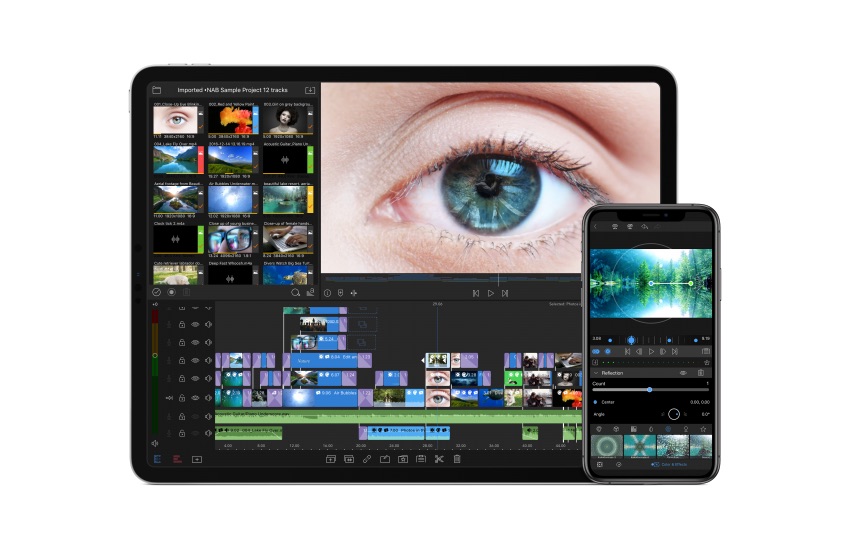 LumaFusion is on top of the list of best video editing apps. Its upgraded version, LumaFusion 2.0 gives an array of the improved interface and powerful features.
In the new version, you can push video to external display which gives space for library views and denser editing.  
The entire UI is improved with enhanced features such as new timeline overview, track headers and color-coded markers to flag and comment on timestamps.
In addition, you can browse media directly from Photos, GNARBOX, and WD Wireless Pro/SSD drives. It now comes with 12 tracks 6 for video/audio and 6 for audio-only.
Moreover, you have various layer effects, color correction tools, slow and fast motion, and share movies easily anywhere.
The LumaFusion app for iPhone and iPad is available on the app store with the price tag of $29.99.
2. Adobe Premiere Rush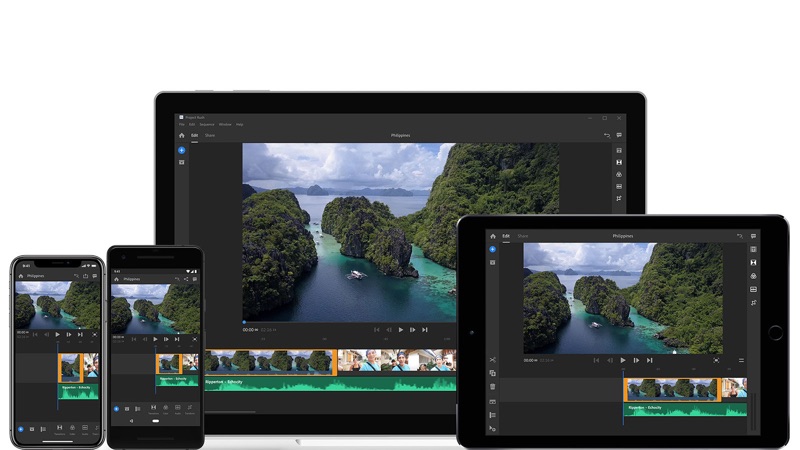 Adobe Premiere Rush is truly one of the best video editing apps for iPadOS so far. It lets you create a smooth stream of amazing videos to share instantly online. What's best is, it works well across all your devices.
Now you can make professional videos quickly exactly the way you want, and share on your social media straight from the app! 
You can capture high-quality videos from its built-in camera, and immediately start editing.
It makes video editing on iPad easy through its drag and drop function, ability to conveniently arrange video, audio and images, as well as with other tools that let you enhance color, control transition, add titles and voiceovers – it is one of the most comprehensive video editing tools for iOS out there.
Download this iPad video editor here and take your videos to the next level with only $9.99/month.
3. Cinemagraph Pro
Your visual storytelling is transformed and redefined with this Apple Design Award winner video editor.
This tool makes cinemagraphs easy by combining natural motion and still imagery. Even if you are not an expert, you can easily create professional and high-quality cinemagraphs.
You don't have to spend hours editing your videos, now it's just a matter of a few seconds.
This iPhone and iPad video editor comes free and is available here, however there are in-app purchases starting from $14.99 per month. Pricing depends on your needs.
4. Filmr – Edit Photo & Video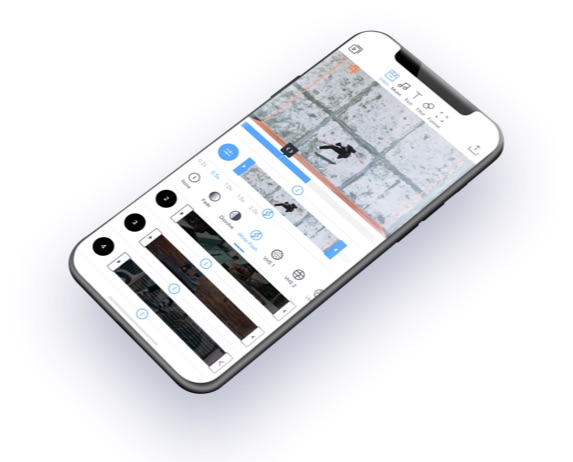 Filmr being one of the best video editing apps can also be considered 'the easiest video editor in the world'. With this app, you can add your favorite music, texts, effects transitions in seconds.
With its clean vertical oriented design, easy UI, and large music library, you can easily edit videos on iPad.
Whether you are a beginner or a pro, Filmr is just the right video editor for you. This app does not only come with unique characters like Unicorn, ET or Dwarf but also brings augmented reality to life!
You can trim your videos in seconds, change the speed of videos, reverse them, and rearrange them. 
Like Cinemagraph Pro, Filmr is free to download but has various in-app purchases. This app is available on the store here.
5. Filmmaker Pro Video Editor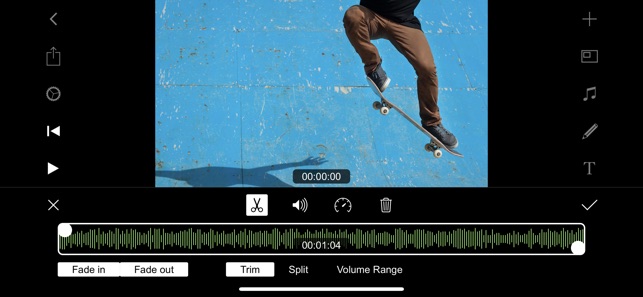 Filmmaker Pro comes with amazing video editing options filled with filters and text effects. With various color options, filters, and green screen support, it lets you chose among nearly 200 different fonts.
You also have the option to edit unlimited videos, audios, text overlay and add voiceovers. 
Its video editing features, come with 39 professional transition options. It lets users adjust the video playback speed from fast or slow motion.
You can add music with built-in 79 thematic music tracks, and for the text, you have 85 classic fonts to choose from. Moreover Filmmaker pro Video Editor has 90 illustrations and 80 custom animated stickers.
You can also use this tool to remove watermarks from your videos.
Filmmaker Pro is available here, and is free but has multiple in-app purchases starting from $7.99/month.
6. Videoshop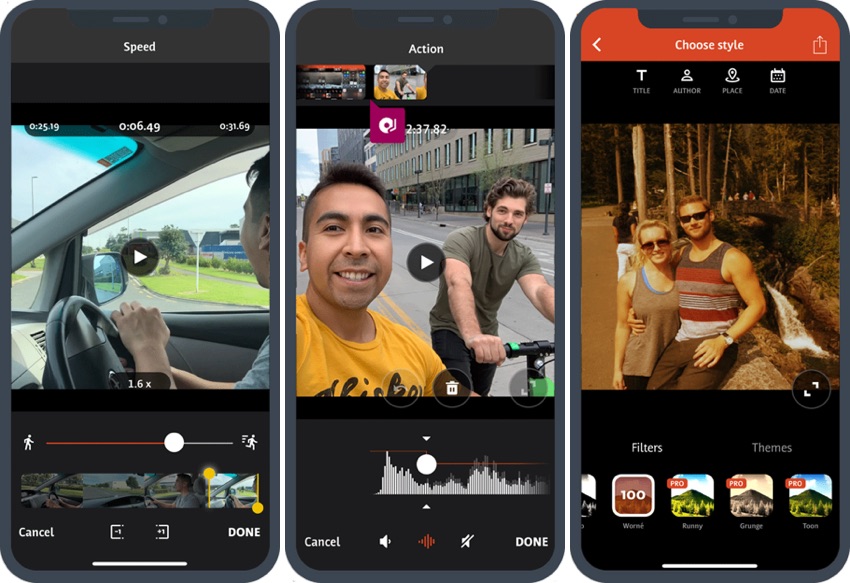 When speaking of fast, easy and personalizing your videos, Videoshop is one of the apps that definitely come to mind. You can trim, add sound effects and integrate your favorite songs in the videos.
With its motion features, you can either make your videos fast or slow. Moreover, you have the option to add your own message on video, and express yourself more! 
If you need to create a video out of different clips, it can also be done with this handy app. You don't need to take pains to find filters as it has Instagram inspired filters to increase the impact of your videos.
The stop motion, voice-overs, resizing, reverse or undo editing mistakes are all in one app. 
This app is also free, with in-app purchases as low as $3.99. You can download this app here.
7. Magisto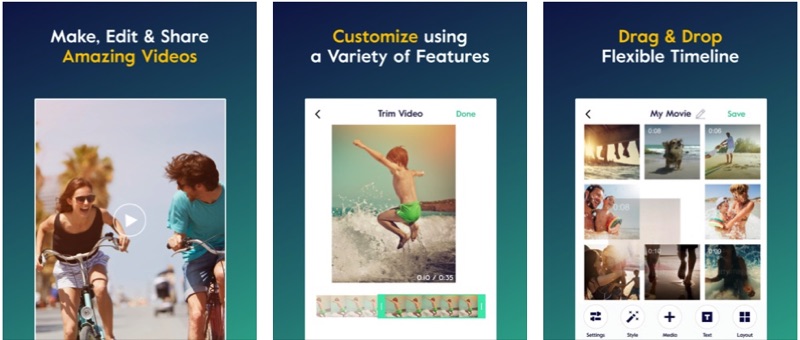 In order to create and share excellent videos on social media, no app could be better than Magisto. It beautifully transforms your photos and videos into attractive and impressive videos with its powerful video maker.
It is one best video editing apps for people on the go as well as for the non-experts in video making and editing.
You can edit and reorder the pictures, create longer videos with 80 photos per video, and download HD movies.
Like others, Magisto- one of the top video editing apps is free with in-app purchases is available on the app store here.
So now that you know about best video editing apps for iPhone and iPad, which one are you going to try? If you have got something to add to the list, let us know in the comments below.
Disclosure: iOSHacker may receive a commission if you purchase products through our affiliate links. For more visit our privacy policy page.