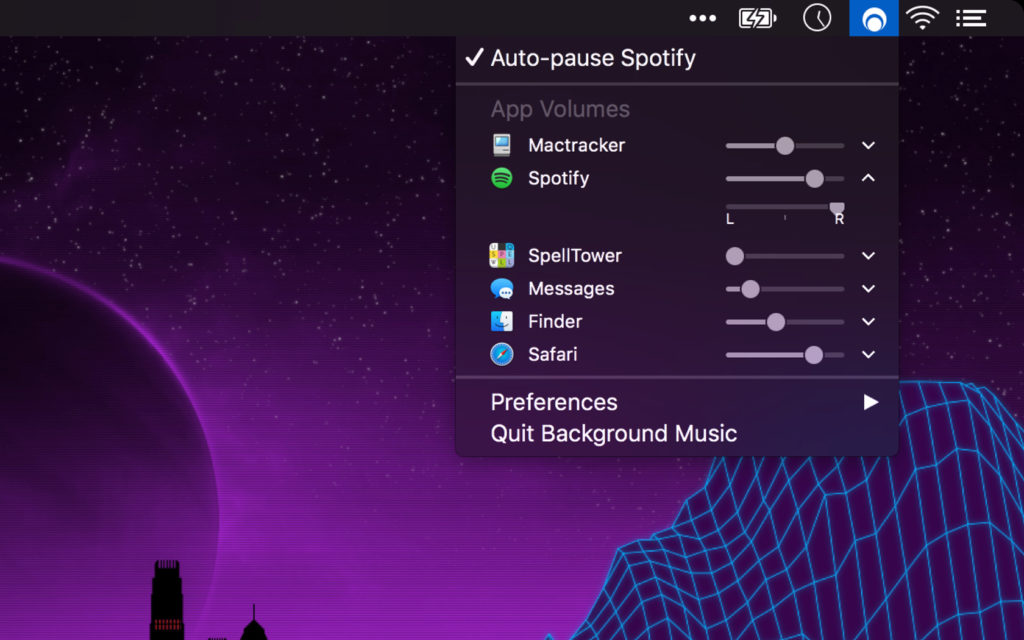 If there's one basic feature that macOS lacks, it's separate application volume control. Windows has had this since the days of Vista, but in macOS High Sierra, there still is no way to control the volume on a per-app level, unless the application itself has built-in volume control, such as iTunes. I have some games that don't let me toggle the music. I would prefer to listen to my own music, but the two applications clash with each other for the audio.
So I decided to look for a third-party solution since I wasn't counting on Apple to add this feature to macOS anytime soon, but the apps I found were paid, and I didn't feel like paying for an app when I wasn't sure how much use I'd get out of it, since I didn't play these games often. It was then that I came across an open source application called Background Music.
Background Music is a free, open source macOS application that not only allows you to set individual app volumes, but also automatically pauses your music and allows your to record the system audio. In the menu bar, you can select the ideal volume for each application on your Mac. You can mute an application, turn it down a bit, or even increase it, making it a good alternative to apps like Boom.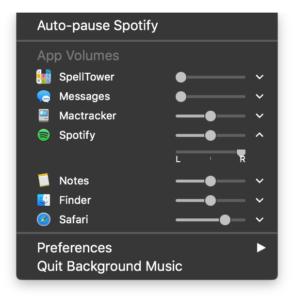 You can also adjust the left and right audio channels, so if you have only one earbud in your ear, you can channel all of the audio of a certain app to that earbud. Background Music also remembers your preferences, so if you have an application on mute when you close it, it'll be mute when you open it again.
While adjusting the sound on a per-app level is probably the most useful feature of Background Music, it does have other uses too. Have you ever been listening to music and then started watching a video, making you have to pause the video and then the music? Or after watching a video you forget to resume playback of your music? Background Music can help! You select which music player you want it to control, and then if you start watching a video, Background Music will automatically pause the music in that application, and the automatically resume it once it's done.
Background Music also lets you record the audio on your Mac. So if you ever wanted to record the sound while playing a game or a FaceTime call, you can do that now! Using the Audio MIDI Setup application included with macOS, you can even combine your microphone with the system audio, which makes it perfect for recording voiceovers or video calls.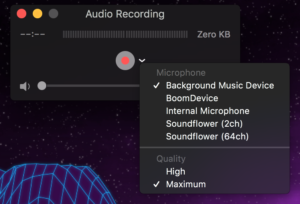 Background Music is great, especially since it's free, but it's not perfect. It doesn't support every music player, and it doesn't automatically know which one to automatically pause; you have to set that automatically. It also doesn't automatically output the audio to a Bluetooth speaker if you connect to one, unlike what macOS normally does. There also is not way to set the volume for system sounds, such as notifications. However, these are very small details, and considering the fact that it's free, I don't mind one bit.
Back in the 90s, Apple bought third-party applications such as WindowShade and SuperClock and implemented them right into Mac OS System 7.5. Apple should do the same now with Background Music. Yup, it's that good. Until that happens, you can download it from the official GitHub page. (Another thing to note is that it doesn't require you to restart your Mac to work, so if you have lots of tabs in Safari open, no problem!)
What do you think of Background Music? Do you think Apple should have this feature baked into macOS? Let us know in the comments down below!
Disclosure: iOSHacker may receive a commission if you purchase products through our affiliate links. For more visit our privacy policy page.