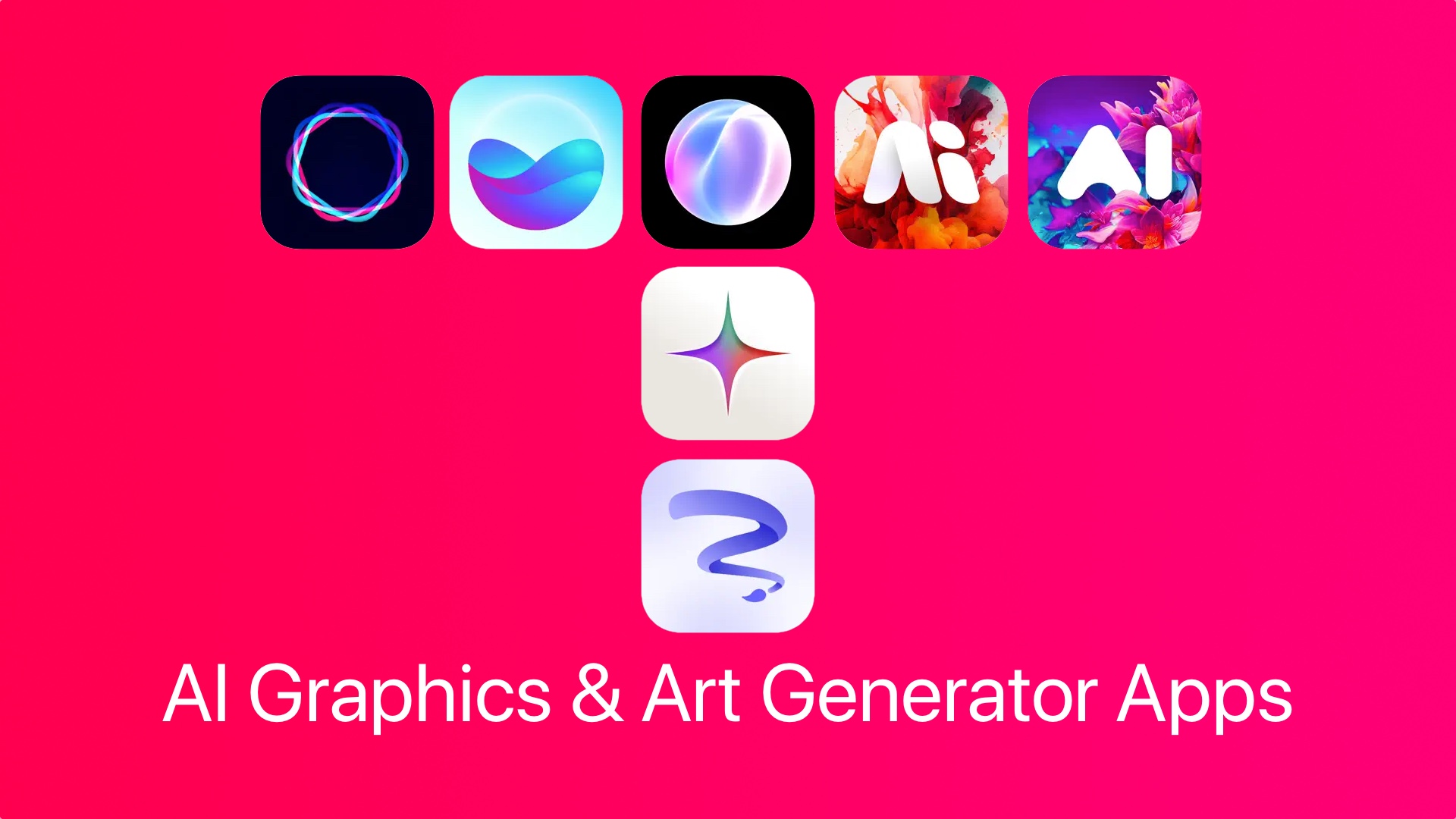 In this blog, we discuss the best AI graphics generator apps for iPhone and iPad that are transforming the way we create and appreciate visual art.
Have you ever craved the ability to create stunning graphics or explore your artistic side, all from the comfort of your iPhone or iPad? Well, you're not alone.
In a world where we carry the power of technology in our pockets, the desire to channel our inner artists and transform our photos into visual wonders has never been more achievable.
Craft Digital Masterpieces: The Best AI Art Generator Apps for iPhone
Thanks to the rapid advancements in Artifical Intelligence, you bring your wildest creative visions to life at your fingertips. Whether you're a seasoned artist or a novice with a penchant for photography, these apps are your passport to an artistic wonderland. 
So, let's dive into this world of artistic innovation and explore the best AI graphics generator apps for iPhone and iPad that are set to revolutionize your creative pursuits.
1. ARTA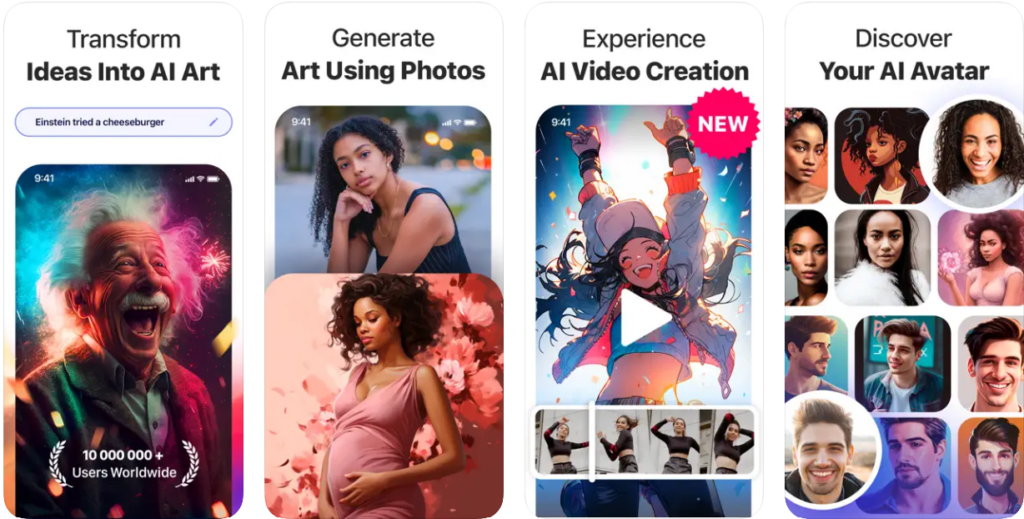 Ever wanted to see a BBQ party on Mars or a group of cats having a tea ceremony? With Arta, you can. It's trained with millions of images from the web, and it will take your imaginative descriptions and turn them into remarkable visual art in mere seconds. Just type in your ideas, and watch as the AI brings them to life in vibrant detail.
You can upload a video and let the AI turn it into a breathtaking magical scenario, a futuristic cyberpunk world, or an exciting anime universe. Whatever you want, there's a template for it and that's why it's considered one of the best AI graphics generator apps for iPhone.
From cartoonish pencil sketches to mind-blowing photorealism, you can experiment and choose the style that best captures your idea. You can also upload your photos and turn them into an epic comic-style superhero, a cool cyborg from the future, a 90s rock star, and more. Who knew you could create an avatar with AI on an iPhone with such ease?
2. Wonder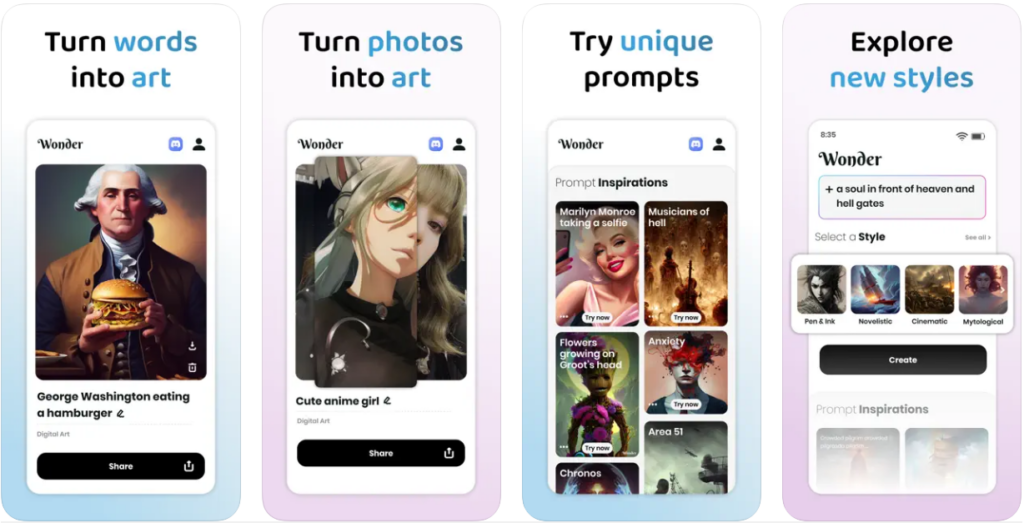 Next up is Wonder – a true wonder in the world of art apps. With the Wonder AI art app for iPhone, you can transform your photos into captivating artwork using its AI filters. You don't need to be a seasoned artist to use it – just bring your imagination, and let the app handle the rest.
Here's how it works: You start by entering a prompt, such as "Life Under Sea" or "Shattered Rainbow." Then comes the fun part: you get to choose an art style. Wonder offers a wide range of styles to pick from and even an option to go "no style" if you prefer. Once you've made your selections, you simply hit the "create" button, and like magic, Wonder starts crafting your digital masterpiece.
But can Wonder paint for you? You can request it to generate art from poems, song lyrics, or unique and creative word combinations. Feel like having artwork of your favorite movie character, star sign, or monument? Wonder can do it all. No wonder it's considered one of the best AI graphics generator apps for iPhone.
3. DaVinci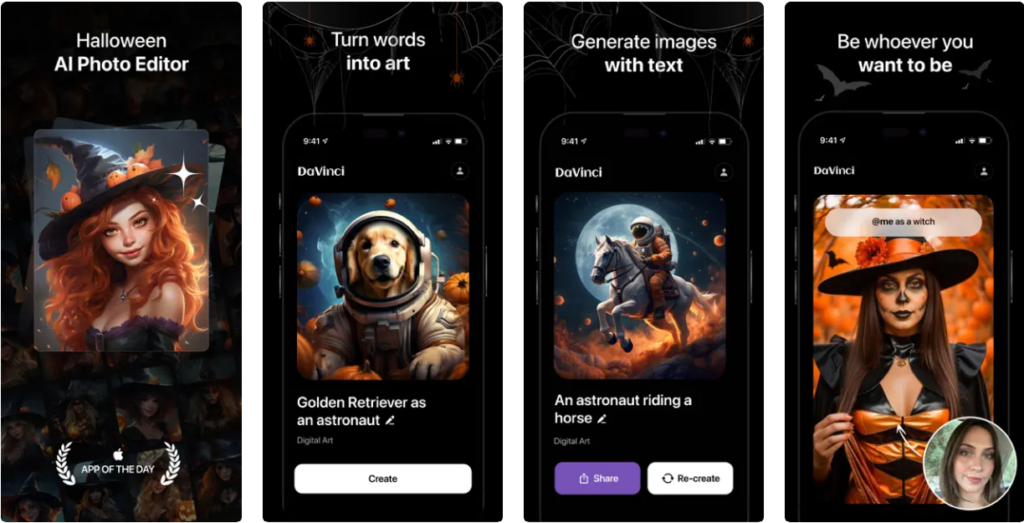 DaVinci is your virtual art studio on the go. This AI art maker for iPad is perfect for those who want to sketch, paint, or create digital art masterpieces without a hitch.
Wanna know what makes it the best AI graphics generator app for iPhone? This state-of-the-art AI Photo Generator is powered by the latest artificial intelligence technology, enabling it to craft unique artworks, photos, and images based solely on your descriptions. And it's trained with millions of web images, allowing you to create captivating art drawings in mere seconds.
You can experiment with different styles, from whimsical cartoon-like sketches to jaw-dropping photorealism. This feature empowers you to discover the perfect style that transforms your vision into stunning AI art.
Oh and, if you've ever thought about getting a tattoo, DaVinci AI's AI Tattoo Generator is a game-changer. Simply input your idea, and watch as the powerful AI art generator creates amazing, one-of-a-kind tattoo designs.
4. Imagine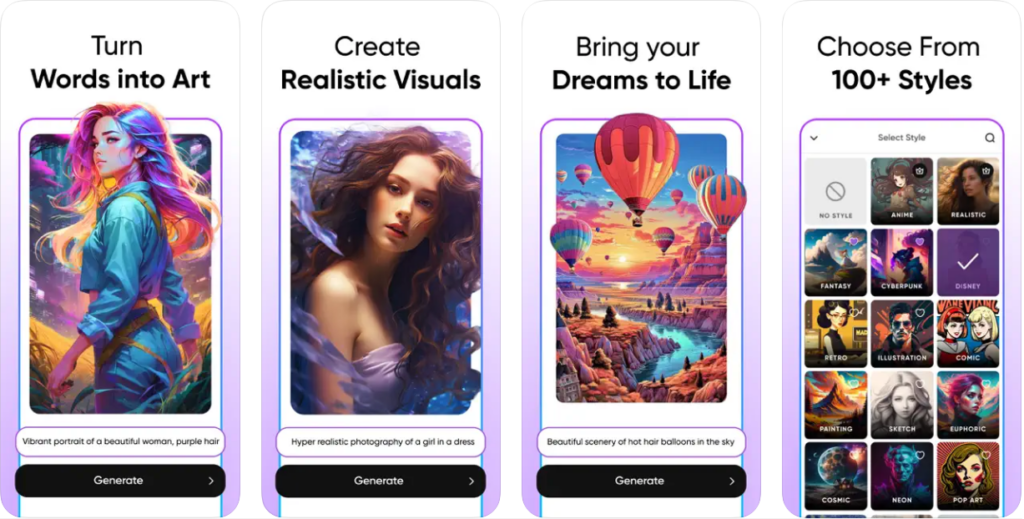 Imagine a world where you can turn your thoughts into vivid artwork with a few taps on your device. That's precisely what Imagine does. This iPad AI art maker turns words into art by letting you enter a prompt, and then you can select from a wide array of art styles.
But that's not all. If you already have a photo you love, Imagine can transform it into various art styles, from anime to oil paintings and pixel art. And for those who like to fine-tune their creations, Imagine offers advanced settings such as Negative Prompt, Image Strength, and CFG Scale. These controls allow you to customize your art to your heart's content.
But here's why we think Imagine deserves a spot on the list of the best AI graphics generator apps for iPhone. It offers practical features like Batch Upscale and Inpaint. You can enhance the quality of multiple photos without sacrificing textures or details. And with the Inpaint feature, you can easily remove unwanted elements from your AI-generated art. Neat, right?
5. Airt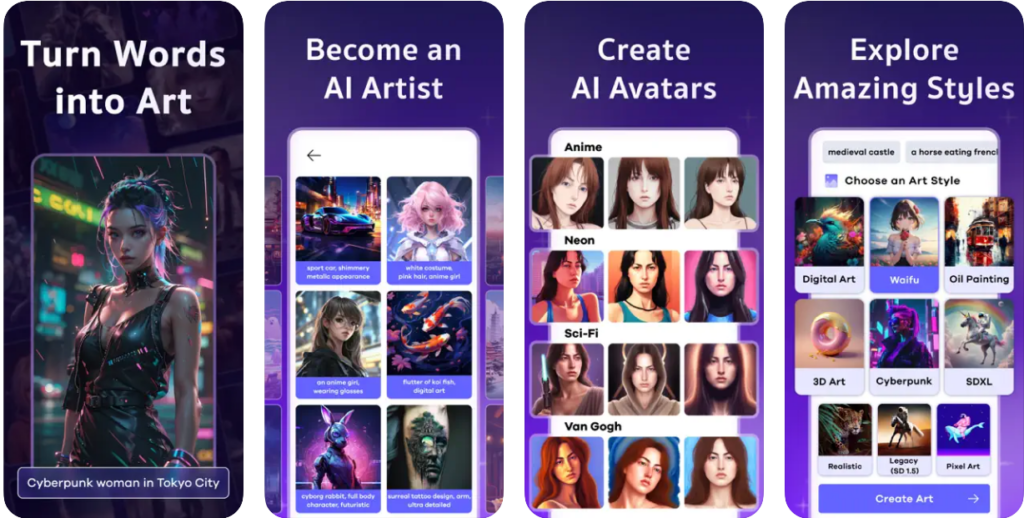 Airt can not only create AI images on iPhone with app but also allows you to share your artistic creations with the world seamlessly. Since the app integrates with popular social media platforms, you can seamlessly showcase your artwork to friends, family, and followers. No need to get fumbled up, share your art with the world as you create.
With over 10 different styles to choose from, you have the creative freedom to match your preferences. By simply inputting your desired text, Airt's cutting-edge AI algorithms work their magic, effortlessly converting your words into visually striking art. If that isn't enough to make it one of the best AI graphics generator apps for iPhone, then what is?
In addition to sharing, Airt understands the value of preserving your artistic journey. You can save your artwork in high-resolution format to your device's gallery, giving you the opportunity to revisit your masterpieces anytime you desire.
6. Starryai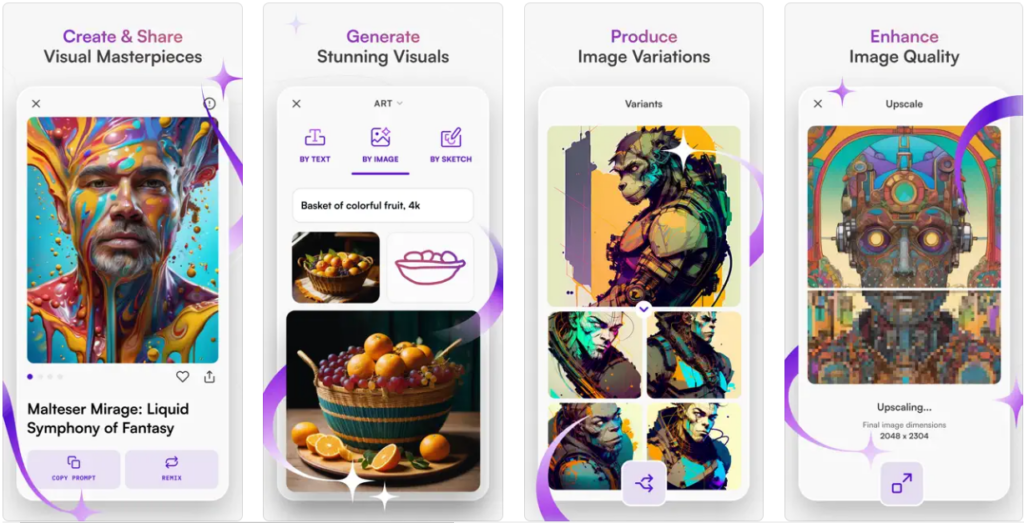 Starryai iPad AI art generator is all about creating celestial and cosmic art. Whether you're fascinated by the night sky or dream of otherworldly landscapes, Starryai can turn your ideas into stunning visual realities using AI technology.
The app offers a host of value-added features that truly set it apart. First, it's completely free to use, allowing you to generate up to 5 artworks every day without any unsightly watermarks marring your creations. What's more, you have full ownership of your art, so you can proudly use it for your next project, print it out, or share it without any constraints or limitations.
What makes it the best AI graphics generator app for iPhone is that your art will always look its best. But if, by a rare chance, you're not entirely satisfied with the result, Starryai offers a convenient retouch feature. Simply make the changes you desire by drawing over the areas you want to adjust and write a prompt to guide the AI in creating your vision.
7. Dream AI Art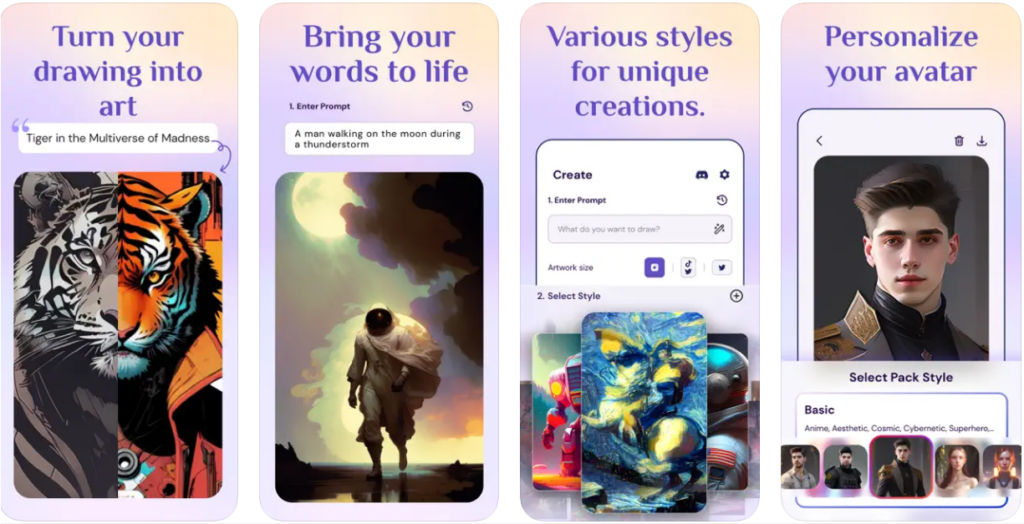 Wrap up your journey with Dream AI Art. This iPhone AI art generator uses neural networks to generate dreamy and surreal art. Let your creativity flow as you explore various styles and effects and make the most out of the best AI graphics generator app for iPhone.
With this cutting-edge AI technology, you can see your face in various scenarios, from becoming an astronaut in a sci-fi movie to being the muse in a Picasso painting. It's as simple as following the provided guidelines step by step, and the AI takes care of the rest, generating astonishing avatars for you.
Additionally, you can choose from a variety of anime, Ghibli, comic, manga, and cartoon-like filters to instantly transform yourself into a dreamy character straight out of an anime movie. What's better than becoming part of one of your favorite fictional worlds? Nothing!
You can also choose from a diverse range of art styles, including vibrant and colorful paintings, or darker and more dystopian creations. These styles encompass watercolor, cyberpunk, dark fantasy, comics, Da Vinci, Gouache, and more.
Final Thoughts
Okay, one thing is clear: these best AI graphics generator apps for iPhone are your gateway to unleashing your inner artist, transforming ordinary photos into extraordinary artworks, and turning your imagination into reality.
With a simple tap and swipe, your iPhone becomes a canvas for your imagination, allowing you to explore new horizons in the world of art and design. So, embrace these best AI art generator apps for 2024 and embark on a journey of creative discovery. There are no limits to what you can achieve, kid.
Disclosure: iOSHacker may receive a commission if you purchase products through our affiliate links. For more visit our privacy policy page.