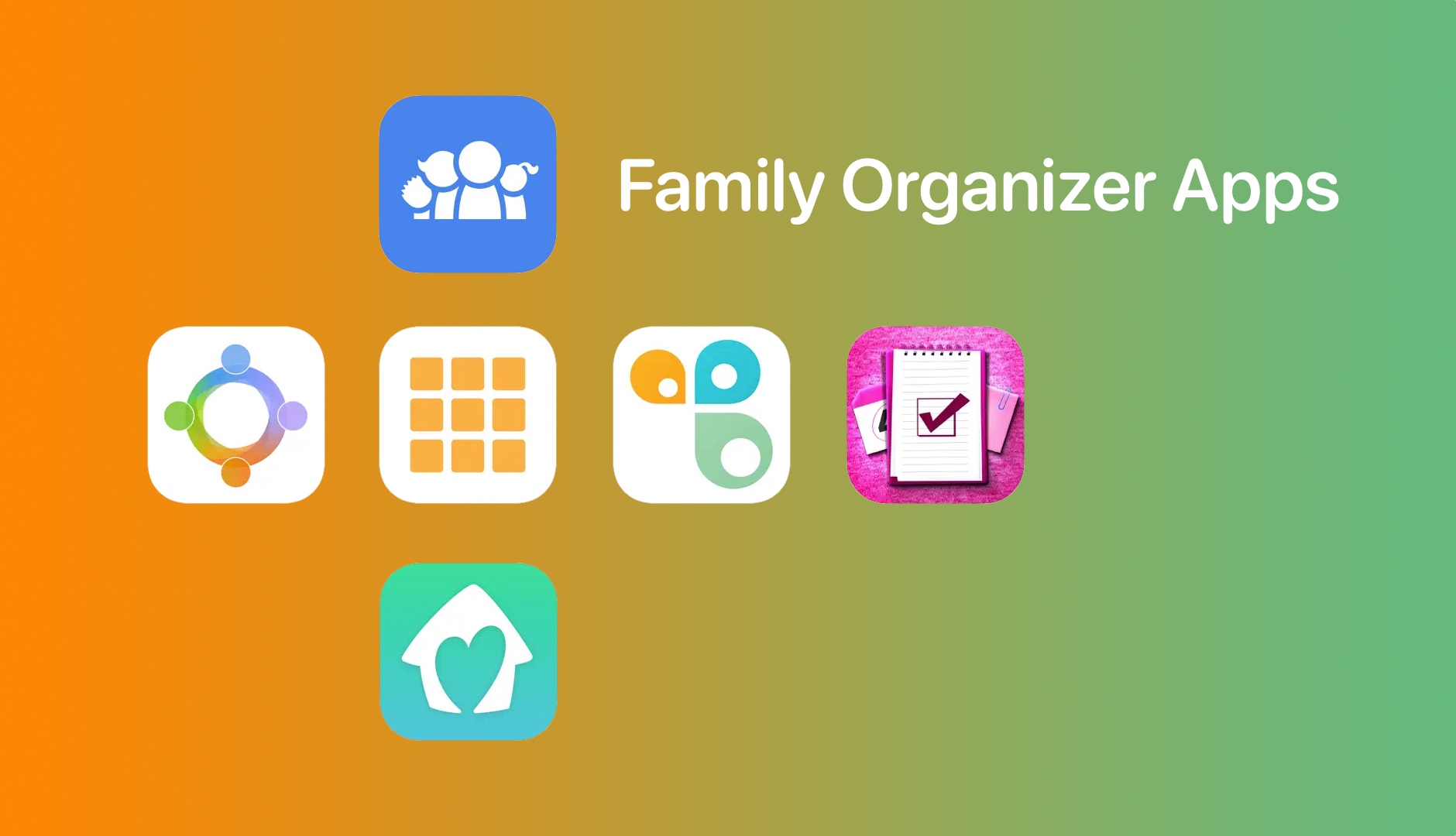 In this article, we discuss the best family organizer apps that are here to simplify your life, keep everyone on the same page, and turn your household into a well-oiled machine. 
Are you tired of playing the never-ending game of "Who's picking up the kids today?" or "What's for dinner?" in your family? Well, join the club!
Family life is a beautiful whirlwind of love, laughter, and shared memories, but it can also be a whirlwind of chaos and confusion, especially when it comes to coordinating schedules, tasks, and responsibilities.
That's where the magic of technology steps in to save the day, or shall we say, the family?
From Chaos to Calm: The Ultimate List of Must-Have Family Apps
These handy digital tools are like personal assistants for the modern family, helping you keep track of events, tasks, and grocery lists with ease. They're the magical spell that turns a hectic household into a well-oiled machine.
So, if you're ready to bring order, harmony, and a little extra sanity to your family life, stick around to discover the best family organizer apps.
1. Cozi Family Organizer
Cozi, your all-in-one iPhone family organizer app, offers a multitude of invaluable features to simplify and streamline your family life. At its core is the Family Calendar, which consolidates everyone's schedules into an easy-to-navigate, color-coded calendar. It's a breeze to set reminders, ensuring no one misses important events. You can even send automated agenda emails to keep everyone in the loop, making it one of the best family organizer apps.
The Shopping Lists and To-Do List features keep the whole family on the same page when it comes to groceries and tasks. Real-time updates prevent forgotten dinner ingredients or chores. Moreover, Cozi's Recipe Box is a standout, allowing you to access recipes from anywhere and add ingredients to your shopping list. However, Cozi's accessibility shines through, with access from any device, ensuring family coordination. Plus, it's free, user-friendly, and available on mobile or desktop. But for added perks, there's an ad-free premium version, Cozi Gold.
2. FamilyWall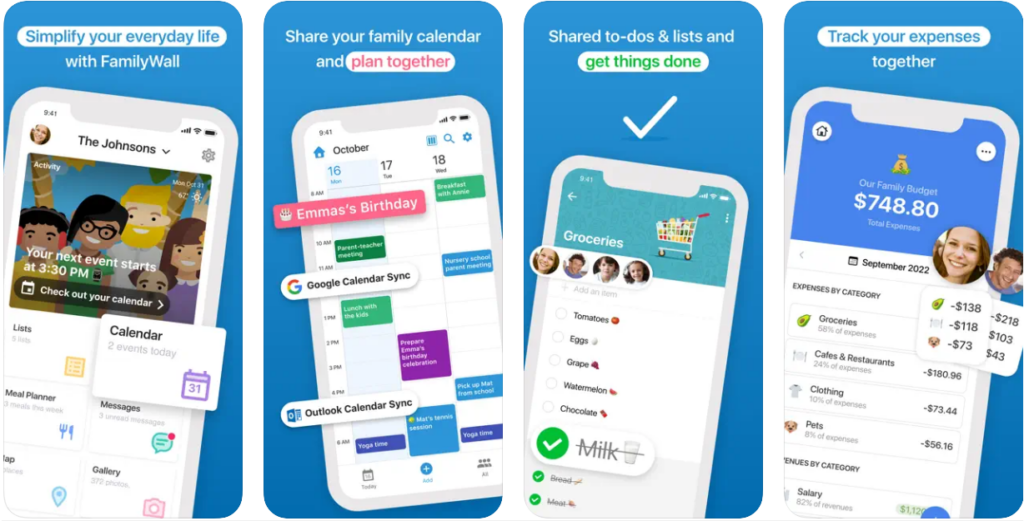 FamilyWall is your ultimate iPad family organizer app, designed to simplify your life and keep everyone involved informed. With a shared family calendar, grocery lists, a finance tracker, member locator, photo and video album, secure messenger, and more, it's your one-stop solution for managing your family life efficiently.
The feature that makes it one of the best family organizer apps is its Shared Family Calendar. This color-coded calendar allows you to view individual schedules or the entire family's activities at a glance. You can easily add or edit appointments that everyone in the family can see. Set reminders to ensure no one misses out on soccer practice or important events. Plus, the convenience of importing your current calendars, whether from Outlook or Google, with a single touch, makes it a breeze to integrate into your existing routines.
Grocery shopping becomes a collaborative effort with FamilyWall's Shopping Lists. And you can even create private or shared to-do lists, wish lists, or chore checklists for the kids. The features are endless.
3. FamCal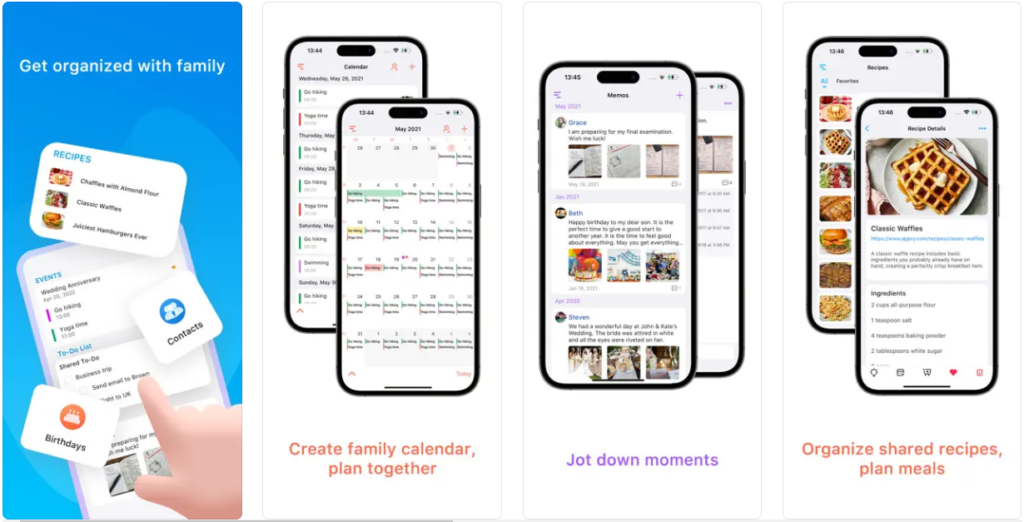 FamCal is all about bringing family members closer and ensuring everyone is on the same page. The shared calendar app for families is accessible to everyone. You can add adult members with email addresses and child members without emails easily. Each family member is color-coded, ensuring you can easily identify who's involved in each event or task.
You can add or edit events that are visible to everyone in your family group. Moreover, you can set local notifications or notify someone from the cloud server. The calendar view offers both a calendar and agenda view, allowing you to choose the format that works best for you. Plus, FamCal lets you share grocery lists, shopping lists, work schedules, and more. You can also create task lists and to-dos, ensuring that everyone knows their responsibilities, making it the best family organizer app. Moreover, from family memos to sharing recipes and organizing and accessing your calendar, projects, and notes from various devices, it's got you covered.
4. Sortifyd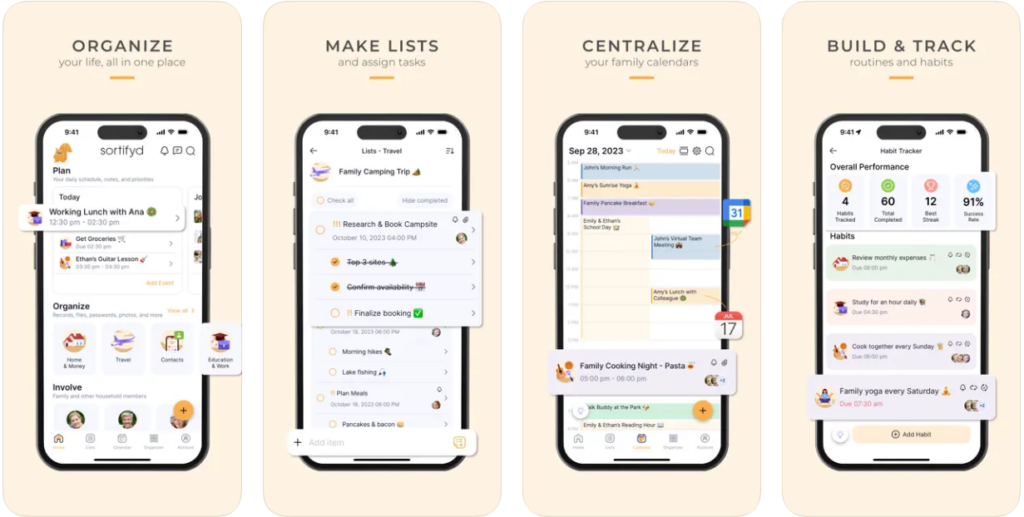 Sortifyd app for families takes a unique approach by integrating calendars, to-do lists, and notes, making it your go-to super app for all things family organization. You can create lists and to-do items, ensuring you stay organized day-to-day, weekly, and monthly. The built-in calendar allows you to manage and create events that suit your entire family, even allowing you to import events from your existing calendars. Plus, you'll receive handy reminders for events, tasks, and expiring documents like driver's licenses or passports.
But that's just the tip of the iceberg. Sortifyd also excels in document organization, with a password-protected account that keeps your personal and private information secure. Predefined folders and categories simplify your document management, making it easy to access vital information during emergencies, such as insurance cards and health records, thanks to a convenient keyword search feature. However, the features don't end here, thus making it one of the best family organizer apps.
5. Homey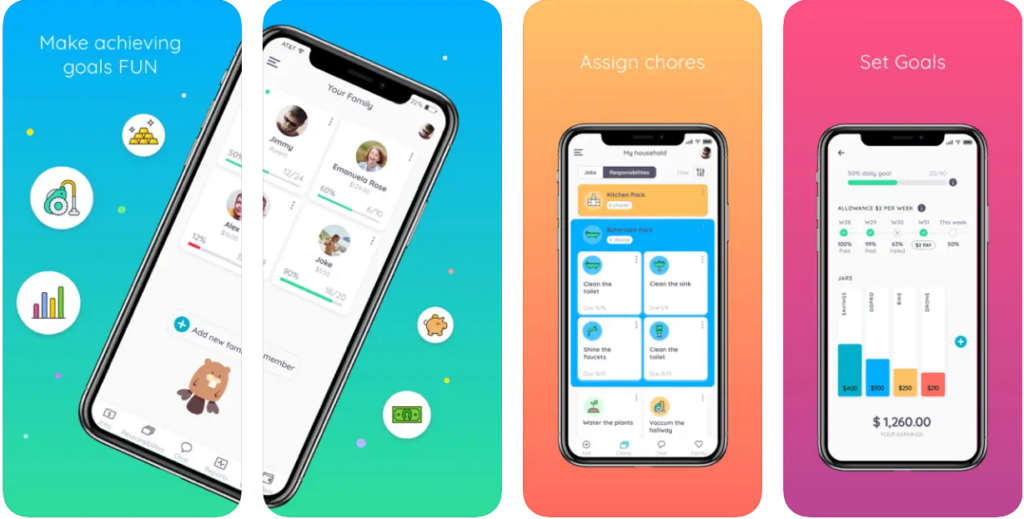 Homey is a must-have family app with a calendar, shopping list, and meal planner. It's considered one of the best family organizer apps for its intuitive interface and the ability to set daily, weekly, or monthly recurring chores for the entire family. This means no more hassle in keeping track of who needs to do what, and when. With Homey, you can also set one-time chores, ensuring nothing slips through the cracks.
One of the most value-adding aspects of Homey is the flexibility it provides in chore management. You can distinguish between responsibilities that children are expected to do without pay and jobs that allow kids to earn money or rewards. In addition to chore and allowance management, Homey excels in tracking IOUs.
However, one of the most convenient aspects of Homey is its synchronization across all devices in the household. This ensures that everyone stays on the same page and can access their chore lists and financial information effortlessly, no matter where they are.
6. Mom's Daily Planner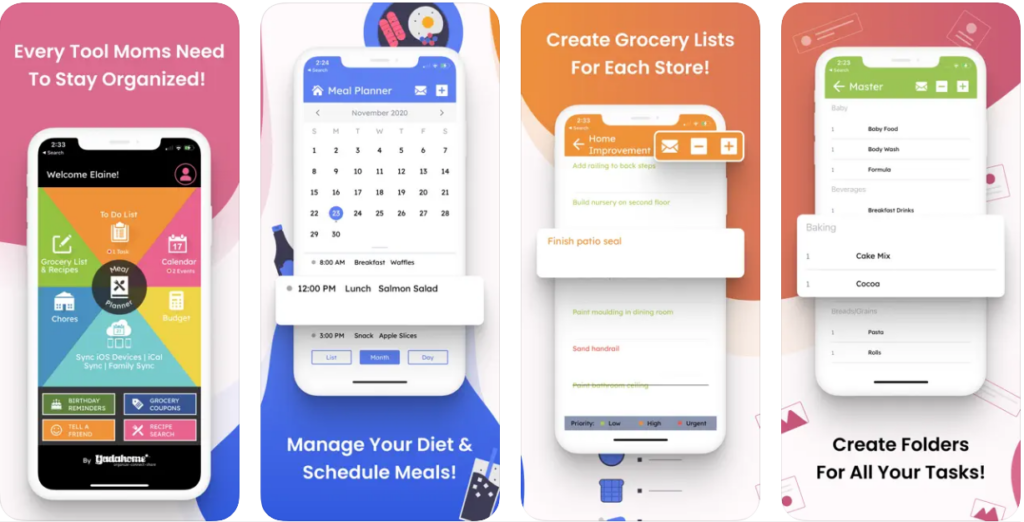 For busy moms, Mom's Daily Planner is a lifesaver. It's one of the most convenient family organizer apps of 2024, tailored for managing family schedules, chores, and even tracking school activities.  
One of the best family organizer apps, it boasts a feature-rich calendar that allows you to effortlessly track everyone's schedules in your family. You can set reminders, jot down notes, and keep an eye on your to-do tasks, all within the calendar. Plus, you can view your calendar in various formats, be it Day, Month, or List, ensuring that you have a clear overview of your commitments.
Moreover, the app allows you to schedule all your family's meals, categorize them as breakfast, lunch, supper, or dinner, and choose from a variety of meal options from the cookbook or add your own recipes. The Grocery List function allows you to maintain a master list of your everyday grocery items. And managing your finances is a breeze as well.
Download Mom's Daily Planner now.
Conclusion
The chaos and confusion that often accompany our busy schedules can be overwhelming, but these apps are here to rescue you. But if you have a shared family calendar that everyone can access and update, a to-do list that keeps track of chores, shopping lists, and meal plans, all in one place, life can get easier.
No more missed appointments, forgotten grocery items, or last-minute scramble to figure out who's in charge of what. With the best family organizer apps, you can bring more harmony to your family life.
So, which iPhone family organizer apps are you downloading today?
Disclosure: iOSHacker may receive a commission if you purchase products through our affiliate links. For more visit our privacy policy page.