Here are the best grocery shopping list apps for iPhone that you should download in 2021. These apps enable users to create a list of groceries they need to buy and share them with spouse of housemates.
You might already be compiling a list for your grocery, probably in your mind or in your diary. But do you really remember to bring it with you? Or remember everything you need to buy? We fear you don't. You might also be feeling embarrassed in front of your spouse, fearing he or she might think you are too lazy to enlist grocery items.
Good news? You can get rid of this situation. How? Simply get the best grocery list apps 2021 on your iPhone, and you will never forget any item on your list.
When your iPhone can do so much, why not give it another task to remember your list? So, in order to find the right grocery list app for you, keep reading…
1. AnyList: Grocery Shopping List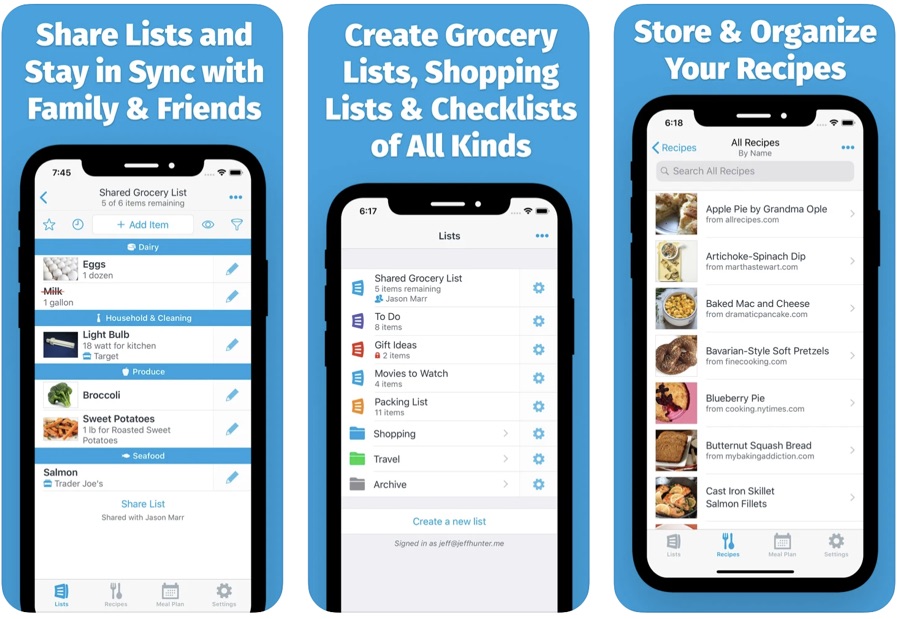 AnyList is one of the best grocery list apps 2021 that does more than just helping you finish your grocery. It also organizes recipes. The app crosses off your items as you shop to ensure you don't buy any extra items. Using Siri, you can add items by voice, so you can multitask and finish your list quickly. Want to type, anyway? No problem. The autocomplete suggestion finishes your list quickly. You can also add notes to label which brand or what quantity you need for a particular item.
As the categories of grocery items are already created, you simply need to add an item in the relevant category. This feature helps you stay organized. Want something from your previous list? Simply, view the recent items section and add the item(s) into your current list.
Moreover, if you want your grocery list app to share with your spouse, that is taken care of. Enter your spouse's email address, and the list will be shared. You can share your list with anyone who has an AnyList account. For more productivity and ease, you can print, email, or even SMS your grocery list.
Not only grocery lists, but you will not lose your favorite recipes with the help of AnyList. Need to add an ingredient from your favorite recipe to the grocery list? It was never so easy before! In the recipe section, the categories help you keep the recipes where they belong to. When you share your recipe collection with your partner, you can both can view the list anytime.
Syncing and back up your grocery list across all your devices is easy. You simply need to sign in from your AnyList account. All of your grocery lists are saved.
You can download AnyList Grocery Shopping List app from the App Store for free.
2. Our Groceries Shopping List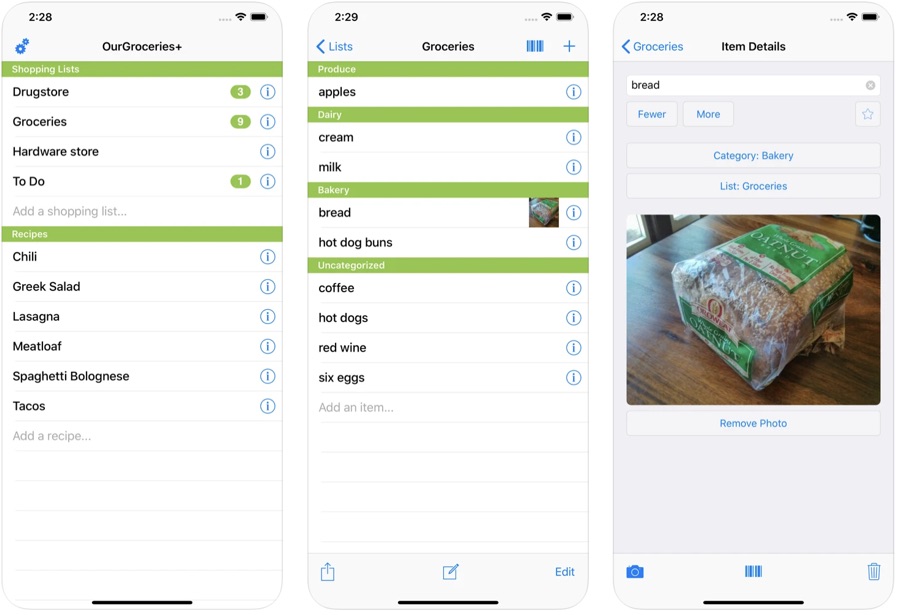 This is also one of the best free grocery list apps 2021 you can find. Saved in your iPhone, take your list anywhere you want. Want a grocery list app to share with a spouse? Enter their email address into the OurGroceries app. Not only your spouse, but you can also share this list with anyone in your household.
Adding items or browsing the past (or current) shopping list is super easy. Don't want to see the shopped items? A single tap will cross off the items. Also, create as many shopping lists as you want. Stay organized with the help of categories and never miss any items again.
Want some visuals? Add photos to get exactly what you are looking for. Be it your recipes, items, or lists, all will be backed up on the internet, automatically. With the help of the Apple Watch, enjoy hands-free shopping. Also, using Siri, update your grocery list with your voice.
You can download Our Groceries Shopping List from the App Store for free.
3. Grocery – Smart Shopping List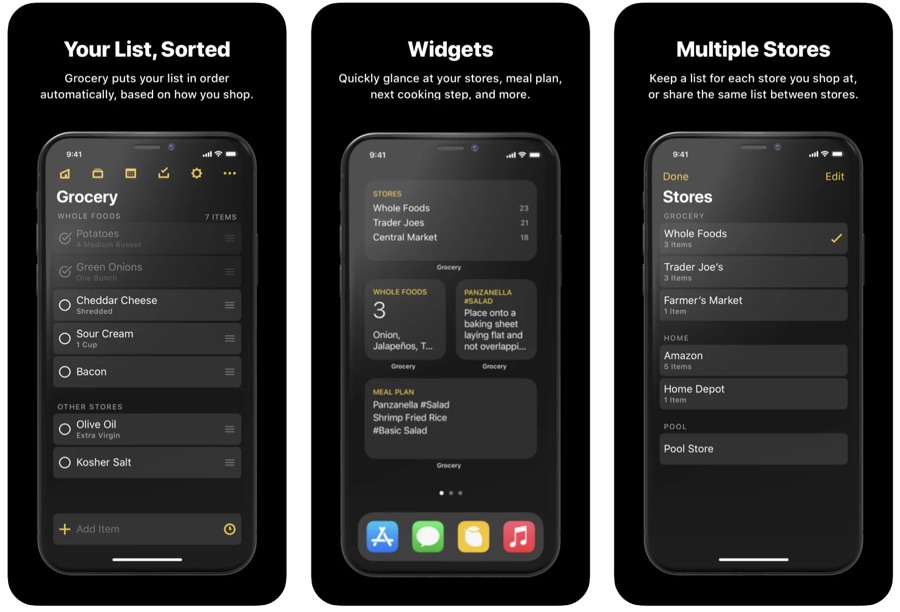 Looking for the smartest and fastest way of shopping? Look no further than Grocery. One of the best grocery list apps 2021, Grocery always keeps your shopping list sorted and organized. Now you can add items to your grocery list on iCloud.
Also, this app adds your list to Reminders, so you can share the list just like you share your calendar. Crossing off the items with Grocery is super-fast. Also, adding recipes to your list is done within a second.
Now you can also add store(s) and associate lists wherever you shop. Moreover, its Quick Add feature suggests your shopping history so you can quickly review your most frequently shopped items.
You can download Grocery – Smart Shopping List from the App Store for free.
4. Out of Milk – Shopping List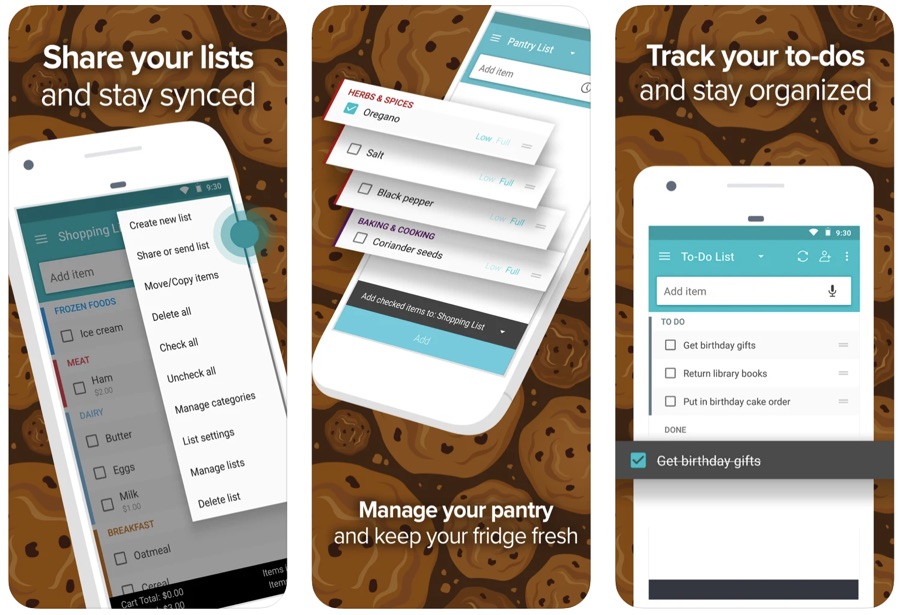 Do you often forget an item or two when you return from grocery shopping? If yes, then you came to the right place. The Out Of Milk App takes that stress away from you. Its Pantry list helps you keep track of your essential items and you don't end up buying extra or forgetting an item. Whereas the To-Do list makes you super-efficient in finishing the task.
It simply breaks the norm! It is rightly called one of the best grocery list apps 2021. A perfect choice when you are more into 'what others say' as well as 'one of the top-ten' kind of things.
The option and ease of keeping multiple shopping lists keep this app on top of most people's minds. The categories save your time while having a quick look at your list ensures you don't leave anything out of your mind. Apart from keeping a history of your items, you can share the list by a simple text or an email.
You can download Out of Milk – Shopping List from the App Store for free.
5. Listonic Grocery Shopping List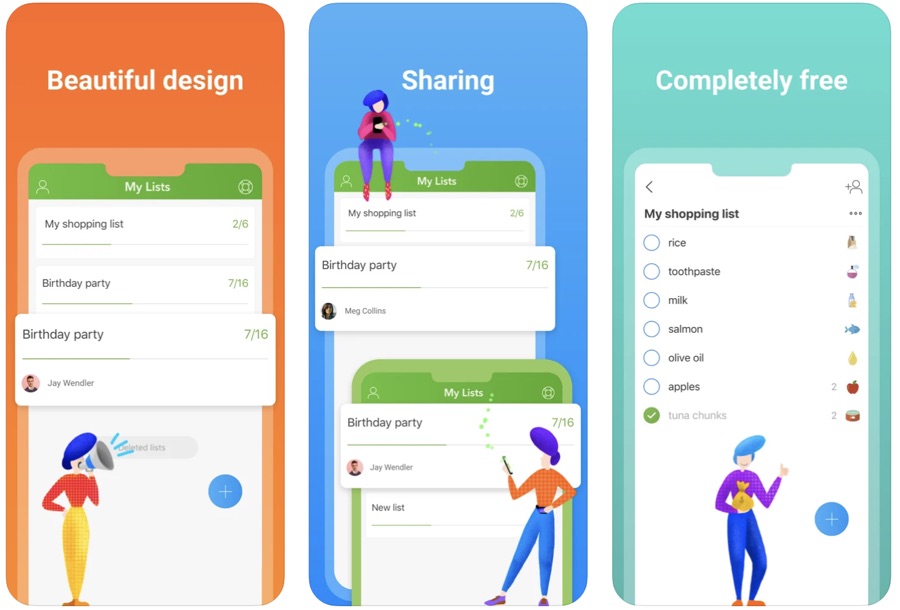 Practicality, speed, and user-friendly! These three words make up Listonic Grocery Shopping List App. You not only improve your grocery shopping experience but also make it smarter.
The repeated items are auto-suggested and you can add them with a single tap. You can access the list on the web by visiting their website. Edit your list on the webs and make it ready on your smartphone.
Its syncing features help other people see the updates in the list. Above all, you can keep track of your money by adding prices to your grocery items and the app calculates the total amount.
You can download Listonic Grocery Shopping List app from the App Store for free.
So, are you up for a smart and fast grocery shopping experience? Or want to send your spouse reminders about grocery shopping? If yes, then probably this is the time to upgrade your life and seek the help of the best grocery list apps 2021.
Want to share your thoughts? Hit comments below.
For more tools for your iPhone to remain organized, stay tuned to iOSHacker.com.