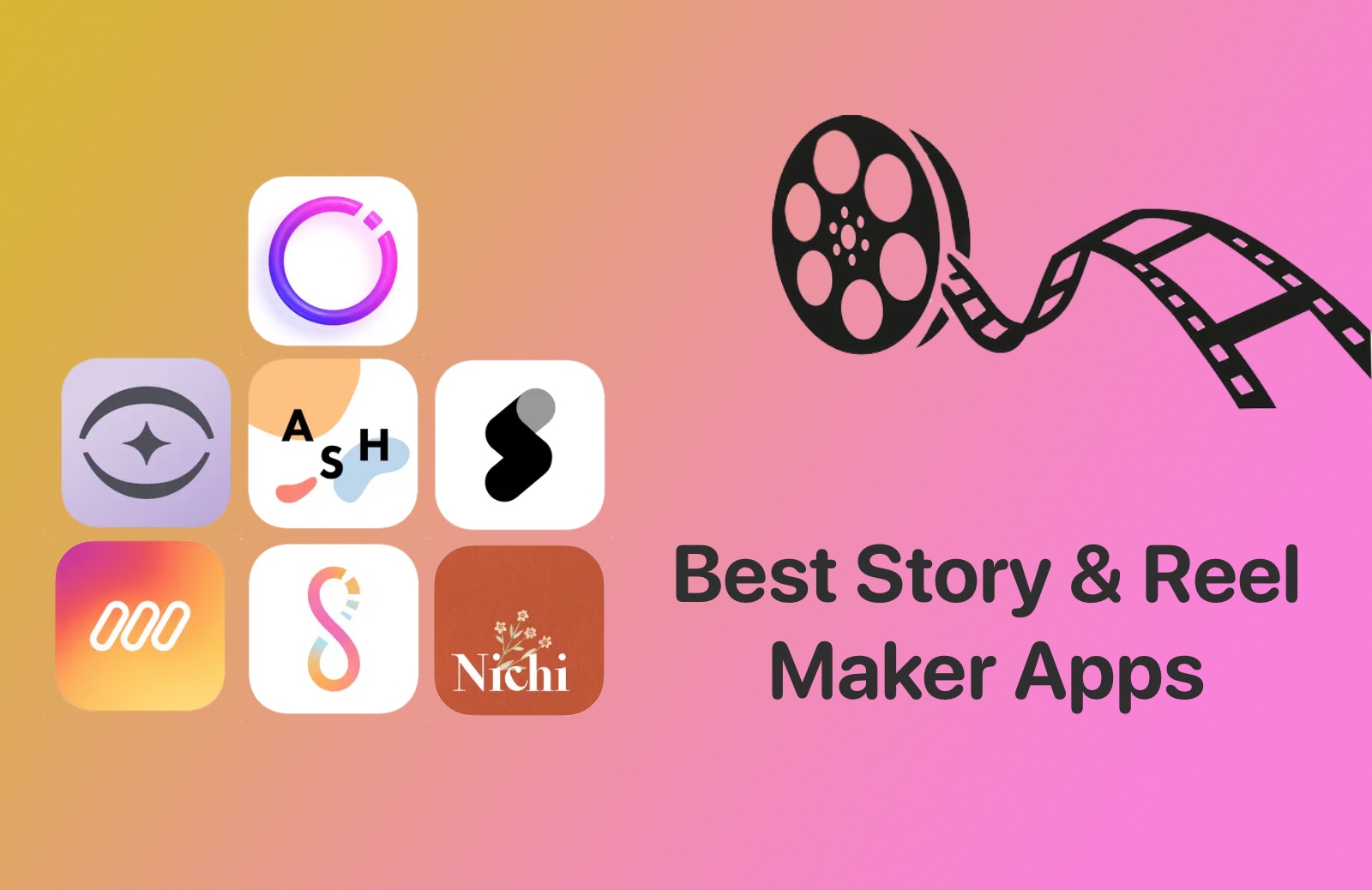 If you are a social media influencer, you may the power of your stories and reels to connect with your followers. Keeping them engaged and informed and standing out in an impactful way is your priority.
Whether you have just entered the world of influencers or are a pro, the good news is making an impact is possible and easier than before. How? Well, there are some of the best apps for Instagram stories in 2023 that will leave your followers impressed and ever-increasing.
What's an Instagram Reel?
For the newbies, an Instagram Reel is a 15-second-long video shot that can have audio and visual effects. You can post the Reels on your Instagram feed or share them with your friends. Reels know no boundaries. You can see them from around the world in the 'Explorer' tab in your Instagram app. These are also a good way to reach your audience as well as increase them.
Knowing how to make the best use of your Reels, can be your door to fame! So, we have come up with a list of some of the best apps to make reels on iPhone. We assure you this list can be a game-changer for your influencer career.
Best Story And Reel Maker Apps For iPhone
Here is the list of the best story and reel maker apps for iPhone and iPad, that allows users and influencers to create engaging and creative stories and reels in 2023.
1. Mojo — Reels & Stories Maker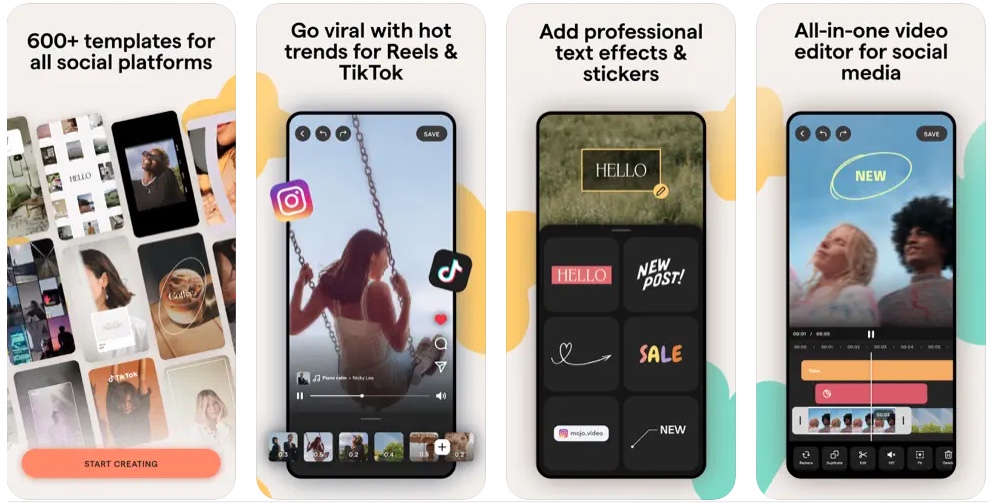 This is one of the best apps for Instagram Stories 2023 to stand out from the crowd. This Reel and Story maker turns your plain shots into incredible videos your followers will always like. You can search through its over 500 animated templates and pick the one you want. The added advantage is you can also add text styles and background music.
Whether it is fashion, food, fitness, or photography, you can make professional-looking social media posts for any occasion. More interestingly, you can upload your own photos and videos using the existing templates. You can also share your stories across all the apps, from Instagram to Snapchat, YouTube, etc.
You can download Mojo – Reels & Stories Maker app from the App Store for free here.
2. InStories Reels & Story Maker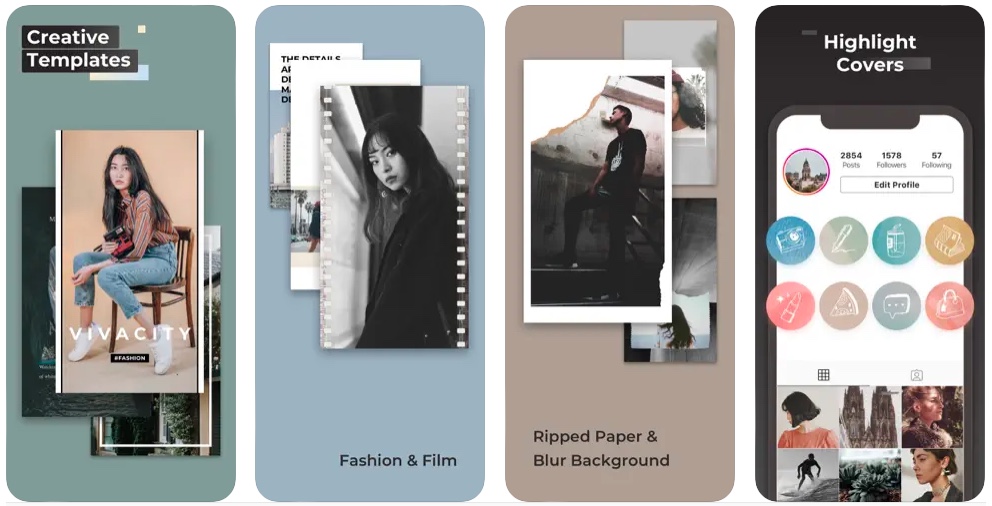 In order to create high-end-looking Instagram stories, InStories is the best app to make reels on iPhone. This application allows you to create social media content of any kind, from stories to video editing and requires no designer skills. So, if you are a beginner, this application is the right for you.
It covers all social media platforms, from Instagram, FB, and Snapchat to TikTok and others. Its over 500 fully customized pre-set templates can be used for any social media platform. You can play with its animations, fonts, various colors, background features, and text effects.
You can download the UniStory – Story Maker, Collage app from the App Store for free here.
3. Ash – Insta Art & Story Maker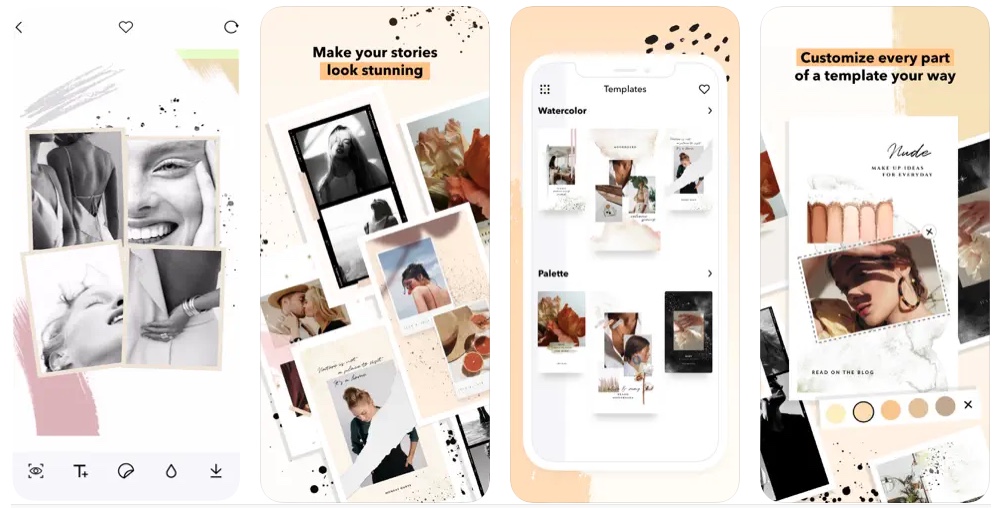 Ash is one of the best story apps for Instagram that allows you to make your own stunning artwork. You can combine different videos, and photos, and customize fonts and their colors using its impressive templates.
Share your masterpieces on Instagram with just one tap. Regardless of the occasion, its unlimited templates have everything for every moment. You can also combine photos and videos from iCloud directly to your IG stories.
You can download the Ash – Insta art & story maker app from the App Store here.
4. UniStory – Collage and Story Maker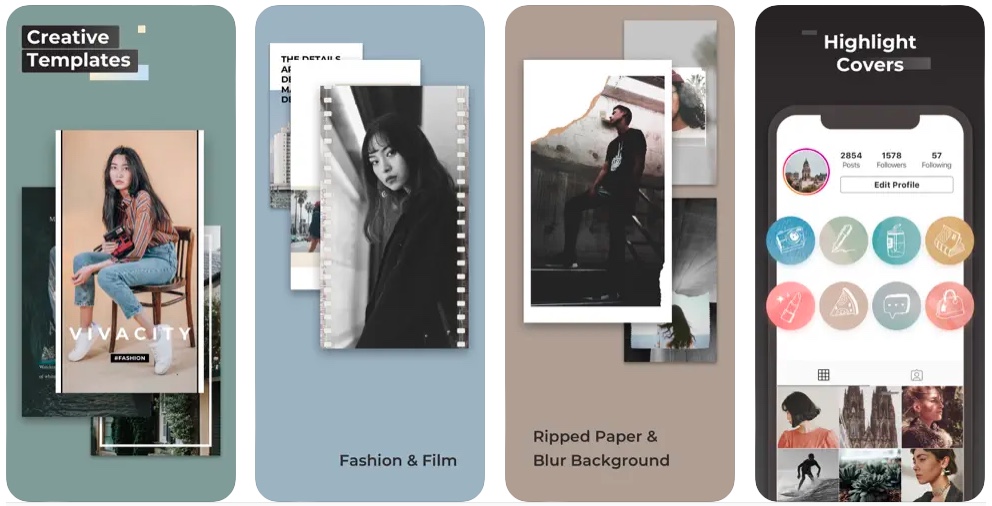 UniStory is one of the best apps to make reels on iPhone for Instagram. Using its 100+ stunning and unique designs you can express yourself more elegantly and create memorable stories.
In order to make collages or stories, simply select photos, integrate templates, and your story is ready. Its 100+ text styles with unlimited customized colors, fonts, and other advanced editing tools ensure your stories are always up-to-date and classy.
Not only on Instagram, but you can also share it on WhatsApp, Snapchat, and FB as well. Using his app doesn't require any account. Simply download and start creating your amazing stories.
You can download the InStories Reels & Story Maker app from the App Store for free here.
5. Nichi: Collage & Stories Maker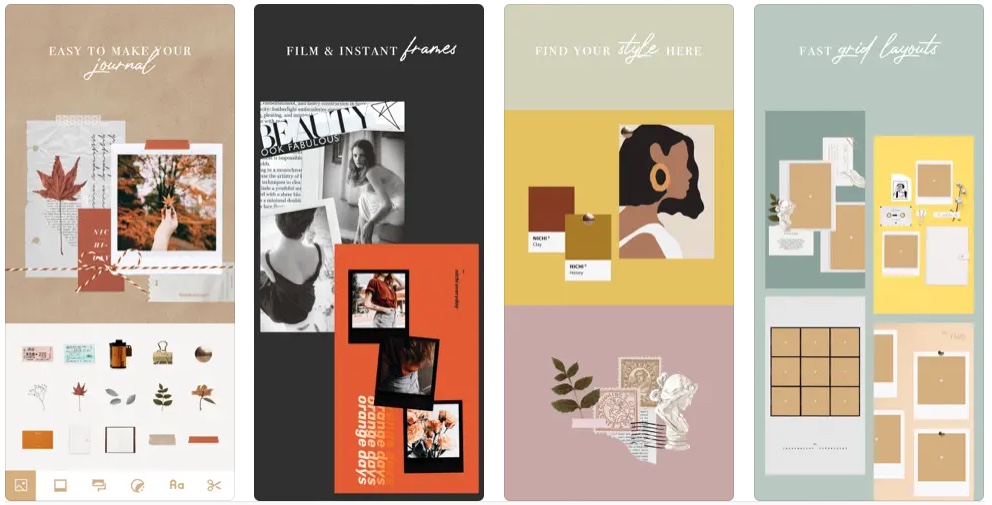 Want to capture beautiful moments of your daily life? Nichi is the best story-maker app for iPhone to record the details of your life. Now you can bring together different moments in one collage. Using Nichi's stickers, there are countless options to create any type of clip art, sketches, tapes, etc.
While its filters and fonts let you create stories for any occasion in different languages such as English, Japanese, Korean, Chinese Simplified, and Chinese Traditional. Its free layout design lets you zoom and move the photo stickers the way you want.
Nichi: Collage & Stories Maker app can be downloaded from the App Store for free.
6. StoryChic- Story & Reels Maker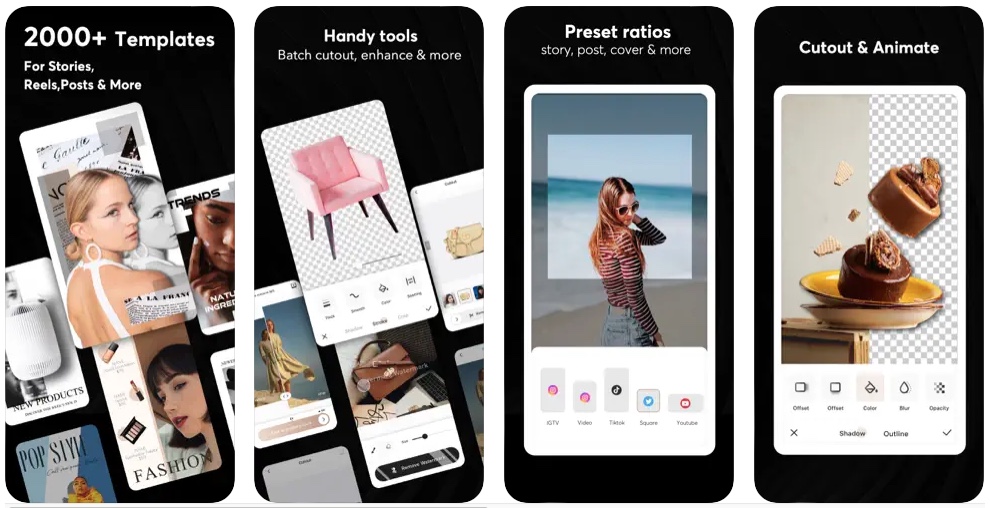 StoryChic is one of the best apps for stories, reels, and social media content that offers you an unlimited variety of more than 2000 templates. You can craft stunning social media posts in minutes and keep your stories standing out effortlessly. Its pre-set templates are professional-looking that make your profile get noticed by the world!
Looking for customizable backgrounds? StoryChic's themes make it easier to remove the background or cut it out in your photos in just one tap. This one of the best story-maker apps for iPhone allows you to cut out objects or add shadows to your stories. You can also highlight different objects or outline them in any color of your choice.
With this animated story maker app you have full freedom to create Instagram stories, Reels, and other social media posts. Be it a romantic date, travel, or a sweet memory of your family time, you can create any story in just a few taps.
Download StoryChic – Story & Reels Maker app for free here.
7. Story Maker Insta Story Editor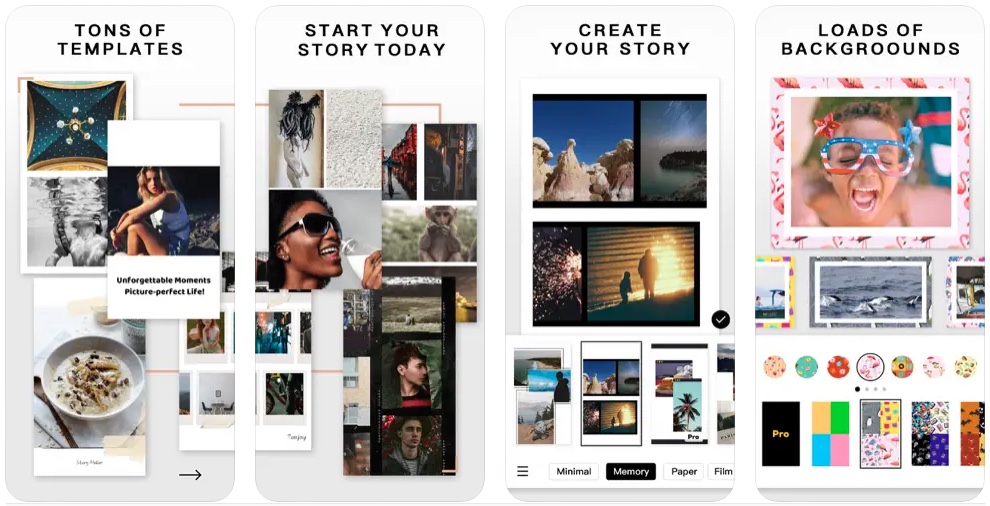 Story Maker is one of the best apps for Instagram Stories 2023 to keep your audience hooked. This app is ideal for your IG, Snapchat, WhatsApp, LINE, and FB stories. You can try its over 500 uber-chic templates, collages, layouts, backgrounds, and stickers.
Be it editing photos or creating impressive collages, all become super easy with a story maker for iPhone.
And if you want to share picture-to-picture moments with a flair, that's super-easy with Story Maker. The reason it is famous among professionals is that it is easy to use, simple, and quick. You will love spending time exploring its over 300 templates and layouts.
Expressing your colorful moods and staying ahead of trends has never been so easy before.
You can download Story Maker Insta Story Editor app for free here.
So, if you are ready to join a league of influencers, try these apps for Instagram Stories 2023. Share your experience with us in the comments below.
For more updates, stay tuned to iOSHacker.com.