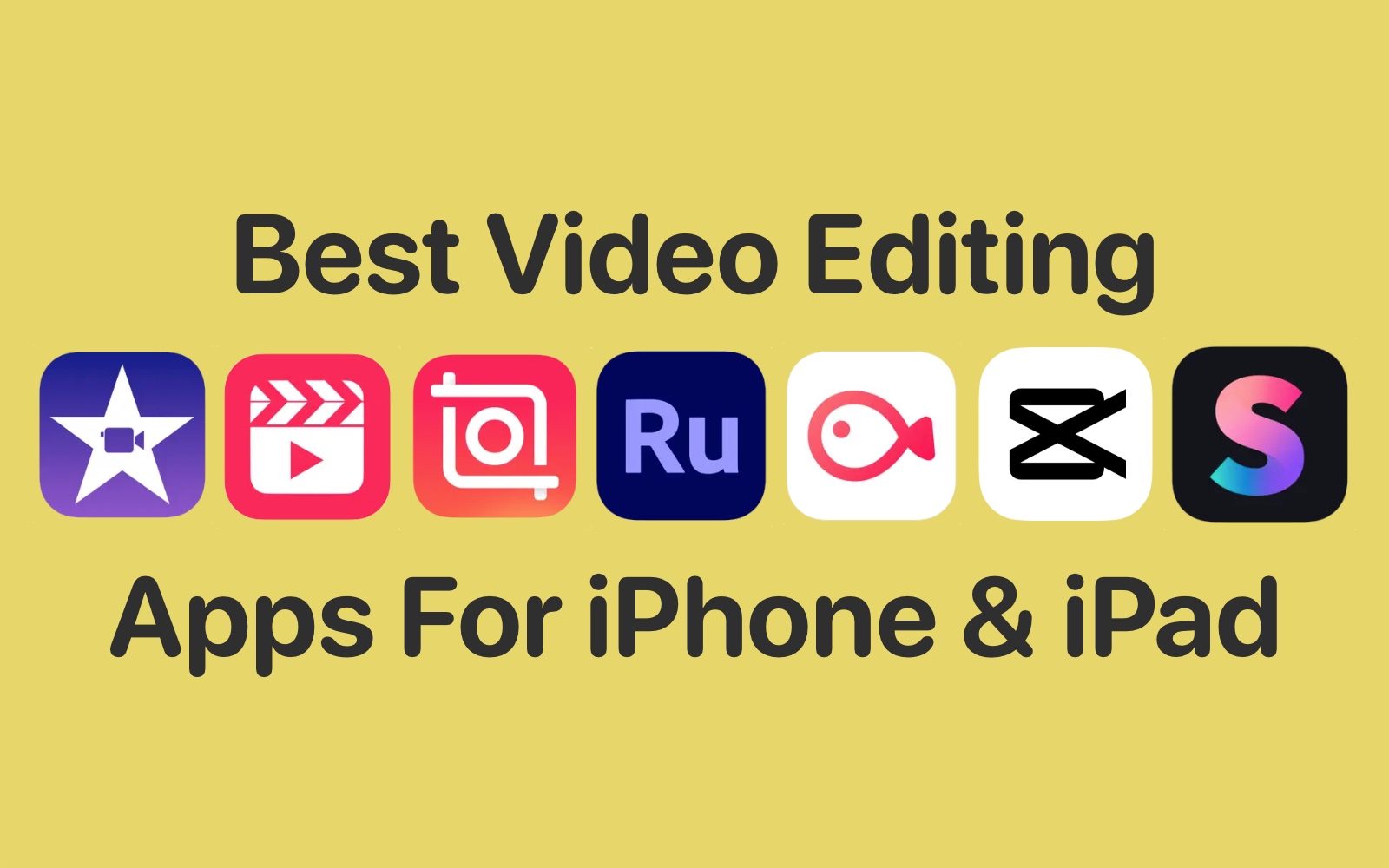 In this article, we have listed some of the most popular and best video editor apps for iPhone and iPad. These apps are designed for both professionals and amateurs and enable iOS users to effectively edit their videos right on their iPhone or iPad.
Turning your videos into stunning pieces, without the help of a pro, is very much possible now. Especially if you are on the go and want to make quick edits to your videos. All you need is some of the best apps to edit videos on iPhone. Yes, you heard it right. You don't even have to struggle with budgeting and finding a professional who can edit your videos.
What's more? These iPhone video editor apps, are similar to any desktop software with all the key functionalities you need. We have curated a list of free video editing apps for iPhone in 2023 for quick and brilliant tweaks for both beginners as well as professionals.
Best Video Editor Apps In 2023
These are the best video editing apps for iPhone and iPad that you can download in 2023.
So, let's start with number one…
1. Splice Video Editor & Maker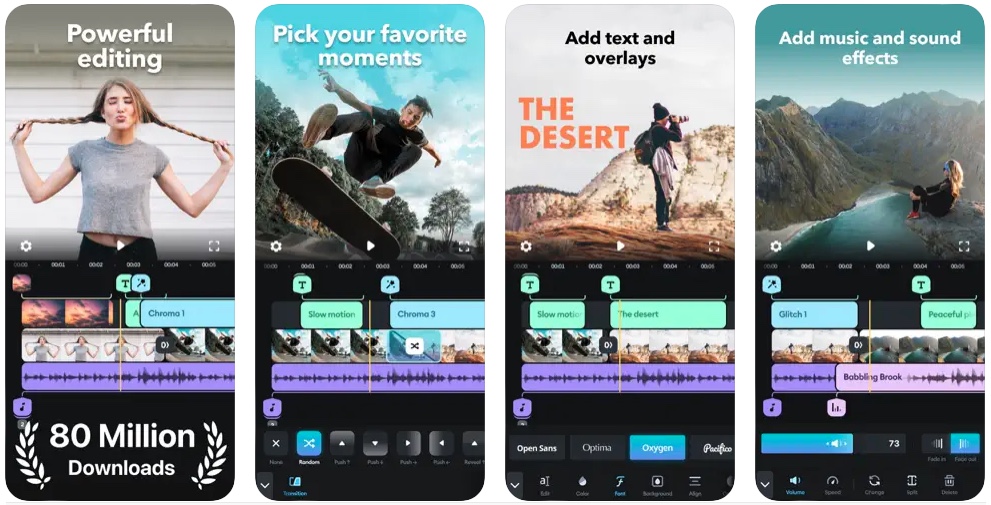 For simple and customized video editing, Splice should be your priority. This video editor for iPhone makes your simple videos professional-looking and high-end. The results are amazingly similar to a desktop application. With the help of a few taps, you can trim, crop, and add slow-mo effects. Moreover, you can also play with its overlay feature for more attention-grabbing results.
You can download Splice Video Editor & Maker app from the App Store for free here.
2. InShot – Video Editor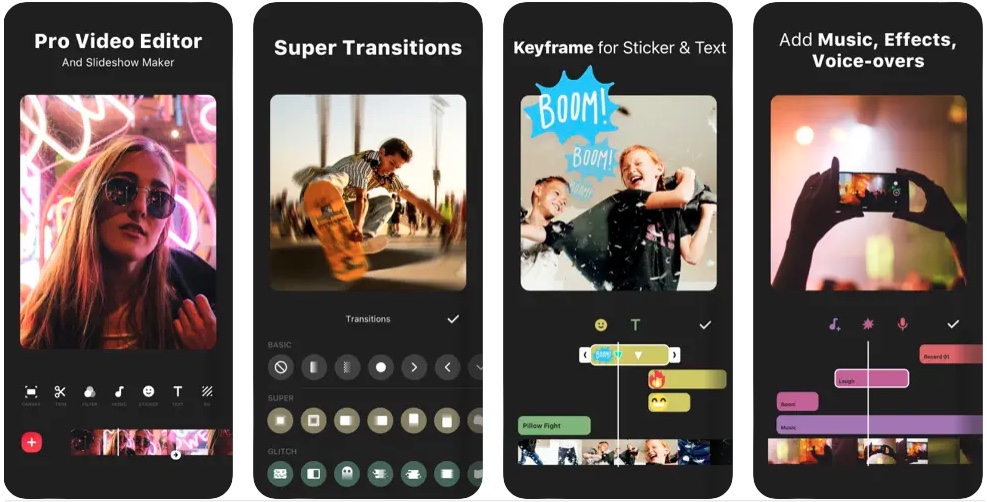 An interesting feature of this one of the free video editing apps for iPhone in 2023 is it produces videos with AI effects. You can trim videos, delete any part, merge different videos, and adjust their speed. And if you are a Vlogger, you can simply add yours as well as InShot's music to your videos. You have the freedom to add voiceovers, sync any sound and make your videos super-entertaining and engaging. Still, want more? Try various transitions, video, and photo layers, and even edit your photos.
The results are powerful with high-end features. You can play with it as much as you can. From adding music, transitions, filters, and emojis, to free hand in picking the background of your choice. And the bonus feature? There is no watermark!
You can download the InShot – Video Editor app from the App Store for free here.
3. Filmmaker Pro – Video Editor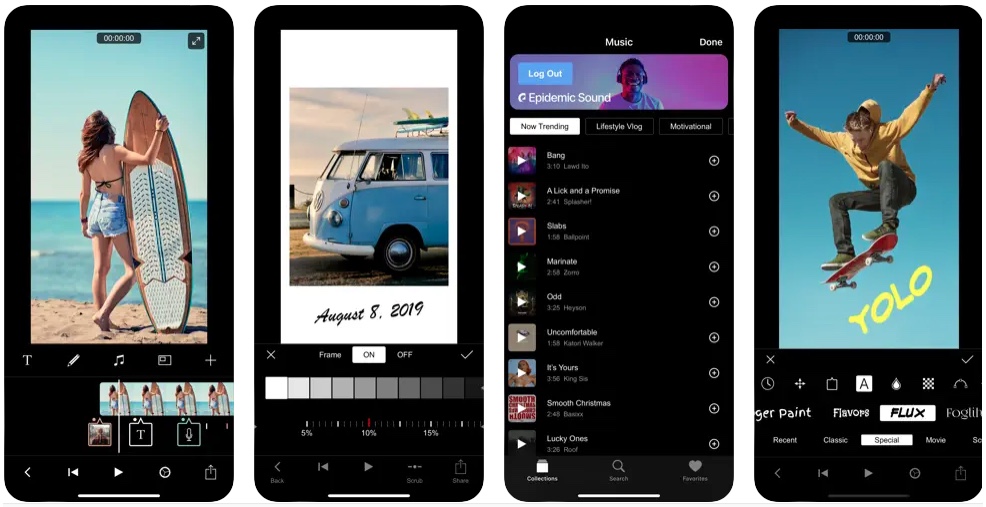 Filmmaker Pro is one of those iPhone video editing apps that offers you maximum options and features to film and edit videos seamlessly. You can create as many videos as you want with 4K video support if you have iPad Pro, iPhone SE, and new models. Moreover, it also supports video clips, voiceovers, audio tracks, and text overlays.
This iPhone video editor app also offers nearly 220 stunning graphics and labels with 80 custom animated stickers, 9 illustrations, as well as foreground and background color adjustment. You can even use drawing tools such as brush color, opacity, and size to make your videos more fun.
You can download and install Filmmaker Pro app from the App Store here.
4. CapCut – Video Editor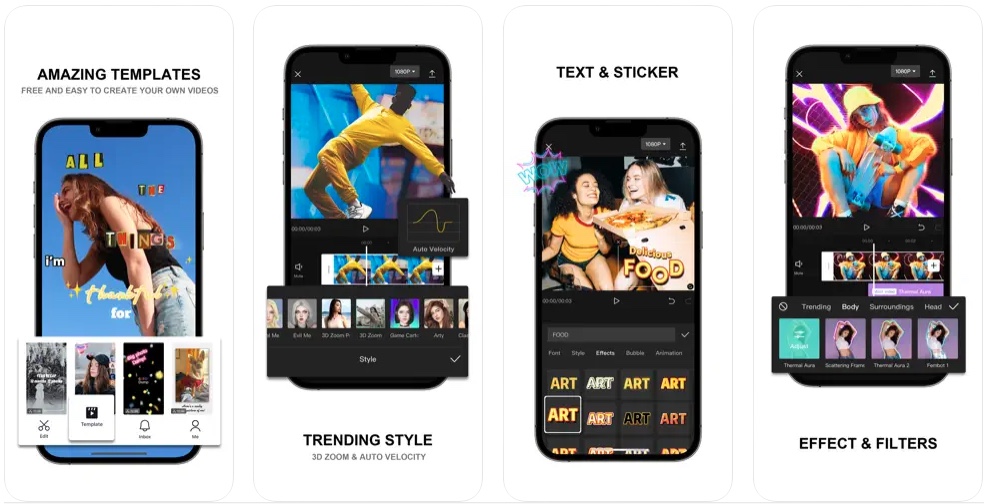 This one of the best free video editing apps for iPhone in 2023 is super easy to use. Its countless editing functions offer free in-App effects, fonts, animation, slow-motion, stabilization, and chroma key.
Unlike other iPhone video editing apps, you can create fancy videos with unique features like background removal, text-to-speech, auto-captions, and motion tracking. Its freeze feature allows you to highlight your favorite moments in a video.
You can download CapCut app from the App Store here.
5. iMovie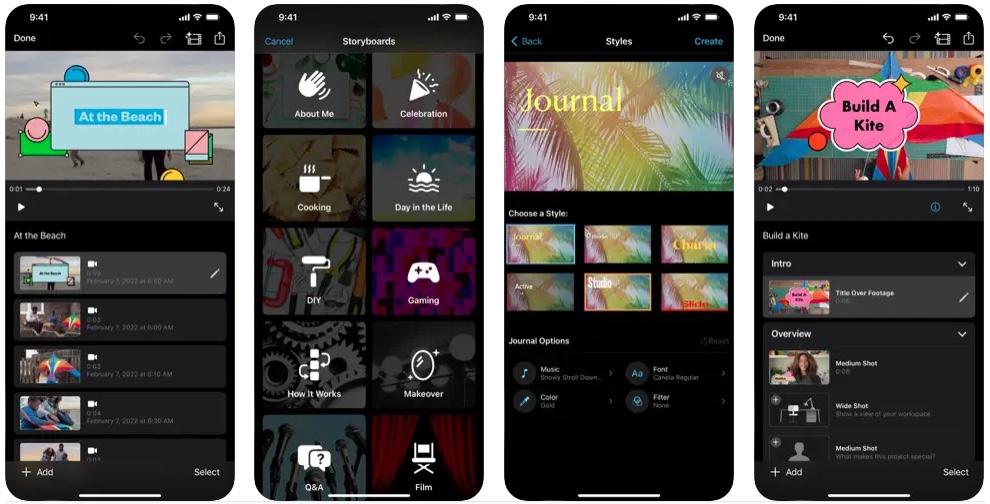 If you want to create Hollywood-style video clips and trailers iMovie is one of the best iPad video editing apps you should try. Using this video editor on iPhone, you can create beautiful customized videos instantly, with just a few taps. Just select your favorite pictures or multiple videos, and there you go!
You can arrange, delete or change clips and apply the style of your own choice. What makes this video app different is that you can pick out of its 20 different storyboards to make your own unique video type. And when it comes to Hollywood-like results, its 14 different trailer templates with stunning graphics leave you mesmerized.
The iMovie app for iPhone and iPad is available in the App Store as a free download here.
6. Adobe Premiere Rush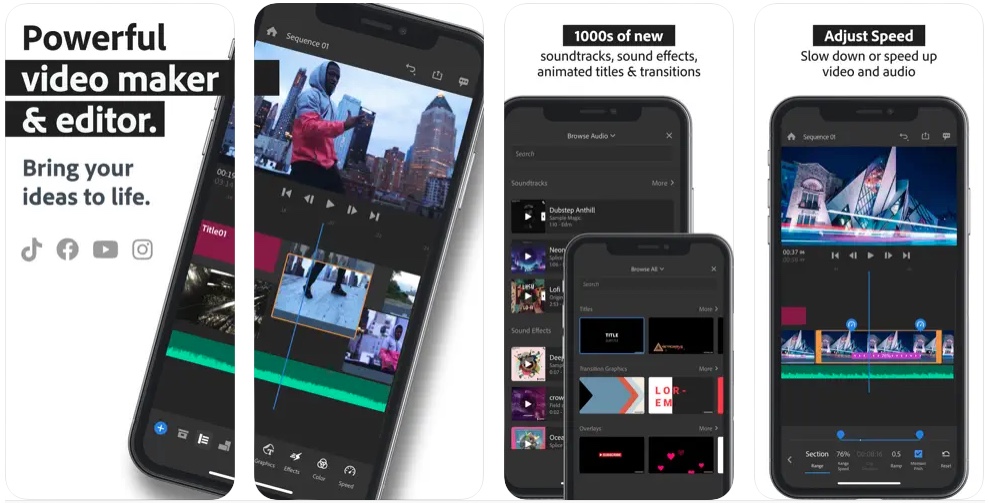 Adobe Premiere Rush is one of the best apps to edit videos on iPhone. This all-in-one app for creating, editing, and sharing videos lets you create high-end and professional videos within minutes. The best thing is that you can use it for free with unlimited export options. And if you want to make the best use of it, simply upgrade to the premium version to access unlimited soundtracks, animated titles, graphics, overlays, and sound effects.
Moreover, for pro-quality videos, use its pro-quality camera. Its simple drag-and-drop feature is easy to arrange videos, graphics, and audio just the way you want. If you want some innovation in your videos, its flip mirror video clips, stickers, and overlay features will give you the desired results. With its customization tools, you can control your video's speed, enhance its colors, add zoom effects, and even change its position and scale the way you want.
You can download Adobe Premiere Rush: Edit Video app from the App Store for free here.
7. VLLO – Intuitive Video Editor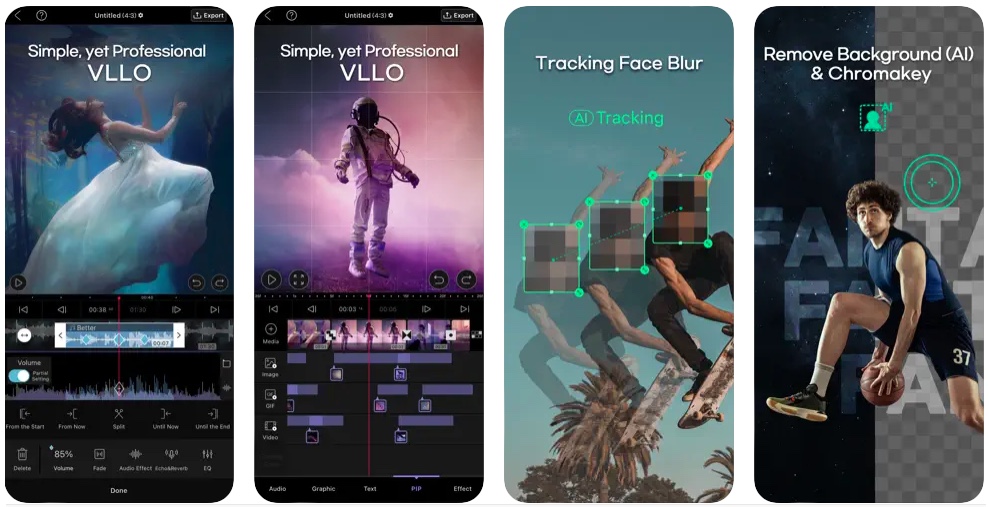 If you are Vlogger or YouTuber, this iPad video editing app is just the right fit for you. Create your masterpieces with no watermark – for free! The best part? It is simple and easy to edit videos on VLLO. If you are a beginner, using its intuitive and precise controls, editing a video will be fun. For the pro editors, you need to buy its premium features that offer Chroma-key, mosaic, PIP, and keyframe animations.
Using it on an iPad or iPhone goes well both ways. You can customize the background color and add animation as well as immersion effects. Now you can easily trim, reverse, split, or rearrange your videos with additional images or videos. With its seamless color correctors and filters, adjust brightness and saturation. Its royalty-free music offers you more than 800 options for importing your own music from iTunes.
The bonus features? All your videos are automatically saved in the 'My Project' list. You can preview your videos and undo or redo them as per your needs. And if your video lacks some flair, add VLLO's over 4,500 stickers, and moving texts, and add these animations the way you like.
You can download the VLLO – Intuitive Video Editor app from the App Store for free here.
Want to try the above-mentioned free video editing apps for iPhone in 2023? Share your experience in the comments below.
For more latest applications for iPhone and iPad, stay tuned to iOSHacker.com.