OS X's Terminal application is one of the most powerful tools of the operating system that enables users to make big changes to their computer among other things. iOS does not feature a built-in app like Mac's Terminal however there are several third party Terminal and SSH apps that enable users to connect with other their computers, servers and other devices. Some apps such as Mobile Terminal even allow them to make changes to their device.
We have featured some of the best terminal and SSH apps available in the App Store that enable users to access SSH servers and more.
Mobile Terminal (Requires Jailbreak)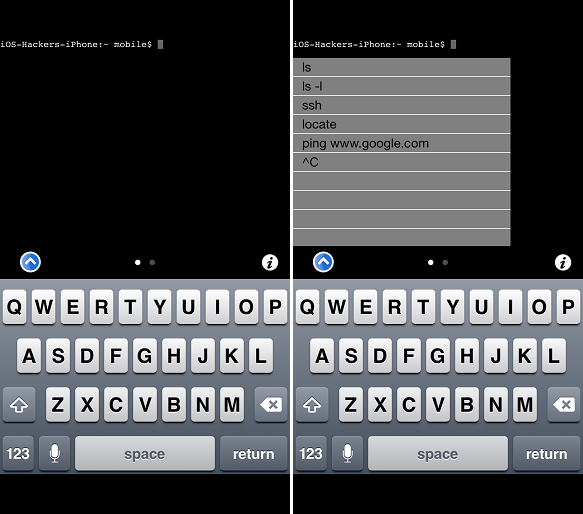 Mobile Terminal app from Cydia is the most powerful app on this list. Unfortunately it requires a jailbroken device and has yet to be updated for iOS 7 and 4-inch devices (although it works on both). Apart from that it is a must have provided you don't mind jailbreaking your iOS device. With Mobile Terminal users can do adminstration tasks, download files on their device, edit configuration files as well as SSH into a server. If you are jailbroken you can grab Mobile Terminal from Cydia for free. It is available for free.
Prompt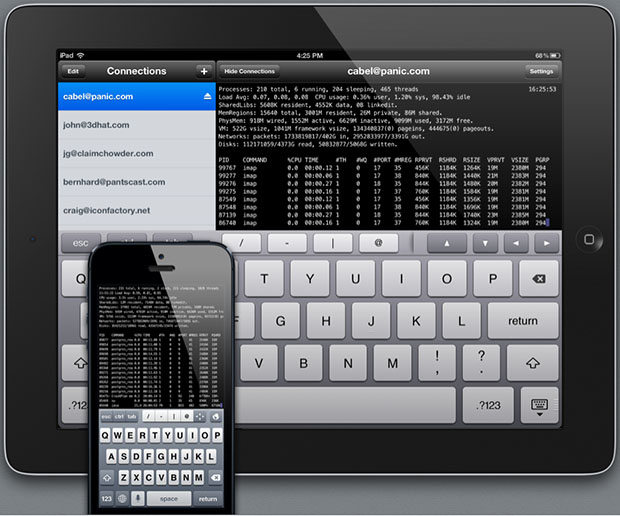 If you are looking for a clean looking SSH client that actually works for your iPhone or iPad then look no further as Prompt app does that job pretty flawlessly. It is a SSH and Telnet client that is perfect for anyone ranging from system admins, developers, hackers and a normal person who just wants to connect to a server from his or her iOS device.
Some of its most prominent features include agent forwarding, universal support, Telnet support, ability to remember servers you connect to, support for Bluetooth keyboards and customizable keys, passcode lock and more.
Prompt can be downloaded from the App Store for $7.99.
SSH-Terminal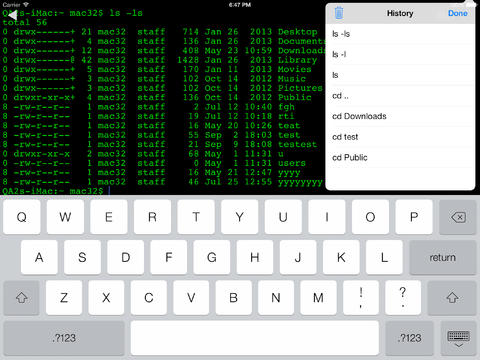 SSH-Terminal has separate apps for iPhone/iPod touch and iPad. This app allows users to connect to multiple servers with SSH protocol. The app fully supports iOS 7 and features its look and feel. Features include ability to access root and Sudo commands, landscape/portrait support, ability to remember details for servers you connect it to, recent history for executed commands and and more. SSH Terminal app for iPhone and iPad is available for $0.99 each. For those looking for advanced features and Telnet support there's a SSH Term Pro as well from the same developer, which costs $5.99. That one is an universal app.
Server Auditor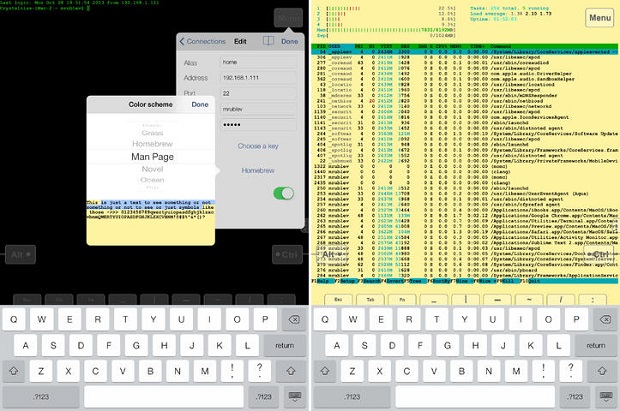 Server Auditor app is a powerful SSH client that with its easy to use UI provides a great ad-free user experience. It can be used by different types of users to manage their Unix or Linux based servers right from their iPhone or iPad. Features of this app include XTerm, VT100 and Vanilla support, an easy way to get through the code simply by swiping, two finger gesture to easy navigation, landscape/portrait support, password protection, multiple connections support and more.
Server Auditor is a universal app and can be downloaded from the App Store for free. A pro version is also available through in-app purchase offering advanced features.
iSSH – SSH / VNC Console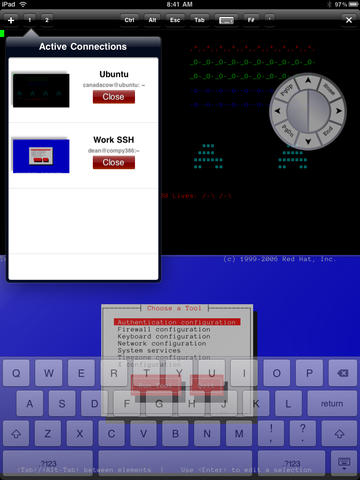 iSSH is a SSH and VNC console app for iPhone, iPad and iPod touch. It features full support for SSH and Telnet. iSSH boasts itself to me secure, powerful, configurable and complete. Notable features of this app include agent forwarding, tunneling and availability of X11 server within the app. All these features make it a great app for IT users and Business customers.
iSSH can be downloaded from the App Store for $9.99.
WebSSH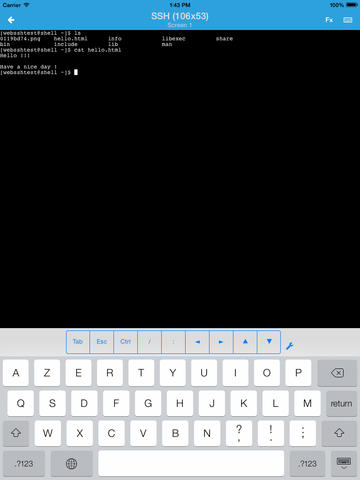 The WebSSH app for iOS devices is a universal application that allows users to connect to their SSH secure severs using their portable device. With this app users can connect to SSH server, SFTP server, save their frequently used servers, password protect the whole application. Users can also use special keys, connect Bluetooth keyboards and more. You can get WebSSH app for free.
Commandr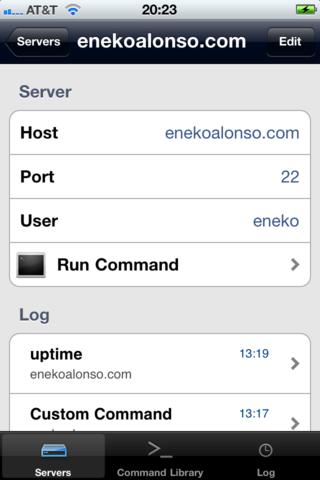 Commandr app has not been updated for iOS 7 or to support iPhone 5's larger screen but it does the job anyway. Users can use this app to execute commands, build command library on their servers using their iPhone or iPod touch. Prominent features include secure connections, password protections, server catalogs, ability for users to organize commands in folders and more. Commandr app for iPhone/iPod touch is available for free.
Disclosure: iOSHacker may receive a commission if you purchase products through our affiliate links. For more visit our privacy policy page.