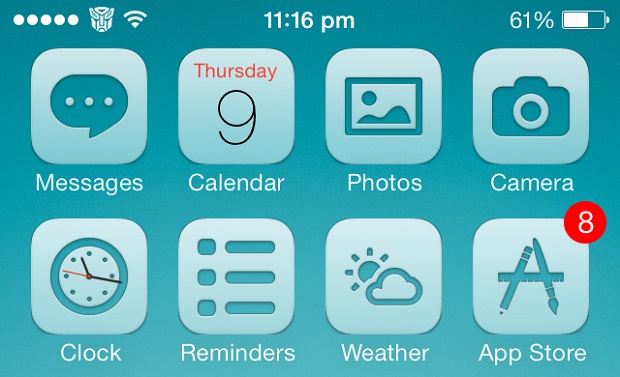 Wallpaper, icons, fonts, colors in-fact every UI element matter a lot in today's gadgets. Everybody loves to see his or her device to make it different and more personal. Sometimes we want to fix the things that gadget makers didn't. Applying themes of our choices to devices can fix these problems to some extent and good thing is that you can also apply themes on your iPhone, iPod touch or iPad given the device is jailbroken.
Winterboard is a tool you can get from Cydia to apply different customizations of your choice. It is an essential tool that is needed to apply themes, icons and other UI elements made by third party devs. Follow the guide below to download, install and apply themes on your iOS device.
Note: You will need a jailbroken iOS device. Also, Winterboard might cause instability on some devices as it is not updated for iOS 7 yet. ARM 64 devices (iPhone 5s, iPad Air and iPad mini Retina Display) are also not supported yet as well.
Update: WinterBoard updated for iOS 7 and ARM64

How to install Winterboard
Open Cydia from your iPhone, iPod touch or iPad.
Tap the search tab at bottom right corner and search 'WinterBoard'. Select 'WinterBoard' from search results and tap the 'Install' button at top right.
Wait for Cydia to process the installation. Once finished tap the 'Reboot' button.  Done!
How to download themes from Cydia
There are hundreds of themes available at Cydia. You can also find some iOS 8 or 7 compatible themes here. To install a theme either you must know its name or you can check out all the Cydia themes one by one for finding the one that suits your device.
If you know the name of a theme: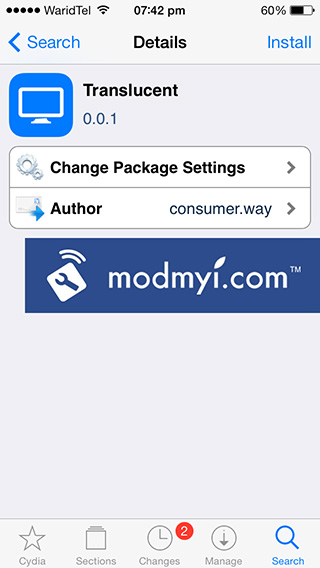 Open Cydia, tap the Search tab and enter the name of the theme e.g. 'Translucent' in the screenshots.
Select the theme from search results and click 'Install' on top right, a new screen will appear with memory details. Simply click the 'Confirm' button.
After the installation is complete tap the 'Restart Springboard' button and goto next section to learn how to apply recently installed theme.
And if you want to check out all the available customizations in Cydia.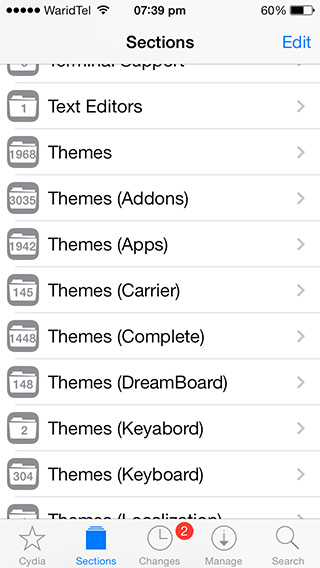 Open Cydia, and tap the Sections tab.
You will see different sections with hundreds of themes and different mods e.g. theme for a specific app, themes for Keyboard etc.
How to apply themes using WinterBoard
After installing Winterboard and some themes you want to apply follow the simple steps below to give iPhone, iPod touch or iPad a new refreshing look: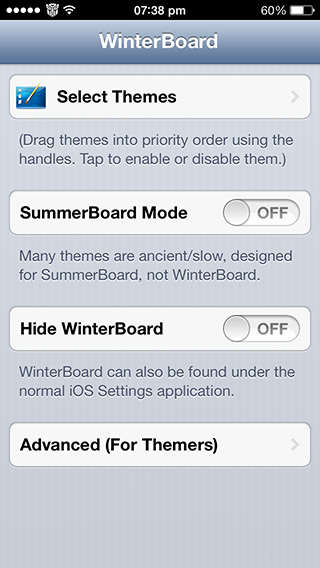 Open WinterBoard from Springboard (or from Settings app).
Tap 'Select Themes'. Now WinterBoard will list all the installed themes (you can notice the 'Translucent' theme we installed earlier) in addition to some pre-added customizations.
Now select the theme you downloaded recently (Note: There isn't any preview in WinterBoard so you should remember the name of your theme to apply it).
Tap the 'WinterBoard' icon in the top left of navbar to go back. You will notice a new icon at top left named 'Respring'. Tap it and wait for your device to refresh.
Hurray! You have a new theme on your iOS device.