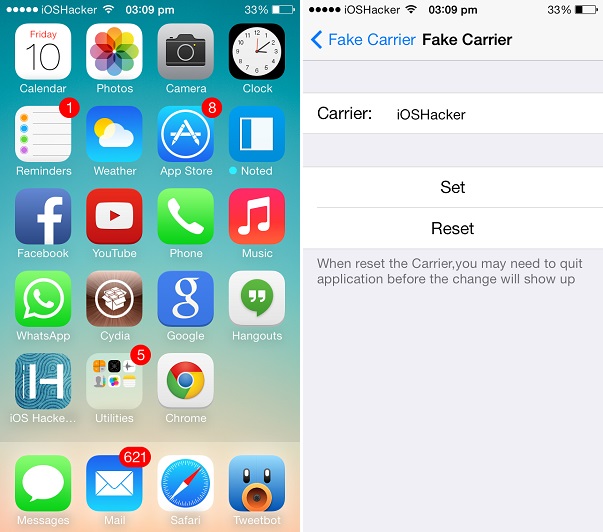 iOS displays name of the carrier in the status bar on the iPhone. On iPad and iPod touch this space remains unfilled however there is a way to make good use of this space on all of these devices and make the status bar more personal. A tweak called Fake Carrier can essentially replace the carrier name from the status bar with the text of user's choice. It also works on non-iPhone iOS devices as well.
On a jailbroken iOS devices users can simply download Fake Carrier from Cydia for free. After downloading the tweak they can launch the settings of the app and in the 'Fake Carrier' section write the text they want to appear as their carrier.
They can use any word of their choice including their own name, title or a cool reference to a movie.
The tweak is compatible with iOS 7. Please note that if you are using Zeppelin then the fake carrier won't be  able to display your text in the status bar. Make sure you disable Zeppelin before using it.
The only downside of this tweak is that it places an ugly icon on the homescreen. But of course you can get it out of your sight by putting it in your junk folder.
Want to replace the carrier name with a cool logo? Then try Zeppelin tweak.
Disclosure: iOSHacker may receive a commission if you purchase products through our affiliate links. For more visit our privacy policy page.