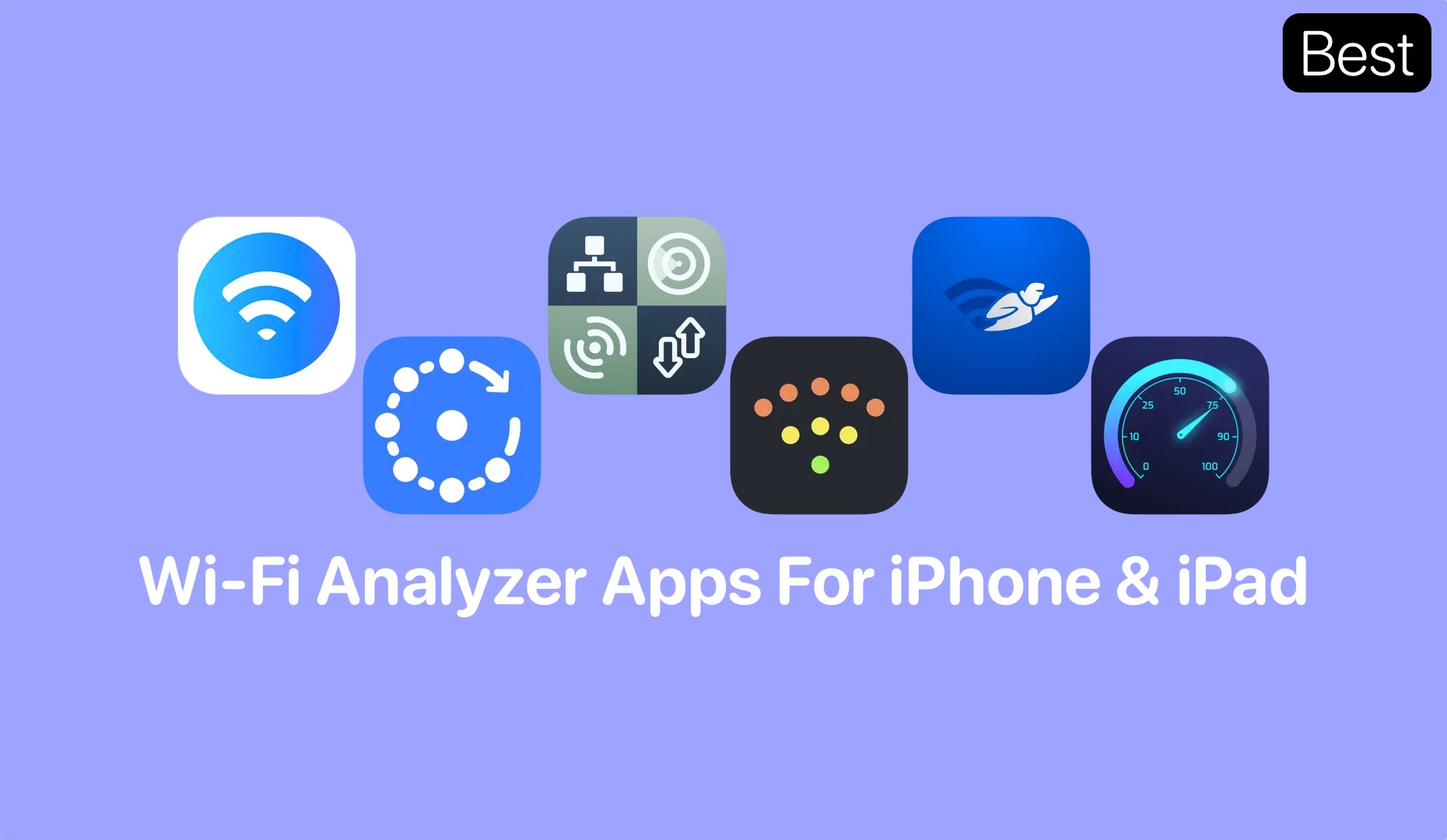 In this article, we discuss the best Wi-Fi analyzer apps for iPhones that help decode the language of signals and navigate the terrain of networks with precision.
Have you ever had your WiFi cut off right in the middle of something epic? You're just about to crush that high-stakes online game or binge-watch your favorite show when, BAM, the dreaded buffering circle appears.
It's like a villain that swoops in to spoil the fun.
Let's face it – our lives are practically intertwined with the internet. Whether it's streaming, gaming, video calls, or simply scrolling through your favorite memes, a strong Wi-Fi connection is the modern-day Excalibur we all need.
But what happens when that connection falters, leaving you stranded in the pixelated wastelands of lag?
Enter the magical world of apps to analyze Wi-Fi, your trusty sidekicks in the realm of connectivity conundrums.
Unravel Networks Like a Pro with These Wi-Fi Analyzer Apps
Think of these apps as your own personal Wi-Fi wizards, ready to troubleshoot any connectivity hiccup and reveal the secrets of the digital landscape.
So, if you're tired of pixelated videos, laggy online battles, and the frustration of Wi-Fi dead zones that swallow your signals, buckle up. We've rounded up a list of the best Wi-Fi analyzer apps for iPhone.
1. Wifi Analyzer Network Analyzer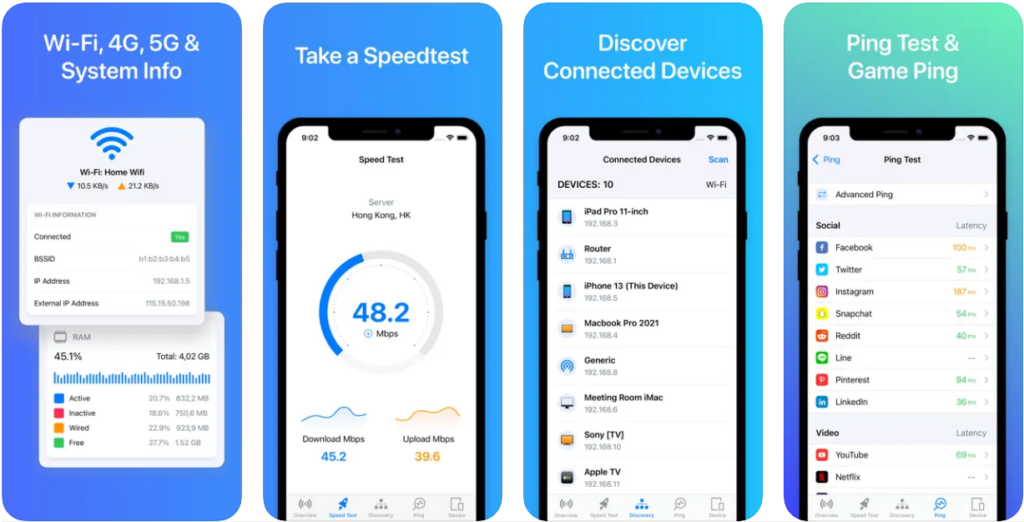 With Wifi Analyzer Network Analyzer, discover all the devices that have hitched a ride on your network by simply opening the app.
But, this iPad network analyzer app is like having a personal Wi-Fi Oracle. It doesn't just identify devices; it spills the beans on your network's deepest secrets. Wondering who's the mastermind behind your default gateway? Curious about your Wi-Fi and Cell network info? It's all right there at your fingertips.
What makes it one of the best Wi-Fi analyzer apps for iPhone is its speed and compatibility. With a swift tap, you can put your network to the test. Download speed, upload speed – it's all laid bare for you to assess.
Whether you're sailing on the 2G seas, surfing the 4G waves, or exploring the mystical realm of Wi-Fi, this app has you covered. And yes, you can even test your ping, so your online battles are nothing short of legendary.
Download Wifi Analyzer Network Analyzer now.
2. Ubiquiti WiFiman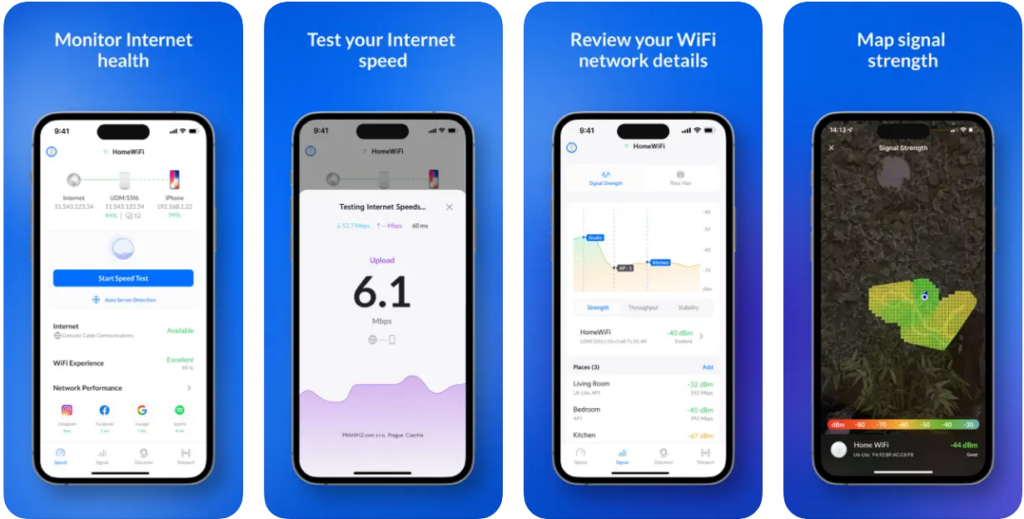 From signal strength to channel congestion, this app to analyze Wi-Fi empowers you to conquer Wi-Fi woes.
One of the best Wi-Fi analyzer apps for iPhone, detecting and connecting to available Wi-Fi networks and devices is faster than a speeding bullet. It's like your device is suddenly turbo-charged with Wi-Fi radar. And scanning for available devices becomes an adventure, as WiFiman taps into Bonjour, SNMP, NetBIOS, and Ubiquiti discovery protocols to give you all the juicy details.
Plus, running download/upload speed tests is a breeze, and here's the kicker – you get to store the results. It's like having a scoreboard for your Wi-Fi victories. Compare network performance, see where you stand, and flaunt those blazing speeds.
Ubiquiti WiFiman also guides you in relocating your access points to less congested data channels, transforming your signal strength from "meh" to "whoa!" Instantly, your connection feels stronger, and the traffic jams that were clogging your network's highways are now a thing of the past.
Download Ubiquiti WiFiman now.
3. Network Analyzer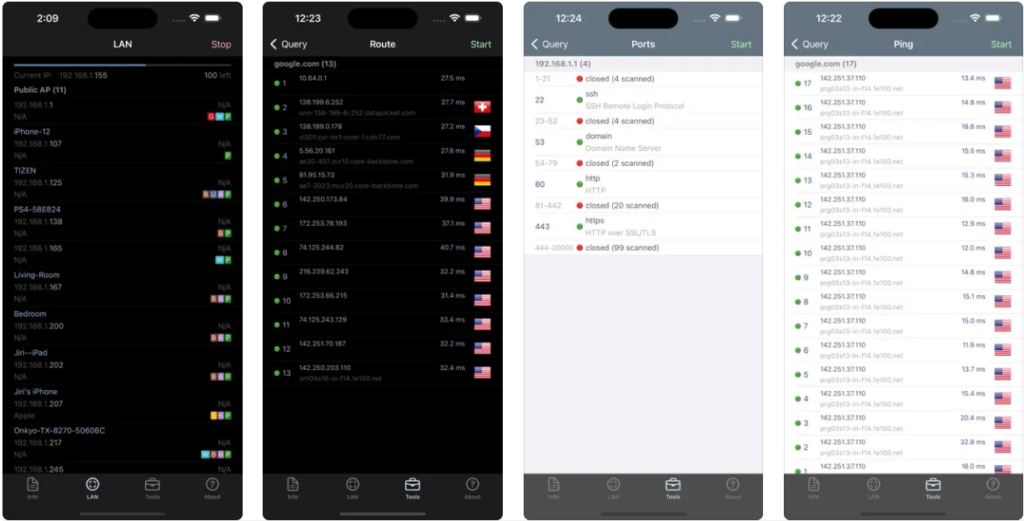 Put on your detective hat and grab your magnifying glass – it's time to solve the case of the elusive dead zones using this Wi-Fi analyzer app.
With Network Analyzer (the best Wi-Fi analyzer apps for iPhone) uncover hidden mysteries, solve signal crimes, and restore peace to your digital domain. Rest assured that this app doesn't mess around when it comes to discovering devices. It's like a digital bloodhound, sniffing out all those connected network buddies.
But it doesn't stop at addresses; oh no, it goes the extra mile, revealing names, IP addresses, and even waving flags for IPv6. Plus, it's got this cool ping test to keep you going in the digital realm.
Ping and traceroute – sounds like tech speak, right? Well, here's the scoop: Network Analyzer not only measures the time it takes for signals to bounce around the internet but also figures out the countries those signals are coming from.
Download Network Analyzer now.
4. AR WiFi Analyzer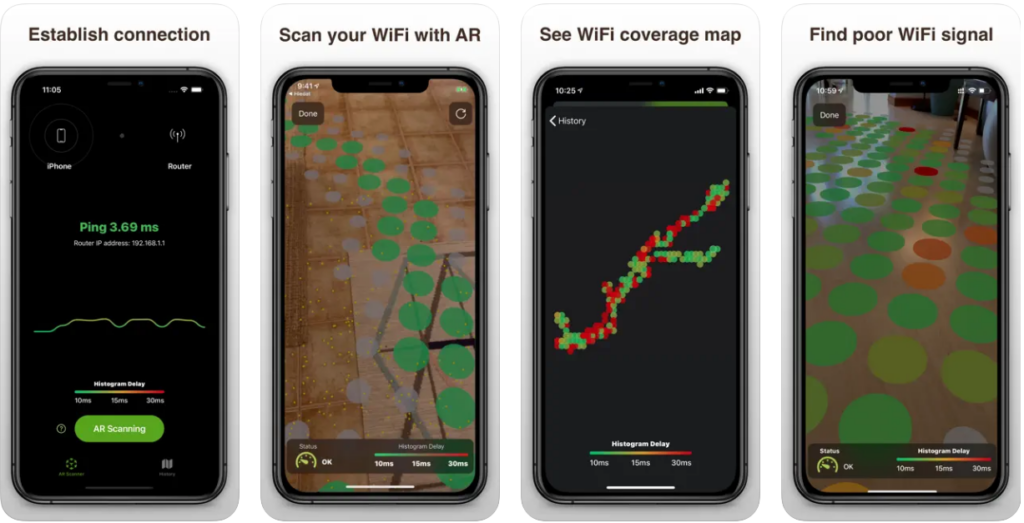 AR WiFi Analyzer iPhone and iPad network analyzer app takes your Wi-Fi quest to the next level. So, how does it work? The app transforms your space into a realm of points, each representing a spot where your Wi-Fi signal's quality is measured.
It's like turning your place into a treasure map, except instead of gold, you're hunting for a solid connection. Now, brace yourself, because this is where the magic unfolds.
As you stroll around, your phone's screen becomes a window into the augmented realm. You'll see points, colors, and patterns that uncover the strengths and weaknesses of your Wi-Fi signal. These points will guide you like stars in the night sky, showing you where your signal might be a tad shy.
Remember, though, that like all things in the digital world, the signal's quality might change over time. But fret not. AR WiFi Analyzer is the best Wi-Fi analyzer app for iPhone that will act as your beacon of real-time insight as needed.
Download AR WiFi Analyzer now.
5. Speed Test & Wifi Analyzer +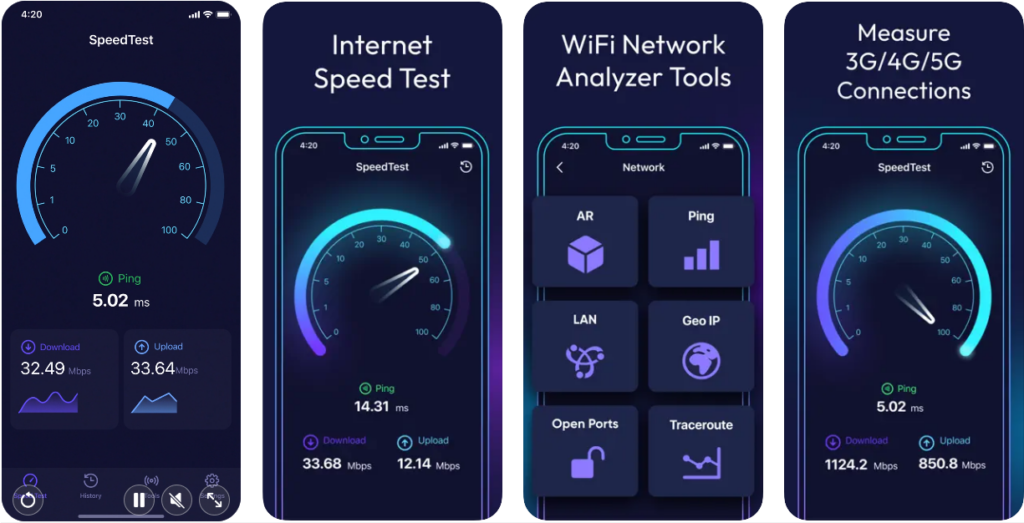 Speed Test & WiFi Analyzer + is your virtual pit crew, fine-tuning your Wi-Fi engine for maximum velocity. This app to analyze Wi-Fi is a multi-tool superhero that can scan, diagnose, and troubleshoot your network like a pro.
Whether you're battling buffering or tracking down pesky network intruders, this is the best Wi-Fi analyzer app for iPhone you can get.
Firstly, it's your virtual Wi-Fi mechanic, pinpointing issues in your Internet connection and WiFi setup. And it's like an eagle-eyed sentry, spotting unauthorized connections faster than you can say "Who's leeching off my bandwidth?"
If you've ever wondered about the geographic origin of an IP address, then rejoice because this app has a map for that. Need to scan open ports? You got it. Want to trace the path of your data as it zips through the digital universe? Traceroute's your go-to tool. And if you're all about that virtual cloak of invisibility, the VPN feature has you covered, providing a secure internet connection through a proxy server.
Download Speed Test & Wifi Analyzer+ now.
6. Fing – Network Scanner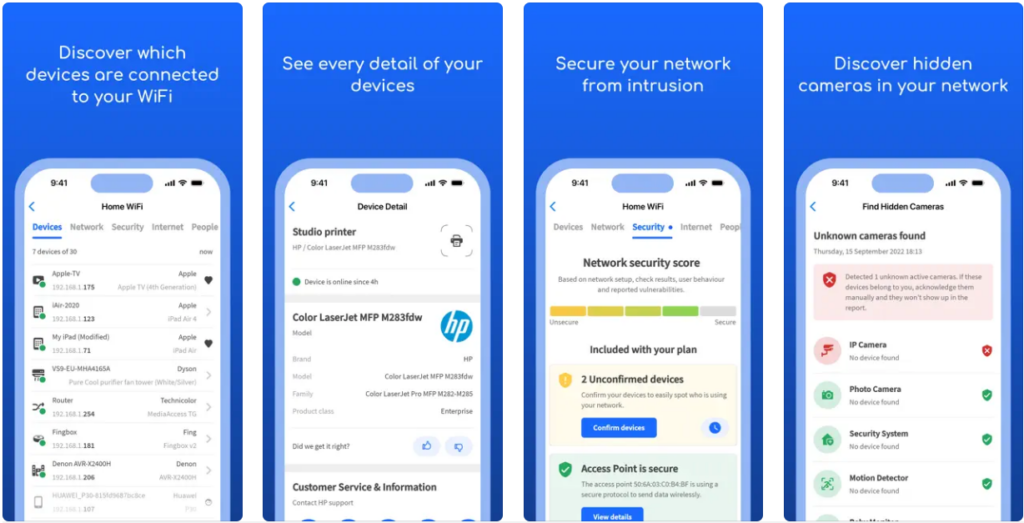 From mapping devices to identifying invaders, the Fing Wi-Fi analyzer app helps you keep your digital ship afloat.
With a wave of your smartphone, Fing's Wi-Fi & LAN network scanner steps in, revealing a treasure trove of connected devices. Fing doesn't just stop at the basic introductions; it's practically a name-tag creator for your devices.
Imagine knowing not just their names, but also their IP addresses, MAC addresses, device models, and even their manufacturers.
But wait, there's more. Fing is also your go-to network doctor. Is Netflix playing hard to get with endless buffering? Fing's got a remedy for that with its WiFi and Cellular speed tests.
It's like a virtual pit stop for your internet, ensuring that your online journey is smooth and buffer-free. Plus, it keeps you in the loop about internet outages, ISP ratings, and other speed statistics in your area, making it one of the best Wi-Fi analyzer apps for iPhone.
Download Fing – Network Scanner now.
Don't Guess, Analyze!
These iPhone and iPad network analyzer apps aren't just about functionality; they're about embracing the adventurous spirit of technology.
With intuitive interfaces, engaging visualizations, and even a sprinkle of augmented reality, using these apps is like embarking on a digital treasure hunt.
No more aimlessly wandering around your house waving your device in hopes of a stronger signal. These apps will guide you to the Wi-Fi promised land.
From unraveling channel congestion conundrums to identifying rogue devices that are secretly siphoning off your bandwidth, these are the best Wi-Fi analyzer apps for iPhone, packed with features that will make you feel like a Wi-Fi superhero.
Disclosure: iOSHacker may receive a commission if you purchase products through our affiliate links. For more visit our privacy policy page.