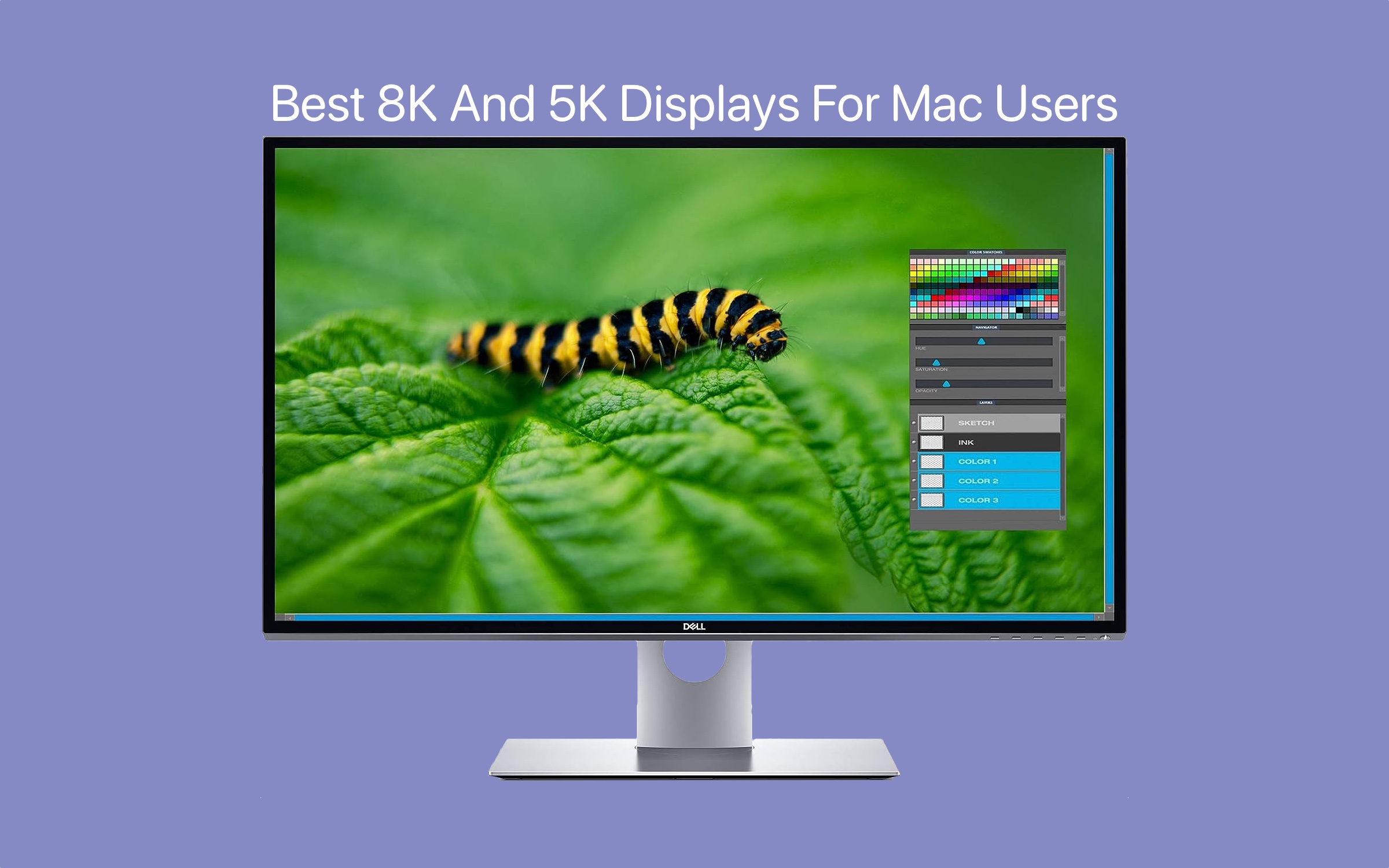 In this article, we have listed the best 8K and 5K monitors that you can buy for your Mac in 2023. These super high-resolution displays provide an amazing user experience that is unmatched by any other display on the market.
In the ever-evolving world of tech, staying ahead of the display game is like having a golden ticket to a visually immersive wonderland. Whether you're a creative professional craving every nuance of color or a multitasking wizard who can't get enough screen real estate, 8K and 5K displays are where it's at.
Best 8K and 5K Displays In 2023
As we sail through 2023, the market is brimming with the best 8K monitors for Mac that can make your Mac experience more dazzling than ever before. So, buckle up as we dive into the rabbit hole of the best 8K and 5K displays tailored to cater to every Mac user's wildest pixel dreams!
1. Dell UP3218K Ultra sharp 32" 8K Monitor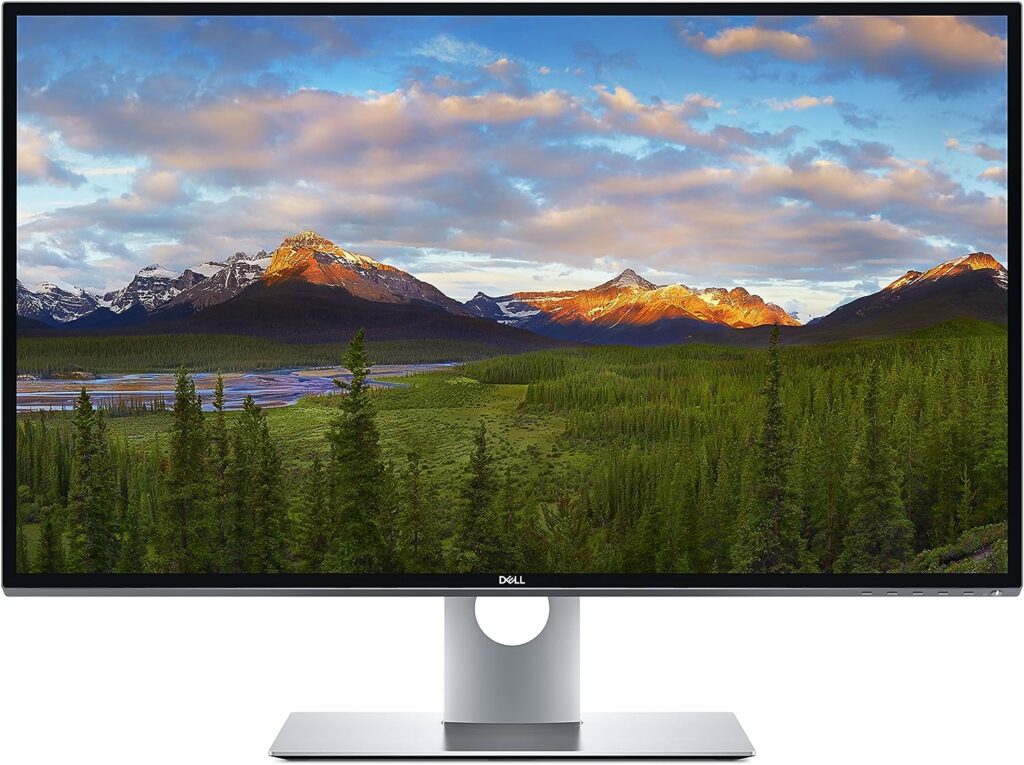 Dell PremierColor presents an extensive color spectrum that aligns perfectly with major industry benchmarks: 100% AdobeRGB, 100% sRGB, 100% Rec. 709, and 98% DCI-P3. This guarantees a flawless and consistent color display.
Indulge in an unparalleled level of intricacy enabled by an astonishing 1.07 billion colors — a remarkable 64 times more color depth than the regular best 8K Monitors in 2023. This enhanced depth translates to superior color gradation and precision, even in dimly lit areas, allowing you to perceive a multitude of shades with remarkable accuracy.
Tailor color settings to your liking through the Custom Color mode, the SDK, or the optional X-rite iDisplay Pro colorimeter. Your monitor arrives calibrated for AdobeRGB and sRGB with a Delta-E accuracy of less than 2. A factory calibration report is included, instilling confidence that you'll experience impressive color accuracy immediately.
Buy Dell UP3218K Ultra sharp 32" 8K Monitor for $3,999 here.
2. Dell Ultrasharp Up3218K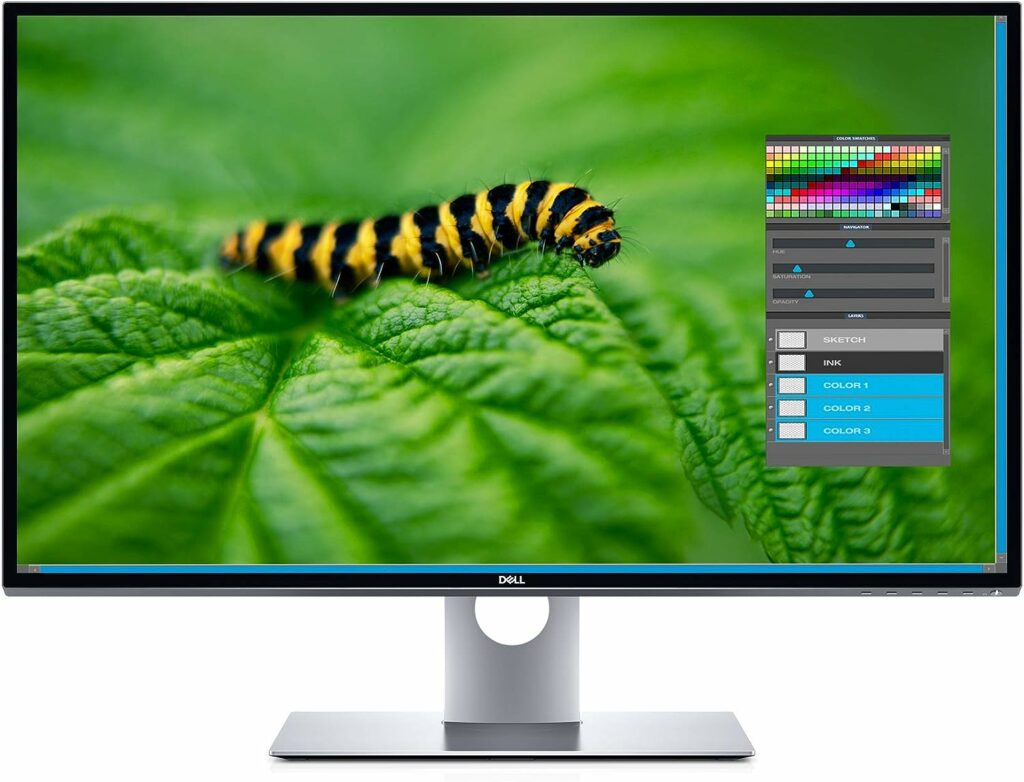 Experience the excellence of Dell PremierColor, where vibrant and accurate colors come to life, meeting the highest industry benchmarks. With 100% Adobe, 100% RGB, 100% rec. 709, and an impressive 98% DCI-P3 color coverage, your visuals remain flawless and consistent.
Indulge in the boundless beauty of Dell InfinityEdge, a display that brings you an expansive edge-to-edge viewing encounter. This 31.5" monitor redefines immersive visuals, erasing the confines of traditional borders and ensuring your focus remains on the captivating content rather than the frame itself.
Versatility meets design with compatibility for various stands and mounts, including VESA options, allowing you to seamlessly integrate this one of the best 5K displays in 2023 into your workspace. Your visual immersion takes center stage, free from any intrusive distractions.
Buy Dell Ultrasharp Up3218K for $3,724 here.
3. LG 40WP95C-W 40" UltraWide Curved WUHD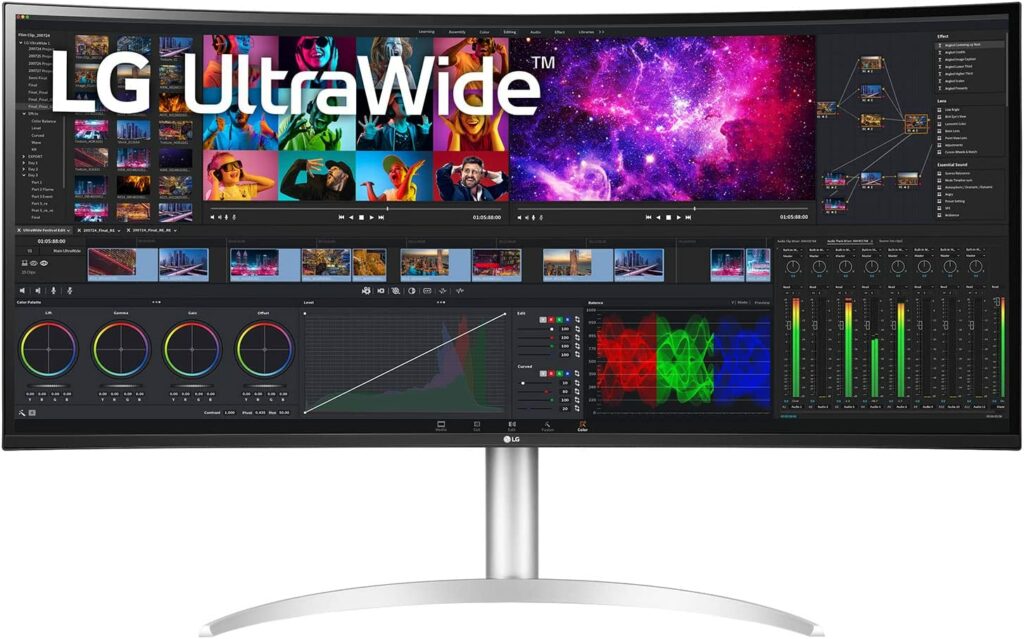 Experience an expansive workspace or captivating entertainment with the 40WP95C-W UltraWide Monitor. Elevate your productivity with the leading UltraWide Monitor brand in the U.S. Boasting a generous 40-inch screen and an immersive 21:9 aspect ratio, this curved WUHD (5120 x 2160) 5K2K Nano IPS Display delivers unparalleled color accuracy, contrast, and clarity even from wide viewing angles.
This monitor excels from content creation to design, video editing, and entertainment. Its brilliant DCI-P3 98% Color Gamut coverage combined with HDR 10 technology breathes life into your work and virtual experiences. Witness enhanced textures, vibrant elements, fluid character movements, and dynamic interplay of natural light and shadow.
The 3-Side Virtually Borderless Display of this UltraWide monitor provides a captivating canvas, further enhanced by its adjustable tilt and height stand. With Thunderbolt™ 4 featuring 96W Power Delivery, the LG UltraWide Monitor empowers you to conquer any task, unveiling a panoramic vista and high-performance capabilities that elevate your productivity to unprecedented heights.
Buy LG 40WP95C-W 40" UltraWide Curved WUHD for $1585 here.
4. LG 49GR85DC-B.AUS 49″ Curved Ultragear™ DQHD 1ms 240Hz Monitor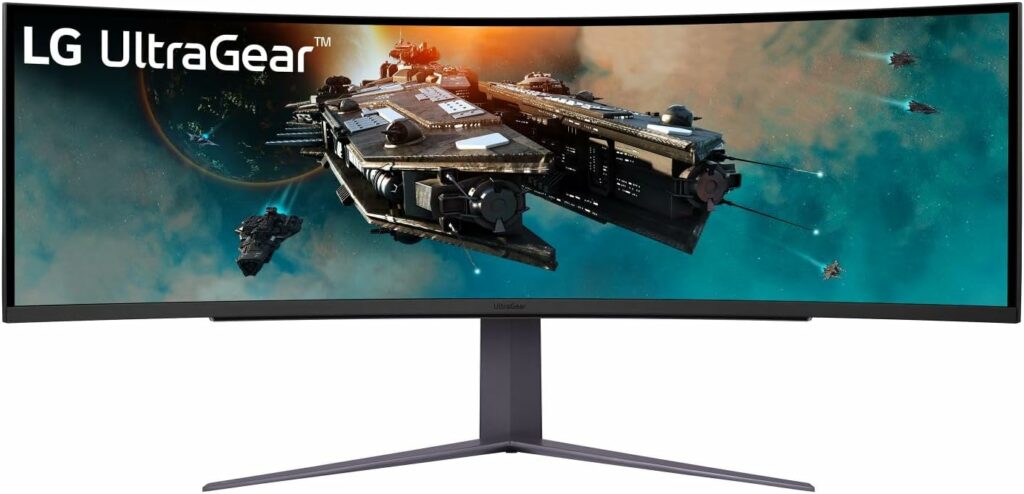 Elevate your gameplay with the ultra-fast 240Hz display, empowering you to react swiftly to opponents and maintain a competitive edge. Immerse yourself in gaming scenes that come to life with vibrant color, sharp contrast, exceptional clarity, and intricate detail. The display's rapid 1ms (GtG) response time minimizes blurring and ghosting, redefining responsiveness and enhancing your gaming adventure.
Gain a competitive advantage with AMD FreeSync Premium Pro, delivering a seamless and tear-free gaming encounter. With a refresh rate of at least 120Hz at a minimum FHD resolution and low latency gameplay, every frame is rendered with precision, enabling you to perform at your peak.
Unleash the power of accurate spatialization and localization in games with X technology, facilitating immersive 3D audio over headphones. Support for channel-based, scene-based, and object-based audio transforms your auditory experience. The 4-pole headphone jack also enables you to carry a stereo and mono microphone signal with shared ground, adding convenience to your setup.
Buy LG 49GR85DC-B.AUS 49″ Curved Ultragear™ DQHD 1ms 240Hz Monitor for $1240 here.
5. LG 27MD5KL-B 27 Inch UltraFine 5K (5120 x 2880) IPS Display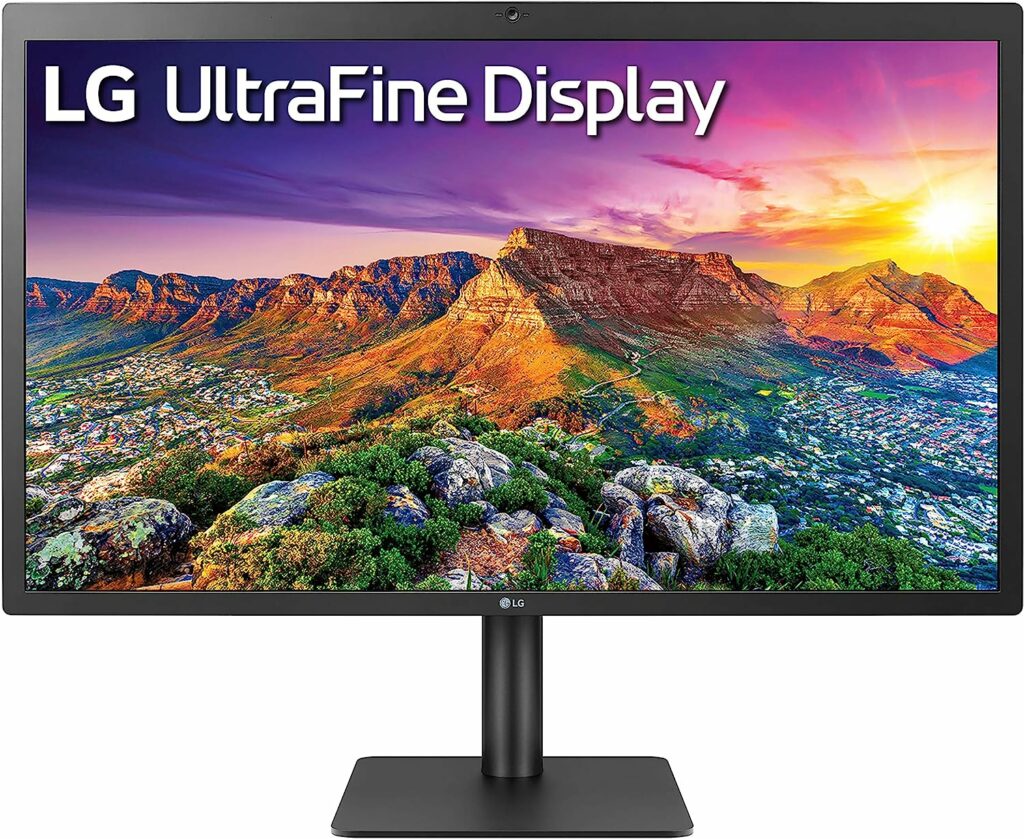 Enhance your Mac experience with the exceptional LG UltraFine Display, a true companion designed for perfection. Boasting a generous 27-inch Class 5K IPS Monitor that seamlessly aligns with macOS Compatibility, the LG UltraFine 5K Display offers more than 50% additional screen real estate compared to standard 4K displays. With an impressive 218 PPI, this display delivers unparalleled detail and sharpness, ensuring your images and text are portrayed with exceptional precision.
Immerse yourself in a world of clarity and precision as the LG UltraFine 5K Display supports a P3 color gamut and boasts an impressive 500 nits of brightness. This combination results in razor-sharp text and vivid and lifelike images that span a wide range of colors. The 27MD5KL model equipped with Thunderbolt 3 takes connectivity to new heights, enabling the seamless transmission of 5K video, audio, and data all through a single connection. Furthermore, it can charge devices with up to 94W, eliminating the need for multiple cords and adapters.
Buy LG 27MD5KL-B 27 Inch UltraFine 5K (5120 x 2880) IPS Display for $1,296.99 here.
6. HP Envy 34 Desktop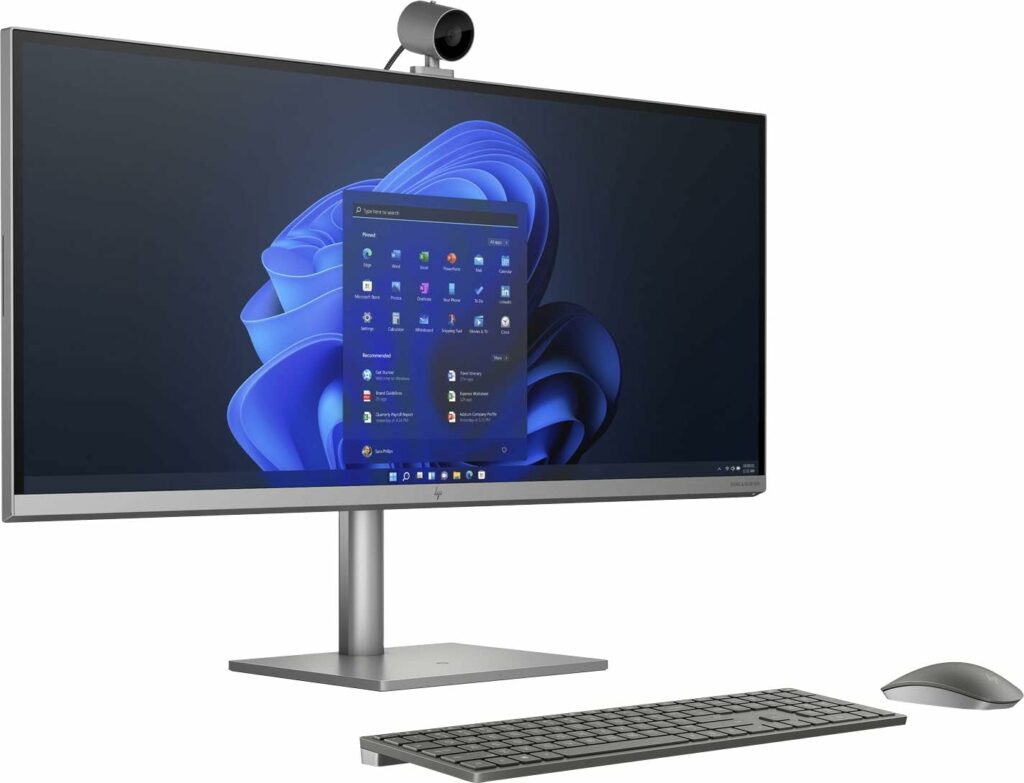 Behold the elegance and power embodied within the HP ENVY 34, a masterpiece with an abundance of ultra-performance alongside its captivating aesthetics. The extraordinary EXTREME edition All-in-One PC is fortified with Intel's latest Core i9 processor, the i9-11900K EIGHT CORE, capable of turbo boosting up to an impressive 5.30GHz. Complemented by a robust 32 GB RAM, this configuration ensures unparalleled performance. Additionally, a rapid 8 TB SSD m. two drive guarantees sustained speed and endurance for your system.
Prepare to be entranced by the arresting presence of the massive micro-edge display, enhanced further by the detachable and rotatable camera. With five versatile positions, you can seamlessly share your ideas over video with unparalleled flexibility. This realm of visual and auditory splendor offers an unparalleled cinematic escapade through the WUHD 34-inch diagonal display (5120 x 2160), complemented by the pristine audio prowess of Bang & Olufsen. Revel in a new era of convenience as wireless charging finds its home within the very base of this technological masterpiece.
Buy HP Envy 34 Desktop for $3,899.00 here.
LG 34BK95U-W UltraFine 34″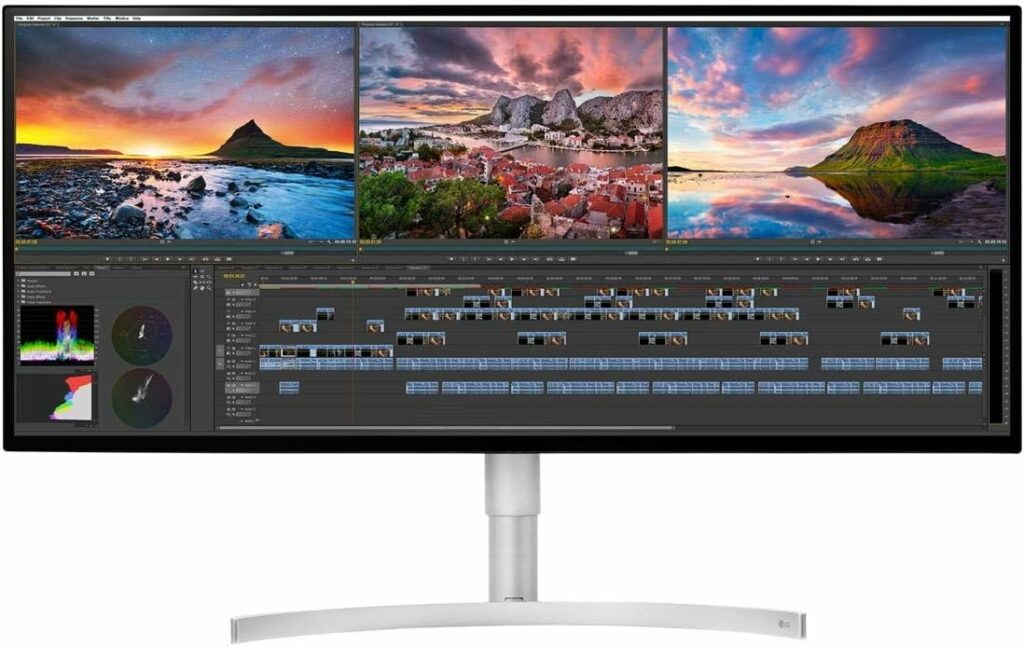 Experience unparalleled picture quality with enhanced color accuracy and an expansive contrast ratio that elevates your viewing experience. The advanced Nano IPS technology ensures precise color control, covering 98% of the DCI-P3 color space and supporting a staggering 1.07 billion colors – the gold standard in the digital film industry. This is a substantial 35% larger color gamut than the widely used sRGB 100%, resulting in vivid and lifelike color reproduction across various content, from real-life images and videos to computer-generated graphics.
Immerse yourself in a more true-to-life visual encounter, thanks to the dynamic brilliance of high dynamic range (HDR) technology. Witness heightened contrast between the brightest highlights and the deepest shadows, creating a captivating visual contrast that draws you deeper into the content. This one of the best 5K displays for Mac proudly bears the VESA HDR 600 certification, boasting a remarkable peak brightness of 600 nits, which guarantees a mesmerizing display of vibrant highlights that cannot be ignored.
You can maximize your productivity with the innovative 5:9 multitasking area, allowing you to work seamlessly while enjoying a stunning 16:9 4K video feed on the same screen. Tailored to the needs of video editors, programmers, and developers, the 5K2K 21:9 display of the 34WK95U offers an optimized resolution of 5120 x 2160. The Thunderbolt 3 connectivity ensures a hassle-free single-cable connection, streamlining your workflow.
Buy LG 34BK95U-W UltraFine 34″ for $999.00 here.
To Conclude
From breathtaking visuals that elevate your creative work to the next level to seamless multitasking that keeps up with your dynamic workflow, these best 8K Monitors in 2023 have truly redefined how we experience content.
So go ahead, take your pick, and treat your Mac to the best 5K displays for Mac it deserves – because every pixel tells a story, and now, you have the perfect canvas to tell yours.
Disclosure: iOSHacker may receive a commission if you purchase products through our affiliate links. For more visit our privacy policy page.