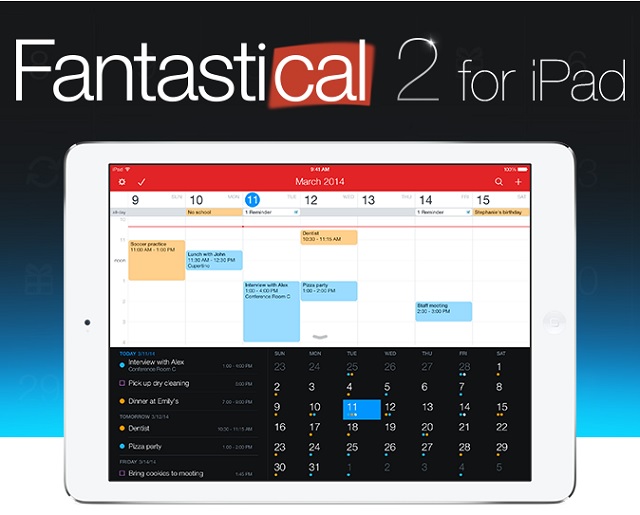 If you have been using the Fantastical 2 Calendar app on your iPhone then you will be pleased to know that the iPad dedicated version has finally been released in the App Store. The app that allows users to manage their events and reminders has been specifically designed for iPad and takes full advantage of its large display. It has some really nice features that make creating new entries a lot more easier. Users can simply type in the details or dictate them and the app will create events or reminders instantly.
The interface of the app makes it easier to view the entries in the form of a list. Fantastical 2 for iPad also supports location based reminders so you can make the app remind you of something when you arrive at some place or leave.
Fantastical 2 enables users to create reminders or event using specific words or phrases. You can create a reminder entry by starting your sentence with "reminder", "todo", "task" etc or add alerts using sentences like "alert 1 hour before" as well as "alarm 5PM". This makes using the app a lot more convenient especially when you are creating the entry using the dictation feature.
Other notable features of the app include ability to show maps along with the event's location, extended keyboard that shows numbers and symbols, birthday features, TextExpander support, dark and light themes and more.
You can download the Fantastical 2 for iPad for $9.99 from the App Store. It requires iOS 7 or above to run. The app is selling at 33% limited time discount right now.