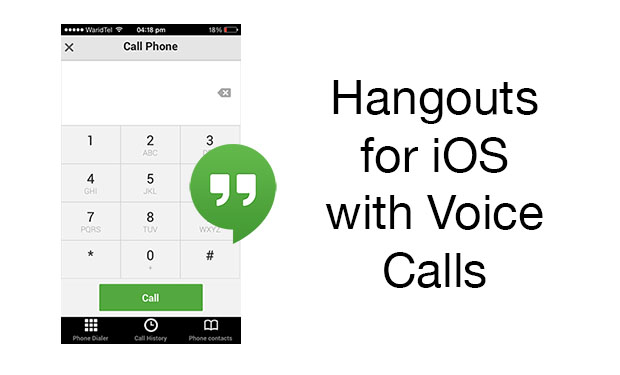 Google's Hangouts app for iPhone and iPad recently received a major update that now enables users to make voice calls to their friends and family on their phone numbers using Google Voice service. The calls will be made over the Internet and will be free for US and Canadian users just like it is on the web version.
Previously this feature was missing from iOS app but now since Hangouts app supports it users will be able to make free or cheap calls to phone numbers on the go. The feature is more than useful for iPod touch and iPad users since it gives an ability to make voice calls to these non-cellular devices. With Hangouts for iOS users can make as well receive calls on their Google Voice number.
Other than that the update also brings some minor but useful features such as now the app enables users to see which of their friends are using Hangouts service and which of them are available at the moment. The app now also supports animated GIFs in conversations that play inline.
Another change this update brings is that the Hangouts app will now temporarily turn off your music when you receive an incoming message. Previously the app used to turn the music off permanently, which was very annoying for most users.
If you don't have the app installed already on your iPhone, iPad or iPod touch then you can download it from the link below. It is available for free.