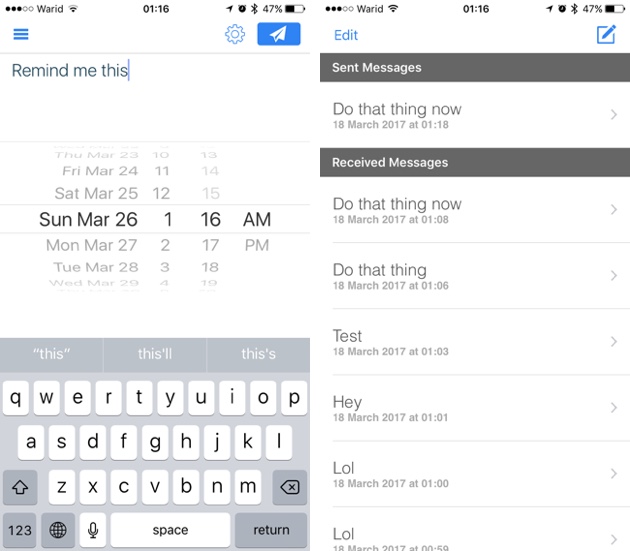 Most reminder apps out there are unreasonably cluttered and offer features that many users don't even need. HiFutureSelf app is a simple app for iOS that makes the life of iPhone users easier by sending them useful reminders in text message style reminders. The app is simple to use and offers a to the point user-interface that opens on the compose screen as soon as you launch it. You open the HiFutureSelf app, type the reminder or message you want to send to yourself in the future, set time and hit send.
Once you hit the 'Send' button you see the loading bar animation, which resembles to the one that appears when you send an iMessage to a friend from the Messages app. This little touch and the glyph of the 'Send' button really gives user an impression that he or she has sent a message to future self and not created a simple reminder. When the time is here the app sends the notification for the reminder along with the typed message.
You get a list of 'Received Messages' and 'Sent Messages' in a list view just like you would get in a typical messaging app. Here you can delete or add new reminders. The app also allows users to repeat a message hourly, daily, weekly, monthly or even yearly. From Settings, you can also change the alert ringtone. For the best results the developer recommends you don't put your iPhone on mute so you can hear the chime.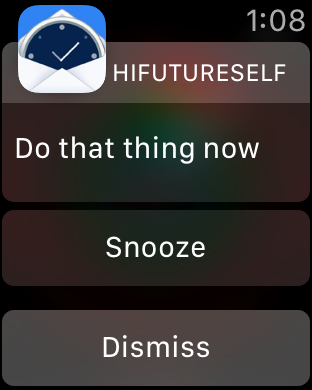 HiFutureSelf is perhaps most useful for Apple Watch users as receiving the message on your wrist can be very useful. The app has a web version too, which is capable of sending reminders in user's specified email.
HiFutureSelf app has been available in the App Store for many years, however it recently got updated with support for modern devices. You can download it for free using the link below.
Disclosure: iOSHacker may receive a commission if you purchase products through our affiliate links. For more visit our privacy policy page.