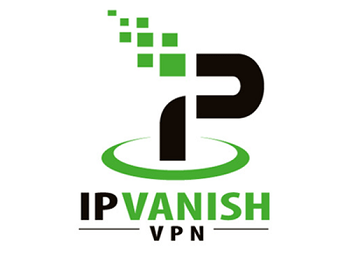 The Internet is meant to be a free place where you can access any website you want no matter which part of the world you belong to. Sadly the freedom of the internet is under threat with world governments and big corporations constantly trying to control it. Due to the censorship or simple corporate greed it can be hard for the normal consumer to reach certain parts of the Internet. Thankfully there are services like IPVanish VPN that make sure you can access any website or online service, regardless of where you are in the world. It also helps users access websites and services like Netflix, Hulu and others that don't work in certain countries. For example, if a service is not available in your country but it works in the US then you can select a US city to access it.
Similarly if a website is blocked on your office or university network you can use IPVanish to open it. Once you are able to open the blocked website it will work just like it does on normal networks. With IPVanish's fast speed you will not even realize that you are using a tunneling service.
IPVanish VPN's iOS app that works on all devices is super simple to set up and use. Once you have downloaded the app all you have to do is enter your credentials and add a certificate to iOS. The app will guide you through the process quite nicely. All this only takes less than a minute to set up. Once you are done all you have to do is open the IPVanish application and enable the switch. When you are connected to IPVanish's network you will see a VPN sign in your status bar as seen in the screenshot below.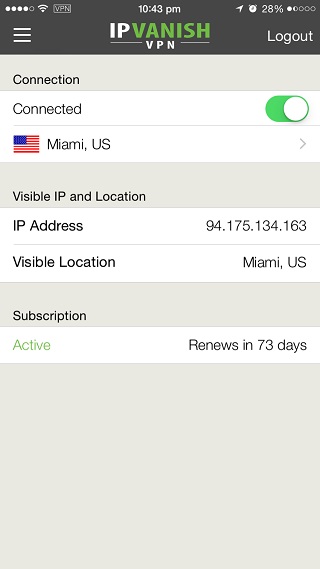 Using IPVanish you can not only open websites that are blocked in your country but also get access to services such as Netflix, Hulu, BBC etc. if they are not available in your area.

When you are using IPVanish VPN on your iPhone or iPad you will hardly notice any difference. The VPN is so fast and reliable that you will forget that you are not using the Internet directly.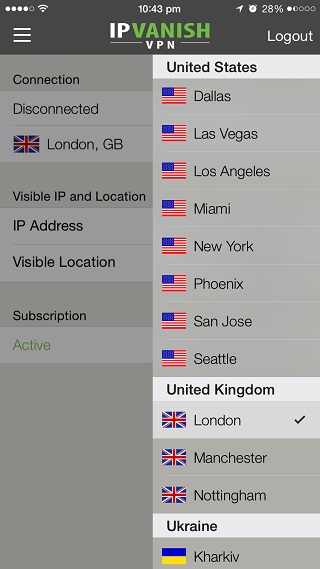 Configuring IPVanish is extremely simple. You can select any location as your connection's base. So if you want to access a service that is only available in the US then you can select a US city from the menu, or from any other country based on your need. Once you have selected the city you can move the switch and connect to the Internet through that particular city. When you are done using the VPN service you can simply hit the Logout button.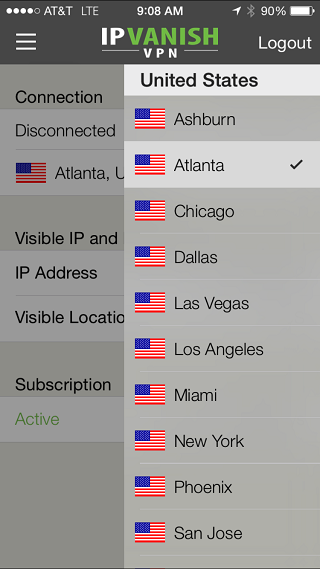 When you are using the Internet through IPVanish's service you not only get a truly free web but also get a secure connection. This means no government agency, firewall or hacker will be able to monitor your web usage and your privacy will be protected in the best way possible.
Perhaps the best thing about IPVanish is that it is available on multiple devices. So if you have a subscription you can use it not only on your iPhone or iPad but also on your Android, Windows, OS X, Windows Phone, Ubuntu and Chrome OS powered devices.
You can download the IPVanish VPN app from the App Store for free using the link below. To use it you will need to have a subscription that costs $6.49/month for 12 months, $8.99/month for 3 months, or $10.00/month-to-month.