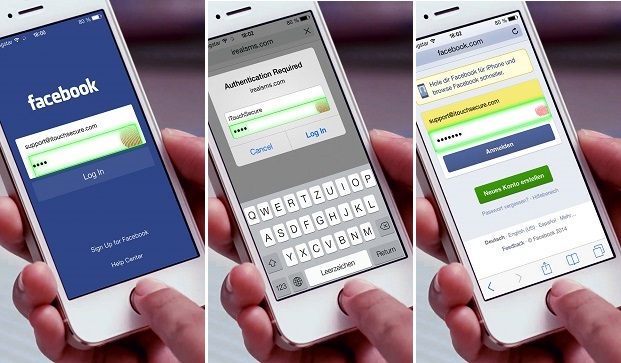 Touch ID feature of iPhone 5s is simply amazing however it has yet to meet its true potential. Currently Apple is not taking the full advantage of finger scanning capabilities of its smartphone. If your iPhone is jailbroken then you can step out of Apple's limitations and significantly boost the functionalities of this feature. iTouchSecure is a jailbreak tweak that brings a feature to Touch ID that should have to been part of it by default.
It enables iOS users to enter password in the password field using their fingerprint. How this works is pretty simple, all you have to do is type your password and sign into an App or a website opened in Safari or Chrome browser for the first time. When you  are entering the tweak will display a yellow box around the password field and will store the entered password in iCloud keychain, which is fully encrypted and secure. Next time you open the same website or app and it asks you for the password you can simply tap on the password field and scan your finger to enter the password automatically.
With iTouchSecure you won't have to enter the password every time you are signing into a website you frequently visit. Same is true for all App Store apps.
The tweak recently got updated and now supports Chrome or any other app that displays web view login, which includes many third party applications such as Google apps.
iTouchSecure is available in Cydia for $4.99. While the price point might seem a bit too much to some users the tweak is certainly worth the money for someone who does not like entering the password again and again. As it uses iCloud keychain the tweak is fully secure so you don't have to worry about your details getting leaked.
To better understand how iTouchSecure works watch the video embedded below.