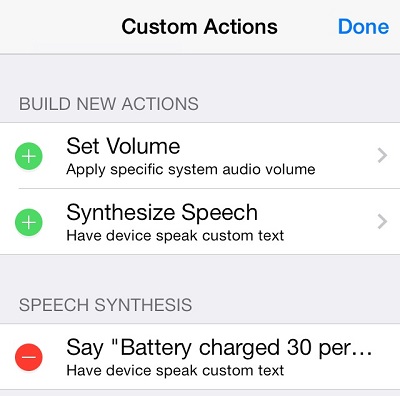 Activator is one of the best and most useful Cydia tweak available today and it keeps getting better after every update. In the latest beta of Activator its developer Ryan Petrich has added a new feature called the 'Synthesize Speech', which allows users to set actions and gestures and make the iPhone read out predefined text when that  action is performed. This new feature opens up Activator to new possibilities enabling users to do a lot more than they could already do before.
How this feature works is pretty interesting, you can set up your iPhone or iPad to speak words when a certain action is performed. For example if your device reaches a specified battery level then you can configure the 'Synthesize Speech' feature to say "Battery running low, please recharge". Or you can set up speech with any gesture so if you launch a particular app you can make Activator say the name of the app.
For a text to be spoken you first have to create a Synthesize Speech by going into any action or gesture and then tapping on the 'Edit' button. From the next screen you have to tap on the 'Synthesize Speech' option and type in the text you want your iPhone to speak. That's it. Now every time that event takes place your iPhone will read the text you have entered.
That's not all as last week the beta version of the tweak also got the Profile feature, which allows users to create different profiles in Activator and set actions in them. So if you configure the same gesture for two different outcomes under separate profiles then that gesture will perform the action selected within the profile that is currently active. So if you want to to use the status bar's double tap gesture for a different thing while you are in a car than say in normal mode you can do it now.
You can download the latest beta of Activator from Ryan Petrich's repository. Add http://rpetri.ch/repo to your Cydia sources to get the tweak.