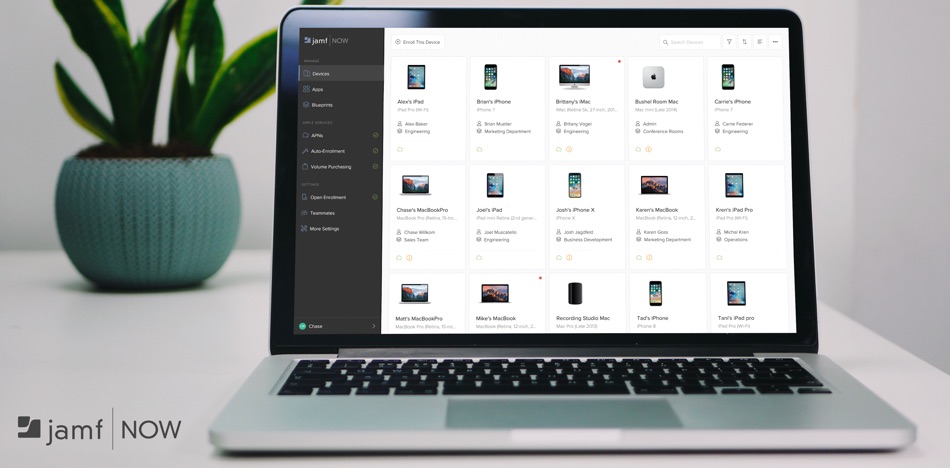 As the world increasingly shifts towards mobile and remote-work environments, the need for device management software has become essential. Not every company or organization has the resources and time to deploy an IT team that is dedicated to managing devices. That's why powerful device management software — that is easy to setup and use — can make a huge difference.
This is where Jamf Now device management software for iPhone, iPad and Mac comes in. This product enables small and medium-sized businesses to manage their devices and quickly deploy them without requiring physical access to them. With Jamf Now, you can deploy apps, settings, restrictions and more to a group of Apple devices within your company. You can also deploy custom apps, custom configurations and packages depending on the Jamf Now plan you opt for. Since the setup can be done remotely, you don't need to have physical access to the device in order to deploy your settings and resources to it, which makes Jamf Now perfect for today's remote-work environments.
What makes using Jamf Now particularly easy is its Blueprints feature. This enables you to create configurations that can easily be deployed to a new device or a group of devices in just a few clicks. Blueprints are like presets that you can configure according to your needs. You can add apps, security settings, Wi-Fi, Restrictions, web clips, Single App Mode, email and even wallpaper settings in a Blueprint. Once you have configured multiple Blueprints based on your company's needs you can deploy them to devices, saving time and maintaining security in the process. Another great thing about Blueprints in Jamf Now is that you can adjust them at a later stage and automatically apply changes to all devices that are associated with a particular Blueprint.
Jamf Now makes app distribution within deployed devices easy by allowing managers to automatically install apps on company devices. They can also use Apples Business Manager's Volume Purchasing feature to buy apps in bulk and distribute them among company devices. If you opt for the Jamf Now Plus plan, then you can also deploy custom apps made by your company, bypassing the App Store altogether.

Managing currently deployed iPhone, iPad and Mac devices within the company is made easy with Jamf Now's device management features. First of all, you can remain current with your company's inventory by viewing all of your managed devices in one place. You can see useful information about a device such as who the device is assigned to, the device's serial number, applied settings and deployed apps. You can easily export this data to a spreadsheet or import it into accounting and asset management platforms.
All of Jamf Now features mentioned above can be accessed and managed through the software which is capable of managing the devices remotely. The interface is easy to use and does not require you to be an IT professional to take care of the device management.

No matter the size of your business, security is something that you cannot compromise on, as it can have far reaching consequences for your company and data. Thankfully Jamf Now also takes care of security of your deployed devices by enforcing safeguards that are necessary for device protection. It does so by offering essential security features like passcode requirement, restrictions, disk encryption on the Mac, remote lock and wipe, lost mode and two-step verification.
If you are looking for an easy to use and affordable device management software solution for Apple devices in your company, then Jamf Now is a product worth considering. To start, you can manage up to three devices free forever. After that, Jamf Now's standard plan costs $2 per device per month.
The Jamf Now Plus plan offers all the features available in the standard plan, plus additional features like ability to deploy custom apps, packages, profiles and enhanced support. It costs $4 per month per device. Just like the standard plan, you can add and manage your first three devices for free.