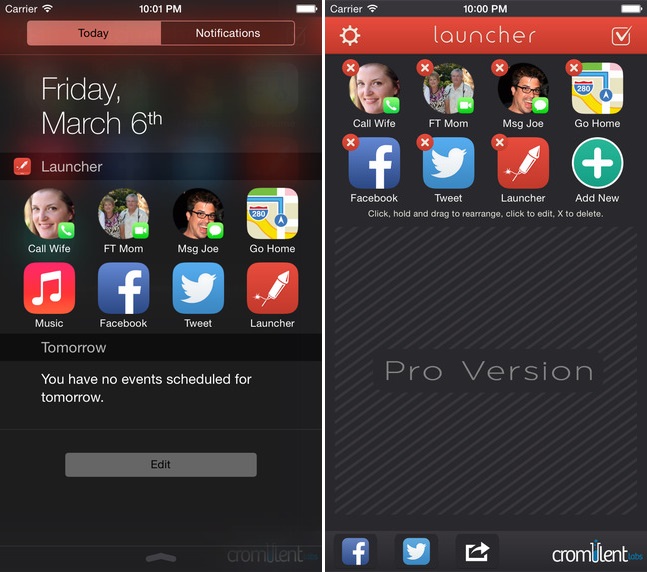 If there's any place in iOS that is most suitable for your shortcuts then its the Notification Center. With the introduction of iOS 8 this section of iOS became a lot more useful as it now allows third-party app widgets. By taking advantage of this functionality Launcher with Notification Center Widget app puts a widget in NC that houses shortcut icons for user's favorite apps, contacts, webpages and other actions. After setting up the widget all you need to do is swipe down to bring out the Notification Center and tap on the relevant button to perform an action.
The best thing about this Launcher widget is that it is always accessible thank to the accessibility of iOS Notification Center, which can be accessed even from the lockscreen. With this widget app you can set launcher icons for contacts to quickly call, message, Facetime and email them. You can even set launchers for direction related shortcuts such as getting directions for home, favorite restaurant and more in your favorite app.
Another cool shortcut that you can set up with Launcher with Notification Center Widget app is for webpages, making it easier for you to launch websites instantly.
Users can set launchers for their most used apps as well. What's even more interesting is that you can set shortcuts for actions for different apps, for example you can send a Yo, open new tweet page, run workflows and more by just hitting the shortcut button.
You can download Launcher for your iPhone, iPad or iPod touch from the App Store for free. Please note that you will need to buy in-app purchase worth $3.99 in order to unlock all features.