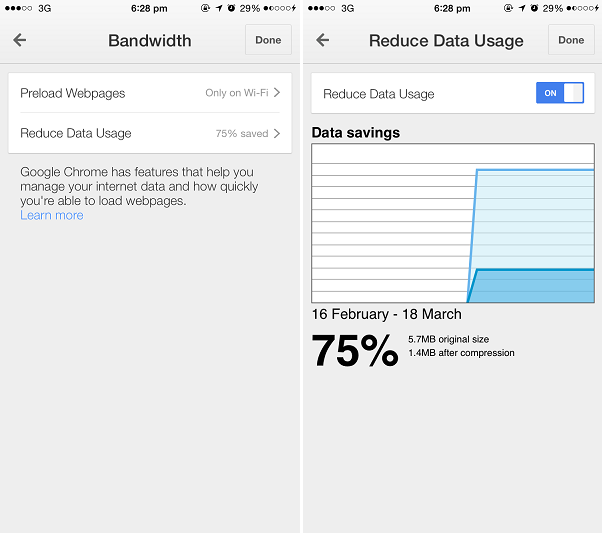 As we increasingly shift our online lives to iPhone and iPad one thing that bothers us the most is the limited amount of bandwidth that is available to us while on the go. Most cellular service providers give depressingly low bandwidth allowance, forcing users to cut their social media interactions while they are away from WiFi. If you use Chrome for iOS on your device for browsing the web changing a few settings can really make a difference in your bandwidth consumption, allowing you to save significant amount of those precious megabytes.
On your iPhone launch Chrome for iOS and tap on the hamburger button located on top right side of the screen. From the menu look for 'Settings' and tap on it. Now scroll down to find the 'Bandwidth' option and tap on it as well.
On the next screen you will find two options. First is the 'Preload Webpages'. This setting lets you choose whether you want to preload pages on Chrome or not. From the menu you can either choose to have the setting set to always or change it to 'Only on WiFi'. Choosing the second option means that webpages won't be pre-loaded when you are using the cellular internet. Choosing this setting will help in reducing your data usage.
Now go back to the previous screen and tap on the 'Reduce Data Usage' option. From the next screen turn the toggle 'On' if it is not on already. Doing so will reduce the size of webpages and Chrome will serve you the compressed version of websites you visit. This again significantly reduces the data usage, letting you save bandwidth. Once you have turned this option on you can return to this page to see the affect of turning it on with the help of a graph.