In this so-called post-PC era our smartphone is becoming ever important to our daily lives. We store our most precious data on these pocket held devices. The data we store on our iPhone includes but is not limited to our photos, videos, contacts, notes, calendar, messages, web browsing data and account details, banking details and much more. These devices enable us to have instant access to our data and make it accessible whenever we need it.
Despite their importance one thing that is mostly overlooked is recovering data from an iPhone. There are many iOS data recovery solutions out there, however the tool that offers the most comprehensive solution is called PhoneRescue for iOS. This handy and powerful tool makes it possible for users to quickly detect and retrieve data from an iPhone. The best thing about this tool is that it does not even need a backup to be created before it is able to retrieve seemingly lost data.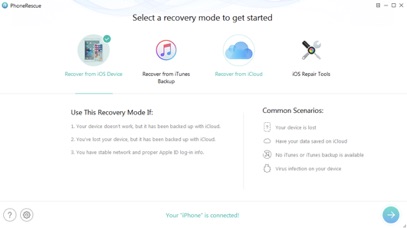 With PhoneRescue tool you can retrieve a wide range of data stored on your iOS device. So what can you recover with PhoneRescue for iOS? Well the list is long. This tool lets you recover Photos, Videos, Messages, Contacts, Call logs, Calendar, WhatsApp data, Voice Memos, Reminders, Notes, Safari Data, App Data and more. PhoneRescue's capabilities are not limited to data normally stored on your device, as it is capable of retrieving data that you had previously deleted from your device. So if you have accidentally deleted messages, contacts or photos from your device you can use PhoneRescue's NO-DATA-LOSS technology to get it back in no time.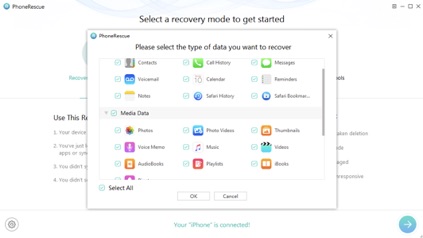 One great feature of PhoneRescue for iOS tool allows users to preview data before recovering it. This makes it possible for users to verify if they have what they are looking for before beginning the recovery process, which results in saved time and effort. This tool also supports iCloud backups, so it will enable you to recover data that is stored on your iCloud backups.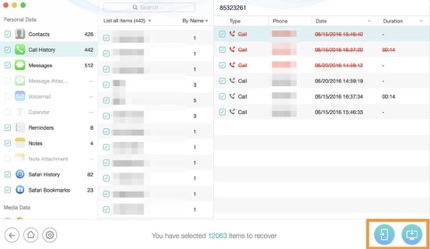 The usefulness of PhoneRescue does not stop at iPhone data recovery, as this tool also offers 1-click fixes for iPhone problems. It enables users to fix their iPhone or iPad if they are experiencing annoying problems like the device stuck in a boot loop, black screen, device experiencing Update failure or if it is stuck on the white Apple logo screen.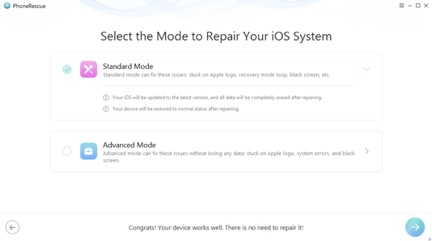 PhoneRescue has so many features that it is hard to fit them in a single review while keeping it concise, so below you will find some of its awesome features explained in a brief manner.
ForceRestore: With this feature you can fix corrupted iOS backups and create files that are required to complete a successful iOS restore.
SmartCompare: With its SmartCompare feature PhoneRescue is able to analyze GBs worth of lost data in a matter of seconds and then compares it with the existing content on your device. It then presents you with the most complete and accurate lost data.
SmartMatch: With SharpMatch feature PhoneRescue for iOS is able to display lost data in original formats. This means it is capable of showing you numbers, text, audio files, images and more in formats they were originally stored in. The tool is also capable of detecting data's language and displays it in the same so you will get data in English, Japanese, German, etc. just the way you stored it on your device.
Thunder-Extraction: With this feature PhoneRescue for iOS guarantees that you get your lost data back by eliminating the risk of overwriting existing data on your iOS device .It create 2 separate data channels, essentially eliminating the risk of permanent data loss.
You can download and try out PhoneRescue iOS Data recovery tool for free here. If you find the tool to be helpful, then you can also purchase the full license for $49.99.