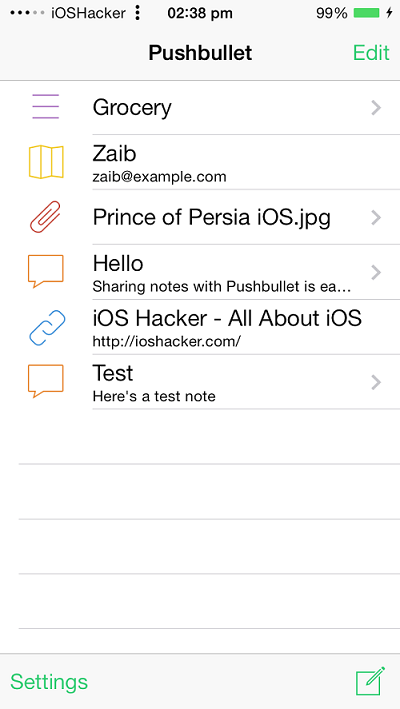 Sharing stuff between PC and iOS has always been a tricky business for users. There's no simple way of sending different kinds of files to iPhone or iPad and users are forced to use third-party services for the purpose. There are several good apps and online services that allow them to easily send different kinds of files to their iOS device. Joining them is a new app called Pushbullet.
Pushbullet makes it easier for iOS users to send text, links, images, lists, addresses and any other kind of file from their Mac or Windows powered computer to iPhone, iPad or iPod touch.
How it works is pretty simple. You have to install the Pushbullet app from the App Store and download a Chrome extension on your computer. The fact that Pushbullet requires a Chrome extension on the computer makes it compatible with more PCs because of Chrome browser's omnipresence. For Windows users their is a beta app as well that they can use to push stuff to their iOS device.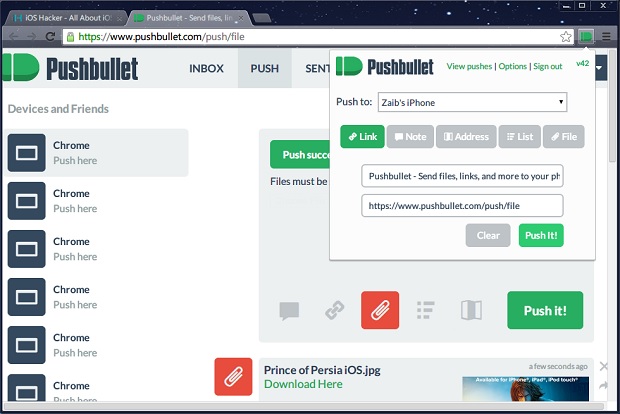 Pushing files to iOS is a fairly simple process. After installing the Chrome extension you can click on its button on from your computer and select the type of file you want to share. Once you are done all you have to do is click on the 'Push it' button. The file appears on the iOS device almost instantly provided it is connected to the internet. You can push links, notes, lists and addresses right from the pop up. For pushing files such as photos, PDFs etc you need to open the Pushbullet website.
That's not it as you can also push notes, links, addresses and photos from your iOS device to your computer using the Pushbullet iOS app, which makes it even more useful.
Pushbullet is free to use and you can start using it as soon as you sign in on your computer and iPhone. Download Pushbullet app and Chrome extension using the link below.