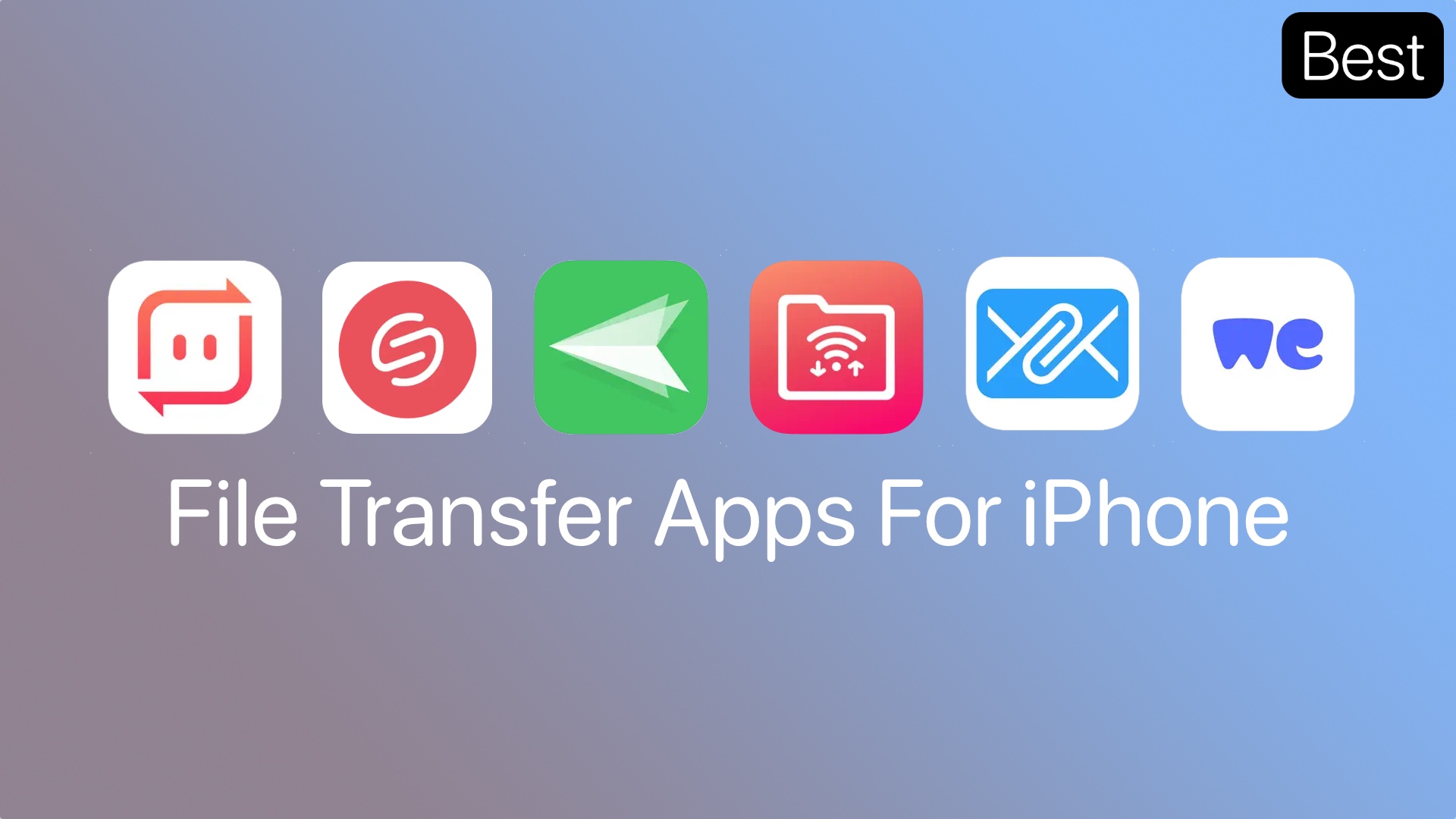 Are you tired of getting a 'file size too large' error message? Want to know how to send large files on iPhone? In this blog, we will discuss the best file transfer apps for your iPhone and iPad. Let's begin.
After you spend hours editing the perfect video/image or curating detailed, graphic-heavy documents, the last thing you want to see is an error message telling you that the attachment is too large to share. Sure, email is incredibly useful, but not when the size limit hinders file sharing.
So, what's the solution? There's an app for everything these days. We've scoured the internet to find you the best apps to send large files. Let's discuss the top 6 options available in detail.
With these apps you can send large files from your iPhone or iPad. So no matter if you want to send a photo, video, document or any other large file, you can take advantage of these apps.
Best File Transfer Apps for iPhone and iPad
There's something for everyone. Plenty of apps offer a solution and we're sure you'll find one which works perfectly for you. Here are your best bets: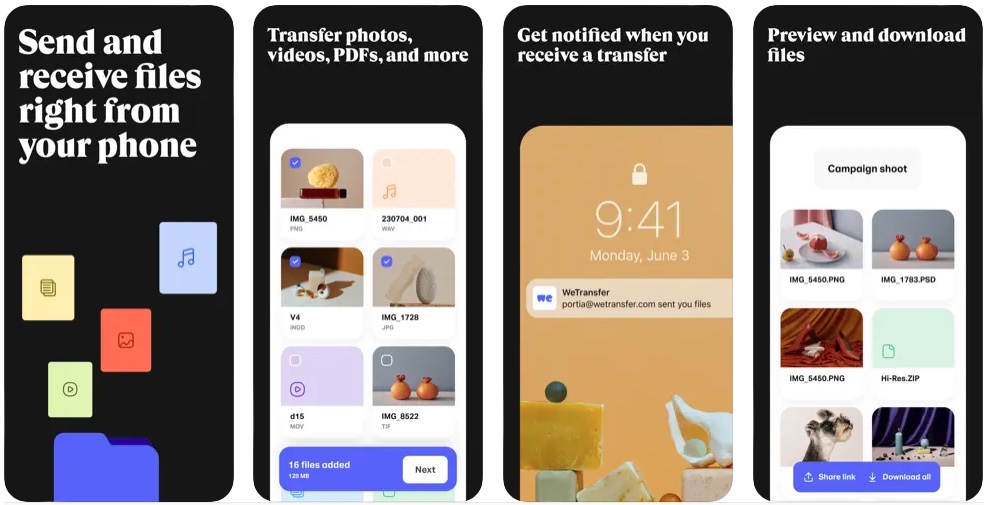 WeTransfer offers the easiest and smoothest way to share files online. The app allows up to 20 GB of file-sharing through the free version. If you upgrade to their paid plans, you can transfer files up to 200 GB. That's about 20 hours of Full HD video approximately.
With this free app to send large files, you can keep an eye on the download status, and forward and delete transfers straight from your phone. Plus, you will get notified the minute you receive something and you don't even have to download it to see what was shared unless you choose to.
Features
WeTransfer is compatible with iPhone and iPod touch (Requires iOS 15.0 or later.)
It is available in multiple languages including English, French, German, Italian, Spanish, Swedish, and more.
In-App purchases include these monthly and yearly programs:
Pro – Monthly $11.99 | Yearly $119.99
Premium – Monthly $22.99 | Yearly $229.99
You can download the WeTransfer app for free here.
2. Send Anywhere: File Transfer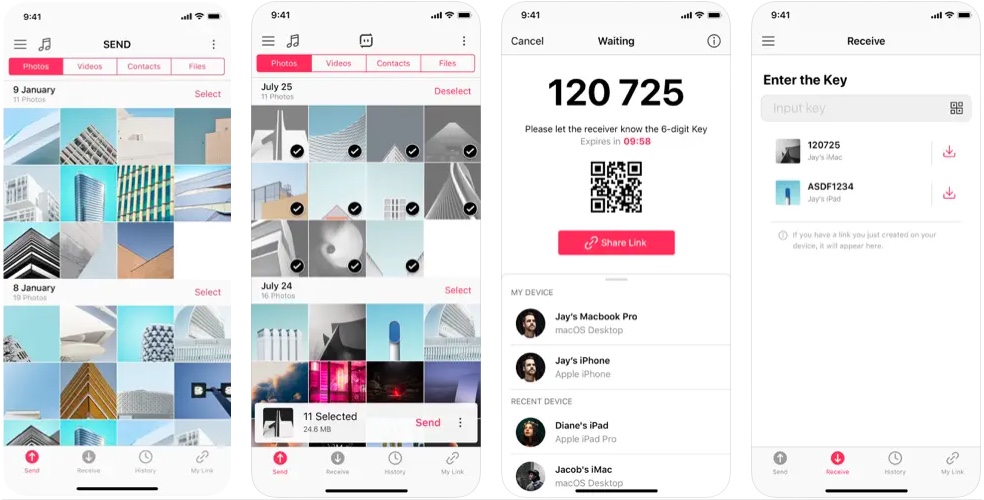 A cross-platform file-sharing app, Send Anywhere is a quick and easy solution to your file-sharing problems without the need to log in or tap into your cloud storage.
What makes it one of the best file transfer apps for iOS is that it allows the end-user to send unlimited files, of any type and size, across iOS, Windows Phone, Android, Chrome, Windows 8, Linux, and Desktop.
Moreover, to ensure a secure and quick transfer process, it uses p2p networking to bypass cloud storage and a one-time six-digit code to sync the sending and receiving device.
Features
Users can generate a 48 hours valid link and share files with multiple people.
The app sends a notification to receiving devices that allows them to access files without entering a key.
Users can play received music files right in the app and can make a music playlist that can be shared with others.
Send Anywhere has a video player that supports multi-language subtitles for users to play video files directly within the app.
You can download the Send Anywhere app for free here.
3. Filemail: Send Large Files

Filemail is best known as a reliable and convenient iPhone and iPad large file transfer app with unique features. It supports cross-platform sharing with multi-user plans and customizable options for businesses.
The easy-to-use interface makes file sharing as easy as sending an email while ensuring a safe and secure file transfer through data encryption, 2-factor authentication, and virus scanning.
The free version of the app allows sharing files as large as 5GB. If you upgrade to their premium plans, the Filemail Pro plan supports sizes as large as 25GB for $10 per month, and the Business plan handles unlimited file sizes for as low as $15 per month.
Features
Users can share multiple files or folders using the recipient's email address or a shareable download link.
The receivers are not required to download the app to access shared files.
The shared files remain available to download for up to 7 days
For paid accounts, users can transfer unlimited files with no bandwidth limits and 30 days of permanent storage
Paid accounts receive at least 1 TB of storage, password protection, and advanced delivery tracking
You can download the Filemail app for free here.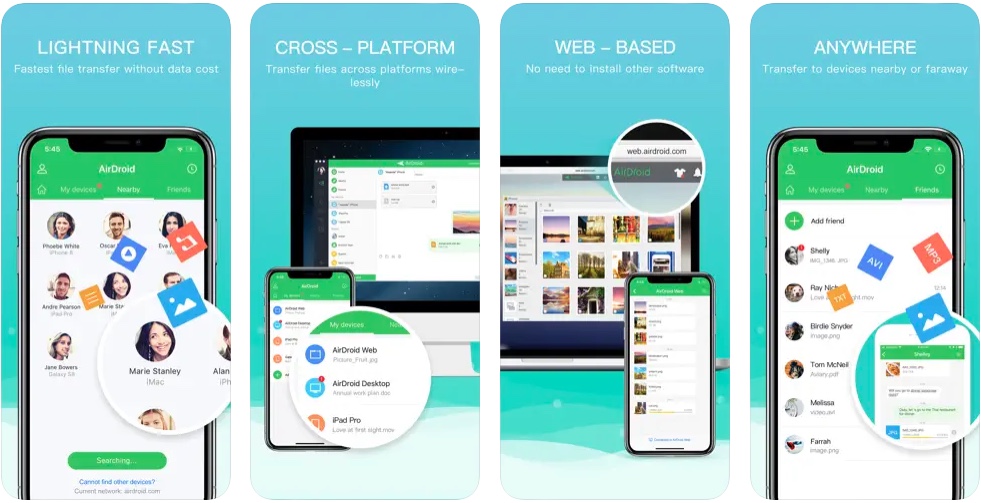 AirDroid is probably the fastest large file transfer option available today. The app allows users to transfer files between any device with the same IP network. It is considered a one-stop solution for managing your iOS devices wirelessly from Windows, Mac, or the web.
With the cross-platform file transfer feature, you can transfer up to 20MB of files between your iOS devices and laptops, iOS to iOS, Android to iOS, or vice versa, and more.
Features
Users can transfer files across platforms, wirelessly, and without the Internet using the nearby feature.
Users can access and manage files, apps, storage, and more from a desktop or web browser and automatically sync and upload photos & videos to PC.
Users can share files with other nearby devices without costing any data allowance.
Sync your iPhone's app notifications to the computer, and directly reply to them through your desktop.
You can download the AirDroid app for free here.
5. File Transfer App
Eliminating the need for any operating system, the File Transfer app allows users to share files between iOS devices, PC, and any nearby devices easily.
There are two primary file-sharing options available for users.
Using the first method, users can upload and download selected files directly from their iOS devices to PC or other devices as long as both devices are connected to the same WiFi network.
Using the second method, users can transfer an unlimited number of photos and videos of any size for free without a web browser.
Features
Users can make ZIP archives of files and uncompress them as well.
The app offers users to convert HEIC files to JPG before sharing them.
Users can import/export photos and videos between Camera Roll and the app.
Any audio files received can be played in the app's music player.
Users can buy the ad-free version
The app supports Dark Mode
You can download the File Transfer app for free here.
6. Smash: File Transfer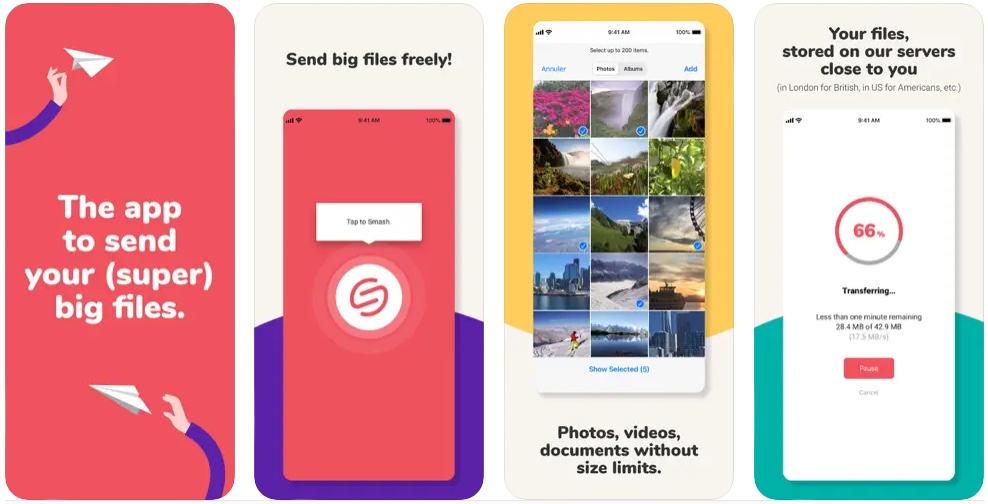 Smash is the best way to send large files for free without any limit or registration, from your web browser, mobile, and Mac. Simply drop your files or folders on the application icon, select your destination, and voila! You're done. The app will notify you as soon as the files are successfully transferred.
The transferred files do not require to be compressed and remain within the app for up to 7 days in the free version. Moreover, you can transfer up to 2GB of data for free.
For Smash Pro (paid account), you can transfer unlimited files that remain in the app for up to 365 days. Moreover, users can also customize the display and show their own background and logo during each upload/download.
Features
Maintain the original quality of your files.
Access your last transfers with one click.
File storage is determined as per the location of the user.
Data is encrypted in transit and at rest
Paid accounts can find transfer history on the web version and can customize the transferred file's design.
You can download the Smash app for free here.
Conclusion
File sharing is certainly not a strong point of an iPhone, but the tools needed for file sharing are not exactly lacking. They say your iPad is a productivity machine – which might not be completely true on its own but by using the right tools, it can certainly be turned into a powerhouse of productivity.