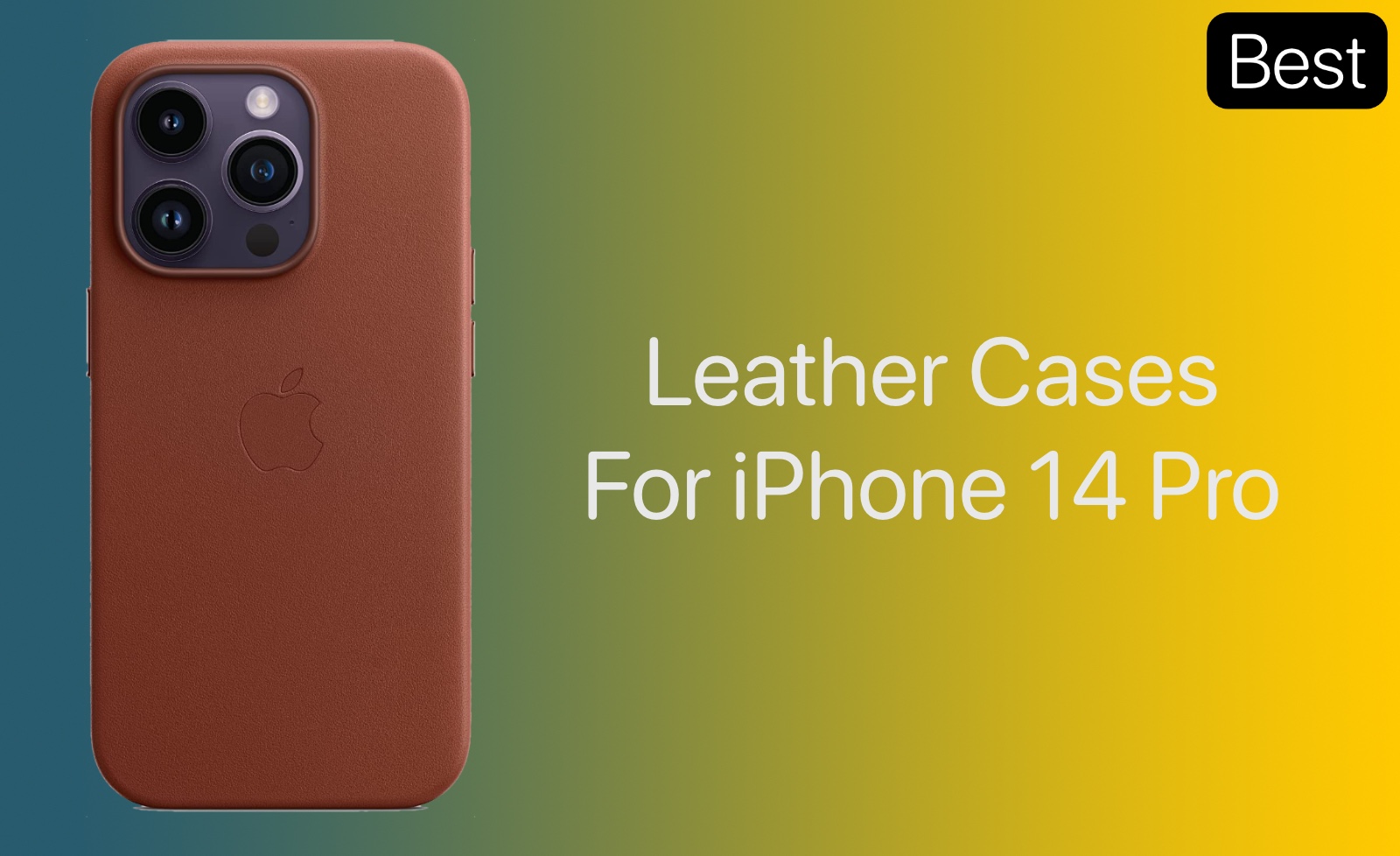 Protect your new iPhone from the start by using an expert-approved case. In this article, we have compiled a list of the best leather cases for iPhone 14 Pro to protect and personalize your phone while maintaining its style.
A series that has been the talk of the town since its launch deserves the finest case to protect it in all its glory. The last thing you want to see is your phone all scratched up. I mean, you did pay at least $1,000 for a slab of metal and glass. The best of the best, sure, but it needs all the protection it can get.
While a case doesn't guarantee protection, it does increase the chances of your iPhone looking its stunning, unscathed self. Throw in a screen protector and those odds increase.
Want a different style of iPhone 14 Pro case? Try these buying guides.
The Finest Leather Cases for iPhone 14 Pro (6.1-Inch)
With a premium leather case, you get the ideal blend of luxury, practicality, and protection. Let's discuss our top 7:
1. Apple iPhone 14 Pro Leather Case with MagSafe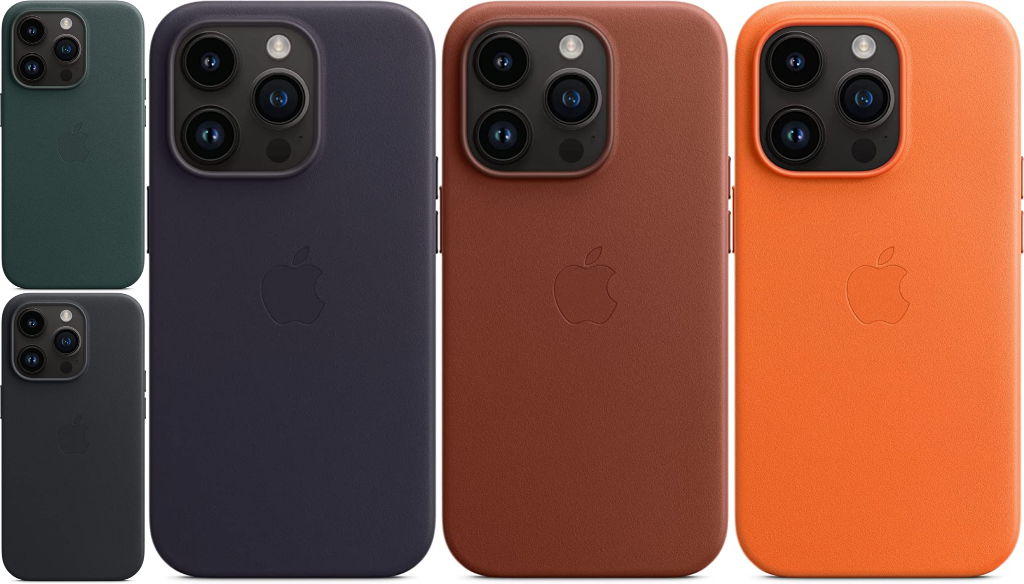 Apple's leather Case with MagSafe adds beauty and safety to your iPhone 14 Pro. But its beauty is not just for the eyes. The finely tanned and finished leather exterior gives a luxurious feel that naturally ages with time.
If you're not a fan of the bulk, this iPhone 14 Pro leather case is made for you. The built-in perfectly aligned magnets give you a flawless attach-and-detach experience, and the case fits snugly over your iPhone it snaps into place just right.
The integrated magnets make a better wireless charging experience. Just snap on the MagSafe charger or set your phone in a Qi-certified charger and you're good to go!
Buy Apple iPhone 14 Pro Leather Case with MagSafe for $59.00 here.
2. TENDLIN Premium Leather iPhone 14 Pro Case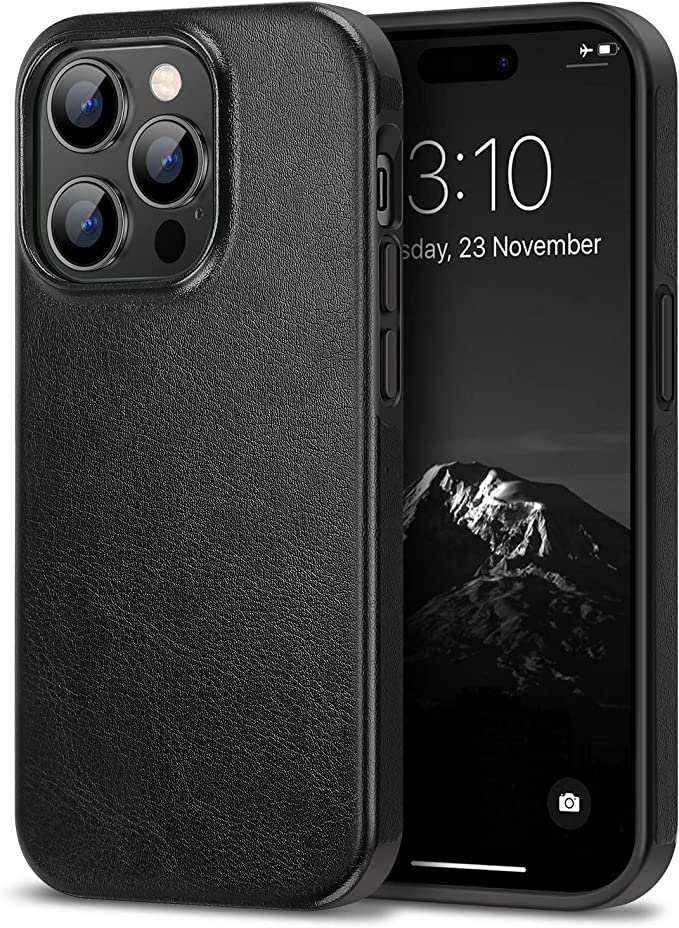 The TENDLIN iPhone 14 Pro Leather Case is a TPU Hybrid case, making it a good choice in terms of style and protection. Compatible with iPhone 14 Pro (6.1″), it comes with a tempered glass screen protector, a one-year warranty, and a full refund or replacement in case of defects.
The rich PU Leather and TPU provide enhanced hold and shock absorbing interior while not adding any bulk to the gorgeous slim profile of your phone.
But, the game changer is the precise and neat cutouts and enlarged ports that make it easy to fit cables without the hassle. The raised lip and deep camera cutouts lift the phone off flat surfaces ensuring your iPhone walks away without a scratch or blemish.
Add a responsive button cover and wireless charging to the list, and you have a leather case that seems hard to beat.
Buy TENDLIN iPhone 14 Pro Premium Leather Case for $14.99 here.
3. Maogoam Leather iPhone 14 Pro Case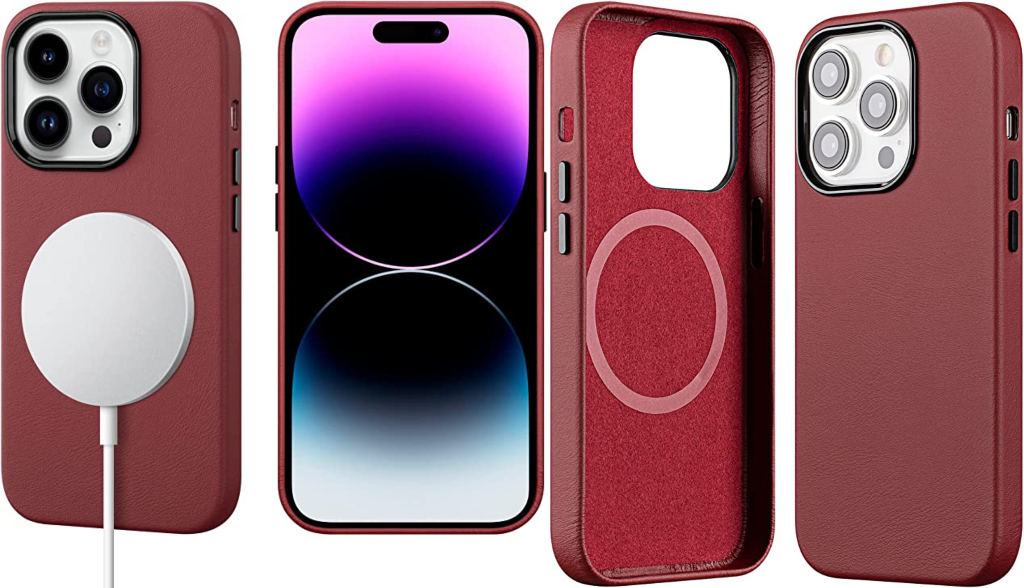 Want to go for the timeless leather look but are also concerned about the ethics involved? Go for the vegan option!
The Maogoam Leather iPhone 14 Pro Case is handcrafted from premium animal-friendly Full Grain Vegan Leather. The sustainable development process does not stand in the way of providing competitive features.
Compatible with MagSafe, the case is equipped with a magnet array to work impeccably with the MagSafe charger and accessories. The rugged plastic structure wrapped up in leather lamination raises the screen 1.5mm higher than the flat surface making it hard for those pesky scratches to reach your phone.
Buy Maogoam Leather iPhone 14 Pro Case Compatible with MagSafe for $28.99 here.
4. Dockem Card Case for iPhone 14 Pro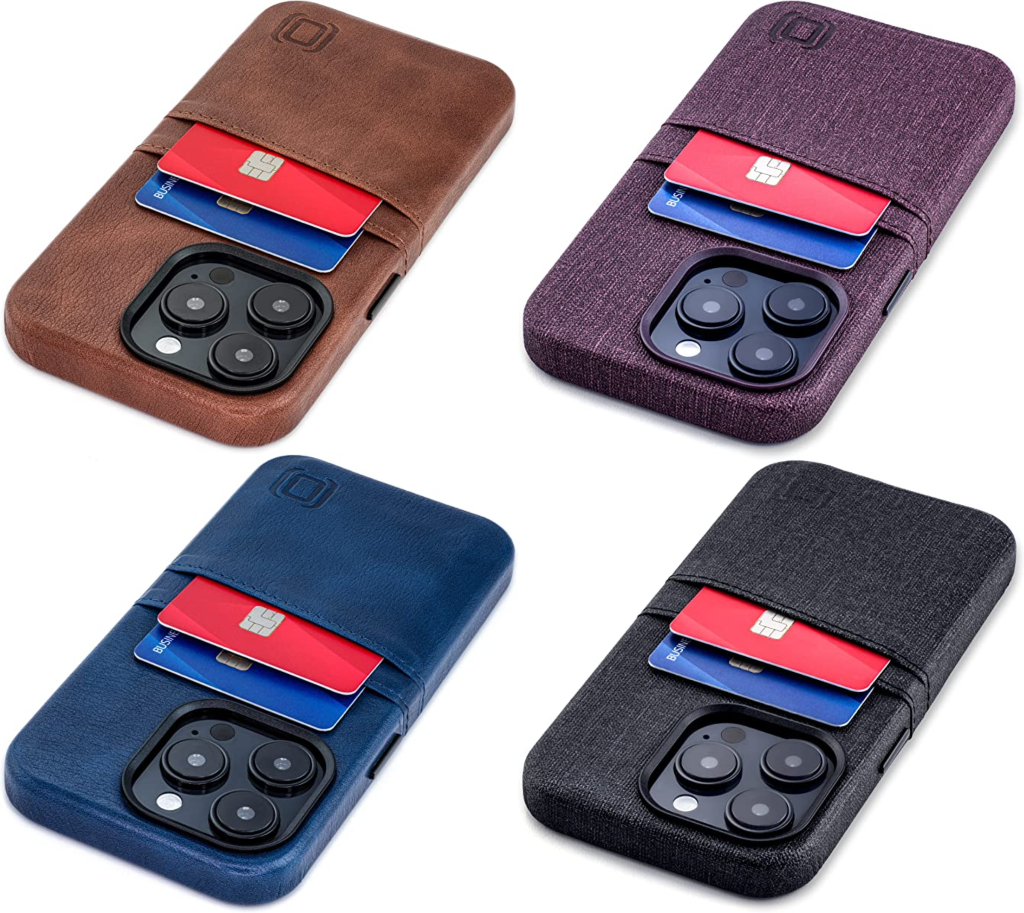 The perfect-fit case provides tough protection, a good grip, and a home for your cards while pleasing your aesthetics. What more could one want?
The 14mm thick Dockem Card Case comes with a built-in Metal Plate for Magnetic Mounting and two Premium Synthetic Leather card slots. Easy snap-on-and-off shell installation and precise cutouts make it easy to access all physical buttons and ports.
What sets the iPhone 14 Pro Leather case with card holder apart from others is the hidden, integrated metal plate that enables seamless mounting with Dockem's v3 Series Magno Mounts.
Buy Dockem Card Case for iPhone 14 Pro for $19.99 here.
5. Alto Leather Case for iPhone 14 Pro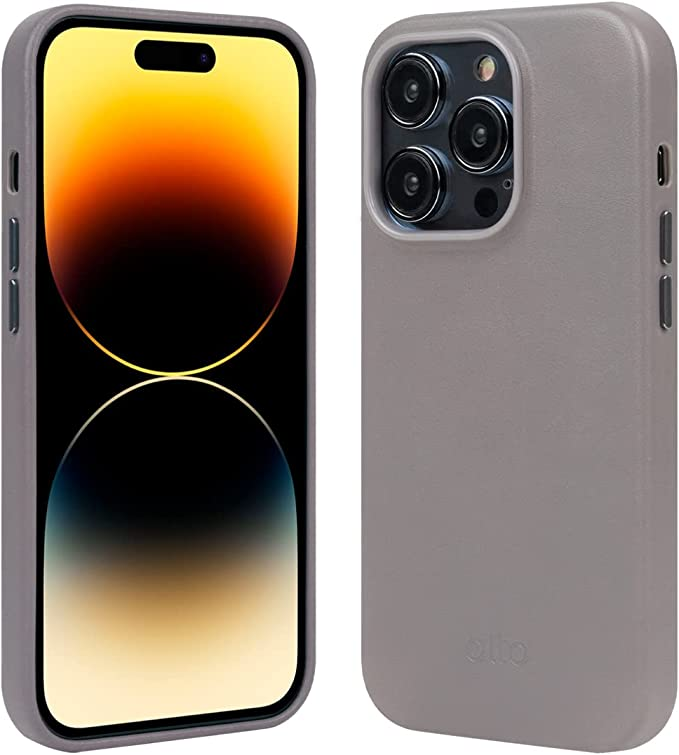 How can we miss out on the Alto case when talking about premium leather cases for iPhone 14 Pro?
Specifically designed for iPhone 14 Pro, the case is handmade from premium leather that is so soft to the touch that you won't be able to put your phone down. The Italian Full-grain Aniline Leather cover is lightweight and appeases a minimalistic style choice.
Easy yet strong grip along with a slim-fit design, the case is compatible with Wireless charging Qi.
If you're as clumsy as it gets, don't sweat.
The drop and anti-scratch protection will save your screen, case, and camera from all harm. Just keep the drop under 5 feet, okay?
Buy Alto Leather Case for iPhone 14 Pro for $49.95 here.
6. Wilken iPhone Leather Wrapped Case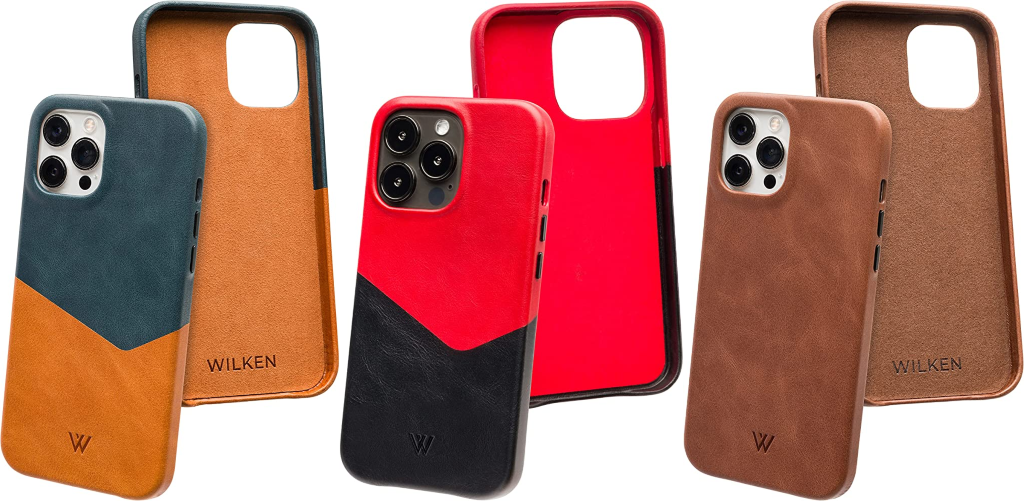 There is a lot to like about Wilken's premium leather iPhone 14 Pro Case. The classy handcrafted case has been carved out of top Grain Leather and features lip screen protection and custom metal buttons.
The detachable design offers flexibility and the lack of bulk does not add to the weight of your phone. Compatible with MagSafe and Wireless Charging, you can kiss charging cables goodbye.
The raised edge protection for the camera lens ensures drop protection while the custom metal buttons prove to be efficient and hassle-free. With the open bottom case, you won't get tangled up to access the ports anymore. Plus, it also promises optimal sound clarity for speakers.
Buy Wilken iPhone Leather Wrapped Case for iPhone 14 Pro for $44.00 here.
7. Porter Riley Leather Case for iPhone 14 Pro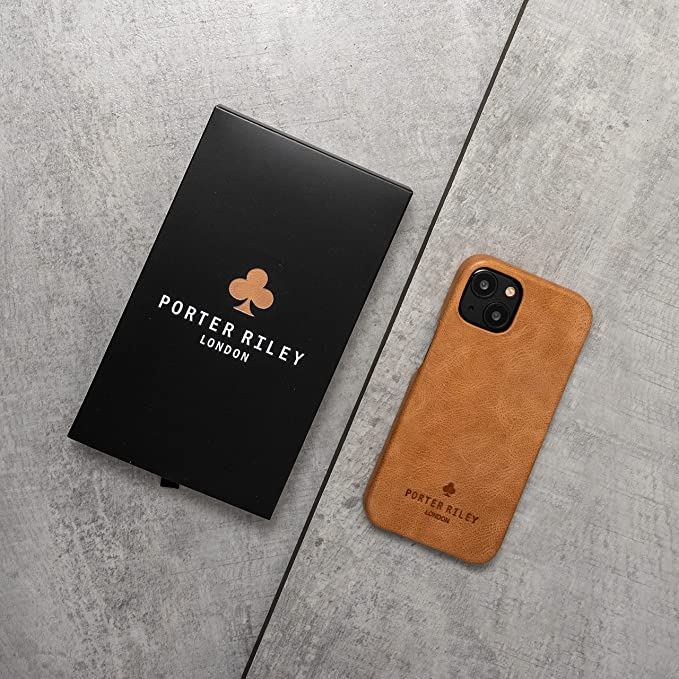 Adding to the list of premium genuine Italian leather, the Porter Riley Leather Case is made from cowhide leather that guarantees style combined with durability, flexibility, and longevity.
Considered one of the best leather cases for iPhone 14 Pro, the UK-manufactured case is delivered with class in a Porter Riley presentation box. But, its selling point isn't its epic presentation, but the guaranteed full protection of your iPhone.
You just can't go wrong with a leather-wrapped plastic shell case that's made of specially tanned and finished super soft leather with the capability to give superhero-level protection to your iPhone.
While it protects your phone from scratches and scuffs, the high-quality natural grain finish case does not add bulk or hindrance to accessing the buttons and portals.
No need to compromise on protection for design and vice versa. Get this sleek yet strong cover and enhance the beauty of your iPhone 14 Pro.
Buy Porter Riley Leather Case for iPhone 14 Pro for $22.99 here.
Wrapping Up
Get your priorities set straight before you make your final choice.
Ask yourself what features you want. Do you prefer a slim-fit case over a bulky one, or do you not mind the ruggedness as long as it offers more cushioning and drop protection?
Think about which of these is the right case, with the right design, and the right price for you.
But most of all, getting a case that is compatible with Apple MagSafe is imperative. You don't wanna get tangled up in charging cables and not enjoy the fruits of this impeccable feature now, don't you?
Did we miss your favorite leather case for iPhone Pro 14? Let us know in the comments below.