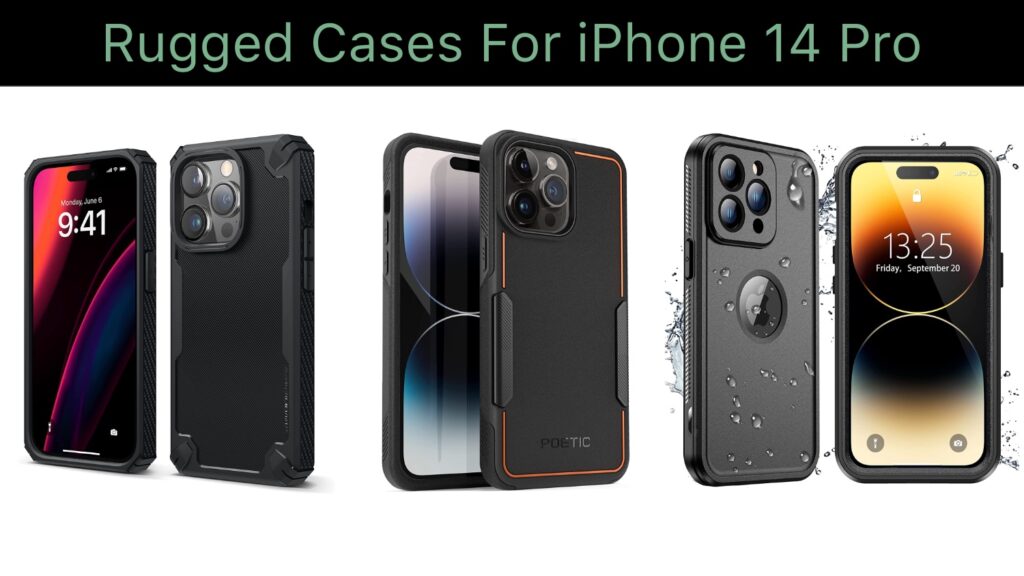 iPhone 14 Pro has a beautiful design and it would be a shame if it gets scratched or damaged. For those looking to effectively protect their new iPhone, here are some of the best rugged iPhone 14 Pro cases that you should consider getting for yourself.
These heavy duty iPhone 14 Pro cases will protect your device in toughest of environments as they feature military grade protection that can survive falls on concrete and other rough surfaces.
If you are not a fan of rugged cases for iPhone 14 Pro, and want to look at some normal and slim iPhone 14 Pro cases, then click here.
iPhone 14 Pro protection won't be complete without a durable screen protector. For your help, here are some of the best iPhone 14 Pro screen protectors you should consider buying.
Best Rugged iPhone 14 Pro Cases
Check out these awesome rugged and heavy duty iPhone 14 Pro cases that work with your 6.1-inch iPhone.
1. Spigen Rugged Armor (MagFit)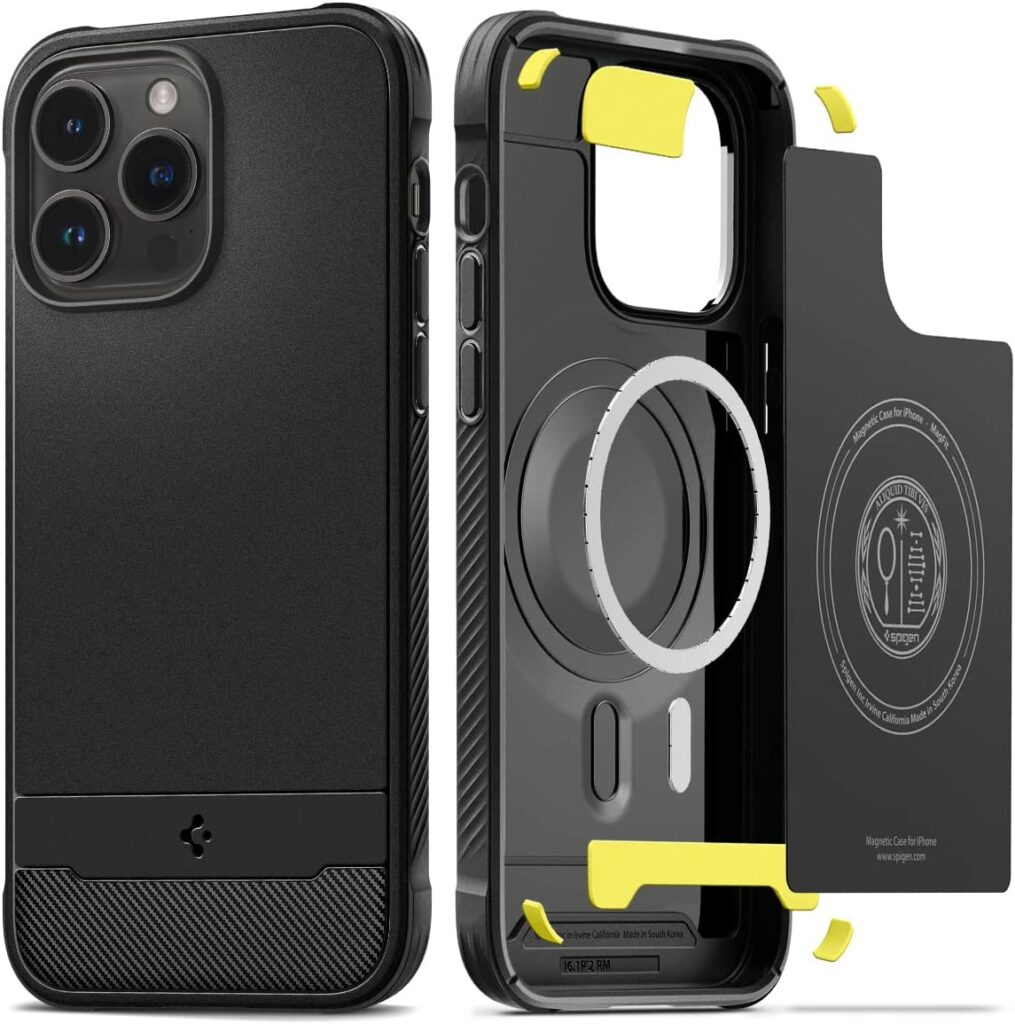 Spigen is here with one of the best rugged cases for iPhone 14 Pro. It preserves the legacy of protecting your smartphone with its new design for your iPhone 14 Pro.
It is a sleek and modern carbon fiber body with many layers of bumper protection on every corner. A powerful trio of Impact Foam, Thermoplastic polyurethane, and Polycarbonate perform as a shock absorber and prevent any impact on your phone. 
Its Extreme Protection Touch technology keeps your phone safe despite falling from a height. Moreover, its protected corners ensure safety from every angle.
Concerned about camera protection? Well, its raised edges not only protect the camera but also its screen from scratches and cracks. The best part is this case is compatible with wireless charging and other MagSafe accessories.
You can buy the Spigen Rugged Armor (MagFit) case for your iPhone 14 Pro at a price of $21.99 here.
2. Encased Rebel Series Cases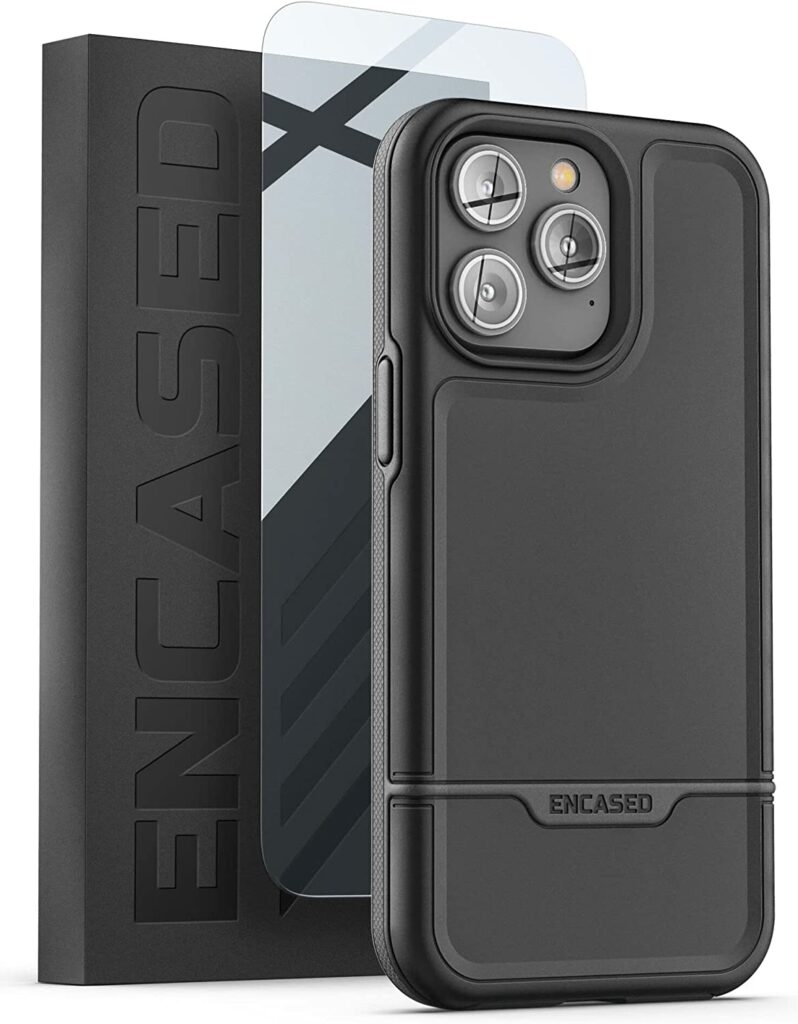 Encased Rebel Military Grade iPhone 14 Pro cases are exclusively designed to protect your iPhone in any environment. This heavy duty rugged phone case protects your phone from the impact of falling from 10ft height.
Its HD tempered glass protects the screen from all sorts of damage including scratches, breakage, and even fingerprints. Its 360-degree protection feature keeps your investment safe and makes it last longer. 
Encased Rebel series features a robust double layer and offers extra shock absorption. Despite their toughness, the tactile buttons are super easy to press and retain their original performance and feel.
Not only does it protect, but it also takes the lead in offering you the style and comfort you want. The sober black color with round edges perfectly matches your style. Encased is proud to be trusted by the Dept. of Defense, NASA, US Marines, and other Fire and Police departments. 
You can buy the Encased Rebel Series Designed for iPhone 14 Pro case here for $22.95.
3. AICase for iPhone 14 Pro Heavy Duty Drop Protection Case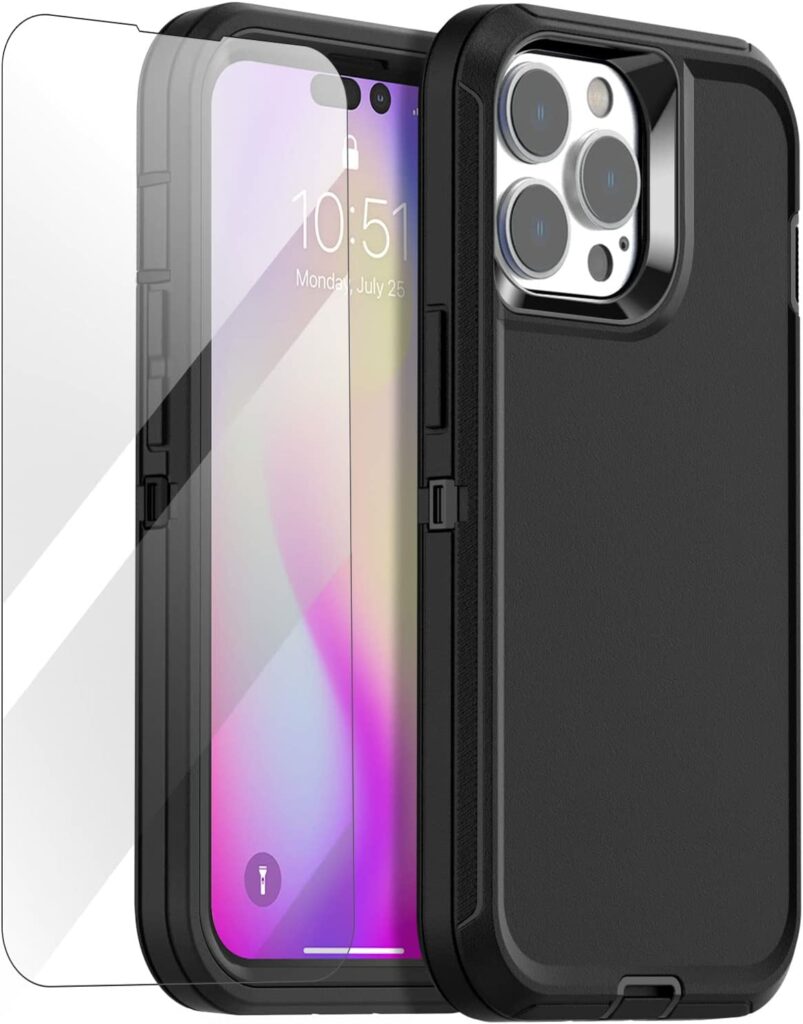 AICase's heavy duty iPhone 14 Pro case is tough and offers military-grade drop protection to your iPhone 14 Pro. With this case, your phone is protected from drops, scrapes, dirt, scratches, and bumps no matter how roughly you use it. Its durability is unmatched and increases the life of your iPhone.
Its multi-layer defense system is built with a solid Polycarbonate shell whereas there is a soft rubber cover from the outside. While the solid glass protects your screen from drop and damage. The back camera is also completely safe through its raised edges.
The body of one of the best rugged cases for iPhone 14 Pro ensures a secure and non-slip grip. Its thoughtful design is dustproof and keeps the dirt out of ports. Another exciting feature is its compatibility with wireless charging. That means you don't have to remove the case for charging! 
You can buy the AICase for iPhone 14 Pro for $16.99 here.
4. Poetic Neon Series Case for iPhone 14 Pro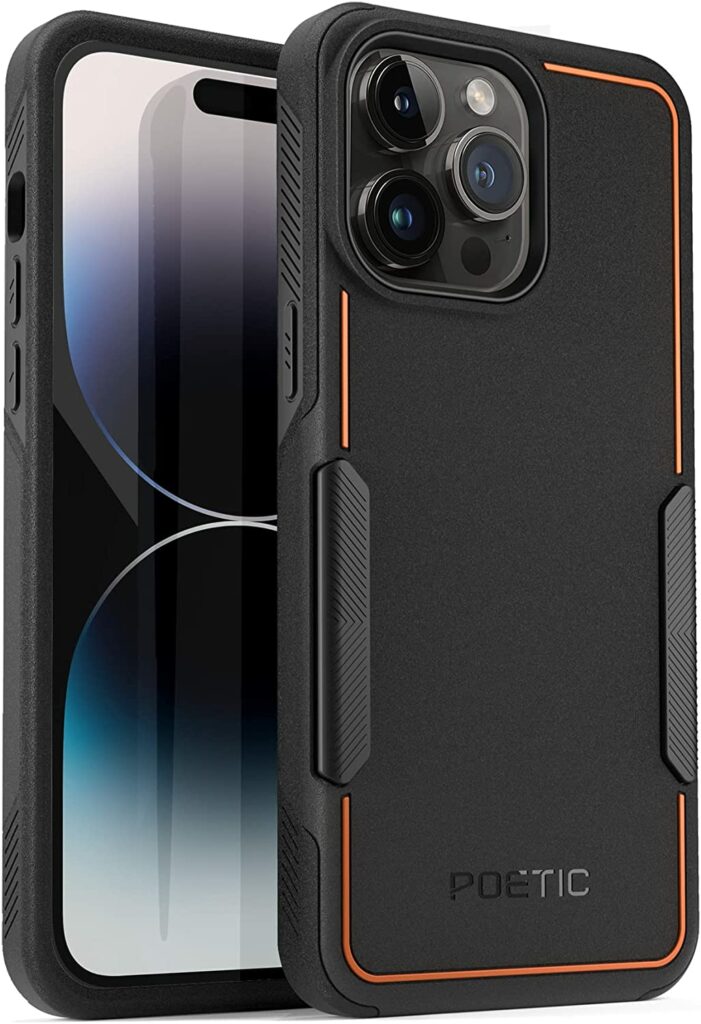 Looking for a pop of color on your iPhone 14 Pro? The poetic Neon case is for you! This military grade iPhone 14 Pro case is drop-tested and used by many law enforcement agencies.
Its ultra-rugged body is also trusted by athletes that keep their iPhones from any accidental drops, dust, scratches, and bumps. They love it because this case is slim and easy to keep and use. This case does not add any extra bulk or weight and is easy to slide in and out of pockets or bags.
Its hard, durable, and reinforced corners give 360-degree protection to your phone. Whereas its raised edges around the screen and camera ensure complete protection to the screen and camera.
Its anti-slip body ensures a strong grip and prevention of any accidental drop. Its style and color are suitable for both men and women. Likes its other competitors, it is also compatible with wireless charging. 
You can buy the Poetic Neon Series iPhone 14 Pro case for $9.95 here.
5. SPIDERCASE for iPhone 14 Pro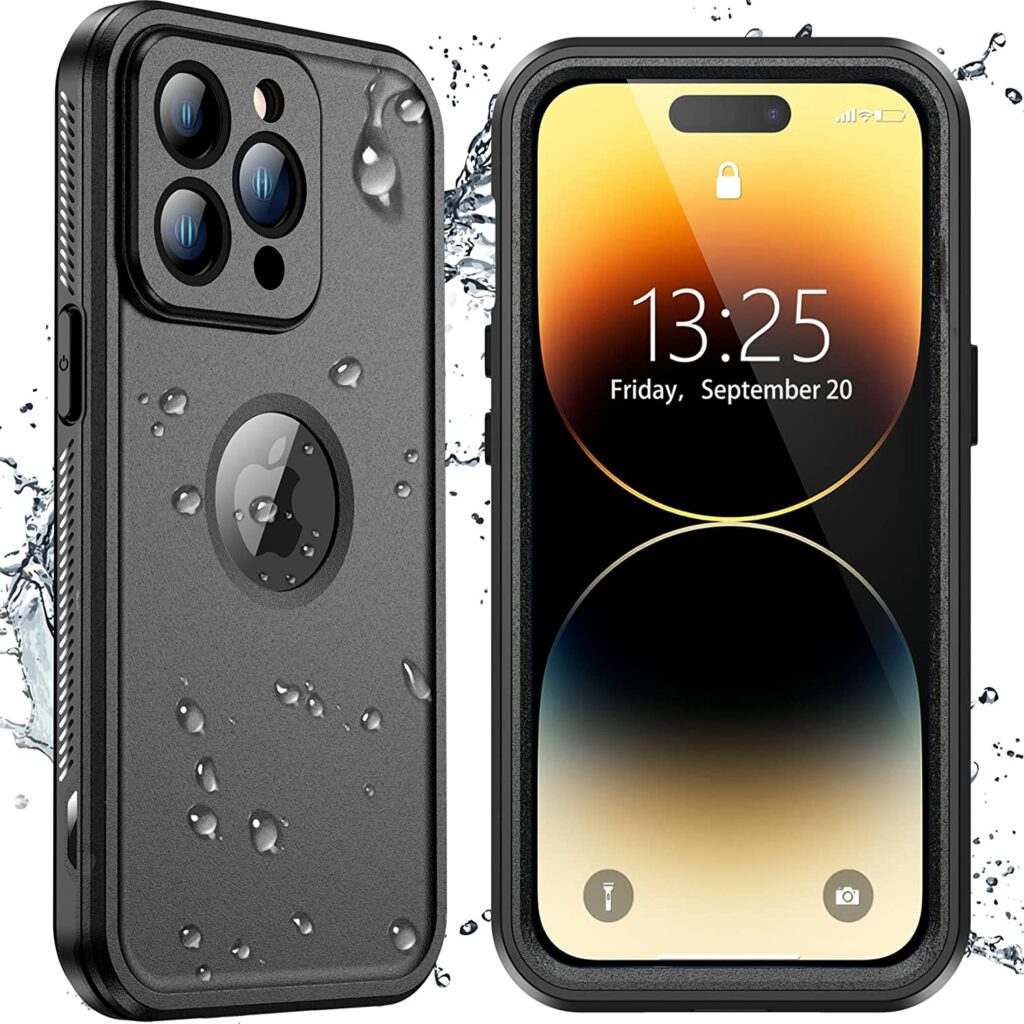 Here is another heavy duty iPhone 14 Pro case by SPIDERCASE! This water and dust-proof case is ideal to use in any kind of weather, sport, or adventure. It also protects your phone from everyday liquids and splashes.
Moreover, its washable body helps you keep your case clean, and hygienic and keeps it look like new. Keeping in mind your ease and comfort, the cutouts are precise to keep all buttons and sensors accessible and easy to use. The cutouts keep the buttons sensitive and with good response. 
Its 12ft drop test and complete body protection make it an ideal choice for adventurers and travelers. Its back is made up of flexible rubber and the inner from hard Polycarbonate. When combined, it gives you an excellent shockproof body and anti-drop protection. Its fully sealed body also keeps it from daily wear and tear keeping your iPhone 14 Pro last long and new.
Its flawless built-in 9H HD tempered glass protector ensures you experience zero scratches on the screen while keeping the touch-sensitive and quick.
In order to protect the camera lens, unlike other competitors, it offers the same 9H HD tempered glass without compromising on picture quality. Apart from protection, its oleophobic layer resists any scratch, oil, or dirt and keeps the lens clear all the time. 
You can buy the SPIDERCASE for iPhone 14 Pro at a price of $39.99 here.
6. Urban Armor Gear (UAG) Pathfinder Slim case for iPhone 14 Pro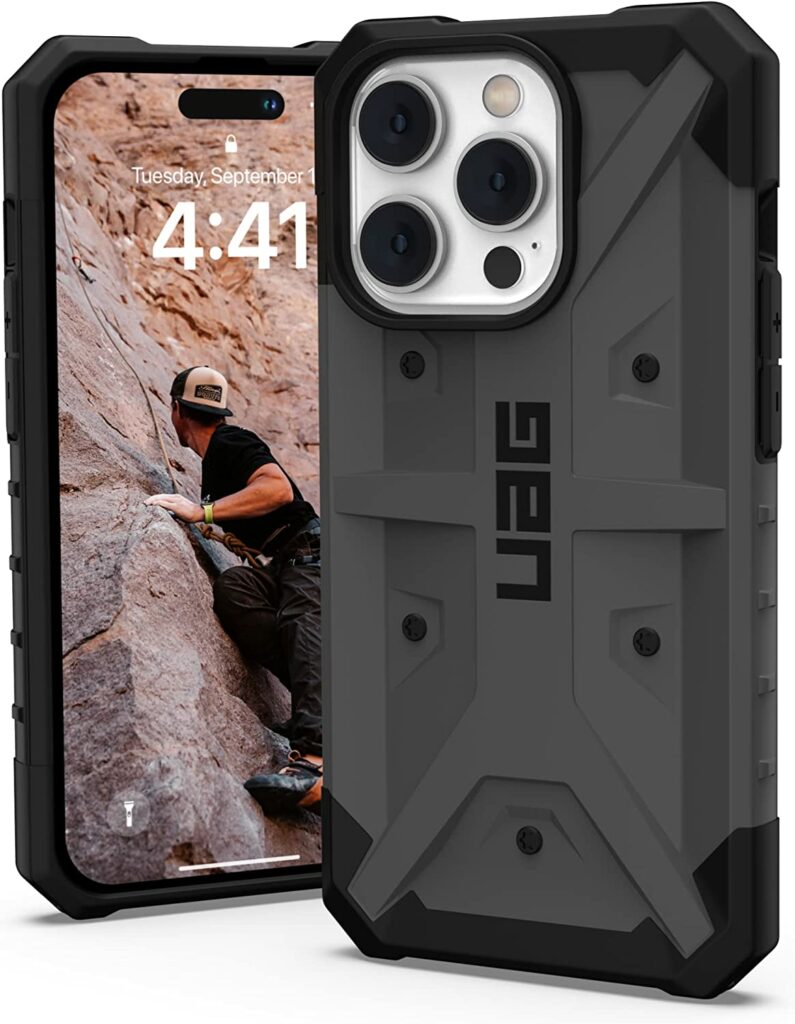 This one of the best rugged cases for iPhone 14 Pro by UAG is lightweight yet robust in performance. It has a hard outer shell for optimal protection with a soft and impact-resistant inner layer.
Although, it had no glass protection yet its raised edges for the camera lens and screen keep them safe and sound in any environment.
Its skid pads are scratch resistant and TPU corner protection gives extra drop protection from shocks and impact. Its whopping 18ft successful drop test is ideal for the toughest environment, sports or adventure.
Its tactile buttons deliver perfect clicks and functionality. Moreover, it is easy to press buttons, and ports and touchscreen are accessible. Its wireless charging feature offers compatibility with any 3rd party wireless chargers. Unlike other cases on the list, it is also compatible with Apple Pay!
You can buy the UAG Pathfinder Slim Lightweight iPhone 14 Pro case for $44.95 here.
7. Elago Armor Case for iPhone 14 Pro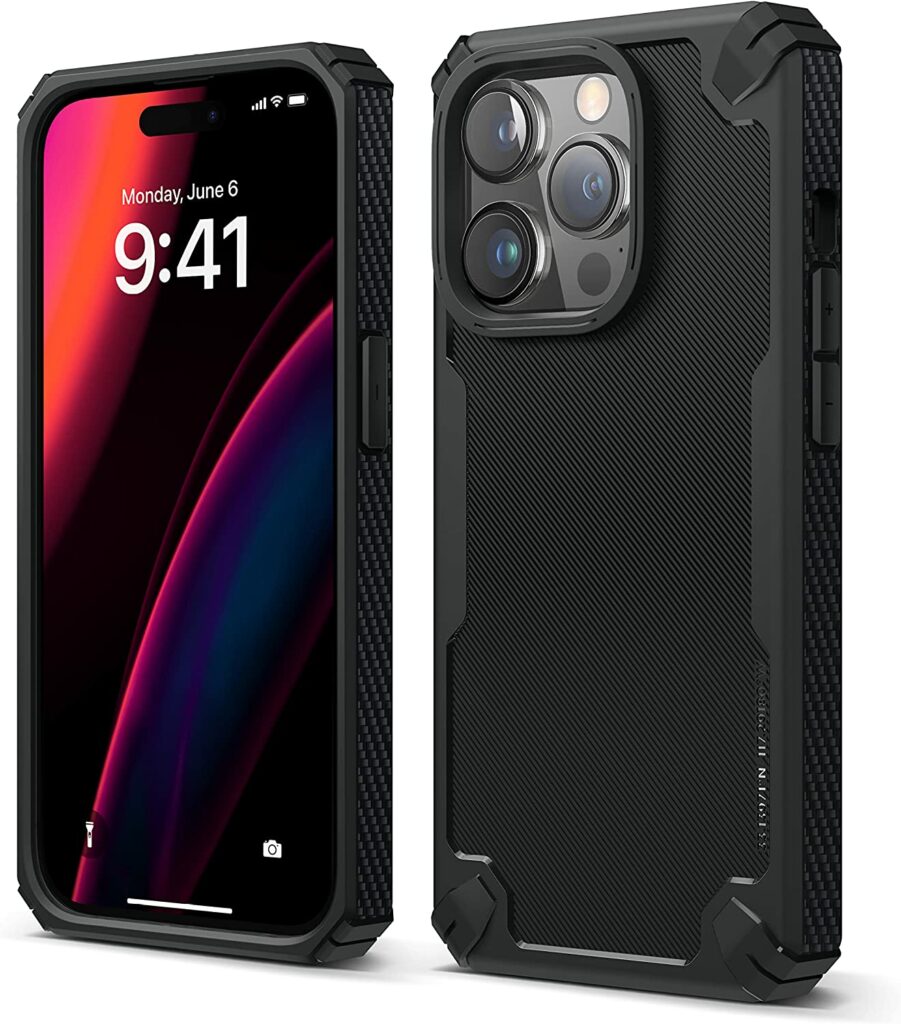 These heavy duty iPhone 14 Pro cases by Elago perfectly fit-in your everyday needs and look great in your hands! Its slim yet robust body ensures maximum protection, durability, and longevity.
While the case is on, you can enjoy the complete functionality of your iPhone 14 Pro with ZERO interference! 
The body's raised lips fully protect the screen and camera lens against any scratches, fingerprints, or breakage.
Elgo's iPhone 14 Pro cases are also wireless charging compatible! And if you are picky about your style, this case matches your daily style be it in a formal setting or an informal event. 
You can buy the elago Armor iPhone 14 Pro case for $13.99 here.
8. SUPCASE Unicorn Beetle Case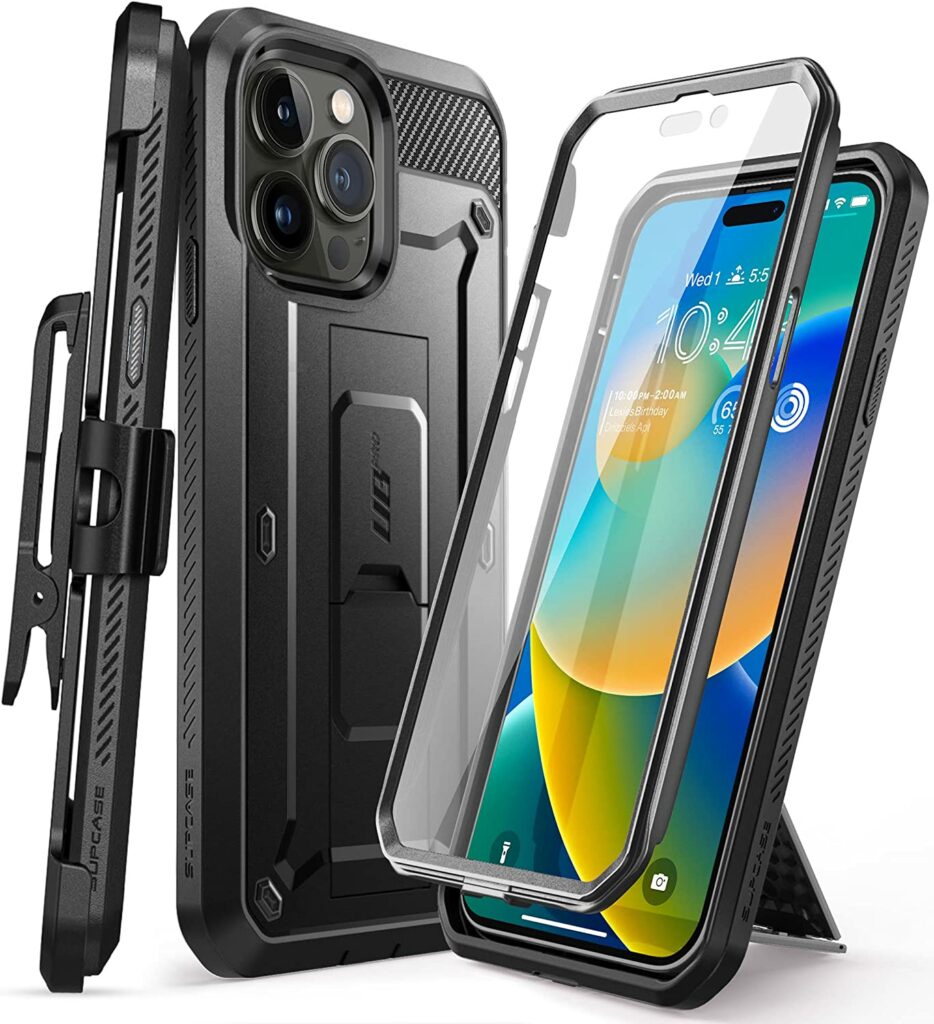 Last but not the least, SUPCASE has one of the best rugged cases for iPhone 14 Pro! It's multifunctional and offers a rotatable belt clip for convenient use.
This detachable clip is designed for pocket-free and hands-free carrying. Its built-in kickstand gives you complete freedom to view the screen either in landscape or portrait mode. 
Its Polycarbonate material is shockproof. The best part? It can survive a 20ft drop. 
iPhone 14 Pro Max users can also check out our post on best rugged cases for iPhone 14 Pro Max.
Which rugged case for iPhone 14 Pro from the list above do you like the most? Share with us in the comments below. Also, don't forget to share this with your friends and family and help them choose the best case to protect their new iPhone.
For more iPhone 14 Pro accessories stay tuned to iOSHacker.com.