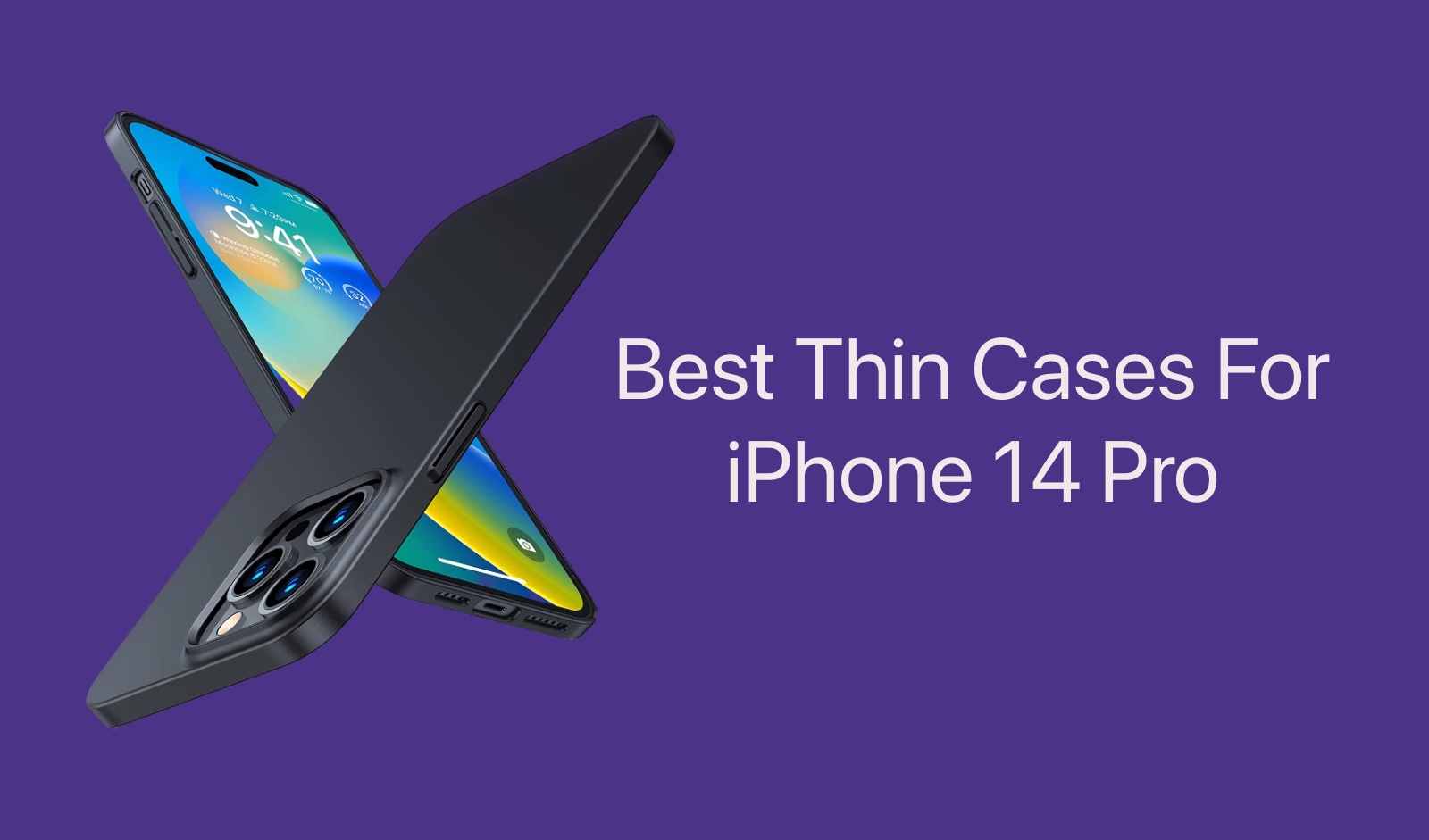 To ensure your iPhone 14 Pro's longevity, you have to choose the best iPhone 14 Pro case. After all, cases go beyond simply dressing up your iPhone. In addition to protecting your smartphone from daily wear and tear, they can also assist in reducing the risk of it breaking down.
Cases are also vital if you want your expensive phone to stay in pristine condition for as long as possible.
There are several factors to consider when choosing the right case for you. What type of case do you need, for instance, a regular case or something with a wallet feature? Would you prefer something simple, a clear case that shows off your phone, or a fun design that matches your aesthetic? Would you go for something lightweight and easy to carry or something rugged for extra protection when you're trekking through the wilderness?
Well, if you are on the lookout for thin cases, this article is for you!
Since you own the iPhone 14 Pro, a top-of-the-line iPhone right now, you need one of the best thin cases for iPhone 14 Pro out there. And we are here to help you achieve this goal.
More iPhone 14 Pro cases to consider:
Best Ultra-Thin Cases for iPhone 14 Pro
There are countless options on the market, each claiming to be the best. We have gathered cases for every budget and need to save you time and money. Check out these iPhone 14 Pro Slim cases.
1. TORRAS OriginFit Slim Fit iPhone 14 Pro Case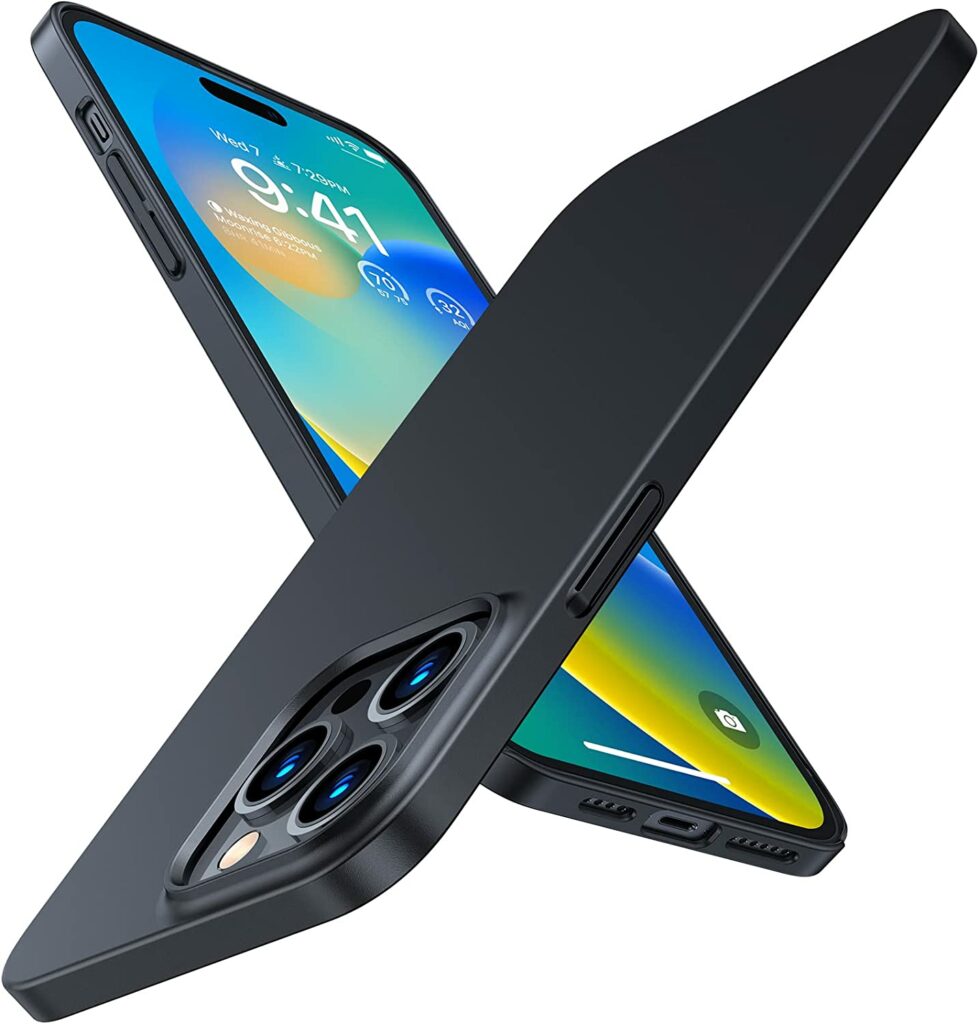 A TORRAS iPhone 14 pro slim case offers an experience as if there is no case at all, maintaining the original profile of the iPhone. The ultra-thin figure is only 0.03 inches thick and weighs 0.65 oz without adding any extra weight. Despite the heavier weight, the minimalist design makes it easier to hold the phone in your pocket.
This iPhone 14 Pro hard case is made of a top-grade sturdy PC and features raised lips around the screen and lenses. With its 3rd Gen upgraded finish, it keeps your phone protected from scratches, dents, and minor bumps without fading.
TORRAS OriginFit Slim Fit case has been meticulously coated with four layers of nanocoatings for a baby-skin feel. It's easy to clean, so you won't have to worry about sticking clothing fibers, pet hair, dust, or stains!
All in all, this slim iPhone 14 pro case is also compatible with wireless charging.
Buy TORRAS OriginFit Slim Fit iPhone 14 Pro Case for $17.49 here
2. Spigen Mag Armor (MagFit)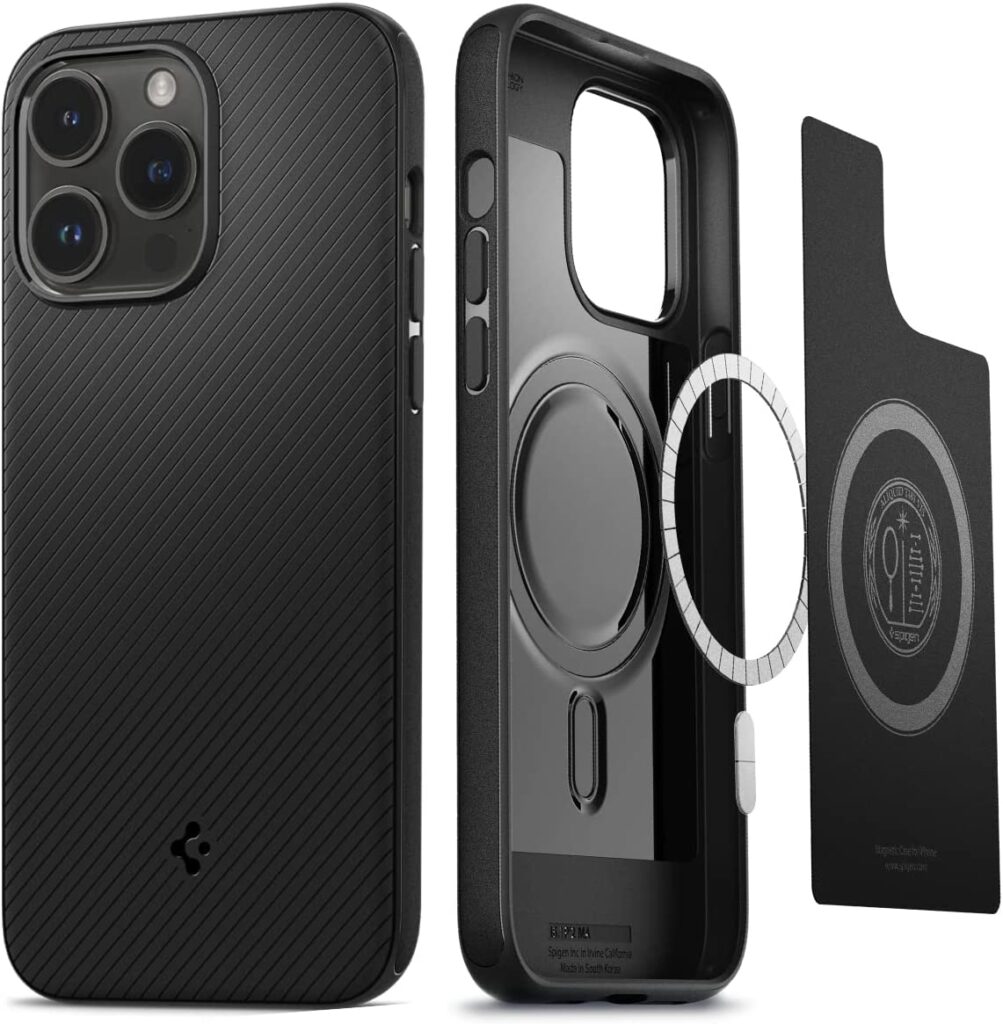 It is hard to find complete protection products with all the necessary features. However, Spigen Mag Armor (MagFit) represents one-of-a-kind protection.
The case weighs approximately 32.8 grams or 1/15 ounce. The shock-absorbing component is integrated into the magnets, and the body is made from TPU. In addition to an Air Cushion on the side, you will also get raised lips to protect the display against drops.
There is no need to worry about MagSafe charging because the case has a magnetic ring. In addition, it has solid feedback buttons, which are easy to press and maintain the same tactile feedback as the iPhone 14. It comes in two colors including Matte Black and Navy Blue.
Buy Spigen Mag Armor (MagFit) for $23.99 here
3. Smartish iPhone 14 Pro Slim Case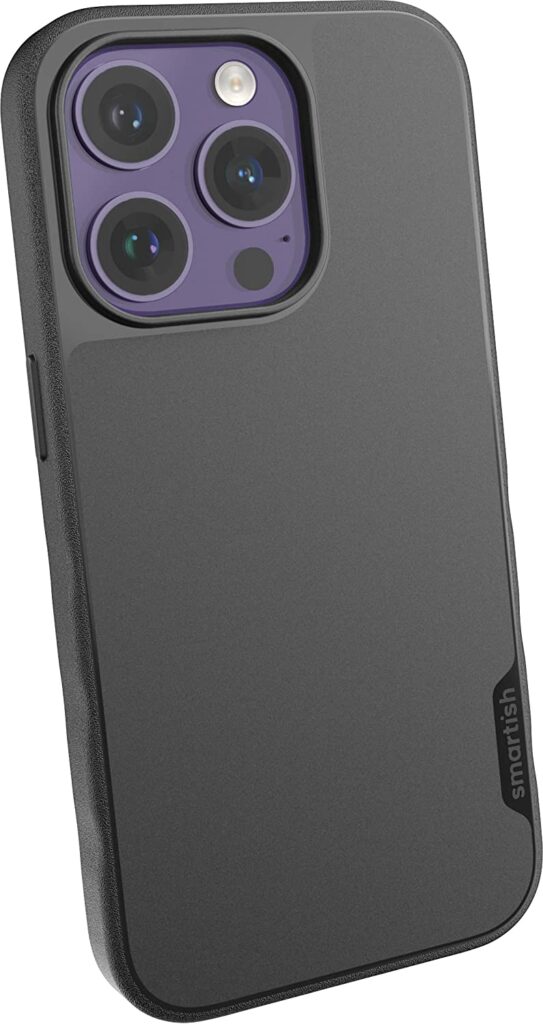 The Smartish store has a wide range of phone cases and other items that are clever enough to solve unexpected needs. The company has been designing and manufacturing phone cases for over a decade. It's lucky for you, though, that their obsession shows in the quality of their products, not in the price.
The case strikes just the right grip sweet spot, making gravity work a little harder against you. The corner air pockets (like airbags for your phone) are truly a market leader in terms of protection, as well as corny jokes. In addition, it protects your phone's screen from rough surfaces by providing a bezeled front.
The case ensures a firm grip. It is perfect for texting with one hand and taking selfies while holding your phone steady. There is no time to set your drink down, after all.
Buy Smartish iPhone 14 Pro Slim Case for $19.99 here
4. SUPCASE Unicorn Beetle Mag Case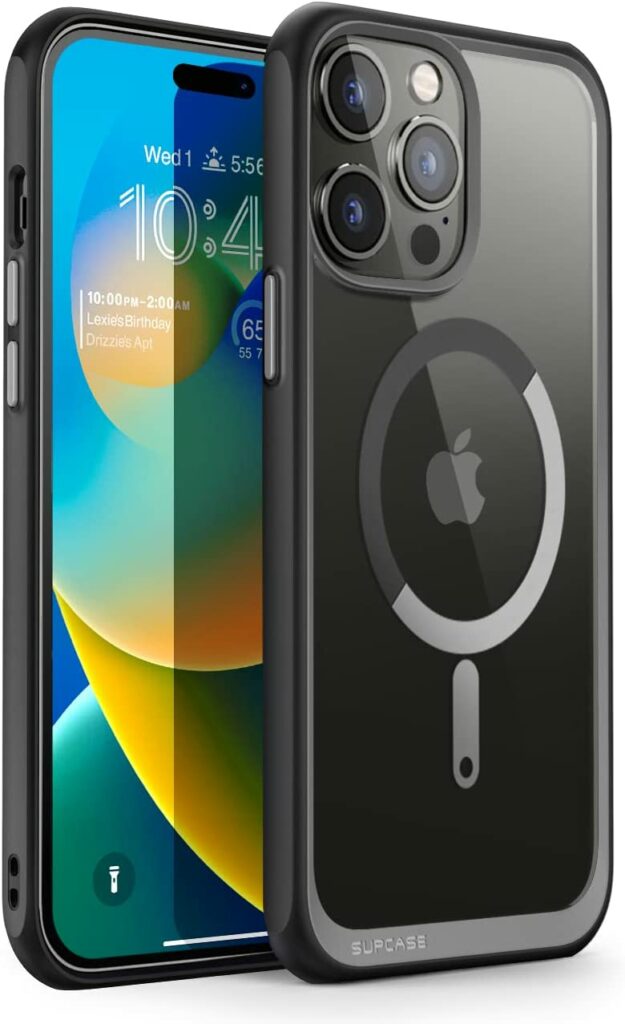 Cases made by Supcase are designed to withstand harsh environments and unpredictable conditions, just like the Unicorn Beetle that adorns the company's logo. But above all, the company is committed to keeping all your trusted devices secure without breaking the bank.
The slim and lightweight design showcases your iPhone's aesthetics because it is transparent and extremely scratch-resistant.
Due to its hard PC back and shock-absorbent TPU bumper, SUPCASE Unicorn Beetle Mag provides effective phone protection whether you are at work, traveling, or participating in outdoor activities.
Additionally, elevated bezels prevent scratches on touchscreens and camera lenses when placed facedown. Cutouts in the case make it easy to access all the features, functions, and ports on your smartphone.
Buy SUPCASE Unicorn Beetle Mag Case for $21.99 here
5. JETech Upgraded Slim Case for iPhone 14 Pro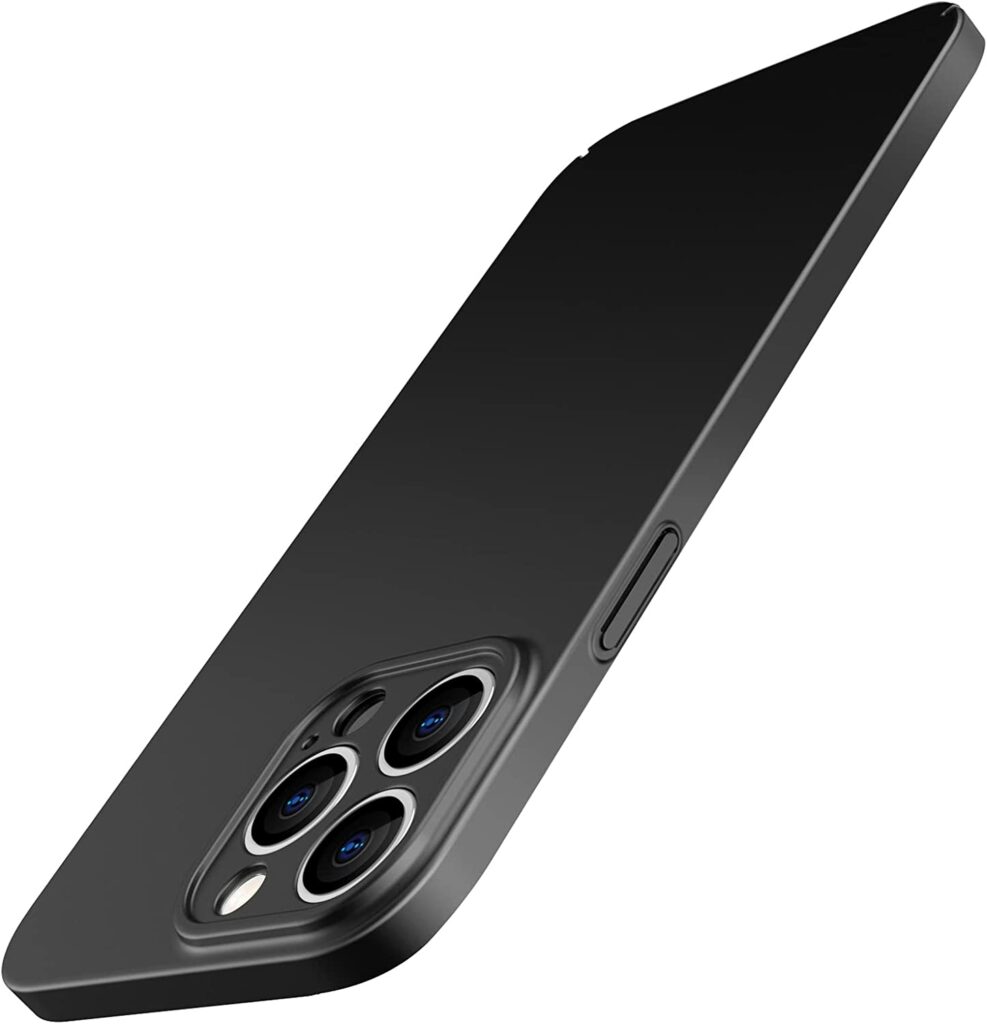 The JETech Upgraded Slim Case for iPhone 14 Pro is specifically designed to fit iPhone 14 Pro 6.1-Inch. With only 0.03 Inch/0.85 mm thickness, the case retains the original feel of using your phone bare.
With raised edges around the screen and camera, the camera lens is protected to an even greater extent.
An upgraded matte finish feels silky and comfortable to hold and effectively resists fingerprints. Additionally, it can be cleaned easily.
Designed from premium PC material, it does not add bulk to your device. You can easily slip it into your pocket and carry it around with you.
There are precise cutouts that ensure full access to the camera, speakers, buttons, and other components of the phone. It also supports wireless charging.
Buy JETech Upgraded Slim Case for iPhone 14 Pro for $5.99 here
Conclusion
The thin cases for iPhone 14 Pro listed above offer a perfect combination of style and protection. With their slim profiles, sleek designs, and shock-absorbing materials, these cases offer outstanding protection against regular wear and tear.
If you choose the right case, your device will look great for years to come and remain protected.
So, which thin case would you buy to protect your digital friend? Let us know in the comments section.