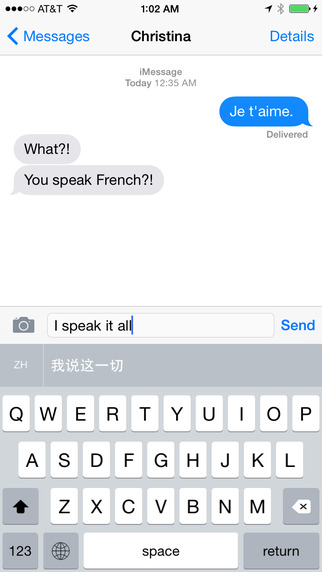 Thanks to iOS 8's support of third-party keyboards we have seen a plethora of new apps coming to the App Store that let you replace your on-screen keyboard with something different. While most third-party keyboards we have seen so far focus on the looks rather than functionality a new one called Slated – Translation Keyboard takes a radically different approach. This keyboard translates whatever you type in the language of your choice in real-time.
So if you are typing in English and want the text to be translated into Arabic, Chinese, French, Italian or Urdu you can do it by simply selecting the desired language from list. Slated supports over 80 languages, a list of which is available on app's description page. Using Slated keyboard is extremely simple, when you type your message in the text field the app shows the translated text in a separate bar. Just tap on the translation to replace it with what you have typed and hit send.
Since Slated uses Google Translate to convert text into another language it obviously isn't flawless and as common with Google translations, the converted text may not even make sense a lot the times. Despite that this is a must have keyboard for someone who regularly communicates with people who speak other languages. This keyboard is not only great for fun and to impress people but can also be used for business purposes.
You can download Slated – Translation Keyboard from the App Store for $4.99. It is compatible with iPhone, iPad and iPod touch and requires iOS 8. After installation follow this guide to activate the keyboard.