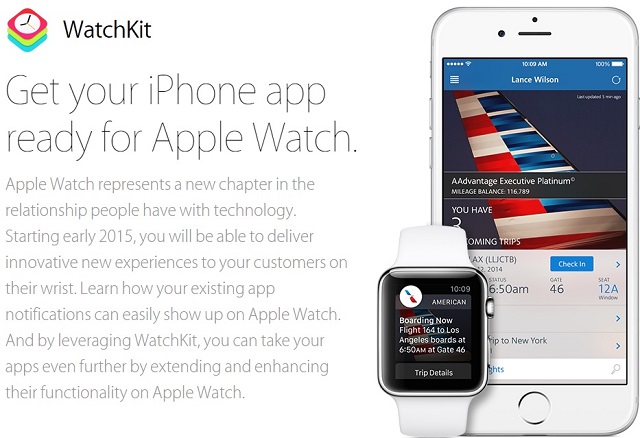 Apple has announced that as of today it is releasing the WatchKit software tools, which will enable third-party developers to create applications for the upcoming Apple Watch ahead of its launch. Apple Watch is expected to be launched in early 2015 and this release will make it possible for developer to prepare apps for the said device. Similar to iOS SDK, the WatchKit will consists of a variety of tools to help developers in creation of their applications.
Not only will developer be able to create standalone apps for the Watch but with WatchKit they will also be able to show actionable notifications, glances and much more on the Watch coming from an iPhone app.
Here's an excerpt from Apple's official press release detailing the release.
Developers can create notifications that allow users to take action or respond right from their wrist such as turning the lights off after they've left the house, quickly accessing flight details at the airport, and rerouting their transit when a train or bus is late. Developers can incorporate Glances, which quickly show users information they care about most, such as the latest news and sports scores, alarm system status or the next step of a favorite recipe.
If you are a developer registered with Apple's developer program then head to http://developer.apple.com/watchkit to access the tools that have been released today.