We are back with our daily round up of newly released or updated Cydia tweaks. All of the tweaks that we have featured today have already been released and fully support iOS 8 and iPhone 6. Read on to learn what these hacks do and how you can download them on your devices. This list of iOS 8 tweaks includes AllBoardPass, BootUp, Call on GV 8 (iOS 8) and CCBringUpSwitcher.
AllBoardPass
Now that you can replace the stock iOS keyboard with any third-party option of your choice you no longer have to see the Apple keyboard, that is if you are not inputting a password. iOS brings back the stock keyboard back when you are entering the passcode on the lockscreen. AllBoardPass tweak fixes that problem by enabling third-party keyboards to appear on the password screens as well. You can get it from Cydia for free.
BootUp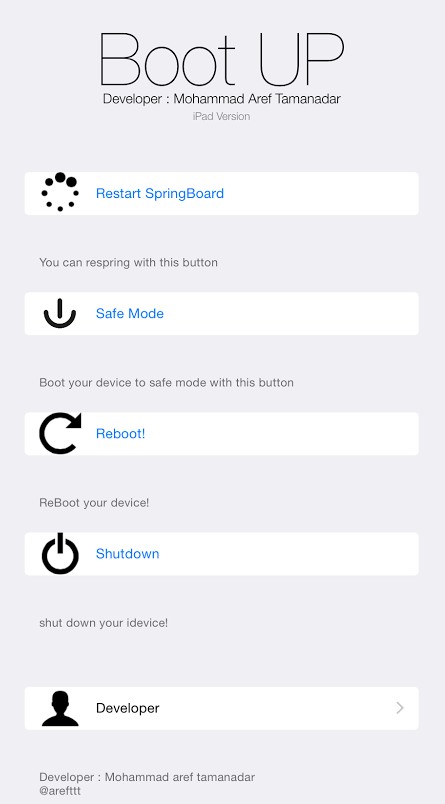 If you are looking for a tweak that would allow you to respring, reboot, shutdown or put your device in safe mode then look no further and install BootUp. This tweak adds all of these options in a single menu that can be accessed from the Settings app. You can download BootUp for free as well from Cydia's BigBoss repo.
Call on GV 8 (iOS 8)
Do you use Google Voice to call your family and friends? If yes, then Call on GV 8 (iOS 8) is a must have for you. It integrates the Google Voice into the native Phone application of iOS so you can directly call through GV access number or use the service for offline dialing. Call on GV 8 (iOS 8) is available in Cydia for $2.50 in BigBoss repo.
CCBringUpSwitcher
Don't use Control Center? Want to have an easier way of accessing the App Switcher? Then install the CCBringUpSwitcher. This tweak allows you to access app switcher screen by swiping up. It disables the Control Center on the homescreen. Also, if you still like to have access to the useful toggles of the Control Center then you can use CCBringUpSwitcher along with the Cobalia tweak. You can download CCBringUpSwitcher from Cydia for free.
Disclosure: iOSHacker may receive a commission if you purchase products through our affiliate links. For more visit our privacy policy page.