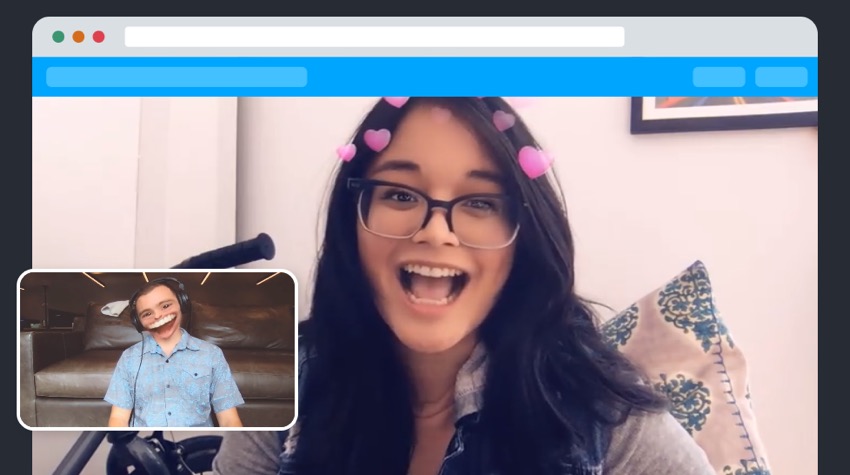 One of the features that make the Snapchat app famous among its young user base is the fun lenses that use augmented reality to place fun masks and other objects on user's face. Today Snap has brought the Snap Camera software to both macOS and Windows, allowing desktop users to take advantage of the popular Snapchat lenses on their computers. The Snap Camera software allows users to use the lenses on a number of popular video streaming and chat services like Skype, YouTube, Twitch, Google Hangouts and more.
With the desktop software users will be able to access 250,000 Augmented Reality lenses including both made by Snap as well as ones created by the Lens Creator community via Lens Studio.
Installing and setting up Snap Camera is very simple. Once you have downloaded the desktop software it will sync with your computer's camera and work with most video sharing apps and platforms. Snap Camera does not allow you to take photos etc in its own app, rather it works as an extension for other apps. You can select the lens from the Snap Camera app, once selected it will appear when you are using different supported services.
While most popular third-party video services are supported, macOS's default FaceTime service does not work with Snap Camera. Commenting on FaceTime not supporting Snap Camera, Snap representative told TechCrunch that it is due to the restrictions put in place by Apple.
One major app that won't support Snap Camera is Apple's FaceTime. Why? "I don't know. Apple didn't comment on that. Believe me we tried" says Pilipski.
You can download Snap Camera software on your computer using this link below.