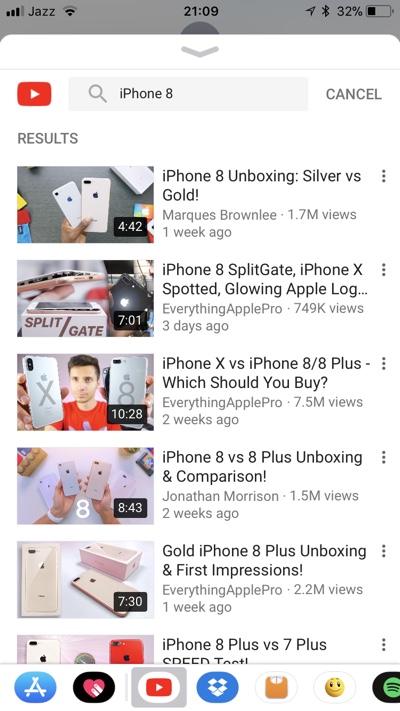 More than a year after Apple's introduction of iMessage apps, Google's Youtube has been updated with a dedicated iMessage app. Once you have updated to the latest version of the app you will be able to see the Youtube iMessage app in the app drawer. The Youtube iMessage app makes it possible for users to quickly share videos with friends.
When you launch the Youtube iMessage app you will see a list of recently watched videos, which you can tap on in order to share them with a single or group chat. While this is very useful the Youtube Messages app integration does not stop there, as it also makes it possible for users to perform a Youtube search right inside the Messages app and share the result with a friend by simple tapping on a video. This is great for when you are talking about something and want to share a video about it without leaving the conversation screen.
In addition to adding Messages app support this update also brings the ability for users to remove videos from playlists by simply swiping on them.
You can download the Youtube app for your iPhone, iPad or iPod touch for free here.
Check this link to download Youtube videos.