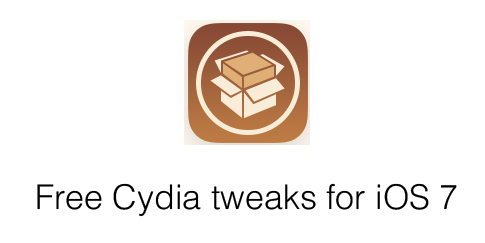 If you are in a mood of discovering new Cydia tweaks but don't want to spend any money in order to get them then we have got the perfect list for you. In this post we are going to list 25 free Cydia tweaks for your jailbroken iPhone or iPad that are available for download and fully support iOS 7. All of these free Cydia tweaks allow you to add new features or change iOS according to your needs.
After you are done with this list be sure to check out our post about 50 Must have jailbreak tweaks and apps.
BetterNC
Want to change the look of the iOS 7 notification center? Want to get rid of certain sections and tabs? Install BetterNC from Cydia. This notification center tweak allows users to have enable or disable toggles for hiding Status Bar, separators, Yahoo! logo, hiding different tabs like All, Today or Missed, and more. It is a great hack to customize the notification center with many useful features.
Cylinder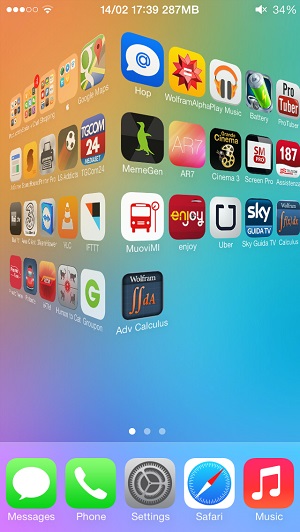 Cylinder tweak is a free alternative for the popular Barrel tweak that allows iOS users to have different animations on their homescreen. There are 45 effects available with this tweak and users can also create combinations.
Effects+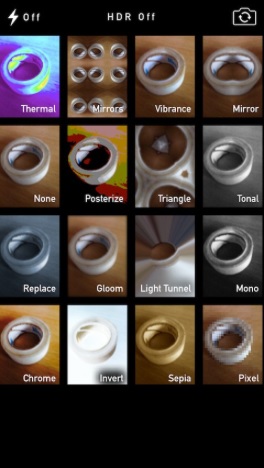 If the 9 filters offered by the stock camera app aren't enough for you then install the Effects+ tweak from Cydia. It adds 23 new filters to iOS 7's camera app in addition to the ones that are already there. The 23 new filters also include the PhotoBooth effects, which unlike the iPad are not available for iPhone and iPod touch users.
Goo.gl Shortener for Action Menu
All of us share links with others and some of us do that a lot. The Goo.gl Shortener for Action Menu tweak makes the process easier by enabling users to turn any link into a shortened URL without much effort. How it works is pretty simple, when you tap and hold to select a link an action menu appears. Simply tap on the next button to reveal the 'Goo.gl' button. When you tap on this button the tweak will make a contact with Google's Goo.gl URL shortened and automatically copy the shortened URL to your clipboard. You can simply paste then new url and send it to wherever you want.
iSilent
iSilent is a super useful hack that puts the iOS device in silent mode whenever you are in a meeting saving you from those embarrassing moments. The tweak looks into your Calendar app and looks for the starting and ending time of the event. When you are done with the meeting the tweak puts the device back into the ring mode.
iTunes Radio Unlimited
iTunes Radio is a great service that allows users to discover and enjoy music on their iPhone, iPad or iPod touch. However if you are not a premium member then you get a limited number of skips as well as annoying advertisements. The iTunes Radio Unlimited tweak fixes this problem by enabling unlimited skips and getting rid of ads for you.
iAppLock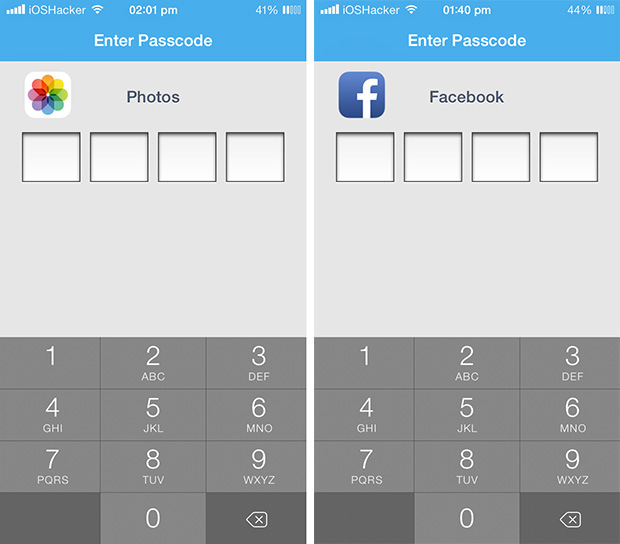 iAppLock allows users to password protect any application on their device and prevent access to them. The tweak prompts for password whenever someone tries to open a password protect app and denies access if the password is wrong.
MailUnlimitedPhotos
MailUnlimitedPhotos lives up to its name by allowing users to attach as many photos as they want to an email. Normally iOS limits the number of photo attachments to 5 but you don't have to worry about that limitation thanks to this simple hack.
Messages Customiser
With Message Customiser tweak you can change the look and feel of the stock Messages app by changing the colors of the bubbles, adding backgrounds, adding tints to the UI, customising bubble opacity and more. This tweak gives the Messages app a totally new personality.
Mobius
Mobius makes it easier for users to move icons from one page to another by allowing them to move multiple apps at once. Users can simply select the icons they want to move them to the page of their choice. Mobius also includes he infinite scrolling feature for the homescreen that makes the device jump to the first page when user scrolls on the last one.
MessageSwiper7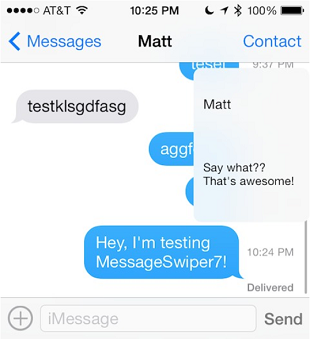 When you are talking to several people simultaneously on iMessage jumping from one message thread to another can become tiresome. MessageSwiper7 tweak fixes that by allowing users to go to the next thread by swiping right on their screen. When you are swiping the tweak also shows the name and latest message from that thread to make things more convenient for you.
NoSlowAnimations
The animations in iOS 7 are not only in abundance but they are painfully slow as well. The NoSlowAnimations as its name suggests speeds up the animations making it much more convenient for users to use iOS device running the latest version of the operating system. Users can select the speed that suits them the best by using the slider found in tweak's settings.
NoteCreator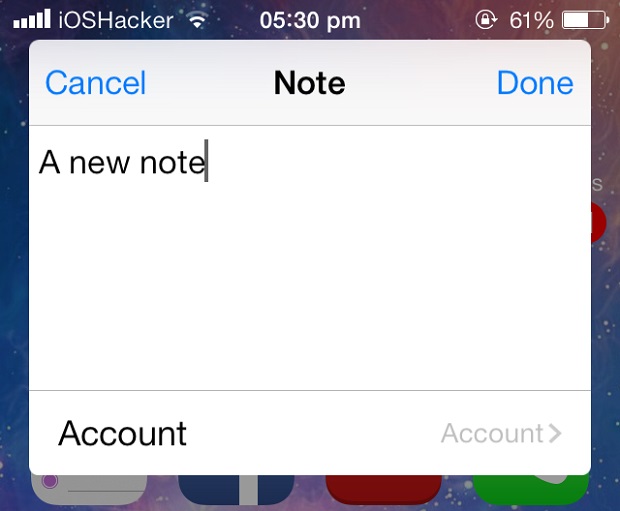 The NoteCreator tweak from Cydia makes it super easy to create notes from anywhere. You can assign any activator gesture or action to NoteCreator and use that gesture to access the compose pop up. It is a simple tweak that makes note-taking on iOS a much more convenient affair.
PhoneProtect (SMS Protect)
PhoneProtect (SMS Protect) tweak boosts your privacy by preventing unauthorized users from accessing the Phone and Message apps on your iPhone. The tweak adds an Android-like combination lock or a passcode that needs to be entered in order to access both of these applications.
PowerBanners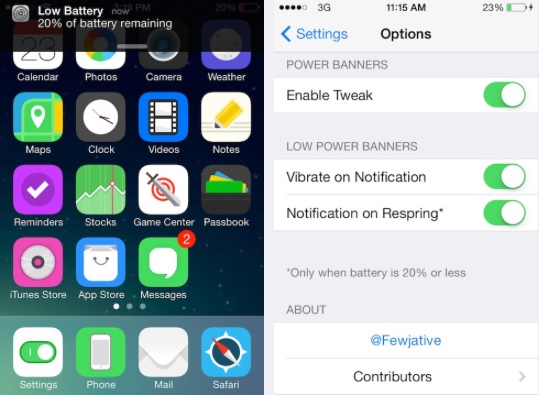 Apple replaced the pop up notifications with slightly less obtrusive banners. While the new banners replaced most notifications iOS still displays the pop ups when it is running low on battery. The most annoying thing about these notifications is that they don't go away until you tap on the 'Ok' button. PowerBanners changes this by replacing low battery pop ups with banners, which disappear after appear for a few seconds.
PhotoTorch
The PhotoTorch tweak enables iPhonegraphers to adjust the level of flash on their iOS device. The tweak integrates into the stock camera app and is very convenient to use. It is a great tweak for those who like to take perfect photos with their iPhone.
SwipeSelection
SwipeSelection tweak shows us how moving around text should be like on a touch screen device. Normally users have to tap and hold for a second in order to bring the pointer at a particular position in order to edit or erase the text. With SwipeSelection users can simply slide on the keyboard buttons to move the pointer in the direction they want. This hack makes experience of typing and editing text on an iOS device much more convenient.
SafeHouse
SafeHouse is a tweak for those who use the passcode lock on their device. What this tweak does is it simply disables the passcode when you are connected to a trusted WiFi network such as your home's. You can specify the safe houses by going into tweak's settings. When this tweak is configured correctly your iPhone or iPad will not ask you to enter the passcode again and again unless you connect to some other network or turn WiFi off.
Safari Download Enabler
If you want to download videos and other stuff from the mobile safari app then Safari Download Enabler tweak is for you. This tweak integrates with the stock web browser of iOS allowing users to manage downloads from within the app. After downloading the files can be exported to any app of user's choice.
StatusBarSuite
StatusBarSuite lets you customize the status bar that includes disabling battery indicator, time, carrier name, Bluetooth sign, LTE sign, WiFi signals and the carrier signals. It is a great tweak that allows users to get rid of the things they don't find useful.
SafariTabCount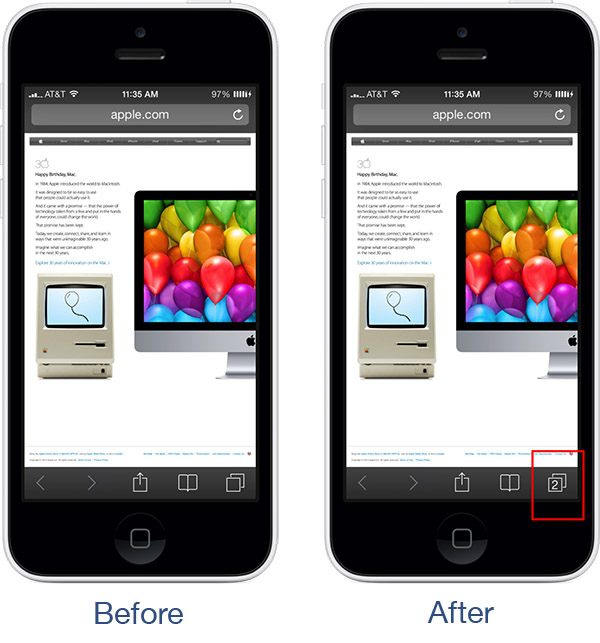 SafariTabCount is another Safari tweak that adds a pretty useful feature to the stock browser. When you are viewing any website this tweak lets you to be aware of how many tabs are opened in the background by displaying the number in the button bar.
SpotDefine
iOS has a built-in dictionary but using it requires ridiculous number of steps. The SpotDefine tweak makes the dictionary easily accessible to users by allowing them to see meanings of their desired words by entering them in the spotlight search.
StatusBright
StatusBright makes it easier for users to increase or decrease the brightness of their screens. With this tweak installed you can change the brightness of your iOS device by simply swiping left or right on the status bar.
VirtualHome
VirtualHome turns the TouchID sensor into the home button. This means that you can go to the homescreen by simply tapping on the home button instead of pressing it like you would normally do. It is a nice tweak to have for iPhone 5s users that makes getting to the homescreen much more convenient.
VibCall
Everyone hates holding the phone next to their ears while waiting for the other person to pick up the call. VibCall tweak changes that by vibrating the device when a call is picked up. Since you get notified whenever the person you have called picks up your call thanks to the vibration you no longer need to hold the iPhone to your ears.
There you go folks. These are some of the best and free Cydia tweaks available right now that you should download. Feel free to share you comments about them or suggest more free tweaks in the comments section below.