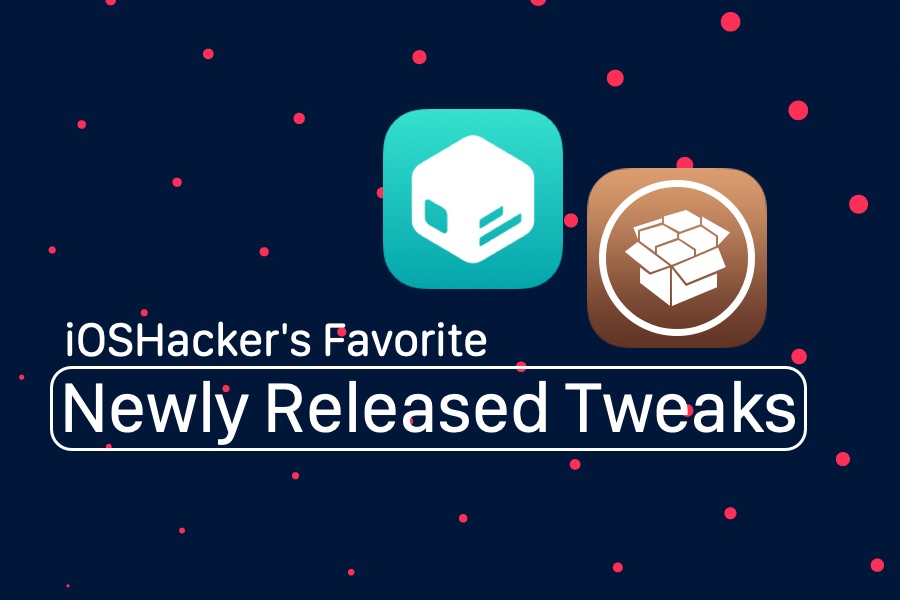 Jailbroken and bored? Then we have got the perfect tweaks to make your Sunday more fun and exciting. A bunch of new Cydia tweaks have been released for iOS 13 powered devices that will expand the capabilities of your iOS device and let you make changes that are not permitted by Apple.
So without any further ado, let's take a look at the newly released tweaks for iOS 13 including Tweaks Manager, Courier, WindowHUD, DontStopMyCall, DarkShot, LightsOut and CustomLock 2.
Also read: New Cydia Tweaks: Sakal, ColorMeNotifs, TouchFlow And More
Tweaks Manager: Selectively disable tweaks in certain apps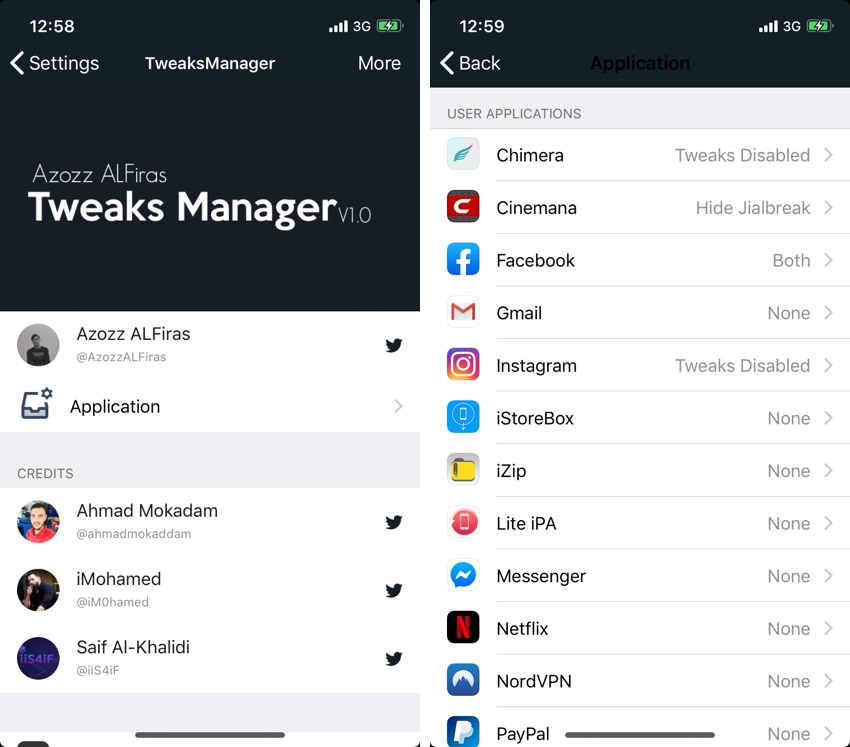 The Tweaks Manager tweak does exactly what its name suggests, it lets you manage installed tweaks on your jailbroken device. With the Tweaks Manager tweak you can selectively disable tweaks in certain apps. This means you get the power to disable tweaks and hide your iOS device's jailbroken status from apps that have banned access for jailbroken devices. This includes banking apps, certain games and more. You can download Tweaks Manager tweak from Cydia or Sileo where it is available through the Packix repo. Tweaks Manager is a free download and works with iOS 10 or later, including iOS 13.
Courier Tweak: Customize the look and feel for the Messages app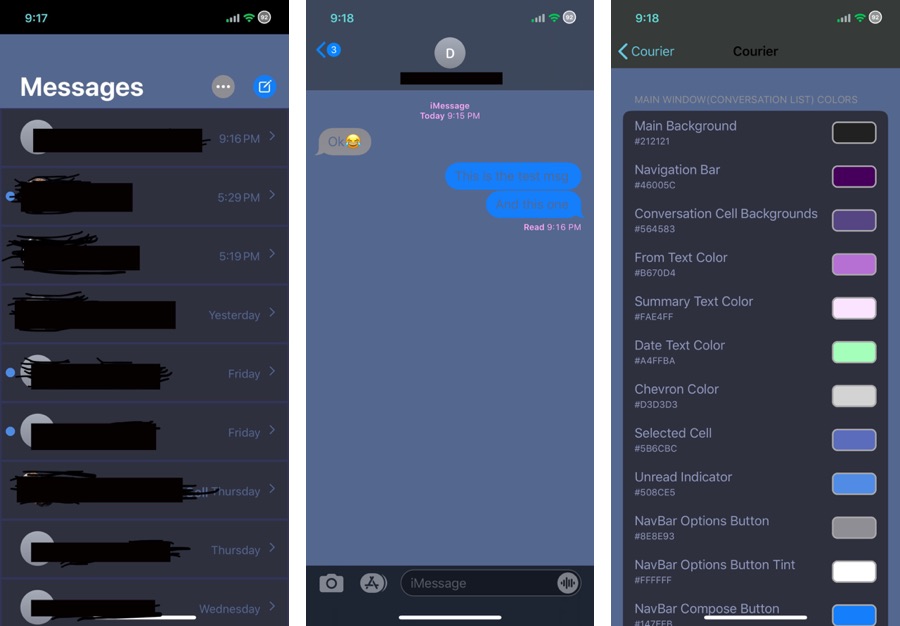 Courier is an ultimate Messages customization tweak that allows users to change every aspect of their iPhone's Messages app. With Courier tweak you get the ability to significantly change how the Messages app look by changing colors for almost every element of the conversation list page, conversation screen etc.
You can change background color, content color, text, date text, unread indicator, navigation bar, compose button and more. You can also hide conversation summaries from the list page, change corner radius for messages, add borders to to various elements and more.
Courier tweak is available in Cydia's Packix repo for $1.49. It only works with iOS 13 or later.
WindowHUD: Flip your iPhone's screen from Control Center
The WindowHUD tweak adds a new toggle to the Control Center using which you can flip your iPhone's entire screen. This tweak is useful for situations when you want to place your iPhone on the dashboard and view its reflection on your windshield. This tweak can be used for using navigation app without looking away from the road as the iPhone's flipped reflection will show you the directions. WindowHUD tweak is available in Cydia for free and it works with iOS 11 up to iOS 13.
The new DontStopMyCall changes the way iPhone's call interface works. Normally when you're on a call and press the side button, your call will get disconnected. However with DontStopMyCall installed you can simply press the side button and your device will go to sleep instead of the call getting disconnected. The tweak is compatible with other Phone app tweaks including CallBar XS, and it works with iOS 10 or above. You can download it from the Packix repo for $0.99.
DarkShot Tweak: Disable screenshot flash based on Dark Mode settings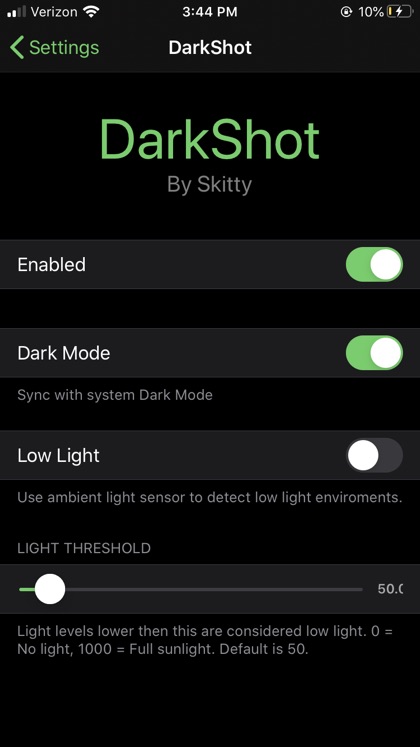 With the DarkShot tweak you can replace the white flash that appears on the screen when you take a screenshot. DarkShot has two options for getting enabled, it either gets enabled when the system dark mode is enabled or comes into action when the ambient light sensor on the iPhone detects low light environments. You can download DarkShot tweak from Cydia or Sileo where it is available for free under Skitty's Repo (https://skitty.xyz/repo). It supports iOS 13.
LightsOut Tweak: Trigger iOS Dark Mode Through Ambient Light sensor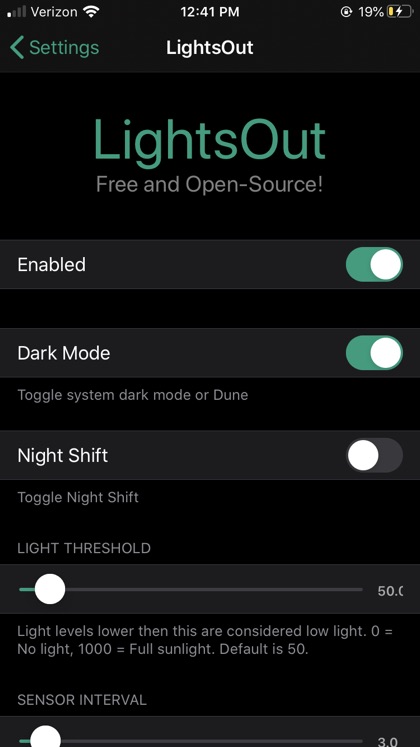 The LightsOut tweak you can have your iPhone automatically turn on its system dark mode or enable Dune dark mode tweak whenever its ambient light sensor detects room's lighting has fallen below a certain threshold. LightsOut is a free tweak that can be downloaded from Skitty's repo (https://skitty.xyz/repo). It works with iOS 11 all the way up to iOS 13.
CustomLock 2 Tweak: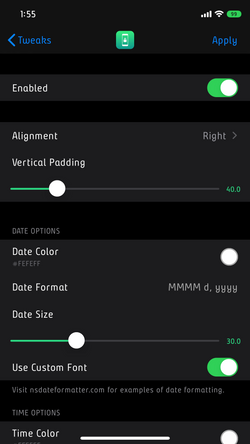 The new CustomLock 2 tweak makes it possible for users to customize the look and feel of their iPhone's lockscreen by changing its various aspects. For example, you can enable custom fonts for the lockscreen text, change the color of labels, change label size, add a custom date for the lockscreen and change the position of the lockscreen text. You can configure all these settings from CustomLock 2's settings page.
You can download the CustomLock 2 tweak from Cydia's Packix repo for $2. It works on iOS versions between iOS 11 to iOS 13 or later.
There you go folks, these are some of the notable Cydia or Sileo tweaks for your jailbroken iOS 13 device. If you have any questions regarding these tweaks, then let us know in the comments section below.