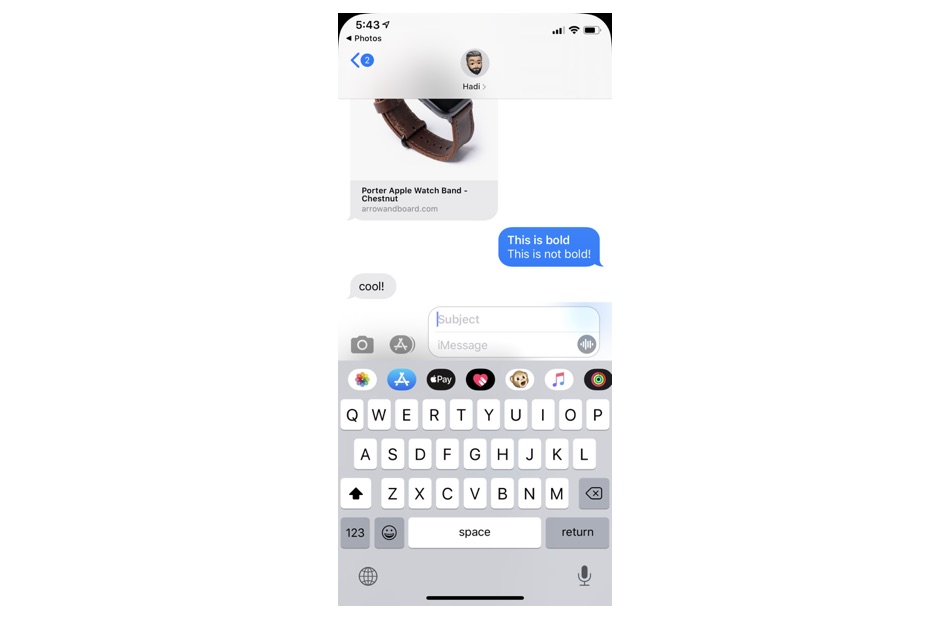 Unlike many other messaging apps, iMessage does not allow users to send formatted text to their friends. Which means you cannot send bold text in a message to emphasise on a point you are making in a conversation. While Apple has yet to offer text formatting options in the messages app, there is a workaround that lets you send bold text in Messages app.
For this purpose you can take advantage of the 'Subject' feature that is found in the Messages app. For this trick to work you have to enable the Subject option and then use the Subject field to type the text that you want to appear as bold in your message.
Do This First
Here's how you can turn on Subject field and use it to send bold text in the Messages app.
Launch Settings and go to Messages settings.
From the Messages settings page turn on the toggle for 'Show Subject Field'.
How To Send Bold Texts in iMessage (The Fun Part)
After you have turned on the Subject field, open the iMessage thread that you want to send bold text in. Type the part of the message that you want to appear in bold in the 'Subject' field followed by non-bold text in the 'iMessage' field and hit the send button. This will only work when you type something in both Subject and iMessage fields.
Remember that the Subject trick exclusively works for iMessage texts and will not work in normal SMS. In fact you won't be able to send SMS messages if you type anything in the Subject field. To send SMS make sure the Subject field remains empty.
Learn more amazing and awesome iMessage Tricks here.
Disclosure: iOSHacker may receive a commission if you purchase products through our affiliate links. For more visit our privacy policy page.