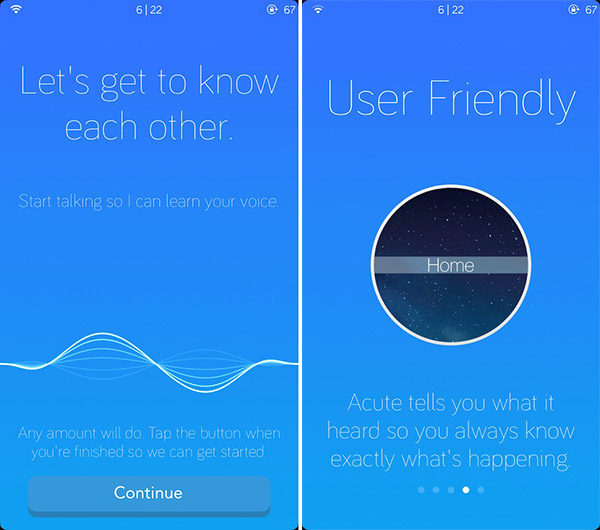 Acute is a new tweak for jailbroken devices that takes voice recognition to the next level. This powerful tweak gives you the ability to set your own phrases and dictate them to your always-listening device, that take actions according to your commands. This really changes the way you interact with your iOS device and adds more convenience to it. Acute takes full advantage of Activator, which lets you assign gestures for different commands.
Once you install and activate Acute, it is always there listening to your commands. Let's suppose you set a phrase 'Respring' and assigned an Activator action to it to that respring your iOS device upon initiation. From now onward every time you say this command your device will respring. Same goes for any other Activator functions like, Power off, Turning on flash flight, unlocking your device and much more. You can set dozens of phrases of your own choice without any restrictions. It becomes really handy when you just say 'Unlock' and it unlocks your iPhone, iPod touch or iPad.
Unlike Siri, Acute doesn't require any internet to respond to your commands. It is a completely offline tool. Since Acute makes your device listen to commands all the time this may affect its battery negatively. But that can be minimized by limiting the usage to day only i.e. you can deactivate it before sleeping at night. You will see a 'sound wave' icon in the status bar whenever Acute is ready to respond to your commands.
Here are some examples task that you could do with Acute:
Say 'Unlock' – unlocks device
Say 'Illuminate' – turns on flashlight
Say 'Marco' – phone says 'Polo' (useful for finding your phone)
Say 'Power Down' – powers down device
Say 'Home Mode' – turn on WiFi, turn off cellular, raise brightness
Say 'Capture' – take a picture
Besides these you can also ask Acute to do simple mathematical calculations. For example you can ask Acute to "Calculate 31 times 23" and it will show you the results.
Acute is available on Cydia and you can download it for $3. It is compatible with all devices running iOS 7 and having microphones.