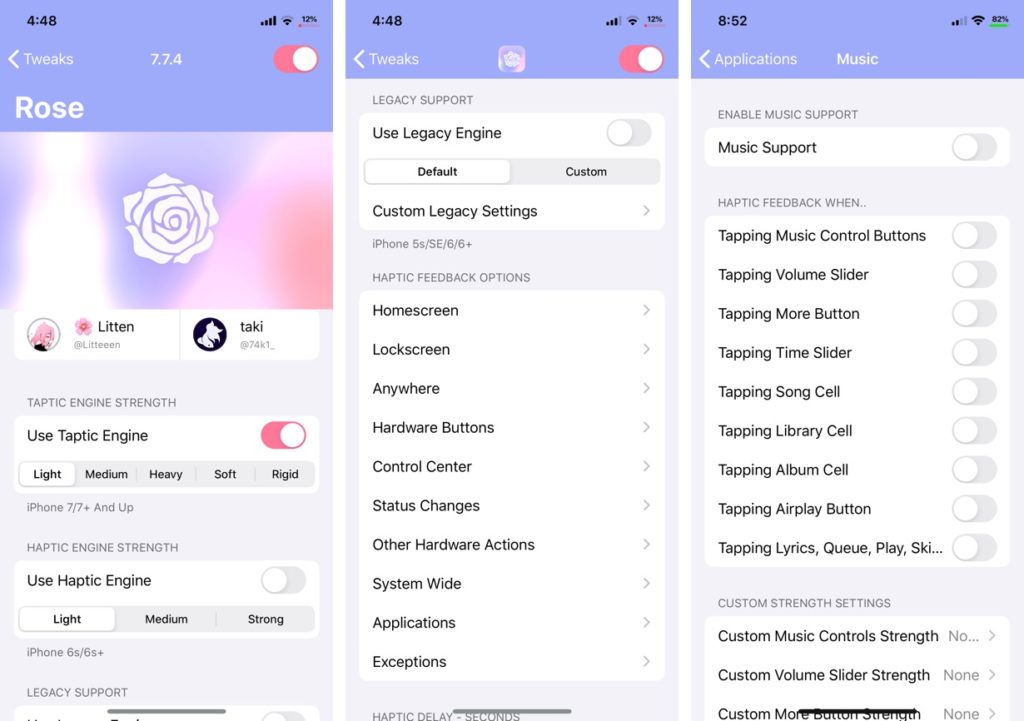 The newly released Rose tweak is the ultimate taptic engine tweak for jailbroken iPhones. This tweak allows users to not only change the strength of the taptic feedbacks that their device gives but also allows them to add haptic feedback to features that don't support it by default.
If you own an iPhone with a taptic engine, then you would know how satisfying iPhone's taptic feedbacks are. Sadly Apple has used the taptic feedback on the iPhone very conservatively and many believe that iOS should take better advantage of the taptic engine in our devices when the user performs different tasks.
With the help of the Rose tweak you can change the taptic engine's strength from light, medium, heavy, soft and rigid. The tweak also supports iPhone 6s and 6s Plus's Haptic engine and allows users to choose its strength between light, medium and strong.
Rose tweak lets you add new haptic feedbacks to various iOS areas including homescreen, lockscreen, hardware buttons, status changes, control center, applications and more. You can also add exceptions if you want to disable haptic feedbacks in certain parts of iOS.
Wondering what actions are supported by the Rose tweak? The list is quite extensive. For example on the Music app you can add haptic feedback to music control buttons, volume slider, time slider, song cell, airplay button and more.
You can configure which part of iOS or an app you want to have the feedback by manually enabling or disabling it. So if you don't want to get haptic feedback when performing a certain action you can simply turn it off.
Rose tweak for jailbroken iPhones is available under developer's repo (https://repo.litten.love) for free. It works with iOS 14 and iOS 13.
Disclosure: iOSHacker may receive a commission if you purchase products through our affiliate links. For more visit our privacy policy page.