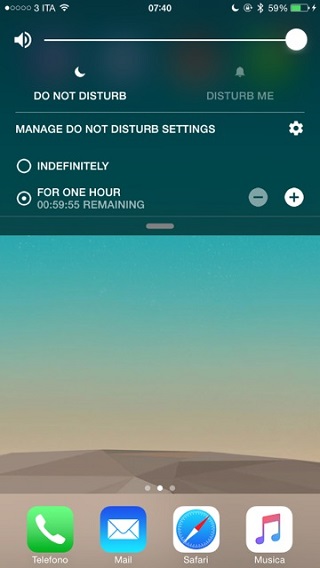 If you have used an Android Lollipop powered device then you would be familiar with its Interruptions feature. The Interruptions allows Android users to activate 'Do Not Disturb' like mode for a specific period of time. The new Stunden tweak brings the Android's Interruptions feature to iOS. It not only works like the Android's native feature but it also looks like it as well. The tweak has a well designed user-interface and can be invoked using a simple Activator gesture.
With Stunden you can set the amount of time you want to activate the Do Not Disturb feature for. In that time your device won't ring or send you notifications. You can set the time to up to 24 hours or choose the indefinite option from the menu.
From tweak's settings page you can assign the Activator gesture of your choice, choose if Stunden can affect the DND feature of iOS or just the ringer and select a countdown style. Users can also change the appearance of the tweak's UI and choose between dark or light modes. The Bounce Animation switch lets you enable or disable the animation.
Stunden tweak is available in Cydia for $0.99. It works on all versions of iOS 8 including iOS 8.4.