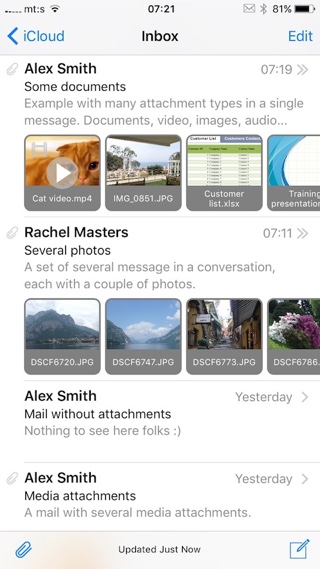 When you receive any email with attachments, the stock Mail app shows a paper clip icon next to the related message. While this message is enough to tell you that there is an attachment with that particular email, AttachmentFlow tweak takes this feature of iOS to the next level. The tweak expands this functionality to show the attached files directly on the listing page of the Mail app. This allows users to see the attachments without even opening the email message, saving time and effort.
If an email has more than one attachments the tweak shows a slideshow of all the attachments at one place. Users can tap on the paper clip icon in order to toggle displaying attachments. The tweak also allows users to view all attachments or attachments of a specific type such as documents, photos, videos etc in one 'Flow View'.
If you are worried about excessive data usage with attachments being downloaded without you opening the message then don't, as AttachmentFlow requires your permission before it can download the attached files. You can also preview the attached files by simply tapping on the thumbnails.
AttachmentFlow offers many different options including ability for users to choose if they want to see attachment file names on the list page, hide small images, hide specific file extensions from appearing on the list page and more.
Jailbreak users can download the AttachmentFlow tweak from Cydia for $1.99. It works with iOS 9 and iOS 8 powered devices.