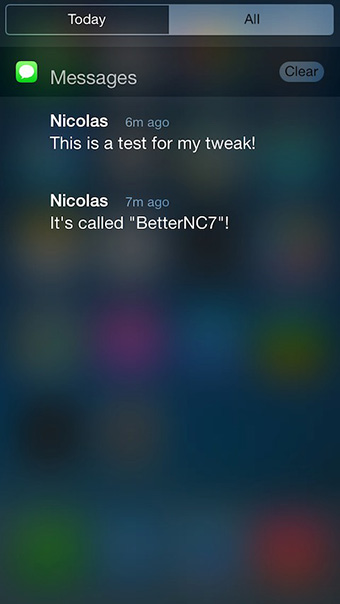 BetterNC7 is a tweak for those who love simplicity or care about minor details. This is all in one tweak that almost removes all the annoyances of the iOS 7 Notification Center. From NC Grabber to Status Bar it can fix dozens of annoyances and make your Notification Center look simple, clear and perfect. You can grab the BetterNC7 tweak for free from Cydia. It is available under BigBoss repo and requires a device running iOS 7.
Once installed you can find it in the Settings app of your iPhone, iPod touch or iPad. From there you will be able to toggle plenty of options. Toggles include hiding Status Bar, separators, Yahoo! logo, hiding different tabs like All, Today or Missed, and more.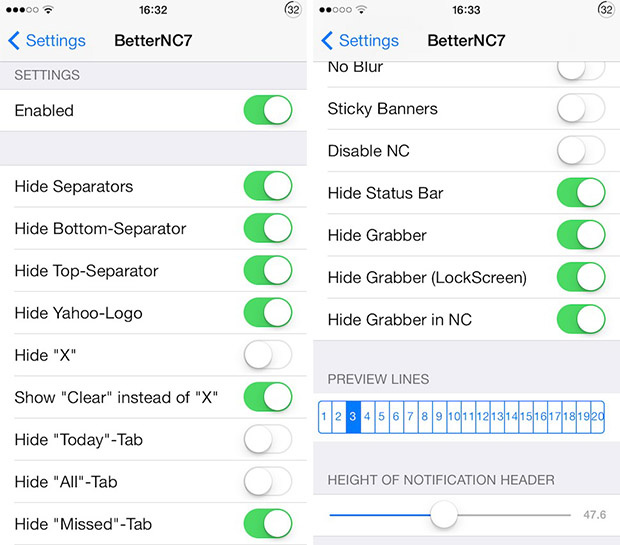 You can also change the cross 'x' button directly to 'Clear' so that you can clear the notifications with a single tap instead to two. Other options include disabling the blur effect for a simple look, setting the number of preview lines of notifications, like Messages and Mails. You can even disable the whole Notification Center in case you want to.
In short this is one of the best tweak when it comes to customizability of the Notification Center and a must have if you care about minor details.