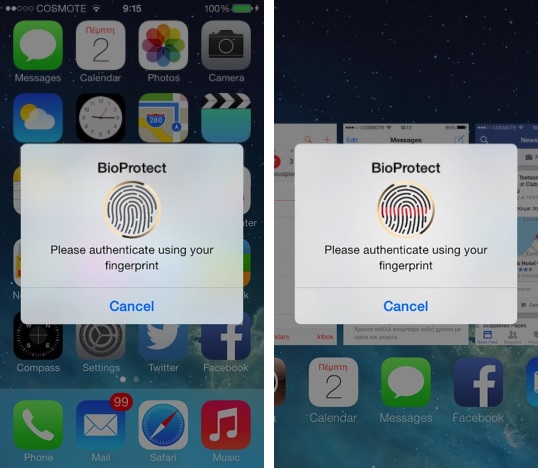 A few days ago we showed you a video in which a developer demonstrated his Touch ID tweak for jailbroken iPhone 5s that allowed users to access apps after a fingerprint scan. The good news is that tweak has already gone live in Cydia and currently available for download.
The goal behind BioProtect tweak for Touch ID is simple and that is allowing access to individual apps after fingerprint recognition, much like Touch ID's function on the lockscreen. With BioProject enabled for any app no one other than you would be able to access the protected app no matter from which part of iOS they try. It stops access to apps from homescreen, lockscreen, notification center as well as multitasking screen.
Unlike several other tweaks BioProtect features good looks in addition to good functionality. Most jailbreak developers focus on the later while ignoring the first one. It features nearly flawless looks and implementation seems like it is part of the operating system by default.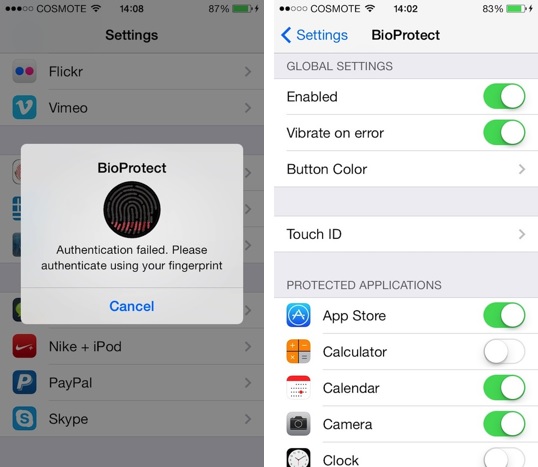 When a user taps on an app that is locked he or she is presented with a prompt asking "Please authenticate using your fingerprint". If the fingerprint is accepted the app is launched and if not then user gets an error. According to its developer this whole process takes 'less than a second'.
There are several settings for this tweak all of which can be configured from the Settings app. Users can make apps BioProtect protected simply by turning on the adjacent switch. They can also enable or disable the tweak, make it work in app switcher or not, vibrate on error and more.
If you are worried that your fingerprint might get stolen by the developer then don't. The tweak does not gather any information to send away as it simply asks iOS if the submitted fingerprint is valid or not. This process is as safe as unlocking your device from Touch ID's lockscreen unlock.
BioProtect tweak only supports iPhone 5s and requires iOS 7 or above. You can download it for $2.99 from the BigBoss repo.